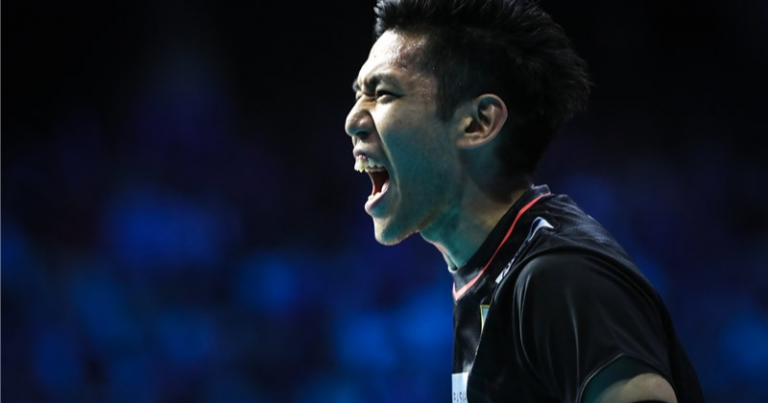 Japanese men's league enters final stage
Issei Otake helped the Panasonic Panthers conclude their Regular Season campaign on a positive note with a 3-1 (30-28, 25-27, 25-21, 25-19) win over Sakai Blazers on Sunday.
Japanese opposite Otake led all scorers with 29 points, replacing Kunihiro Shimizu and Poland captain Michal Kubiak, who were Saturday's leading scorers for the Panthers' 3-1 (25-23, 26-28, 25-15, 25-23) victory against the Blazers.
The Panthers played consistently in offence and defence, giving their French coach Laurent Tillie some leeway to give more of his players time on court, with Yuki Suzuki making his first appearance this season.
"It was really good that each player played an active part and performed at a high level," Tillie said. "I felt the team was one. We will do our best to prepare for the final stage, so please continue to support us."
Wolfdogs Nagoya also concluded the Regular Season this weekend with two match sweeps against FC Tokyo.
In their first match, Wolfdogs Nagoya posted a 3-0 (25-20, 25-19, 25-16) win, with Poland superstar Bartosz Kurek delivering another double-digit performance of 19 points before getting a rest in the second match.
Ryosuke Tsubakiyama stepped up in offence by scoring 17 markers to lift Wolfdogs Nagoya in their second, tight 3-0 (25-22, 25-22, 31-29) win.
Wolfdogs Nagoya also held a retirement ceremony for libero Koichiro Koga. His brother Taichiro, who plays for FC Tokyo, also took part in the ceremony.
Meanwhile, Suntory Sunbirds split victories with a Yuji Nishida-led JTEKT Stings, but finished top of the table nonetheless with a 31-3 win-loss record for the season.
Nishida's 22-point scoring effort in the first match was to no avail, as Suntory Sunbirds were able to count on Muserskiy's scoring. The Russian star claimed 19 points to lead his team to a 3-0 (25-16, 27-25, 25-19) victory.
Nishida pushed for a positive ending for the Stings, however, finishing with 35 points to lead in their 3-1 (21-25, 25-23, 25-17, 25-18) triumph in their second match of the weekend. Muserskiy only played in the opening set.
The league's final stage will be played on April 3 and 4 featuring the Suntory Sunbirds, Panasonic Panthers and Wolfdogs Nagoya. For more information, visit the V.League website. https://www.vleague.jp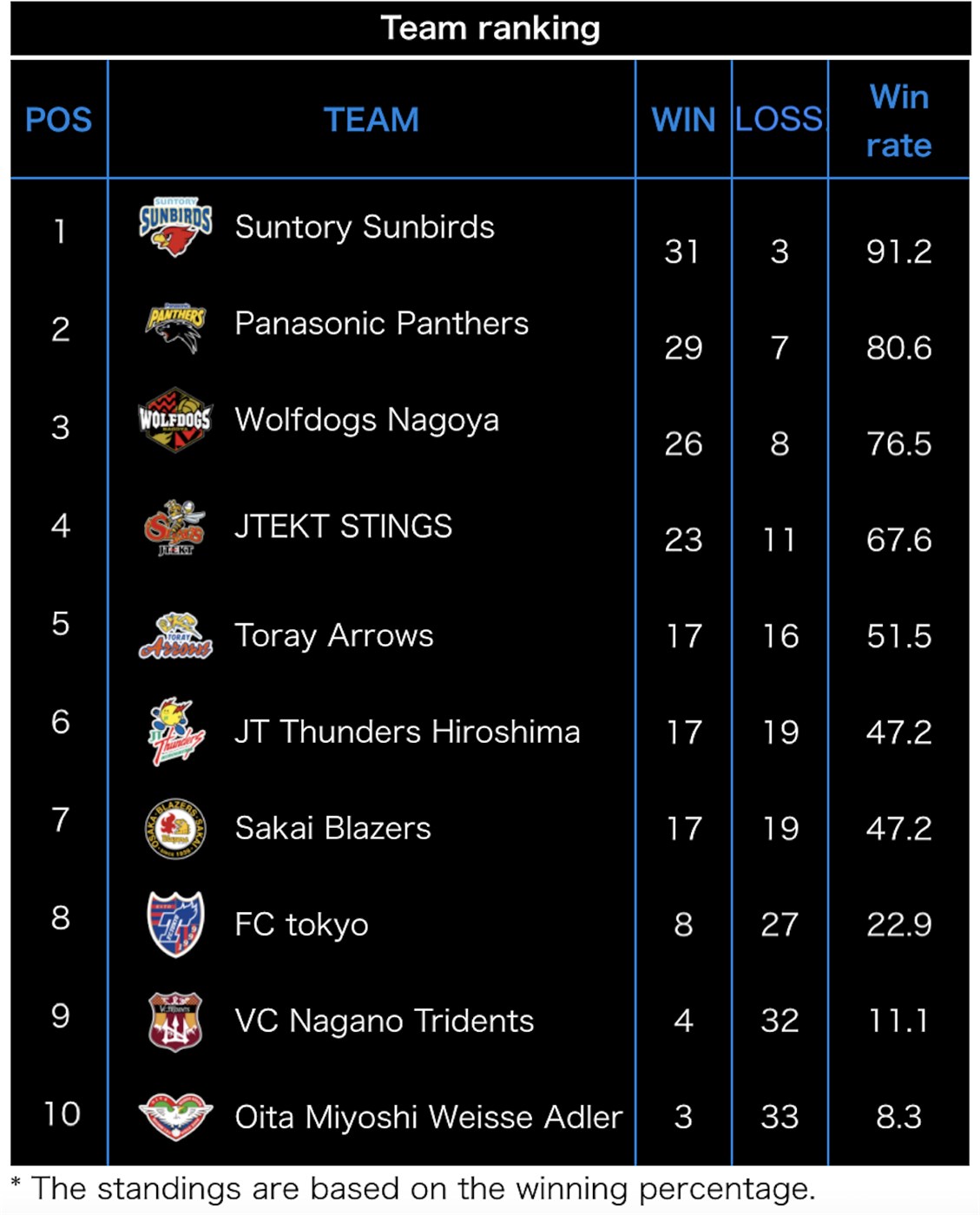 Match results for March 27, 2021
Panasonic Panthers – Sakai Blazers 3-1 (25-23, 26-28, 25-15, 25-23)
Wolfdogs Nagoya – FC Tokyo 3-0 (25-20, 25-19, 25-16)
JT Thunders Hiroshima – VC Nagano Tridents 3-0 (27-25, 25-20, 25-19)
Suntory Sunbirds – JTEKT Stings 3-0 (25-16, 27-25, 25-19)
Toray Arrows – Oita Miyoshi Weisse Adler 3-0 (25-21, 25-17, 25-18)
Match results for March 28, 2021
Panasonic Panthers – Sakai Blazers 3-1 (30-28, 25-27, 25-21, 25-19)
Wolfdogs Nagoya – FC Tokyo 3-0 (25-22, 25-22, 31-29)
JTEKT Stings – Suntory Sunbirds 3-1 (21-25, 25-23, 25-17, 25-18)
JT Thunders Hiroshima – VC Nagano Tridents 3-0 (25-19, 25-20, 25-16)
Toray Arrows – Oita Miyoshi Weisse Adler 3-0 (25-19, 25-22, 25-17)
Related links of AVC
AVC Website: click www.asianvolleyball.net
AVC Facebook: click www.Facebook.com/AsianVolleyballConfederation
AVC Twitter: click: https://twitter.com/avcvolley
AVC Instagram: click: https://www.instagram.com/avcvolley/?hl=en
AVC Youtube: click: Asian Volleyball Confederation
AVC WeChat: Asian Volleyball Confederation