Ajcharaporn scores key points towards her team's third win in Ankara
Team Thailand celebrate their VNL victory over China
Thailand crowned their fantastic Volleyball Nations League week in Ankara with a sensational win over mighty China on Sunday. Playing their third five-setter in a row, Pimpichaya Kokram, Ajcharaporn Kongyot and their teammates came back from a set down to deliver a huge 3-2 (25-23, 13-25, 14-25, 25-23, 15-11) upset of their powerful Asian opponents and hand them their first defeat of the tournament.
"I would like to thank all the fans, the coaching staff, my teammates and everyone who is behind us for helping us play with such an amazing passion and attitude and win our last game in Türkiye," an elated Ajcharaporn said after the match. "Tonight we didn't play for ourselves. We played for our country and all Thai people who support us."
The 26-year-old outside hitter scored nine points in attack at a 50% success rate and some of those came in key moments of the match. After China had denied the first two Thai set points in set four, Ajcharaporn finally took the responsibility to put it away for a 25-23 win. She also attacked successfully to deliver a quintuple match point in the tie-breaker and three rallies down the road converted it herself to the much anticipated victory.
https://www.volleyballworld.tv/video/366025/womens-vnl-2022-thailand-v-china-highlights
Pimpichaya Kokram's top plays against China
But it was Pimpichaya who spearheaded Thailand's attacks for the most part of the match. The 23-year-old opposite tirelessly hammered away and registered a 49% success rate in spiking to pile up the match high of 28 points, including an ace and a kill block. She shared the top scorer honours with China's left-handed outside Yingying Li, who produced 27 kills at a 50% success rate and an ace.
These two players took over the top two spots in the best scorers' chart of the tournament so far, with Pimpichaya in the lead with 97 points and Li right behind her with 91.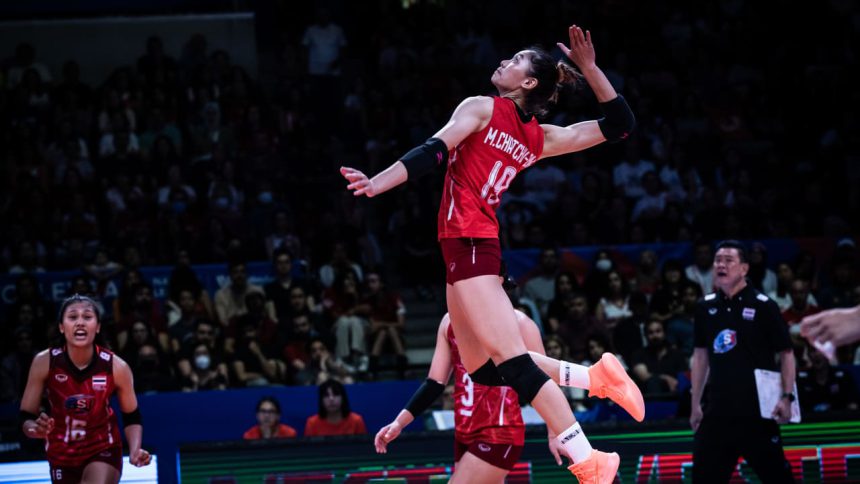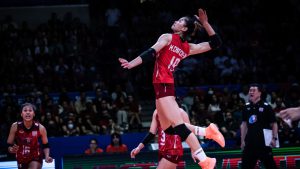 Chatchu-On in action
A great battle unfolded in the first set, with frequent changes in the lead. An ace by Hattaya Bamrungsuk crowned a three-point series for 16-13 that left the impression that Thailand were breaking away, but China reacted swiftly with a 6-1 run to regain control. In the money time, a long rally decorated by several beautiful digs from Chatchu-On Moksri was finished off by Ajcharaporn for a 22-20 Thai advantage. Moments later, an elegant tip by Thanacha Sooksod brought Thailand to set point. Following a great save in defence by setter Tichaya Boonlert, Thanacha killed for the 25-23 close.
With Li on fire in attack, China stepped up their offensive efforts in set two, opened up a wide gap and took the set by an emphatic 25-13, with Xiangyu Gong hitting the winner from the back row. It was one of Gong's 20 points in the match. Team captain Xinyue Yuan produced two of China's three aces in that set and continued to deliver key break points in set three. The 2.01m-tall middle blocker raised a monster block for 16-12, then hit the overpass to score for 17-12, and once she went to the serving line, she scored an off-the-net ace for 20-13. China continued their almost error-free performance in the set until Li closed the set at 25-14 with a pulverising pipe.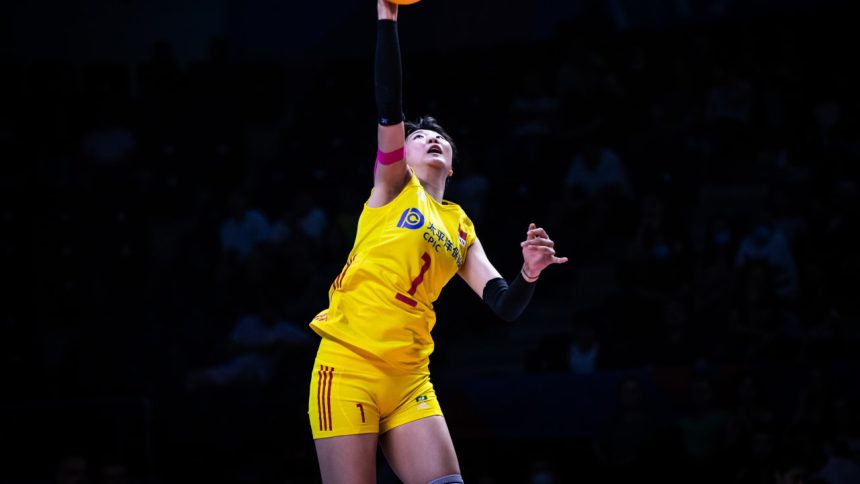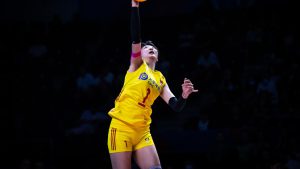 China's captain Xinyue Yuan on the serve
The next two sets were all about Pimpichaya's excellence in attack and Ajcharaporn keeping a cool head for the closing points.
Each of the two teams is leaving Ankara on a 3-1 win-loss record and a positive outlook for returning to the Turkish capital for the Finals next month. Before that, however, both will play in the pools in Quezon City and Sofia.
In the first match of the day in Ankara, Serbia claimed a narrow 3-2 (27-25, 25-16, 17-25, 22-25, 15-13) win over the Netherlands to finish week one on a 3-1 win-loss record and nine points, currently third in the standings, and leave the Dutch winless in four matches on two points. Serbian opposite Sara Lozo led the way with 24 points, including five stuffs and an ace, while Dutch middle Eline Timmerman piled up six kill blocks and two aces towards her team's high of 19 points.
Related links of AVC
AVC Website: click www.asianvolleyball.net
AVC Facebook: click www.Facebook.com/AsianVolleyballConfederation
AVC Twitter: click: www.twitter.com/AsianVolleyball
AVC Instagram: click: https://www.instagram.com/avcvolley/?hl=en
AVC Youtube: click: Asian Volleyball Confederation
AVC WeChat: Asian Volleyball Confederation