Hangzhou, China, September 30, 2023 – Strong teams proved superiority over minnows to brush off lower-ranked sides with convincing wins on the opening day of the 19th Asian Games Hangzhou 2022 Women's Volleyball Competition on Saturday.
The pool round-robin preliminaries of the one-week-long topflight competition in the continental multi-sports extravaganza commenced on Saturday at Deqing Sports Center Gymnasium and Hangzhou Normal University Cangqian Gymnasium. Japan, Vietnam, Kazakhstan and Chinese Taipei pulled off comfortable straight-set victories over their respective opponents, while DPR Korea shrugged off rust to beat India in dramatic four-setter.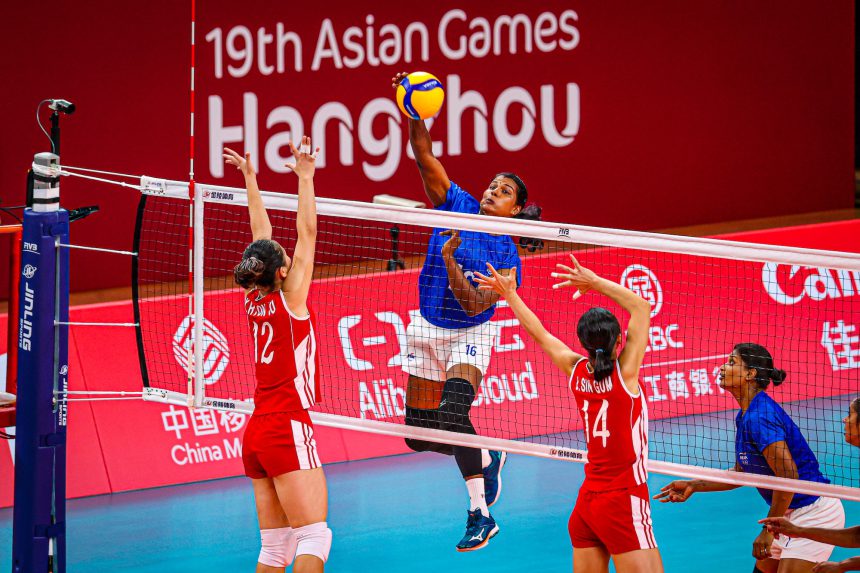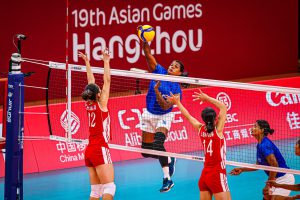 At Deqing Sports Center Gymnasium on Saturday, DPR Korea, which finished fourth place at the previous five Asian Games they took part in including the 2010 edition in Guangzhou, China, kicked off their campaign in the Hangzhou Asian Games with comeback 3-1 win against India in their Pool A opener.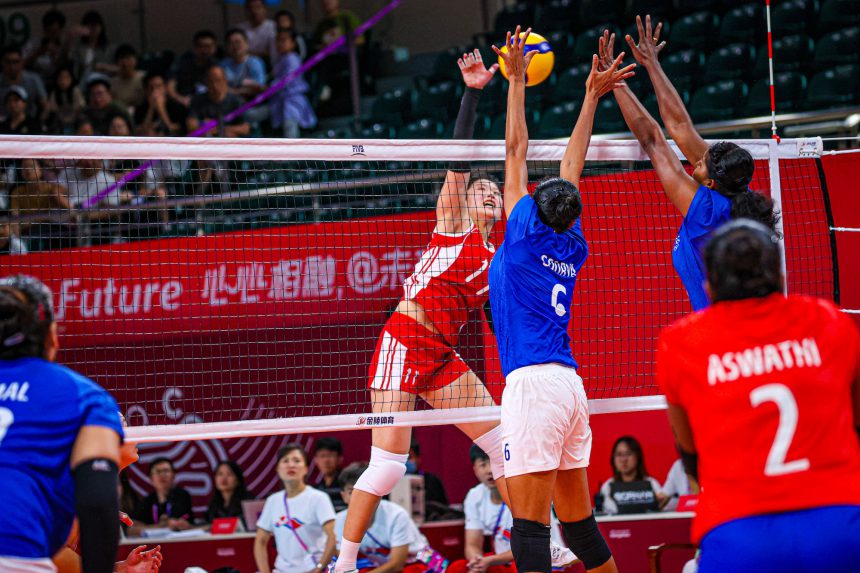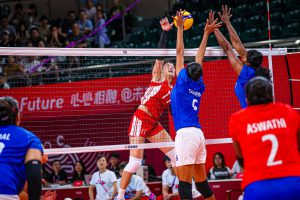 Going down in a closely-contested first set 23-25, the North Koreans clawed their way back into game to win the remaining three sets 25-22, 25-17, 25-16.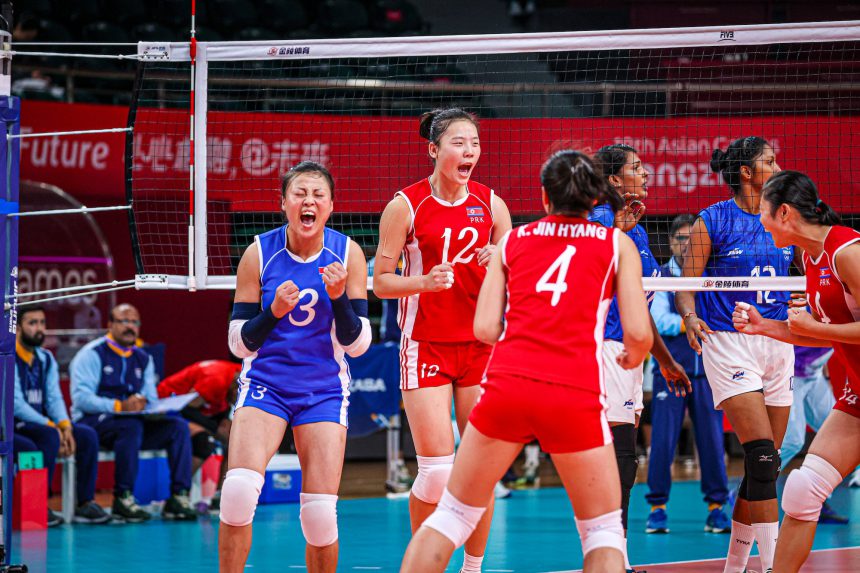 Outside hitter Kim Hyonju was unstoppable and became the match's top scorer with a massive 30 points from 27 kills, one block and 2 aces. Choe Pokhyang also played a vital part of the DPR Korea's victory, producing 19 points from 15 attacks, 2 blocks and 2 aces. Middle blocker Soorya scored 18 points including 14 attacks from 24 attempts and 3 blocks in the India's loss.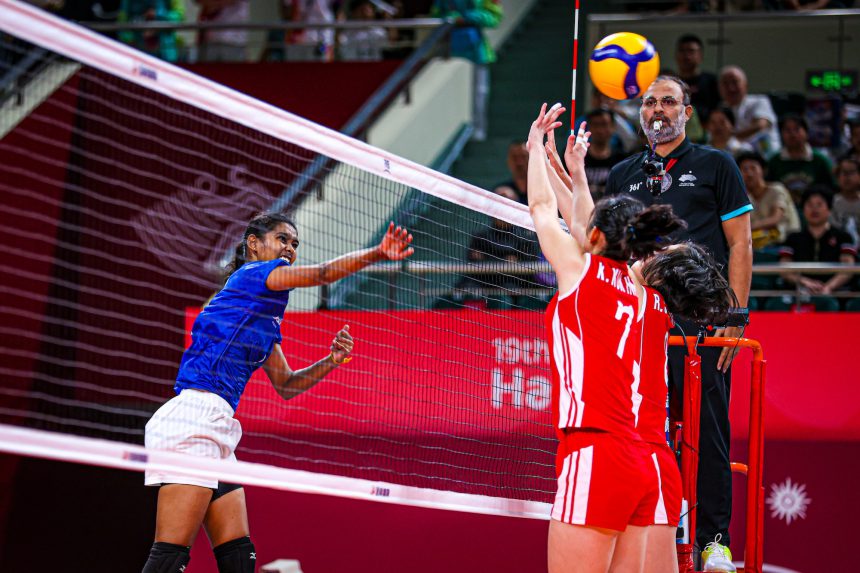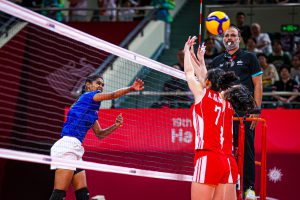 India dominated the blocking game, getting 9 stuffs to DPR Korea' 6, but the North Koreans did a very good job of leading their opponents in kills (67 to 53) and aces (8 to 2) aside from benefiting from more opponent errors (17 to 16).
A daunting task awaits India on Sunday when they next go up against reigning champions and world No.6 China, which captured gold medal at the Rio de Janeiro 2006 Olympic Games to their name, while DPR Korea will have a rest day.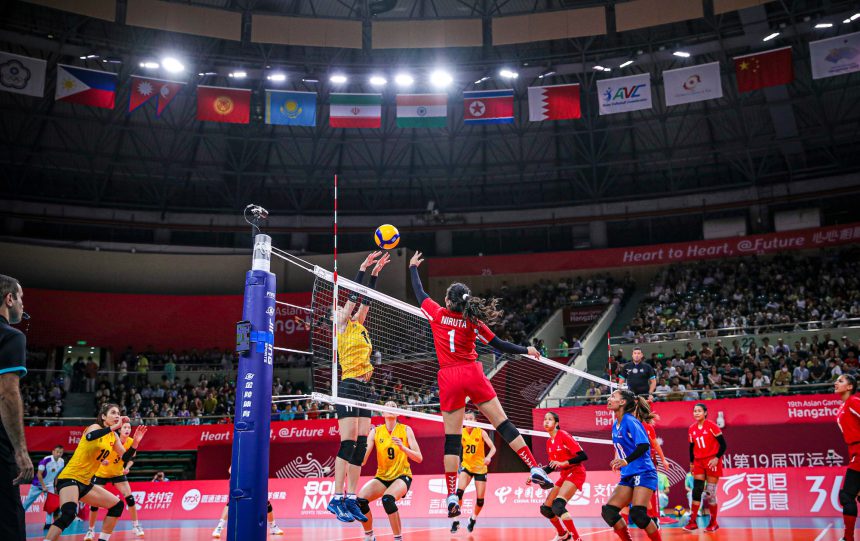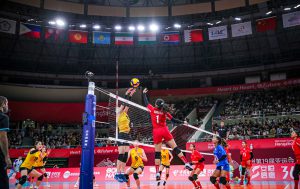 In the second match, AVC Challenge Cup winners and world No. 39 Vietnam faced no difficulty in shutting out Nepal in a totally one-sided battle 3-0 (25-4, 25-16, 25-13) to celebrate their first win in the Hangzhou Asian Games.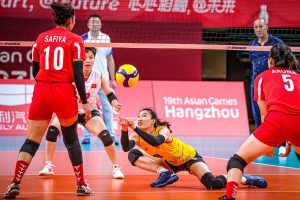 Vietnam, current world No.39, fielded a strong lineup led by star spiker Tran Thi Thanh Thuy who won the MVP award at the 2023 AVC Challenge Cup in Indonesia, and after winning the opening set with ease 25-4, Vietnam replaced their best players including Tran Thi Thanh Thuy with substitutions including Pham Thi Nguyet Anh, Doan Thi Lam Oanh and Ly Thi Nuyen to demolish the unfancied Nepal in the second and third sets 25-16 and 25-13 for eventual 3-0 victory.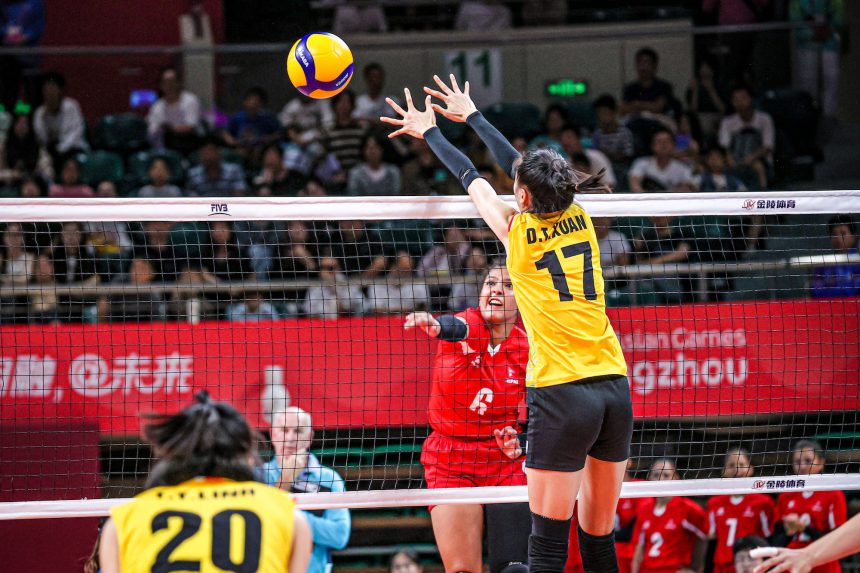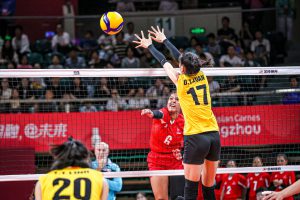 Outside hitter Vi Thi Nhu Quynh led the Vietnam's offense with 13 points, followed by Doan Thi Xuan who tallied 9 in 8 kills and one block. The Vietnamese also limited the rivals' offense to the point that no Nepalese player got to reach double digits in scoring against them. Outside hitter Pratibha Mali scored 8 points on the Nepal's losing effort.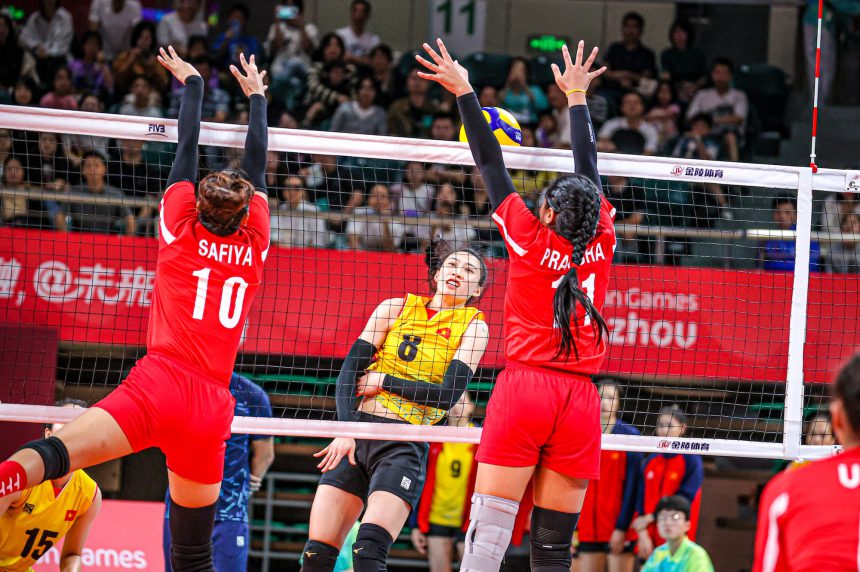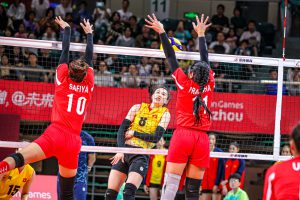 The Vietnam's dominance was also visible in the match stats as the winners dominated in kills (45 to 23), blocks (8 to 6) and aces (2 to 1), besides benefiting from more opponent errors (20 to 3).
Vietnam will next challenge world No.40 Korea in an eagerly-anticipated encounter. The Vietnamese narrowly beat Korea 3-2 in the preliminary Pool C encounter at the recent Nakhon Ratchasima-hosted Asian Senior Women's Championship in Thailand. Nepal will have a rest day, and will play a must-win match against Korea on Monday to keep their hopes of advancing to the next round alive.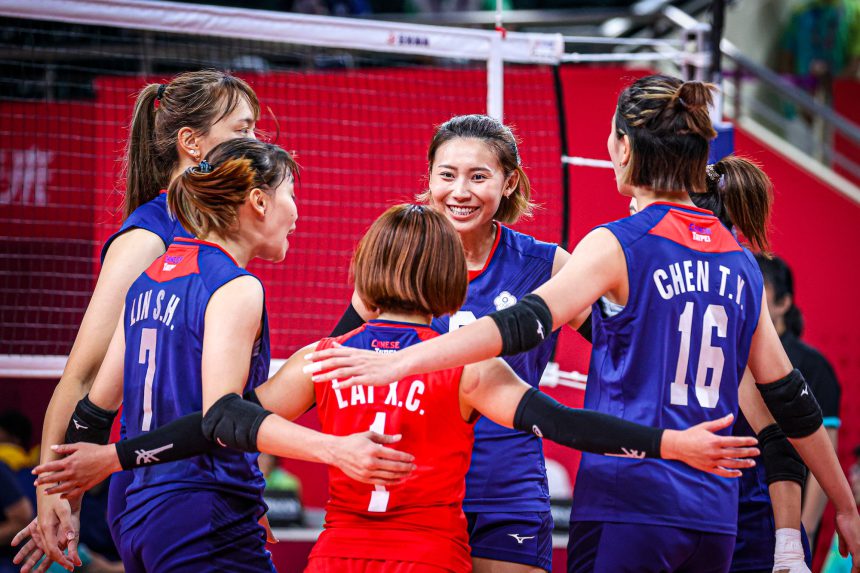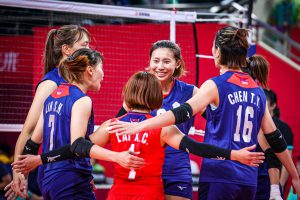 The third match at Deqing Sports Center Gymnasium saw world No.45 Chinese Taipei repeat their success against world No.78 Mongolia, the team they had already beaten in straight sets at the 22nd Asian Senior Women's Championship in Thailand in September, with an exceptional 25-19, 25-12, 25-8 win in their first Pool B match on Saturday.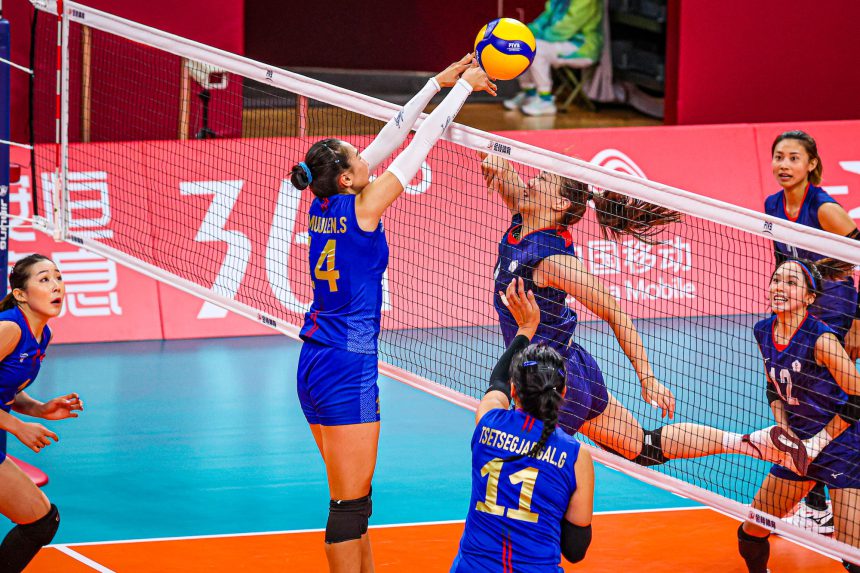 Opposite Chang LI-Wen was a key player in the Chinese Taipei's victory, contributing 12 points including 11 attacks from 20 attempts. Middle blocker Chiu Ya-Hui added another 10 points. No Mongolian player scored double digits, with opposites Gan-Ochir Khongorzul and Ganbold Enkhnaran handing the losers 6 points apiece.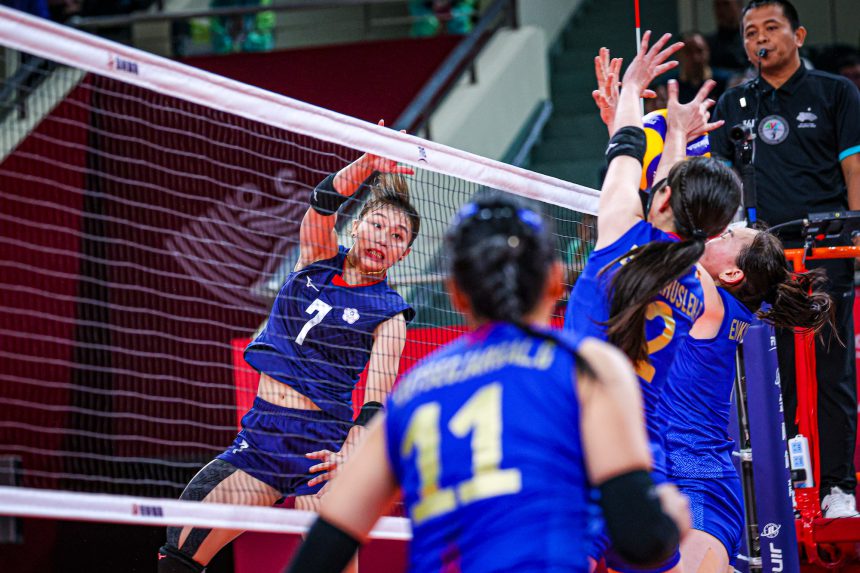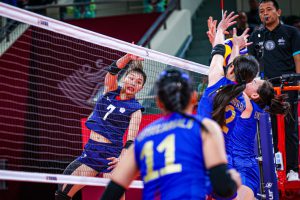 Chinese Taipei, which finished a disappointing 9th place at the recent Asian Senior Women's Championship, are due to face a difficult task on Sunday when they will clash with world No.13 and Asian champions Thailand, while Mongolia will have a rest day and will challenge the Thai team in a must-win encounter on Monday.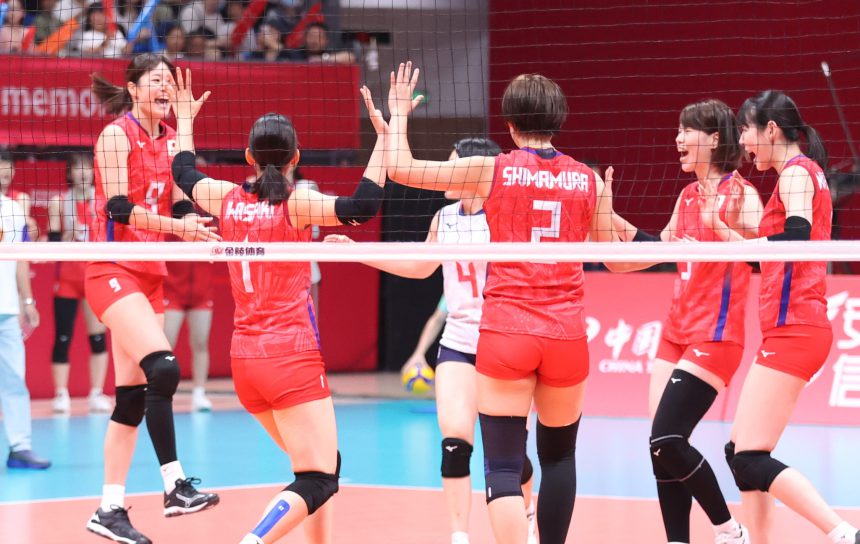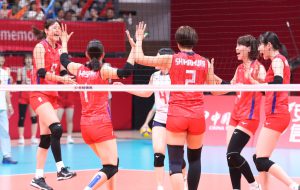 Meanwhile, at Hangzhou Normal University Cangqian Gymnasium on Saturday, world No.9 Japan, fielding a second-string squad, whose seven players joined the bronze medal-winning team in the Asian Senior Women's Championship in Thailand in September, pulled off an easy 3-0 (25-17, 25-10, 25-15) triumph over Hong Kong China, though boosted by cheering thousands of Chinese supporters in this 8,033-seater venue, in their Pool D opener.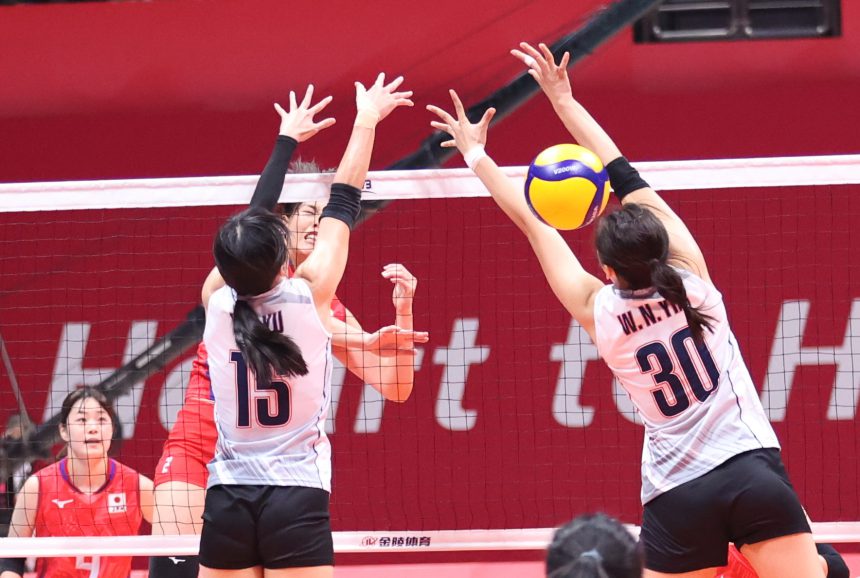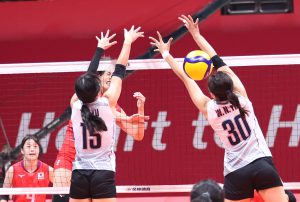 Outside hitter Manami Uesaka chipped in with 13 points from 10 attacks and team-leading 3 blocks for Japan, while Chim Wing Lam led Hong Kong, China with 8 points including 7 attacks from 25 attempts.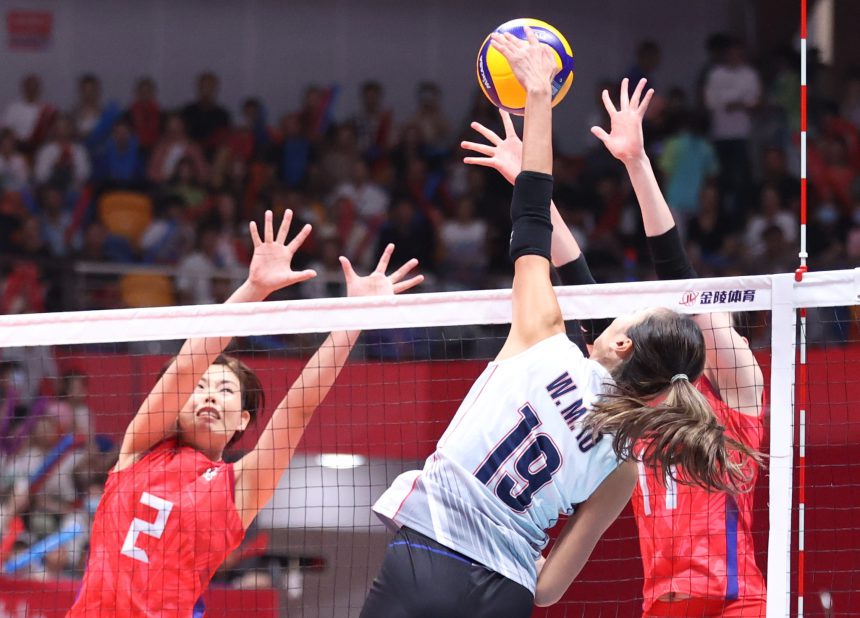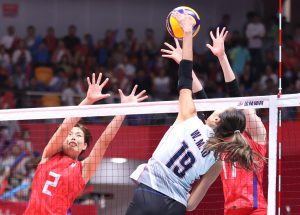 Hong Kong, China will next go up against world No.32 Kazakhstan on Sunday, while Afghanistan will be pitted against Japan.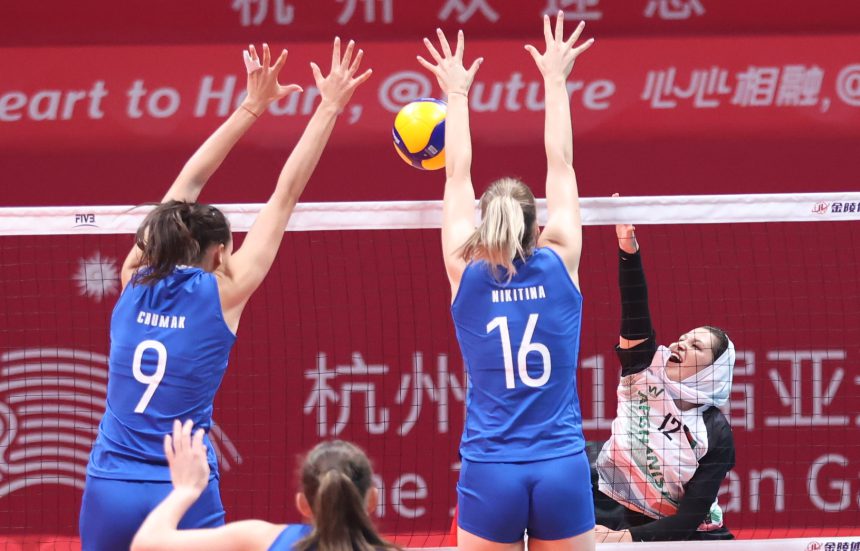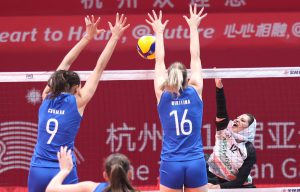 The Saturday''s match at the same venue between Kazakhstan and Afghanistan was one-way traffic as the former breezed past the latter 3-0 (25-4, 25-5, 25-3).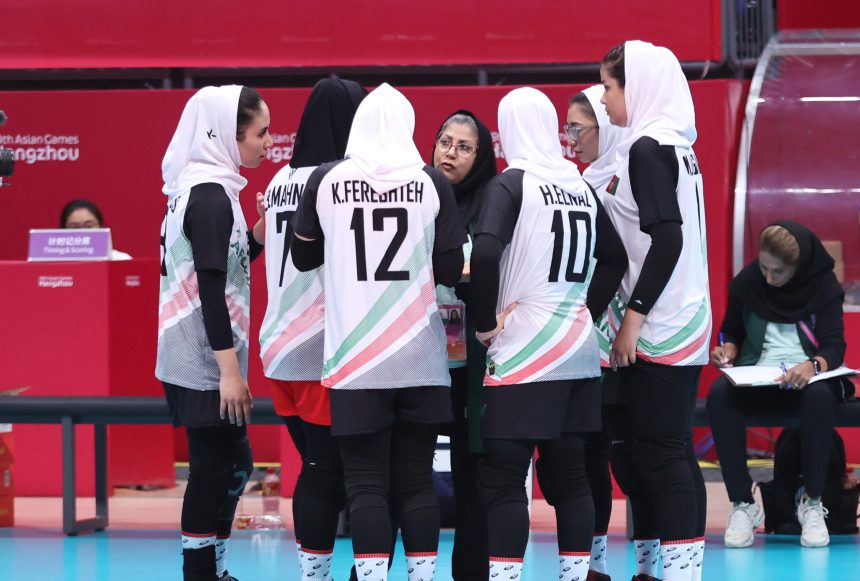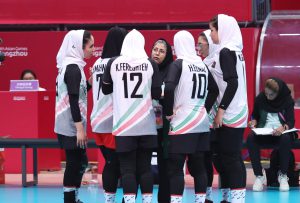 Afghanistan, making their debut effort in the Asian Games, proved no match against the much stronger opponents. As Kazakhstan came up with dominant skills including spectacular attacks, scintillating blocks and well-placed serves, Afghanistan had poor reception and attacks and their errors-prone game cost them dear to succumb to humiliating straight-set loss.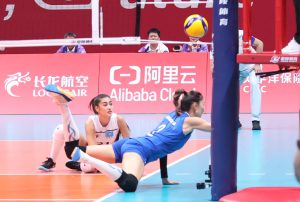 Outside hitter Sana Anarkulova delivered 12 points including 11 kills from 15 attempts for Kazakhstan, while Kristina Strukova added another 11 points. Tatyana Nikitina and Natalya Smirnova kept good company to add 10 points apiece. Mohaddese Amiri, Mursal Khedri, Zahra Moradi and Fareshta Karimi scored one point apiece for the Asian Games debutantes Afghanistan.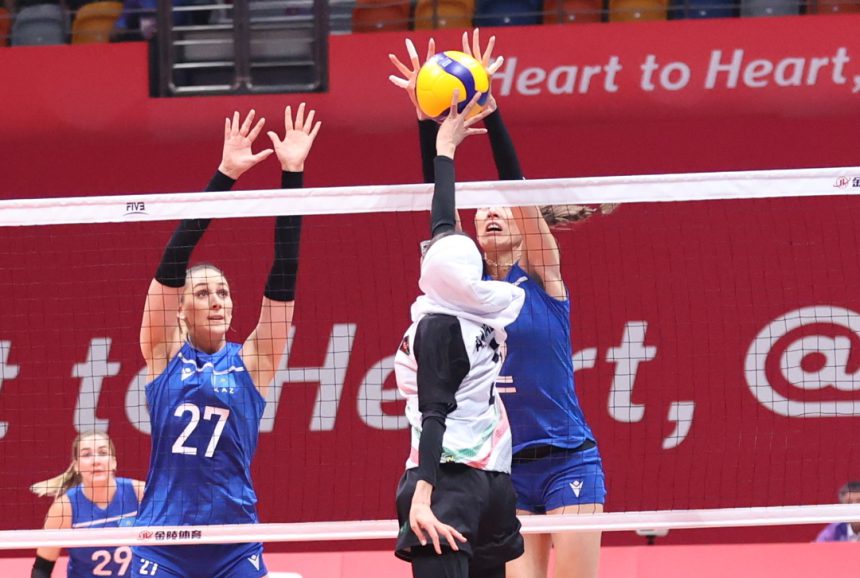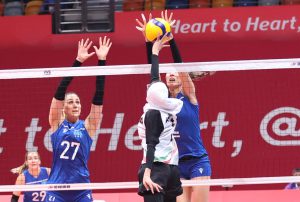 The pool play continues on Sunday. At Deqing Sports Center Gymnasium, Thailand will play their first match in Pool B against Chinese Taipei, while China, silver medallists at this year's VNL, will kick off their Asian Games title defense against India in Pool A.
At Hangzhou Normal University Cangqian Gymnasium, Korea will take on Vietnam in Pool C, with Kazakhstan meeting Hong Kong China and Japan playing Afghanistan in Pool D.
COMPETITION SUMMARY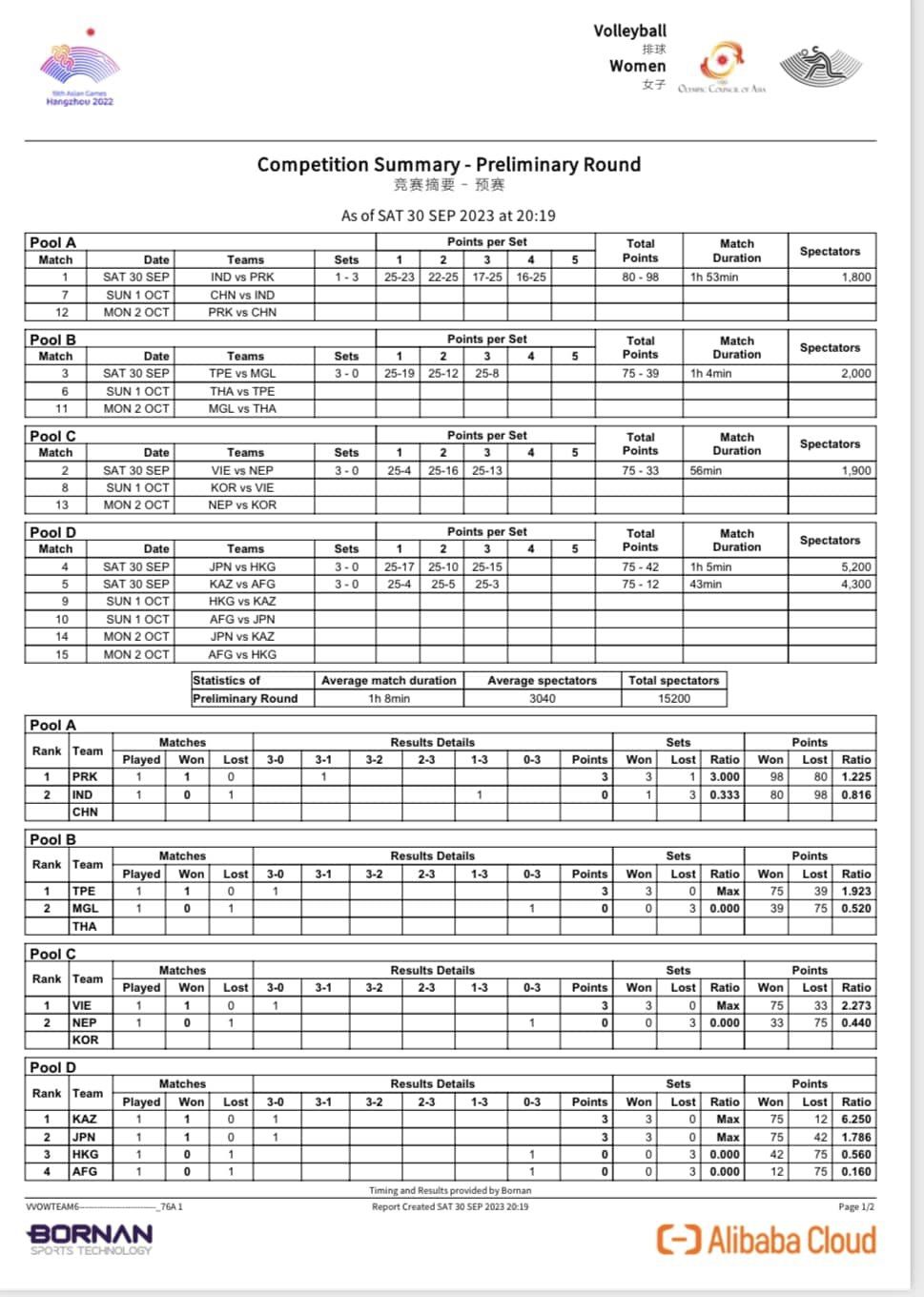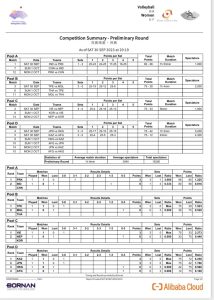 MATCH SCHEDULE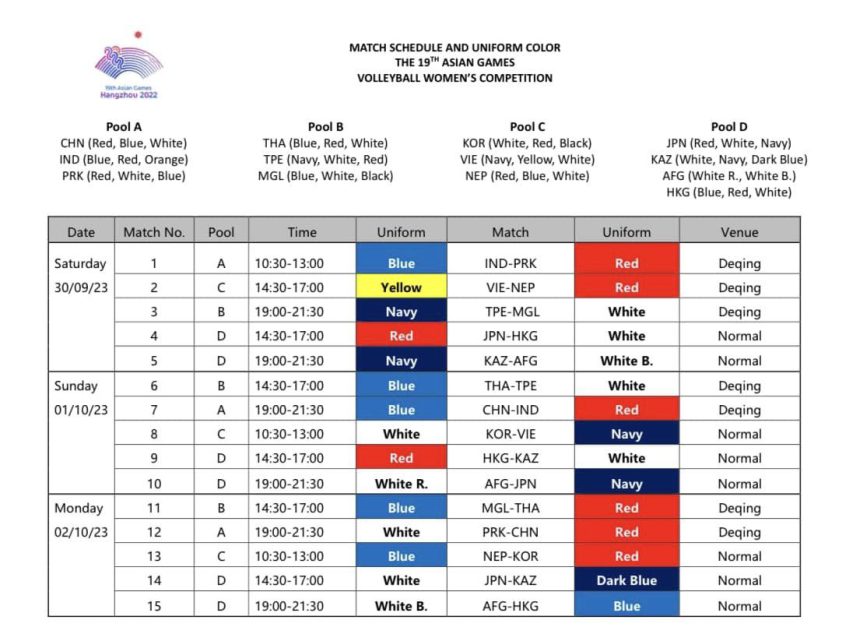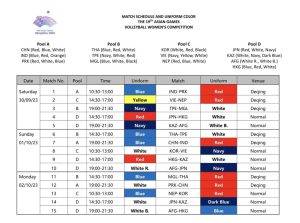 QUICK LINKS
AVC Website: click www.asianvolleyball.net
AVC Facebook: click www.Facebook.com/AsianVolleyballConfederation
AVC Twitter: click: www.twitter.com/AsianVolleyball
AVC Instagram: click: https://www.instagram.com/avcvolley/?hl=en
AVC Youtube: click: Asian Volleyball Confederation
AVC WeChat: Asian Volleyball Confederation