Bangkok, Thailand, February 23, 2022 – The AVC Sports Events Council, chaired by Dr Eom Han-Joo from Korea, met on Zoom on Wednesday to discuss a relatively large number of key issues, hear reports of previous AVC Championships and implement strategic plans for hosting future events.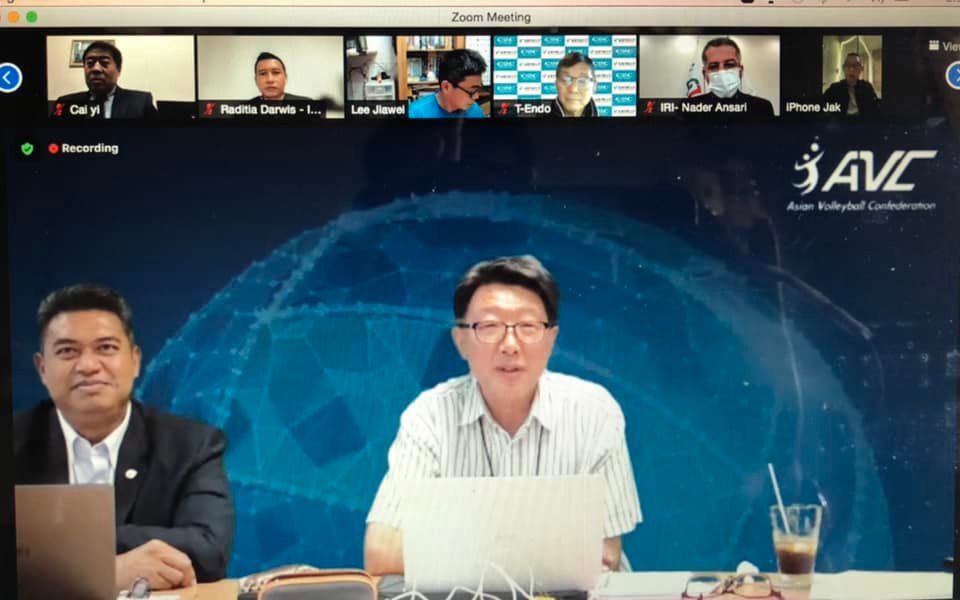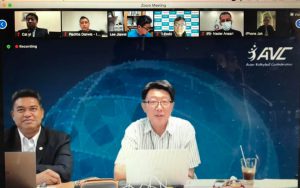 Kiattipong, left, and Dr Eom
During the nearly 4-hour online meeting, all attendants had been asked to comment, share their experience and knowledge and advise how to get things done effectively amidst the ongoing COVID-19 pandemic.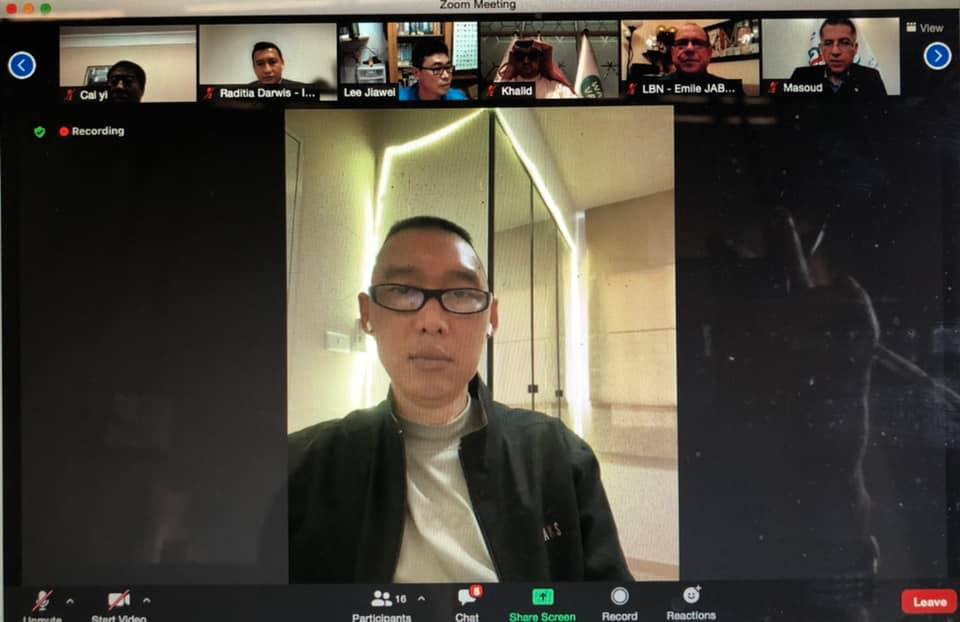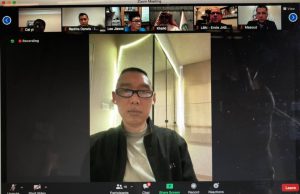 Jaksuwan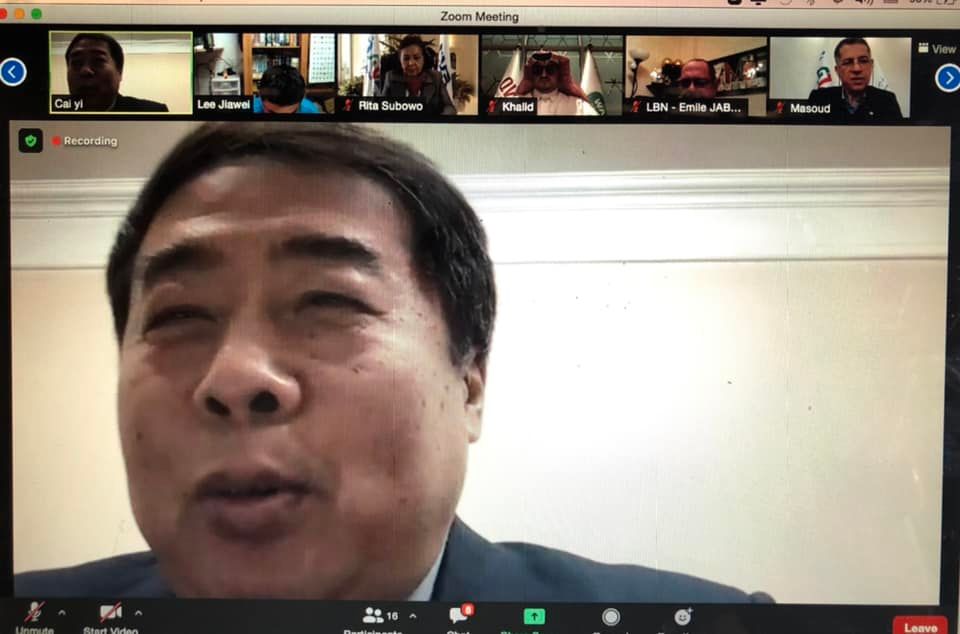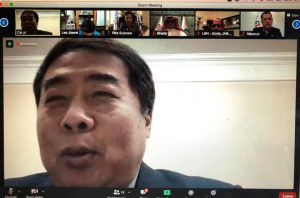 Cai Yi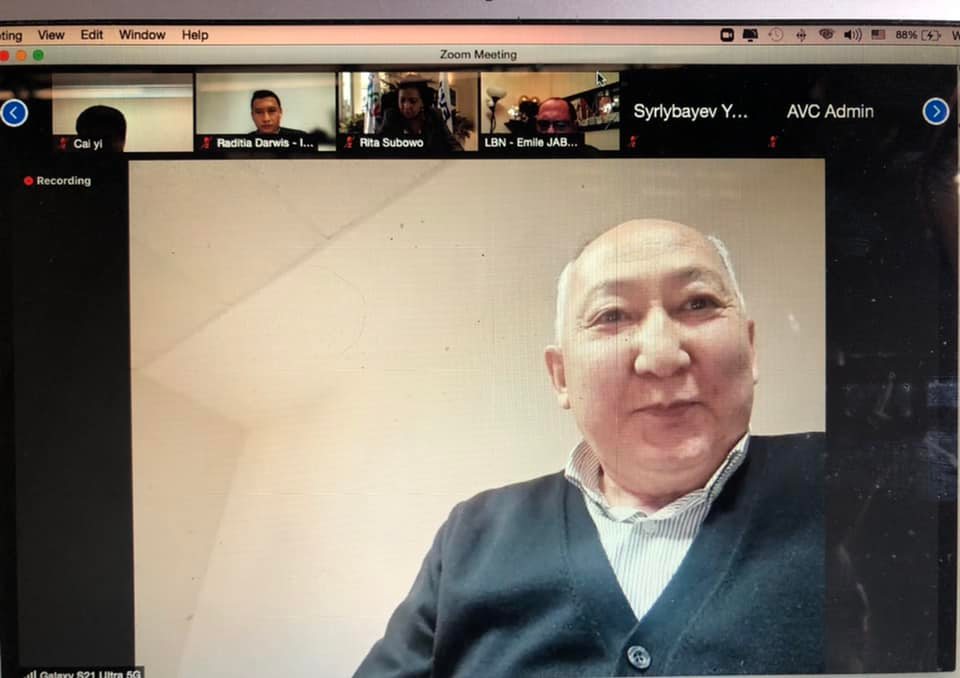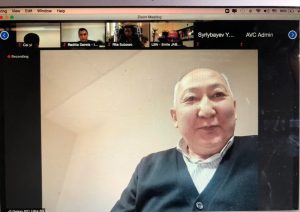 Yermek
Members joining the Wednesday's meeting comprised SEC Honorary Mr Shanrit Wongprasert from Thailand, himself AVC Executive Director, Mr Jaksuwan Tocharoen from Thailand (Secretary), Mr Khalid Mohd Al-Kaabi from Qatar, Mr Yermek Syrlybayev from Kazakhstan, Mr Emile Jabbour from Lebanon, Mr Toshiro Endo from Japan, Mr Masoud Yazdanpanah from Iran, Mr Cai Yi from China, Mr Raditia Rahmat Darwis from Indonesia and Mr Herman Ada from Guam, himself FIVB Beach Volleyball Commission Member.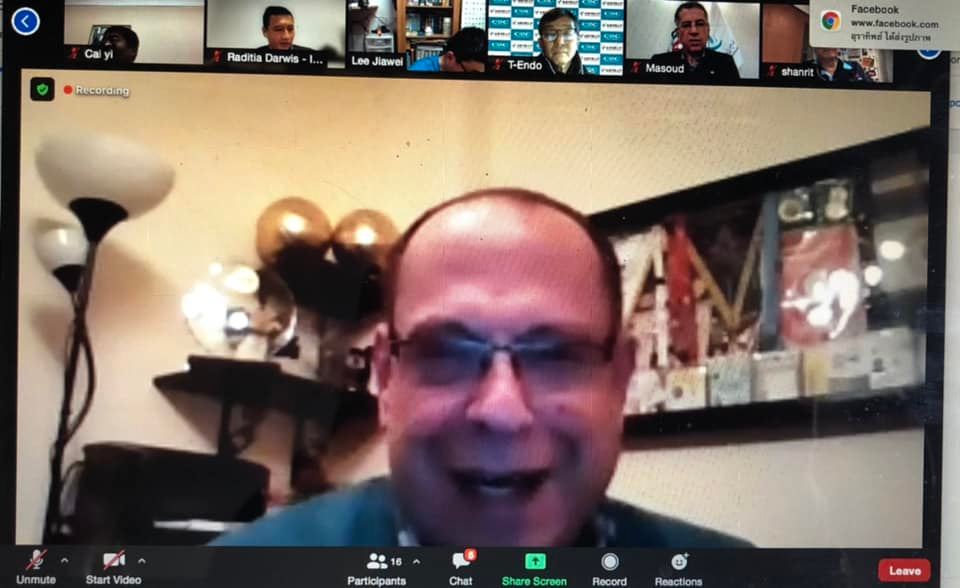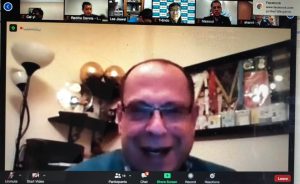 Jabbour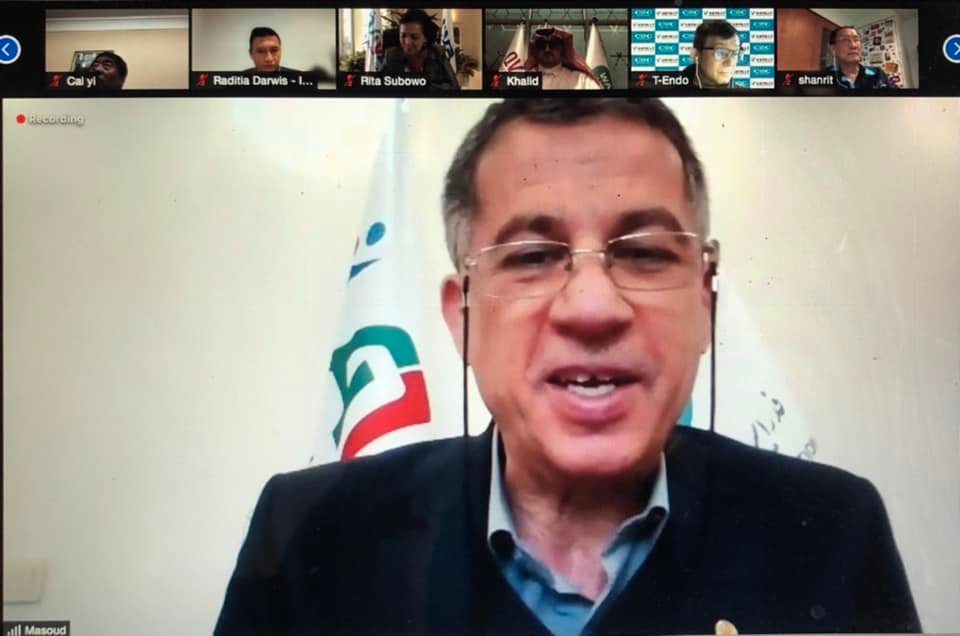 Masoud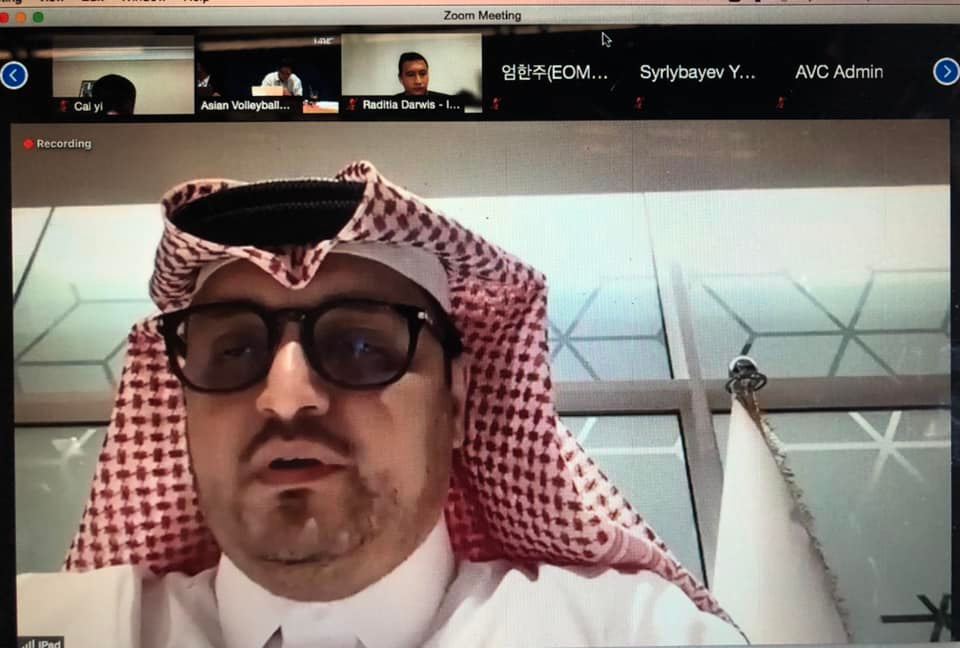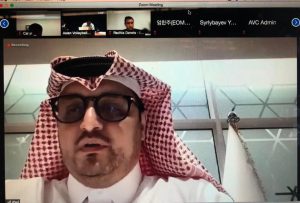 Khalid
Also in attendance were AVC Secretary General Mr Kiattipong Radchatagriengkai and Ms Patana Kittichaisombat from AVC Volleyball Department.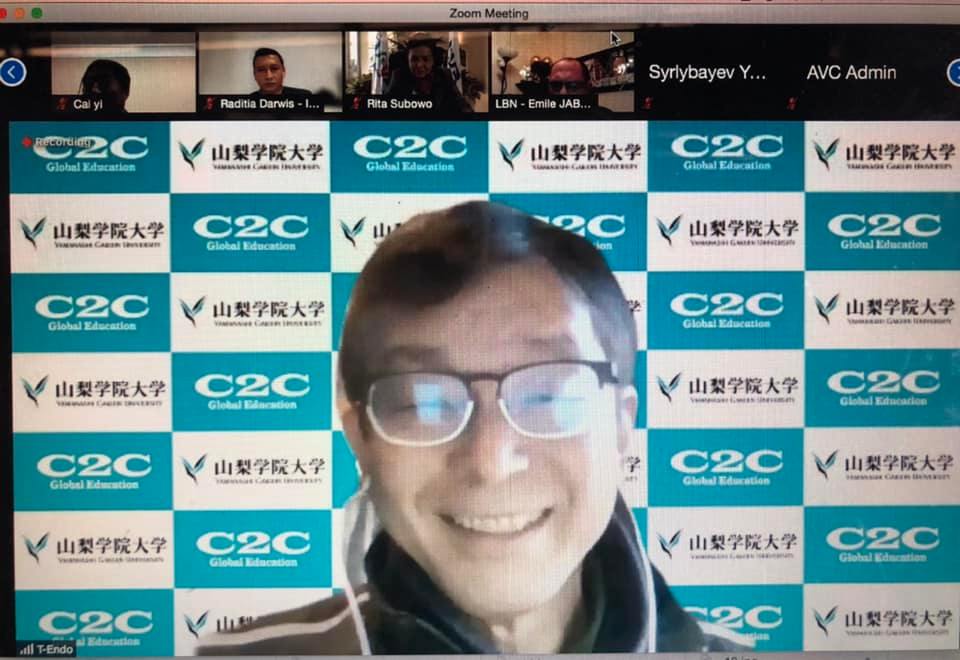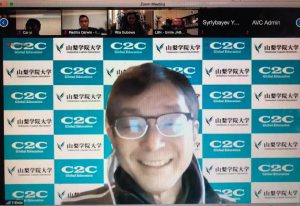 Toshiro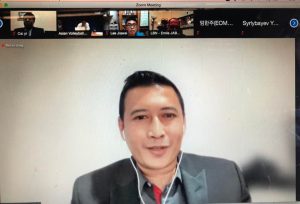 Raditia
Prior to the meeting, AVC President Mrs Rita Subowo delivered a welcome speech to all participants.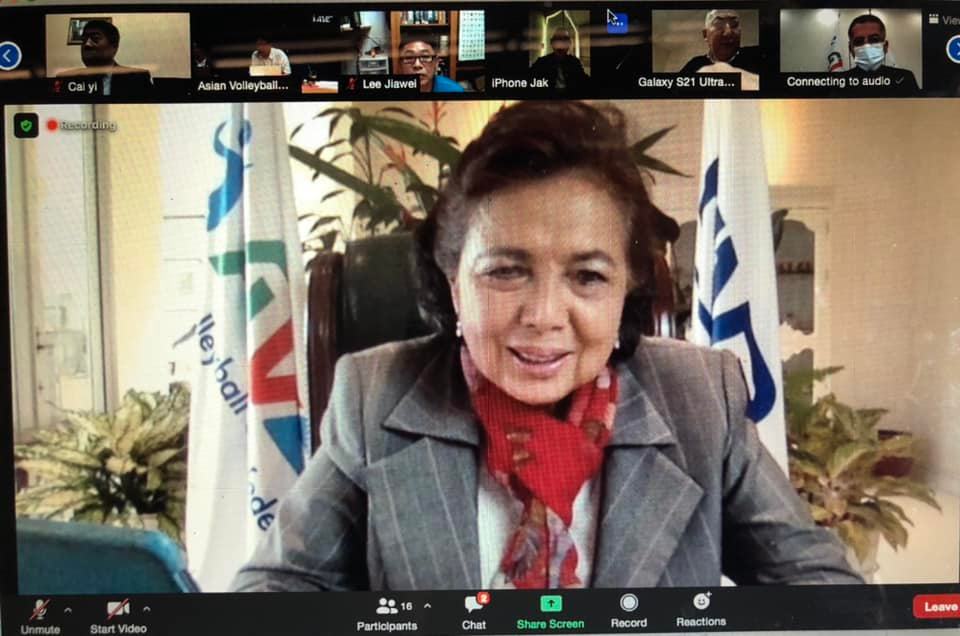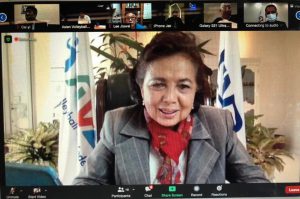 AVC President Mrs Rita Subowo
"This is a very important meeting. FIVB has just held its Volleyball Council Meeting on February 11. It's very important because we are so grateful in AVC, even though there is the COVID-19 pandemic, we still could organise a lot of competitions with great success. I'm upbeat that we are going to do the same this year – to organise several competitions. I would like to inform all of you including the SEC Chairman and AVC Headquarters that we have to continue with new knowledge and technology. In one of the presentations at the Volleyball Council Meeting, we saw an excellent communication between fans and their favourite players on court, so maybe in the future, we are going to have a connection with them through FIVB. They are going to help us to do our competitions with their new technology," Mrs Subowo was quoted as saying.
"I would like all SEC Members to continue your hard work and I'm convinced the outcome can help a lot of affiliated National Federations, especially those from a very low category to be able to promote the sport. This is very important. With the sponsors we have now, it's not really enough. However, through AVC SEC as well, we can encourage the countries and host countries in Asia to be able to go directly to FIVB to get the funding or support for the competitions. We continue with everybody in AVC through FIVB and then everybody can help our volleyball in Asia because a lot of things we can do in the future. All countries in Asia can help one another in this situation. I believe you all can do it. Don't hesitate to open your mind, share your idea with Dr Eom so that he can put it together and we can work it out from there," she said.
Since the COVID-19 outbreak has kept all Members apart for around two years already, the AVC SEC Chairman Dr Eom gave each Member a chance to say a few words to the Meeting.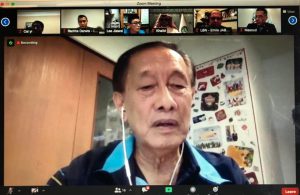 Shanrit
Mr Shanrit said, "Welcome all AVC SEC Members to this meeting. I would like to inform you that this year we will have 10 volleyball events to be organised by AVC and now I'm here at the AVC Headquarters to coordinate with SEC, host nations, participating teams and our sponsors. We will try our best to finalise the competition dates and the hosts. Until now, the COVID-19 Hygiene Protocol still plays a vital part in affecting each host nation. Today, AVC SEC received all relevant information and all of you will make decisions to propose to the AVC BA and we, all staff at AVC Headquarters are here to serve all of you."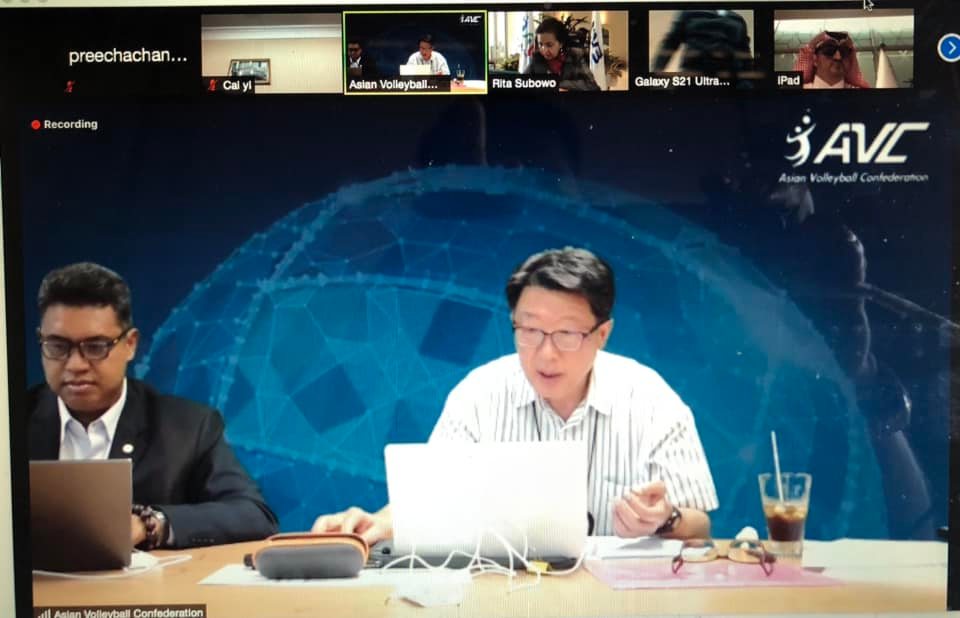 Kiattipong, left, and Dr Eom
"This is a very important meeting because it can help AVC showcase its movement. In the last two years, I admit that it was very hard for us to organise events, but finally we passed the hard time together. Fortunately, this year, we have host nations to organise all AVC events," Mr Kiattipong said.
After that, the meeting approved the 2022 Agenda, acknowledged the 2021 Minutes of the AVC SEC Meeting in Bangkok, Thailand and heard the reports of all AVC Championships organised in 2021, Progressive Reports on AVC events in 2022 and the Preparatory Reports of AVC events in 2023.
Dr Eom suggested that an inspection visit be made at competition and training halls and hotels of each host nation for all 2022 events. This is to make sure all facilities needed for competitions as well as all requirements meet the certain criteria of AVC. Furthermore, the quarantine measures of each host nation in 2022 became one issue properly taken into consideration.
The Chairman also asked the Meeting to comment on each host nation of the previous events in 2021, while Members involved in those competitions stood a chance to express their ideas, recommendations and suggestions for future improvements.
In addition, the Meeting heard the report on the FIVB Volleyball Council Meeting on Zoom on February 11, 2022, while several key topics from that meeting consisting of new format of play for 2022 FIVB VNL for both Men and Women, FIVB World Championships 2022, Paris Olympic 2024, World Ranking Points, Results of FIVB Age-Group Championships, Indirect Rules Testing in FIVB, FIVB VNL Challenger Cup 2022 and the Age of FIVB Age Group competitions had been raised for further consideration and discussion.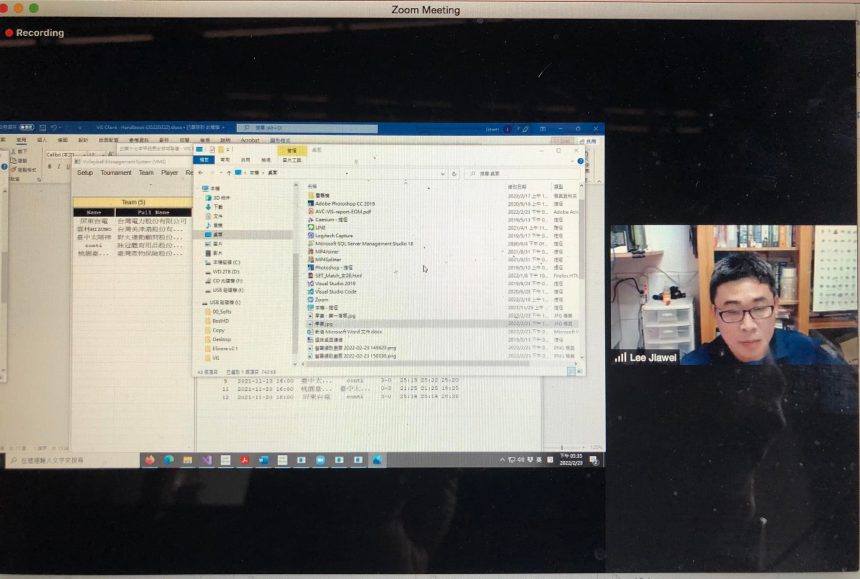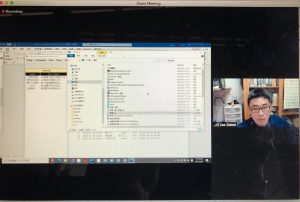 Lee
On the same occasion, Mr Lee Jiawei from Chinese Taipei was invited to present the AVC VIS Programe to the Meeting, which aims at not only developing official AVC VIS Programe that can be used in connection with AVC-eScore program in AVC official competitions and for NFs' use, but also establishing the database and official match information of AVC events and increasing the quality of match results and promoting the interests of public TV media and volleyball fans with real time online feeding.
Dr Eom also informed the Meeting that the drawing of lots for all AVC 2022 events will soon be held, while proposals have also been prepared for AVC BA's consideration and decision.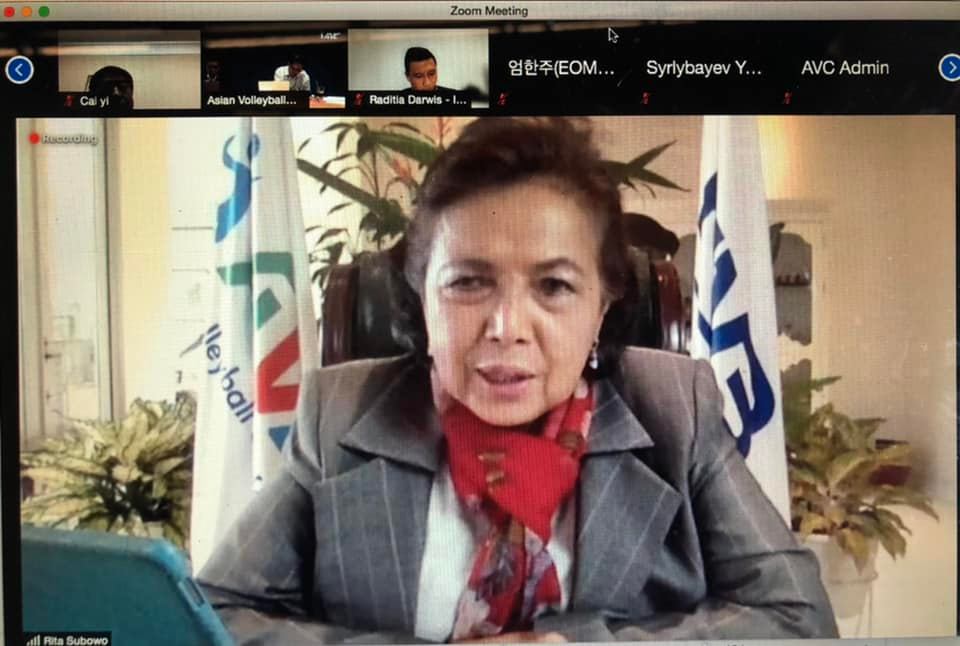 AVC President Mrs Rita Subowo
After the meeting, AVC President Mrs Rita Subowo gave a closing speech. She praised all Members, citing that it's well done. "We have heard our routine reports regarding AVC Sports Events and reports of issues and obstacles we are facing and all opportunities we are going to face. I'm very happy to know that we've discussed proper ways, Asian way, Asian solidarity and Asian unity to handle every situation and have come up with solutions finally. Let's work together, hand in hand to cooperate for the sustainable development of volleyball in Asia," she concluded.
Related links of AVC
AVC Website: click www.asianvolleyball.net
AVC Facebook: click www.Facebook.com/AsianVolleyballConfederation
AVC Twitter: click: www.twitter.com/AsianVolleyball
AVC Instagram: click: https://www.instagram.com/avcvolley/?hl=en
AVC Youtube: click: Asian Volleyball Confederation
AVC WeChat: Asian Volleyball Confederation