Bangkok, Thailand, September 11, 2020 – Be it volleyball or beach volleyball, Japan is a country that breeds athletic competence. In the last couple of years its beach volleyball athletes have been breaking the mold and creating the most vibrant scene the country has ever experienced.
Among the teams that are leading this transformation is the dynamic tandem of Takumi Takahashi and Yoshiumi Hasegawa, the country's top-ranked men's pair. The pair talked to AVC about their achievements and goals, and how they want to take their careers to the next level.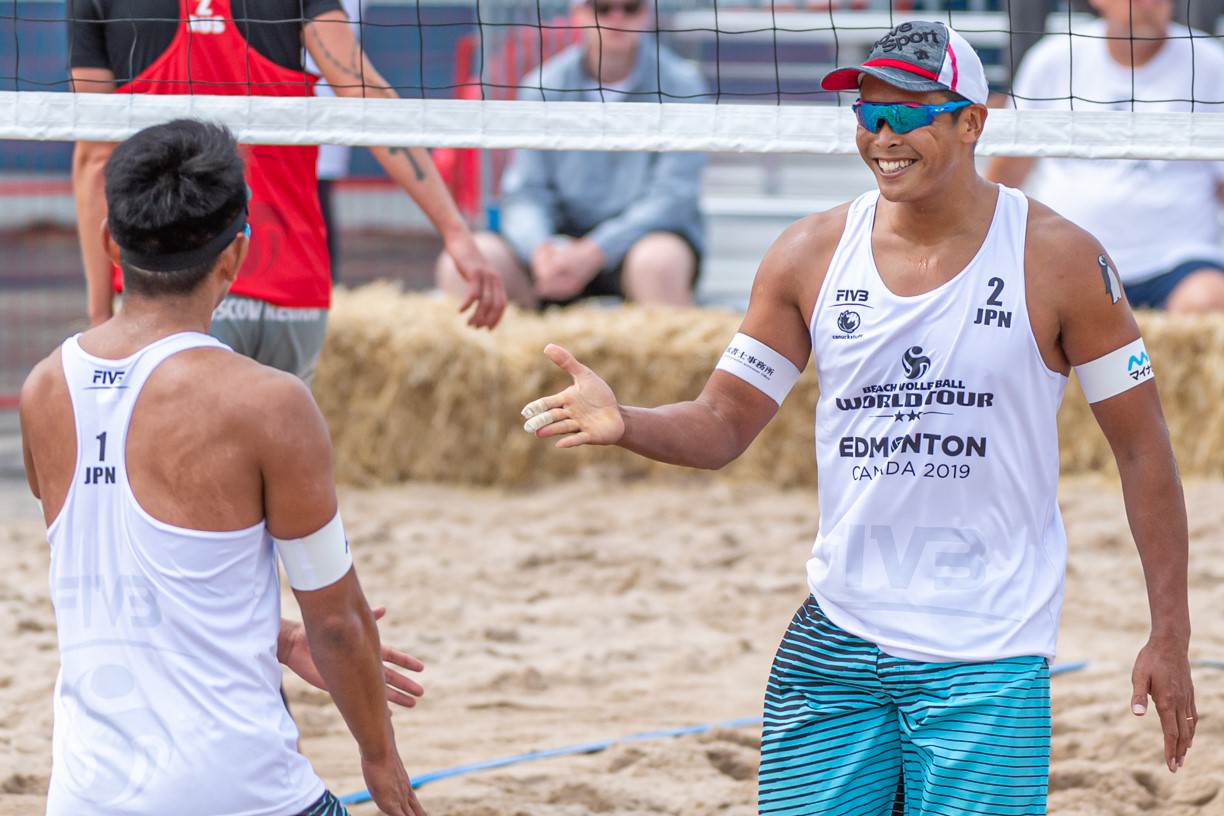 Their beach volleyball beginnings
Different challenges were presented to Takahashi and Hasegawa on their first encounter with beach volleyball. Takahashi wanted to redeem himself over a defeat, while Hasegawa wanted to try out things he could not do in indoor volleyball. Nevertheless, they both fell in love with what beach volleyball had to offer.
Takahashi: I participated in a 4×4 beach volleyball event held in Odaiba in Tokyo when I was a university student. That was my first time to play beach volleyball.
It was difficult to play but I remembered that it had that sense of openness and it was a lot of fun. During that time, I also experienced frustration since I lost to an opponent who was twice my age. So that experience of fun and frustration made me want to take up beach volleyball. I asked the coach of my university to get me started in beach volleyball.
Hasegawa: I was a university student and I was playing indoor volleyball at that time. I went to the beach with my friend to help him practice. That was my first introduction to beach volleyball because prior to that I have never watched beach volleyball even on TV.
The sight of 15 courts standing on the beach was amazing. I was captivated by seeing players with tanned skin and lean muscles, and their cool and bright-colored outfits like the sunglasses, shorts and visors. I really thought the players were cool because they used techniques that indoor players could not do. That made me want to play beach volleyball.
Trusting the process
Takahashi has an FIVB World Tour gold medal with another partner but has yet to win his first World Tour medal with Hasegawa. They admit that the partnership is a work in progress but the steps they have taken so far are towards becoming the nation's formidable duo.
Takahashi: By winning the World Tour 1-star in Bangkok in 2018, my former partner and I became the first Japanese team that won the World Tour since the star-categorization was introduced.
I have grown significantly as an athlete and have gained strength mentally and physically. I have also become more patient since reaching the final round of that event.
When we finished ninth at the World Tour Qinzhou 3-star in 2019, I realized that there is still room for improvement, and I needed to be tougher physically and mentally.
Hasegawa: I have not achieved anything big yet, but I feel that I am improving every time I play in the World Tour. I am training hard every day to get a World Tour medal.
Coping with the challenges of the sport
Being an athlete is a challenge by itself, as one needs to manage time between playing and spending time with family, all while aiming to get a good result at the end of each competition. Both of them are surrounded by people who understand their chosen profession.
Takahashi: As long as I play beach volleyball, each day will be challenging for me. After quitting from playing volleyball in high school, I wanted to be a judo trainer or physiotherapist. When I started playing beach volleyball, I received a lot of support from everyone around me that is why I can concentrate on this sport now.
The biggest setback in recent years was the postponement of the Olympic Games because of COVID-19, which had a huge impact globally. I realized the importance of accepting this situation by thinking positively and being active in improving myself.
Hasegawa: The toughest challenge I encountered in my career was being beaten badly at the AVC Continental Cup in 2016. I prepared hard but still fell short. I felt that there was a big gap between us and the others competing at the world level. However, that experience was eye-opening, and I worked very hard to improve since that event.
My wife (Akiko) is also a beach volleyball player and I see that as an advantage. My wife used to play professional volleyball too, and it's great to hear a female athlete's perspective on playing.
During World Tour events, my wife and I would stay with our respective partners in the hotel and we would only have meals together. When we win and when we're done for the day, I get to spend time with her and that for me is just irreplaceable joy.
Taking on the skills and characteristics of a beach volleyball athlete
They gave the lowdown on the important skills and characteristics an athlete needs to acquire to succeed in beach volleyball and how it can help them outside of the court.
Takahashi: Independence is important. I have not myself mastered it, but I feel that it is an important characteristic. Anyway, it's just going to be you and your partner in the match, so both of you have to be independent. In order to win the match, you have to think of yourself and to actively communicate with your partner.
This also has a good effect outside sport. When I try to get people interested in beach volleyball, we would take an initiative to organize a meet-and-greet to let other people experience playing beach volleyball. After doing these activities often, many people from all over Japan have come to see me and support me at the Japan Beach Volleyball Tour, which made me so happy.
Hasegawa: The most important skill is to think and the ability to see yourself from a higher perspective. There are a lot of variables in beach volleyball like the venue, weather, sand and your opponent, so you have to have that ability to evaluate your opponent and yourselves at the same time. And you have to be flexible at all times.
Their future plans
Apart from gaining more achievements at continental and world tournaments, Takahashi and Hasegawa hope to have that voice that would influence the nation's future generation to play the sport.
Takahashi: Compared to other countries, beach volleyball is not a major sport in my country, but I hope to have an opportunity to speak to kids about beach volleyball. I want them to take interest and see me play. From that experience, I hope more kids will aspire to become beach volleyball players in the future.
In the next five years, I hope to grow both as a player and as a person be able to participate at the Tokyo 2020 and Paris 2024 Olympic Games. I would like to become a player who can lead Japan beach volleyball and a person who can make the sport popular.
Hasegawa: Beach volleyball events in Japan still have a lot to improve on in terms of entertainment. The best elements of the game in overseas events should be introduced more into Japanese events. Good media exposure will increase public awareness on the sport, but a good result will also do that. Currently our performance is not good enough that is why I keep on training hard to achieve that good result.
I hope I can stand on the World Tour podium someday. We are currently ranked 51st in the world. I also think my height of 186cm makes me one of the smallest blockers in the top 100 teams. However, I will continue to improve my skills to win and be a successful role model in Japan beach volleyball. I want to pave the way for the young Japanese athletes.
Related links of AVC
AVC Website: click www.asianvolleyball.net
AVC Facebook: click www.Facebook.com/AsianVolleyballConfederation
AVC Twitter: click: https://twitter.com/avcvolley
AVC Instagram: click: https://www.instagram.com/avcvolley/?hl=en
AVC Youtube: click: Asian Volleyball Confederation
AVC WeChat: Asian Volleyball Confederation