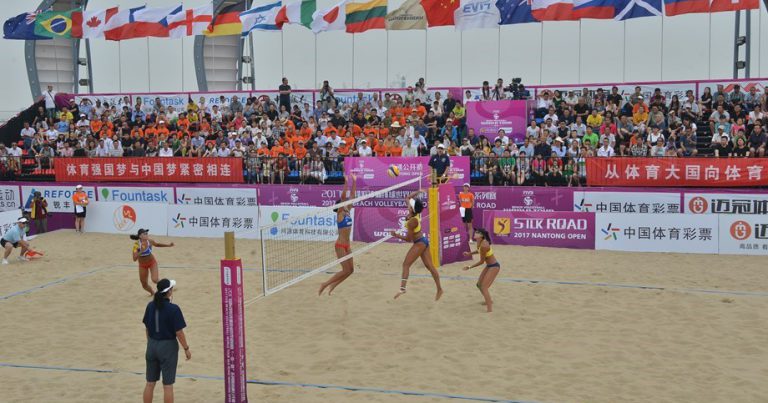 Nantong, China, May 29, 2019 – Twenty teams from 15 countries will be playing here Thursday in the third annual Silk Road Nantong Open to determine the final six main draw berths for this week's FIVB Beach Volleyball World Tour event for women.
Once the final six spots are determined on Thursday afternoon for the 24-team main draw at the $25,000 Silk Road Nantong Open, the main draw rounds begin on Friday with pool play to set the field for Saturday's opening rounds of elimination bracket play to set the field for Sunday's final four matches where the winning team will share the $4,000 first-place prize.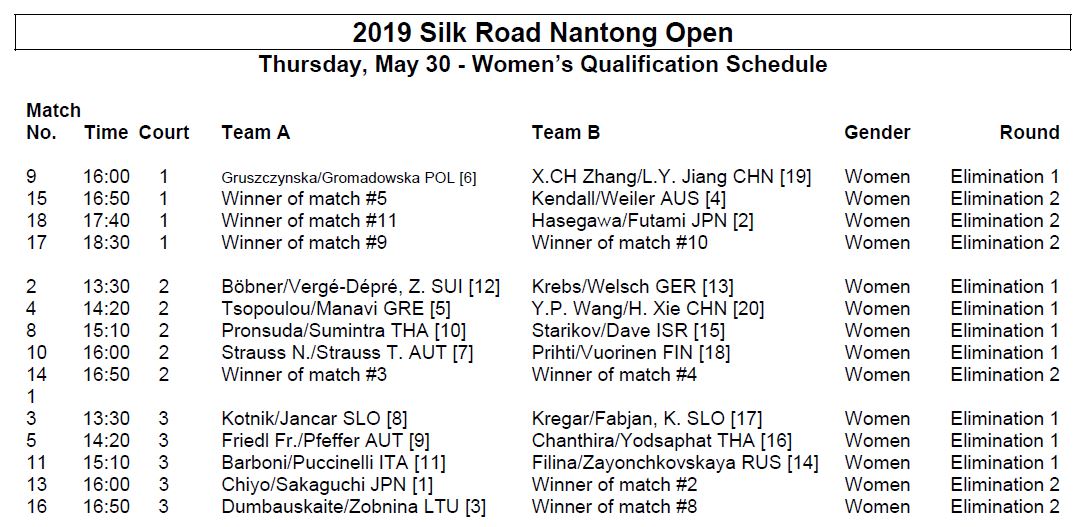 Thursday's qualifier will feature six teams that have placed in the final fours at FIVB World Tour events led by Switzerland's Esmee Bobner/Zoe Verge-Depre, who captured a Slovenia gold medal in Ljubljana last August. Bobner and Verge-Depre also claimed a World Tour silver medal last September in Montpellier, France.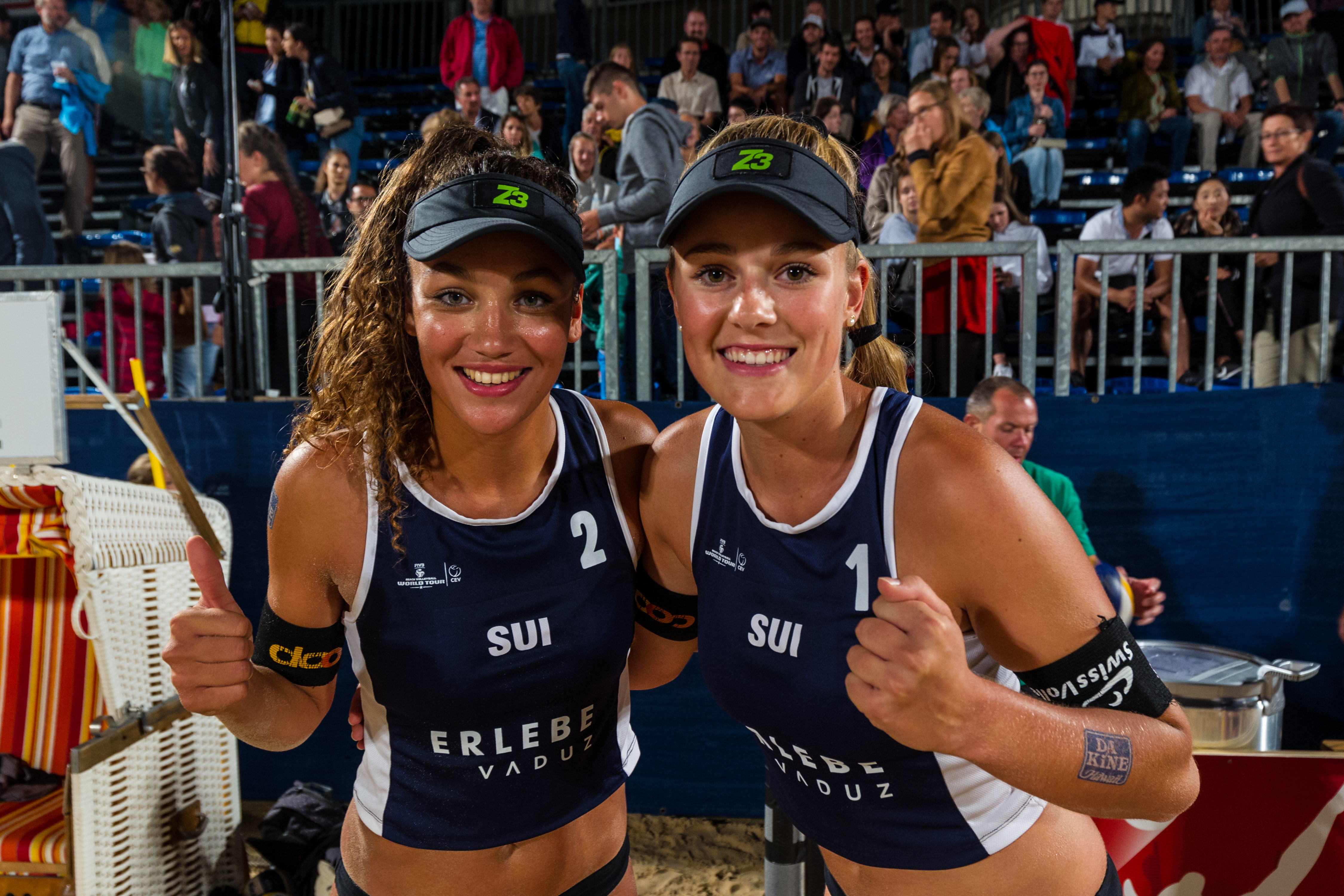 After competing for a bronze medal last week at the Boracay Open in the Philippines, Brittany Kendall/Stefanie Weiler of Australia and Tjasa Jancar/Tjasa Kotnik of Slovenia are also playing in the Nantong qualifier.  On Sunday in Boracay, Kendall and Weiler defeated Jancar and Kotnik 2-1 (23-25, 21-13, 15-13) in the 46-minute third-place match.
Other teams with FIVB World Tour final four finishes in the Silk Road Nantong Open qualifier are the Strauss (Nadine and Teresa) sisters of Austria, Dimitra Manavi/Konstantina Tsopoulou of Greece, and the Japanese pairs of Azusa Futami/Akiko Hasegawa and Yurika Sakaguchi/Chiyo Suzuki.
Headlining the Chinese entrants in the Silk Road Nantong Open will be Jingzhe Wang and Shuhui Wen, who captured an FIVB World Tour gold medal earlier this season with a 2-0 (21-14, 26-24) gold medal victory on home sand in Zhongwei over compatriots Fan Wang/Chen Xue in a 39-minute finale September 16.
Wen also captured the inaugural Nantong Open in June 2017 with Xinyi Xia by defeating compatriots Xinxin Wang/Chen Xue 2-0 (21-18, 21-14) in the 31-minute all-Chinese finale.
Two of the three teams that placed on the second annual Nantong Open podium have entered this year's event, including silver medal winners Gaia Traballi and Agata Zuccarelli of Italy and bronze medal recipients Phoebe Bell and Jessyka Ngauamo of Australia.
Josemari Alves and Liliane Maestrini of Brazil defeated the Italians twice in the 2018 Nantong Open highlighted by a 2-1 (21-13, 19-21, 15-12) gold medal win over Traballi and Zuccarelli in the 53-minute finale. In pool play, Josemari and Liliane posted a 2-1 (16-21, 21-14, 15-10) victory in 54 minutes over the Italians.
Host China's best placement in the Nantong Open in 2018 was a fifth by Xinxin Wang and Xinyi Xia, who were eliminated by Traballi and Zuccarelli in the quarterfinals. In the bronze medal match, Bell and Ngauamo captured the third spot on the 2018 Nantong podium with a 2-0 (21-17, 21-18) win in 37 minutes over Ayumi Kusano/Takemi Nishibori of Japan.
The Silk Road Nantong Open is the first of two back-to-back women's international beach volleyball events in China as the city located on the northern bank of the Yangtze River stages the sixth of nine FIVB World Tour stops in China during the 2018-2019 season.
Following the Silk Road Nantong Open, which is the 25th women's event on the 2018-2019 FIVB World Tour calendar, Nanjing hosts the world's elite women's beach volleyball players June 6-9. The final two Chinese FIVB tournaments on this season's schedule will be at Qidong and Zhongwei in July and August, respectively.
China had previously hosted FIVB World Tour events last September and October in Zhongwei, Qinzhou and Yangzhou last September and October before joining the 2019 portion of the international calendar in April and May with tournaments in Xiamen and Jinjiang in April and May.
Related links of AVC
AVC Website: click www.asianvolleyball.net
AVC Facebook: click www.Facebook.com/AsianVolleyballConfederation
AVC Twitter: click: https://twitter.com/avcvolley
AVC Instagram: click: https://www.instagram.com/avcvolley/?hl=en
AVC Youtube: click: Asian Volleyball Confederation
AVC WeChat: Asian Volleyball Confederation