Credit: volleyball.org.au
The Queensland Pirates have won their first Women's AVL title in 10 years, defeating WA Steel in a five set marathon at Carrara Indoor Sports Stadium on the Gold Coast.
The Pirates started their season towards the bottom of the ladder, winning only three of their first eight matches of the season. Their momentum changed after their bye in the middle of the season, when they started to get a few consistent wins on the board, including a double victory over the seven-time AVL Champions, the Melbourne Vipers.
Scraping into the final four with only one point more than NSW in fifth place, QLD were the underdogs of the finals, but their grit and determination saw them knock off the top seeds from Victoria in the semifinals, and hold out Western Australia for two hours and ten minutes to claim the win 3:2 (25-20, 25-27, 25-21, 17-25, 10-15).
https://www.instagram.com/p/ClvDWO5qI5p/
QLD captain Kylee White said she was speechless after her team's victory.
"It's an honour to win gold and I think we really worked hard for it, especially to come from being fourth and fifth on the ladder to now winning, it's been an incredible season and I don't have words for what this means," White said.
"WA are such a consistent team that it's quite scary going up against them, but we kept our composure and kept playing our game which got us through in the end."
Looking back on the season, White said she was really proud of how far the team has come.
"At the start of the season, we were just going through the motions, because it's such a high level competition, I think other teams were just rattling us a bit. We finally found our groove and when it counted we really stepped up and that got us to the end."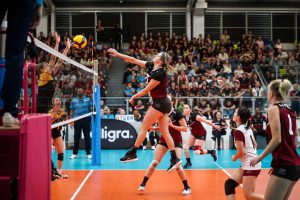 The gold medal is not just a special moment for the players, but also for QLD Coach Terry Rudder, who is in his debut season as an AVL coach.
"I'm shocked, we barely snuck into the final four, so to get the win is pretty special," Rudder said.
"As a player, I got to that stage two or three times in my career, and never once walked away with a gold medal, so it's actually pretty special to walk away with a gold today.
"From the start of the season, we had a very clear style of play that we wanted to play.
"The hard part was actually evolving it, so the longer the season went, the better it worked out for us and we managed to fall into some faith and belief and trust in that system and at the end of the day, that obviously played out.
Earlier in the day, Melbourne Vipers won the women's bronze medal, defeating Adelaide Storm in four sets (20-25, 25-19, 25-22, 25-17).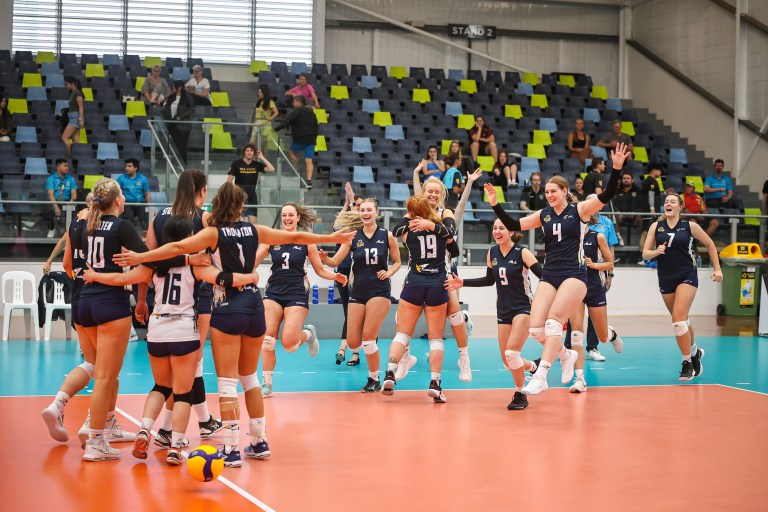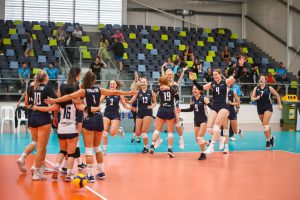 Adelaide came out firing in the bronze medal match, to claim the first set, but the minor premiers from Victoria switched the momentum in the second, and the Storm couldn't get their lead back.
Outside hitter Gwen Thornton was a stand out for the Vipers, hitting high and finding the gaps through Adelaide's defense.
A bronze medal victory was a fitting final game for Vipers captain Kelly Lean, who recently announced she would be retiring following the AVL season. Lean has played more than 70 games for her country, leading the Volleyroos as captain since 2019.
"I think everyone thinks it's a sad moment, but I feel a lot of relief, happiness and excitement," Lean said following her final professional volleyball game.
"I have a lot of things that I am excited to spend more time doing, but I don't want to shy away from volleyball, I want to do as much coaching as I can and see how I can help in a different way.
"But today is just about the team, they've just been the best team to finish with. I've been so lucky with each team I've played with this year, including the Volleyroos and the Vipers, I feel very lucky."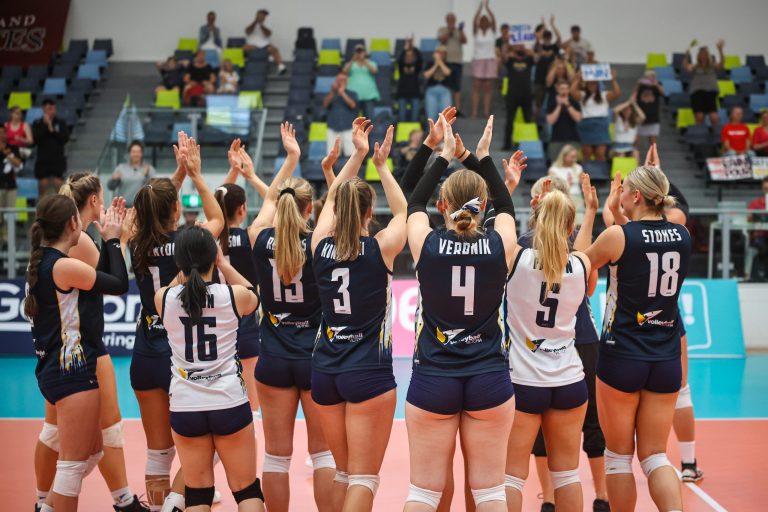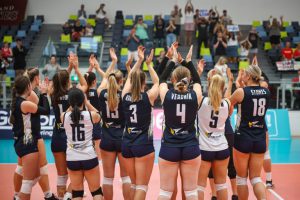 Lean congratulated her teammates on what they achieved this season, commenting on the team's resilience and strength after the COVID-pandemic, which saw them win nine of the 12 AVL round games.
"Everyone went through a lot during COVID, and in Victoria we went through a really tough time and had even less time on the court, so I think those shared experiences helped us rally together," the Melbourne local said.
"It's a really close group and I think to come away with a medal at all is a real testament to what everyone was able to do during such long lockdowns and how much we enjoy playing together again.
"We absolutely came for gold, that's what Victorian teams come to do, but we had a lot riding on just enjoying this weekend. The girls have worked so hard, it's a big moment for me and Mon [Monique Stojanović, who is also retiring after the season], but it's a big moment for the whole team to put on a performance like that."
CANBERRA REIGN SUPREME IN MEN'S AUSTRALIAN VOLLEYBALL LEAGUE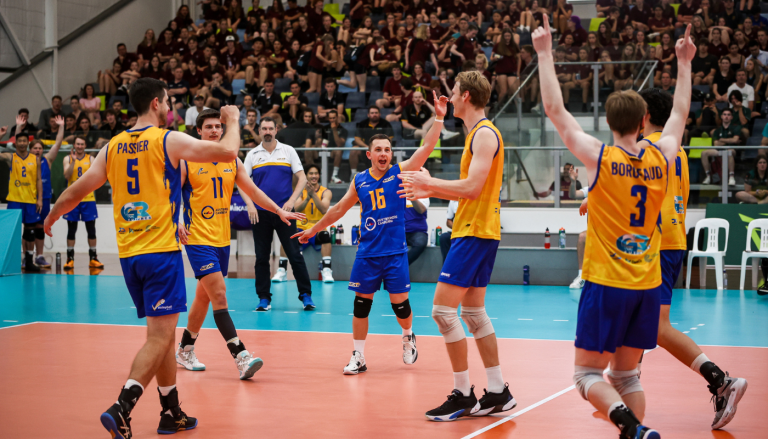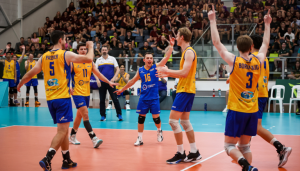 After four years of minor medals, the Canberra Heat are bringing the Men's Australian Volleyball League (AVL) trophy back home to the ACT after defeating the Adelaide Storm in an epic five-set battle at Carrara Indoor Stadium on the Gold Coast.
In a two-hour marathon that went down to the wire, it was Captain Andre Borgeaud's team who secured the win 3:2 (25-18, 21-25, 25-18, 23-25, 15-13).
"It's been a long time coming," confirmed Borgeaud. "There's a lot of relief at the end of it, and excitement, I feel speechless really."
Borgeaud made his debut for the Heat as a 17-year-old in 2004, and 2022 marks his ninth season with the team, but the first time winning gold.
"We've been here so many times! Canberra won in 2011 and 2015 but for myself to finally get a win and at 35 is really exciting.
"Maybe we'll think about hanging up the boots eventually, but we'll give it six months and see," he joked.
https://www.instagram.com/p/ClvaGlMqD-8/
Canberra Head Coach Ben Hardy said this win meant a lot to the team, especially to the Heat veterans who have a collection of silver medals at the hands of the Queensland Pirates over the past decade.
"It really could have gone either way, it was such an exciting match and to have a fifth set go down to the wire like that with some massive plays, it's an excellent outcome for us," Hardy said.
"It means a lot to our older guys who have gone through that period, often coming second, so there are some emotional guys in there who've been on the receiving end, mostly from Queensland over that period of time, so they're really happy for this one."
The Men's bronze medal match was a similarly extremely physical match, with the WA Steel denying the QLD pirates an AVL medal for the first time in eight consecutive years, winning 3:1 (26-28, 25-16, 26-24, 25-23) in front of a huge crowd on the Gold Coast.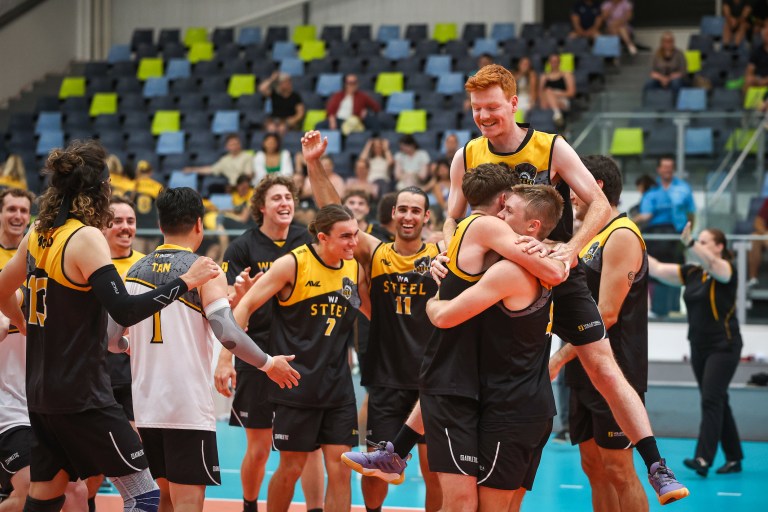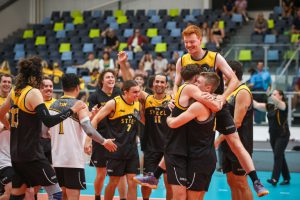 Queensland had three match points before they were able to secure the opening set 28-26, but the Steel opened up a 10-point gap in the second set to swing the momentum in their favour for the remainder of the game.
Middle blocker José Martínez, a Rio 2016 Mexican Olympian who has relocated from Victoria to live in Western Australia, was a dominant force for the Steel, helping control the centre, denying QLD and breakaway points.
"I'm feeling really ecstatic, really proud of the boys," WA captain Kable Monck said.
"We were disappointed to not make the gold medal match yesterday but we really wanted to win that bronze after the loss and coming away with bronze shows the efforts we've put in all season and I think we really deserved it."
Related links of AVC
AVC Website: click www.asianvolleyball.net
AVC Facebook: click www.Facebook.com/AsianVolleyballConfederation
AVC Twitter: click: www.twitter.com/AsianVolleyball
AVC Instagram: click: https://www.instagram.com/avcvolley/?hl=en
AVC Youtube: click: Asian Volleyball Confederation
AVC WeChat: Asian Volleyball Confederation