By Wang Leon
Xi'an, China, September 19, 2021 – Defending champions Jiangsu claimed their fourth consecutive win after sweeping Guangdong while Shanghai suffered their maiden loss at the hands of powerhouses Tianjin on Day 4 of China National Games Senior Women's Volleyball Tournament here at the Aoxiang Gymnasium of Northwestern Polytechnical University.
Facing lower-ranked Guangdong, Jiangsu had a slow start but soon managed to chase up to an 8-8 tie. Both sides kept the same pace before Jiangsu geared up in the end to finish the first set 25-23.
Keeping their rhythm on the "high-way", in-form Jiangsu took down the following two sets comfortably 25-19 and 25-6.
In the eye-catching match of the day, Shanghai suffered their maiden loss, being swept by dominant Tianjin 0-3 (18-25, 23-25, 25-27).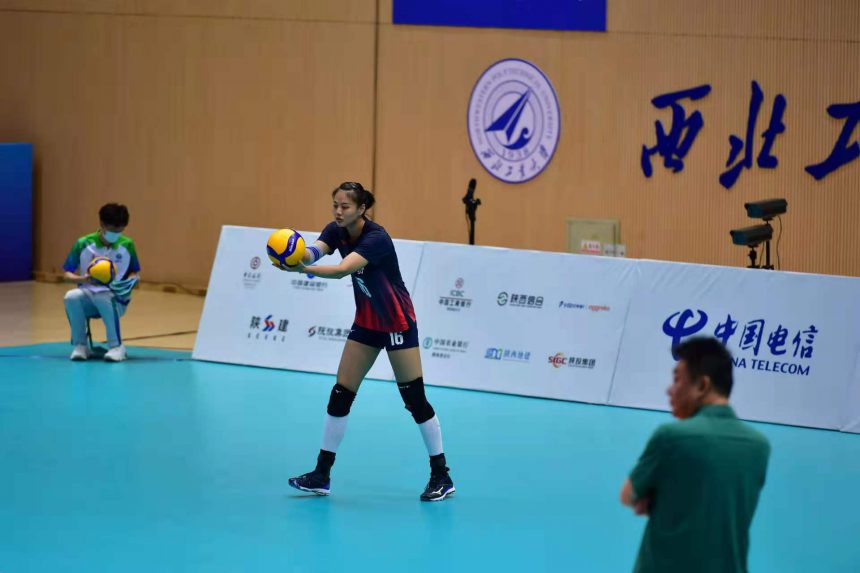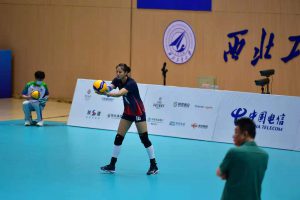 With their height advantage, Tianjin built up a blocking wall against Shanghai from the beginning and soon controlled the situation before closing up the first set 25-18.
Getting adapted to opponents' defense gradually, Shanghai kept up with Tianjin in the second set until 13-14. However, well-loaded Tianjin showed their flexible tactics and rushed off to an 18-13 lead after scoring 4 points in a row. Shanghai requested a timeout but they failed to catch up seeing Tianjin reach the set point 24-20. Allowing 3 more points to Shanghai, Tianjin managed to take down the second set 25-23 following a clean double block.
Shanghai played their utmost in the third set and once established a 6-point lead. Thanks to Li Yingying's constant piercing attacks and Yuan Xinyue's unbreakable blocks, Tianjin came back and reversed the set to a thrilling 27-25 win.
The other two matches were both one-way traffic. Liaoning overwhelmed winless Henan 3-0 (25-16, 25-16, 25-20), while Shandong tasted their maiden victory after seeing off Zhejiang 3-0 (25-17, 25-16, 25-11).
After four rounds of play in the round-robin phase, defending champions Jiangsu top the pool with 4 successive wins, while Tianjin, Shanghai and Liaoning placed 2nd to 4th with similar 3-1 record. Shandong, Guangdong and Zhejiang were slotted in the 5th and 7th place with 1-3 record, followed by winless Henan.
All teams will have a rest Monday for adjustment and preparation for the next three rounds of play. The round-robin preliminaries have 7 rounds of play. Top 4 teams of the pool will advance to semifinals, while the rest teams will be ranked according to their performances in the preliminaries.
Competition Schedule and Results
Thursday, September 16
Henan v Shanghai 0-3 (19-25, 21-25, 19-25)
Guangdong v Zhejiang 2-3 (25-20, 25-21, 18-25, 16-25, 7-15)
Jiangsu v Tianjin 3-2 (25-19, 20-25, 25-23, 18-25, 19-17)
Liaoning v Shandong 3-2 (15-25, 25-22, 17-25, 25-17, 15-12).
Friday, September 17
Zhejiang v Jiangsu 1-3 (25-17, 23-25, 23-25, 24-26)
Shanghai v Shandong 3-0 (25-19, 25-20, 25-21)
Tianjin v Liaoning 3-0 (25-20, 25-21, 25-12)
Henan v Guangdong 1-3 (19-25, 16-25, 25-22, 19-25)
Saturday, September 18
Shandong v Tianjin 0-3 (24-26, 22-25, 16-25)
Liaoning v Zhejiang 3-0 (25-18, 25-11, 25-20)
Guangdong v Shanghai 0-3 (17-25,16-25,20-25)
Jiangsu v Henan 3-1 (25-14, 25-22,23-25,25-16)
Sunday, September 19
Zhejiang v Shandong 0-3 (17-25, 16-25, 11-25)
Henan v Liaoning 0-3 (16-25, 16-25, 20-25)
Guangdong v Jiangsu 0-3 (23-25, 19-25, 6-25)
Shanghai v Tianjin 0-3 (18-25, 23-25, 25-27)
Monday, September 20
Rest Day
Tuesday, September 21
13:00 Liaoning v Guangdong
15:00 Jiangsu v Shanghai
17:00 Shandong v Henan
19:00 Tianjin v Zhejiang
Wednesday, September 22
13:00 Jiangsu v Liaoning
15:00 Guangdong v Shandong
17:00 Henan v Tianjin
19:00 Shanghai v Zhejiang
Thursday, September 23
13:00 Tianjin v Guangdong
15:00 Zhejiang v Henan
17:00 Liaoning v Shanghai
19:00 Shandong v Jiangsu
Friday, September 24
Rest Day
Saturday, September 25
Semifinals 1
Semifinals 2
Sunday, September 26
Bronze medal match
Gold medal match
Related links of AVC
AVC Website: click www.asianvolleyball.net
AVC Facebook: click www.Facebook.com/AsianVolleyballConfederation
AVC Twitter: click: www.twitter.com/AsianVolleyball
AVC Instagram: click: https://www.instagram.com/avcvolley/?hl=en
AVC Youtube: click: Asian Volleyball Confederation
AVC WeChat: Asian Volleyball Confederation