Bangkok, Thailand, March 16, 2023 – Thrills and spills await volleyball enthusiasts and fan clubs when AVC has on Thursday completed the eagerly-awaited drawing of lots for the remaining 6 Asian Volleyball Championships due to be held this year.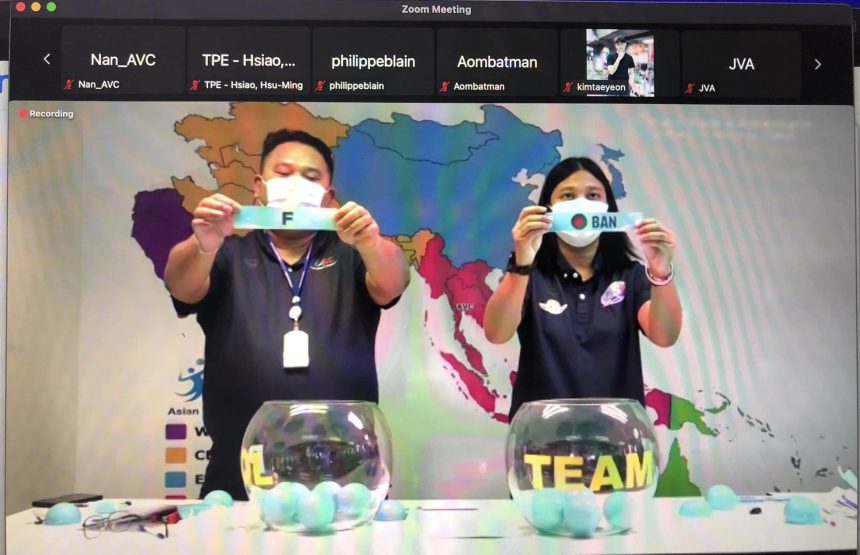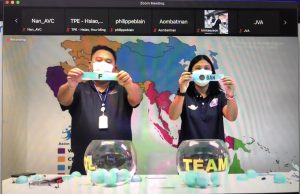 Earlier, AVC has already conducted the drawing of lots for the first two events – 2023 Asian Women's Club Volleyball Championship to be hosted by Vietnam between April 25 and May 2 in Vinh Phuc and the 2023 Asian Men's Club Volleyball Championship in Manama, Bahrain from May 14 to 21.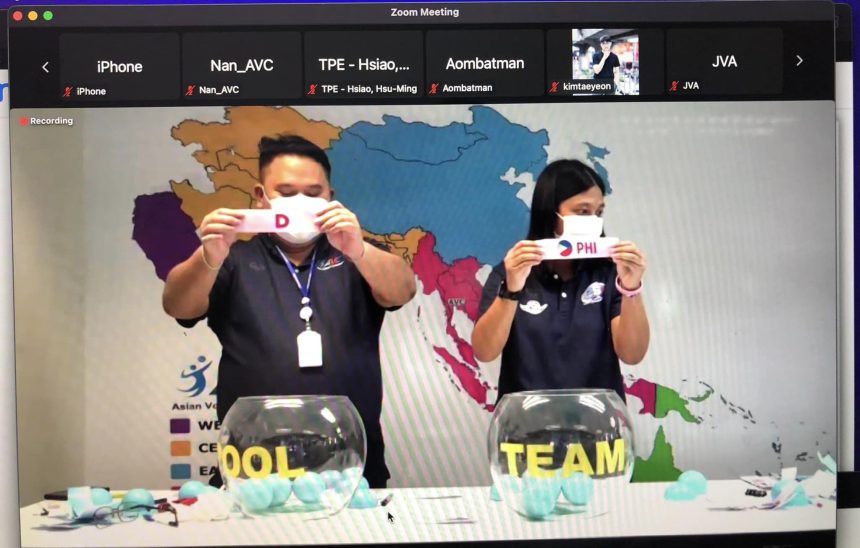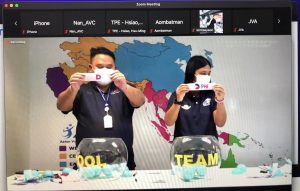 The drawing of lots for the remaining 6 events was organized at the AVC Headquarters in Bangkok, with representatives of all participating teams joining on Zoom. AVC Executive Director Mr Shanrit Wongprasert conducted the ceremony, with two AVC officers Ms Nattalida Sumdangdech and Mr Pavarit Dairinram assisting.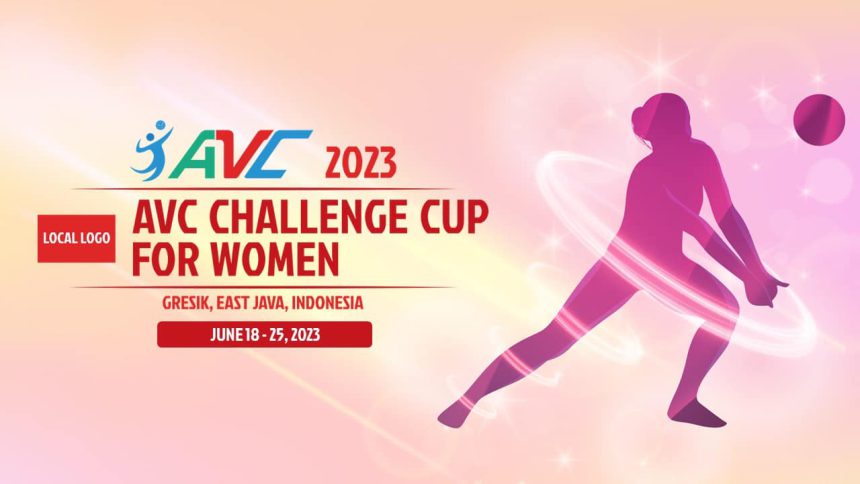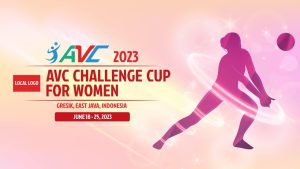 A total of 12 teams confirmed their participation in the 2023 AVC Challenge Cup for Women from June 18 to 25 in Gresik, East Java, Indonesia, the crucial tournament to qualify only one team to represent Asia in the FIVB Women's Challenger Cup, which acts as a qualifier for the FIVB Women's Volleyball Nations League.
Ahead of the drawing of lots, Mr Shanrit informed the representatives of participating teams that the AVC Challenge Cup for both men and women will be held annually, giving Asian teams an opportunity to accumulate world ranking points and improve their world rankings. If this AVC Challenge Cup and the Asian Senior Volleyball Championship take place in the same year, participating teams will stand a chance of accumulating their world ranking points twice.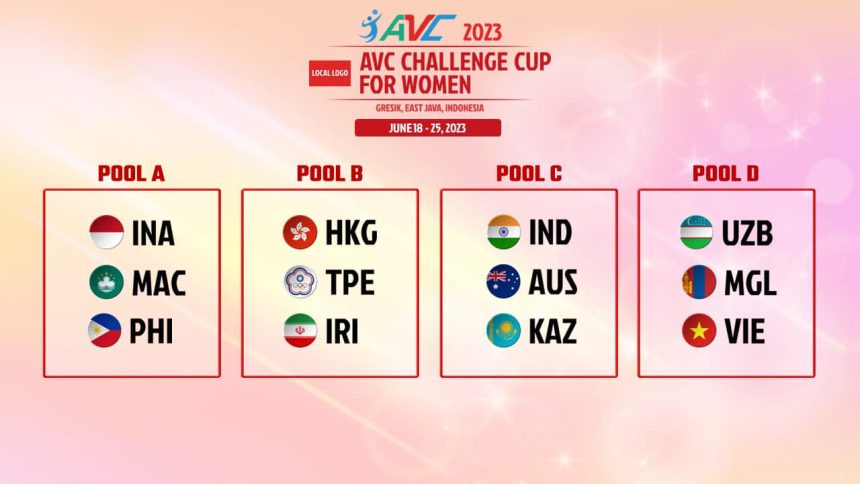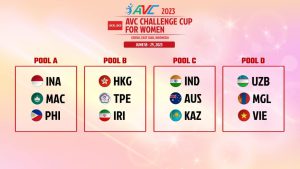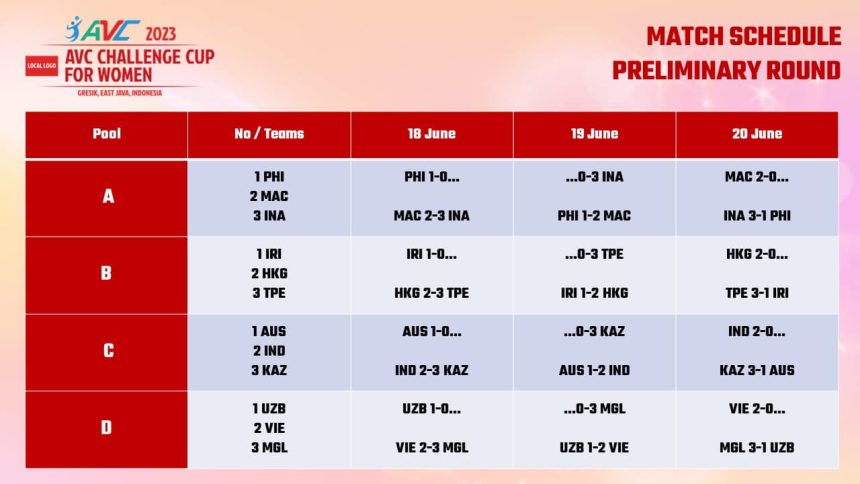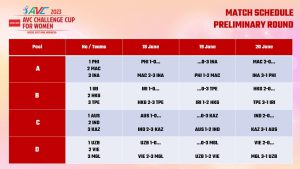 Following the results of the drawing of lots, organisers Indonesia are in Pool A with Macao and Philippines, while Hong Kong China, which captured their maiden Asian Women's Challenge Cup title at the last year's edition in Nakhon Pathom, Thailand, are in Pool B with Chinese Taipei and Iran. Pool C comprises India, Australia and Kazakhstan, with Uzbekistan, Mongolia and Vietnam in Pool D. Hosts Indonesia are due to take on Macao in their opening match on June 18.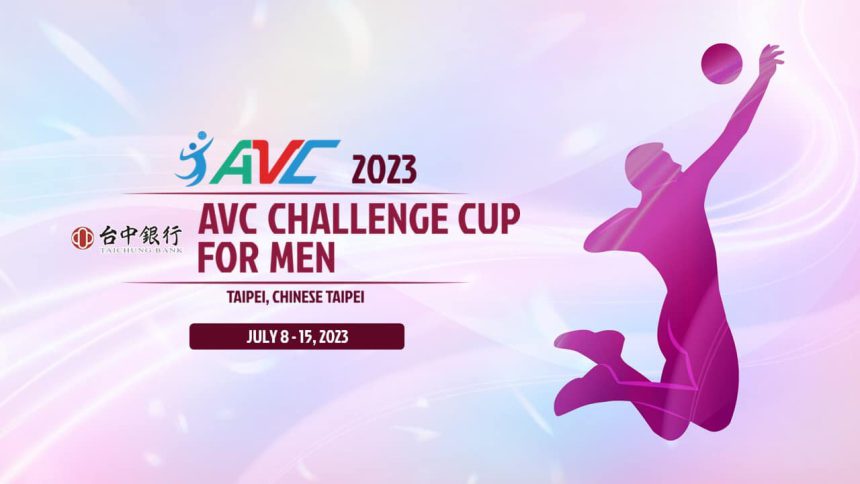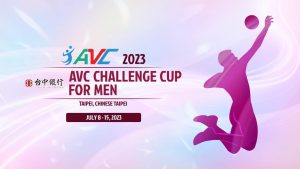 In the 2023 AVC Challenge Cup for Men in Taipei, Chinese Taipei from July 8 to 15, a record 17 teams will test their mettle to vie for the lone berth up for grabs for the FIVB Men's Challenger Cup, pathway to the FIVB Men's Volleyball Nations League.
Participating teams were divided into six pools of 3 teams apiece. Only Pool A features two teams, hosts Chinese Taipei and Kazakhstan.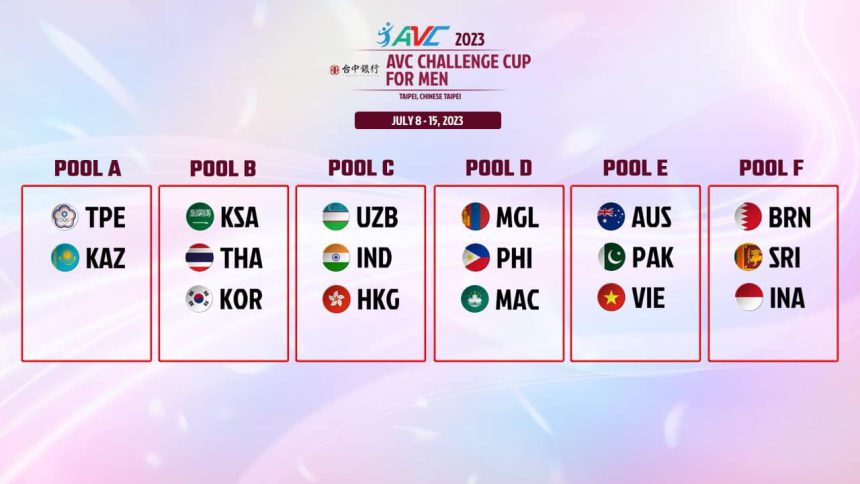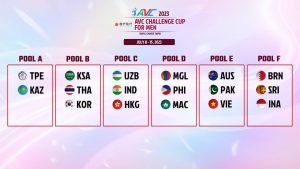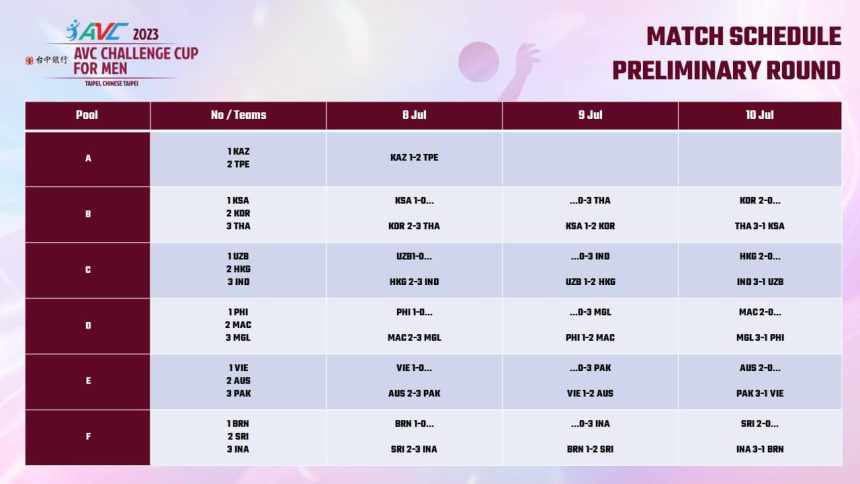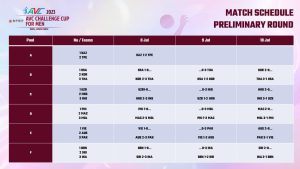 Pool B comprises Saudi Arabia, silver medallists at the last year's Asian Men's Challenge Cup in Kyrgyzstan, Thailand and Korea, while Uzbekistan, India and Hong Kong China are in Pool C. Pool D features Mongolia, Philippines and Macao, with Australia, Pakistan and Vietnam in Pool E and Bahrain, Sri Lanka and Indonesia in Pool F respectively.
Hosts Chinese Taipei and Kazakhstan will battle it out in their opening Pool A encounter on July 8. The highlights on the first-day competition can be expected in the highly-anticipated match between Korea and Thailand and Sri Lanka against Indonesia.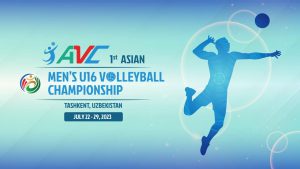 The first edition of the Asian Men's U16 Volleyball Championship during July 22 and 29 in Tashkent, Uzbekistan, which serves as the Asian qualification tournament to secure top three teams in the next year's FIVB Volleyball Men's U17 World Championship, sees a total of 15 teams chase their dreams of winning the historic title.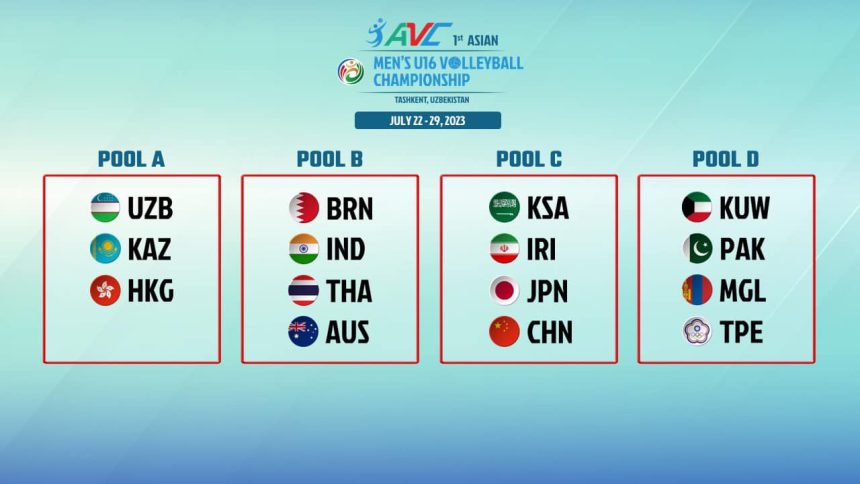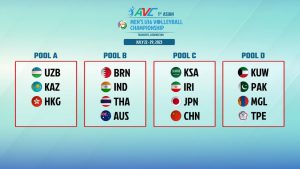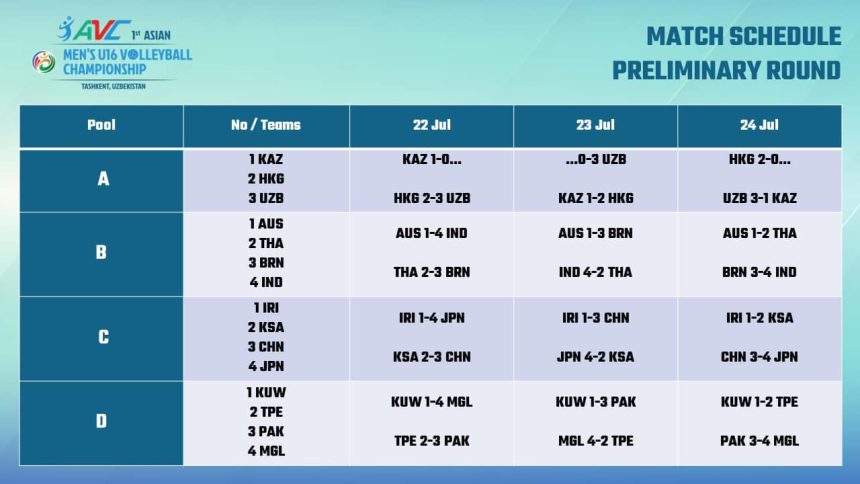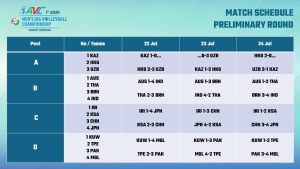 Kazakhstan and Hong Kong China joined hosts Uzbekistan in Pool A, while Pool B features Bahrain, India, Thailand and Australia. Pool C consists of Saudi Arabia, Iran, Japan and China, with Kuwait strutting their staff with Pakistan, Mongolia and Chinese Taipei in Pool D.
On the opening day on July 22, hosts Uzbekistan are due to play Hong Kong, China. Thrills can also be expected in the tough match between Iran and Japan, Saudi Arabia against China and Chinese Taipei against Pakistan.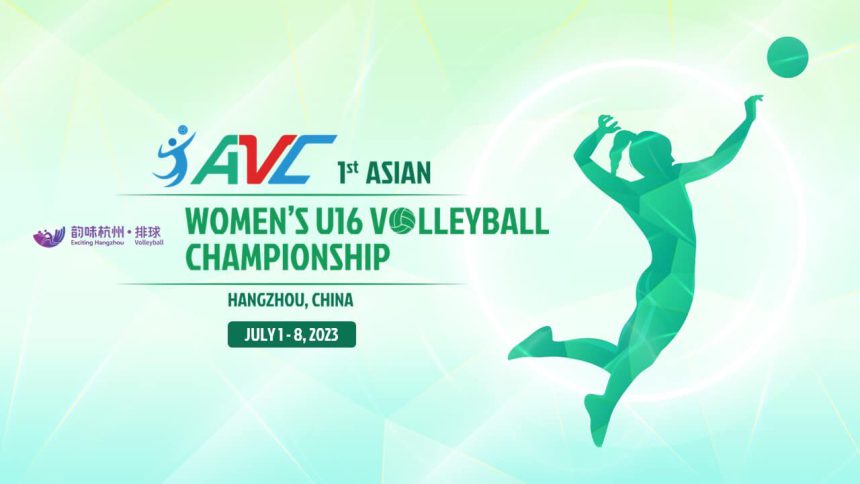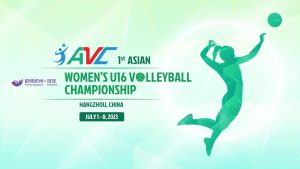 In the 1st Asian Women's U16 Volleyball Championship in Hangzhou, China between July 1 and 8, 2023, a total of 12 teams confirmed to strut their stuff in the eight-day event, which will see top three teams make the cut for the next year's FIVB Volleyball Women's U17 World Championship.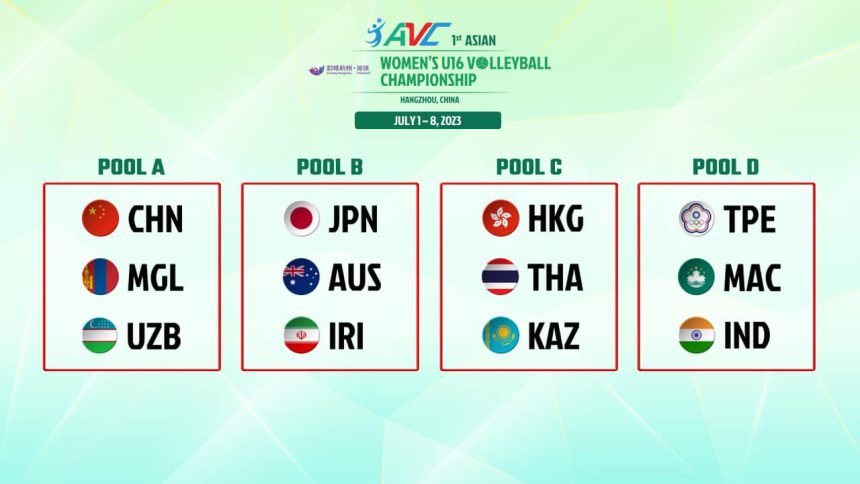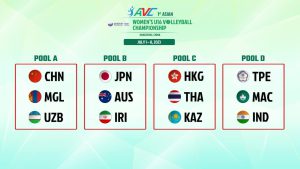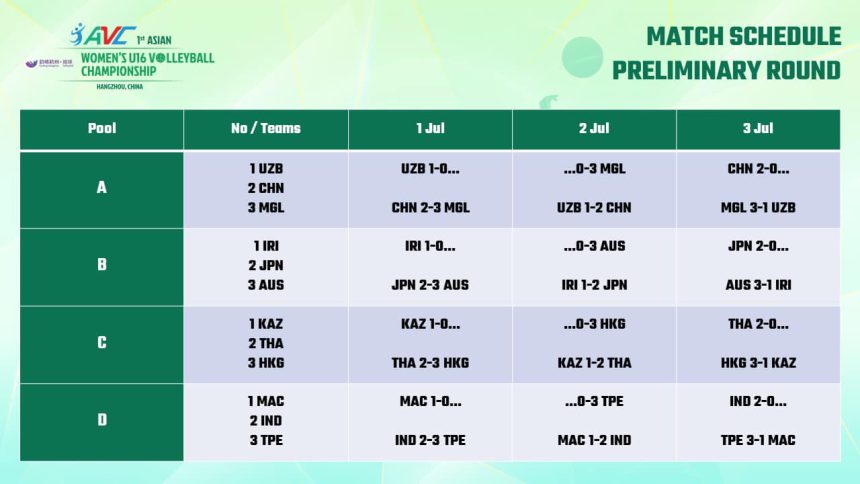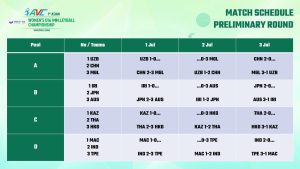 The participating teams comprise hosts China, Mongolia and Uzbekistan in Pool A, with Japan, Australia and Iran in Pool B. Hong Kong China joined Thailand and Kazakhstan in Pool C, while Pool D features Chinese Taipei, Macao and India.
China will take on Mongolia in their opening encounter, while Japan play Australia, Thailand meet Hong Kong China and India challenge Chinese Taipei.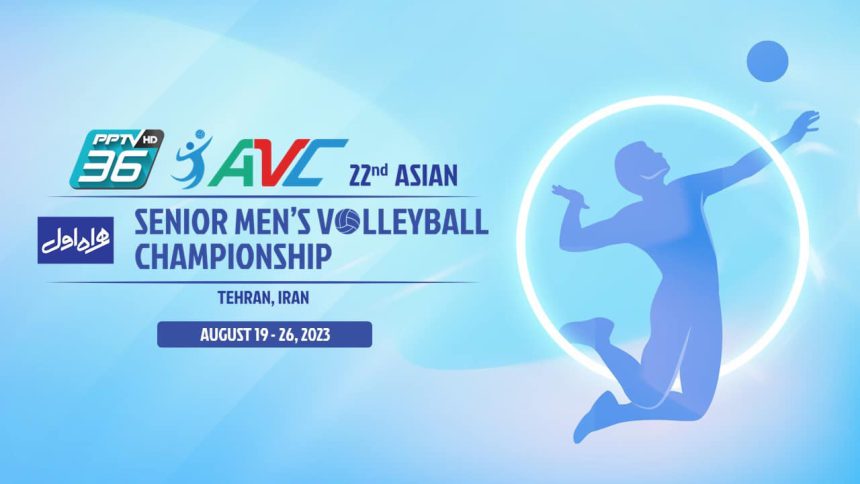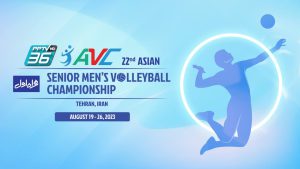 Meanwhile, a large number of 18 teams will fight it out for the prestigious title when Iran will play host to the 22nd Asian Senior Men's Volleyball Championship in Tehran between August 19 and 26, 2023.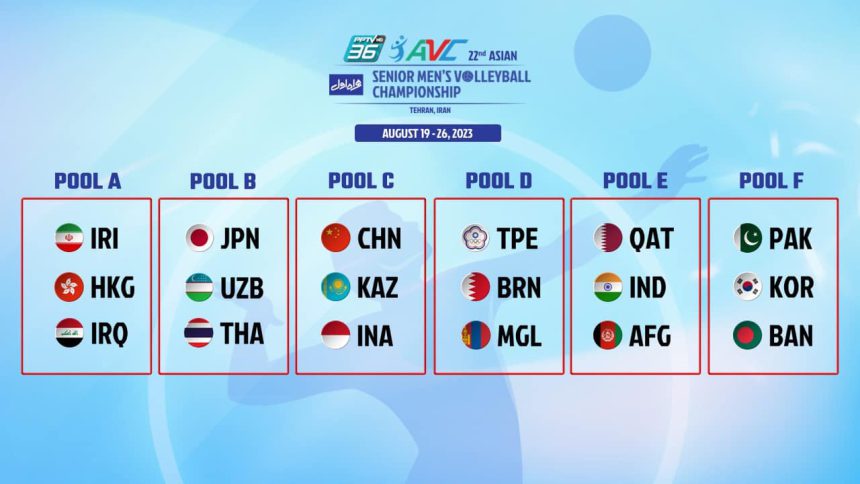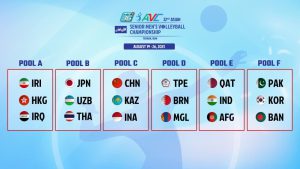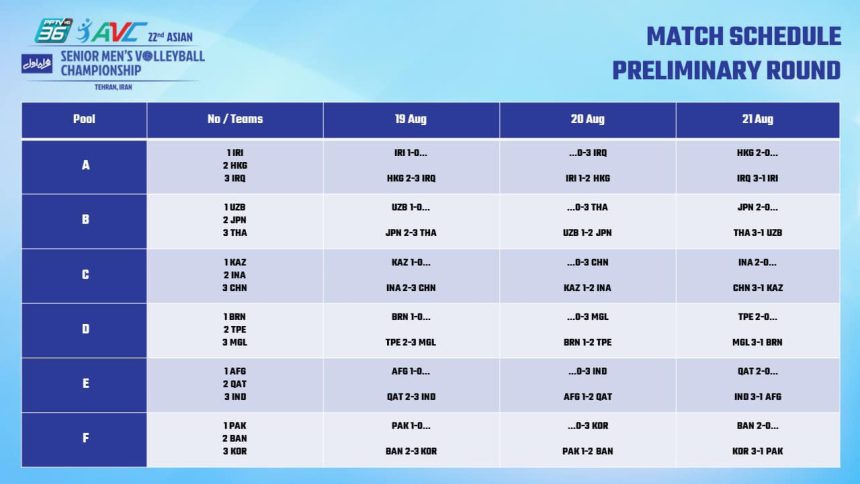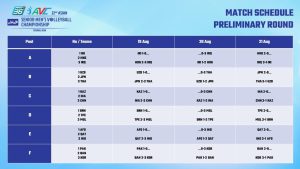 Defending and consecutive two-time champions Iran are in Pool A with Hong Kong China and Iraq, while Japan, silver medallists at the previous edition on home soil two years ago and former 9-time Asian champions, will be pitted against Uzbekistan and Thailand in Pool B.
Pool C consists of former 3-time champions China, Kazakhstan and Indonesia, while Pool D features Chinese Taipei, Bahrain and Mongolia.
Qatar, India and Afghanistan are in Pool E, with Pool F comprising Pakistan, former 4-time winners Korea and Bangladesh.
Hosts Iran will have a rest day on the first-day meet, while Hong Kong China will take on Iraq, Thailand challenge Japan and Indonesia face China. The other encounters on the opening day see Chinese Taipei meet Mongolia, Qatar play India and Bangladesh take on Korea.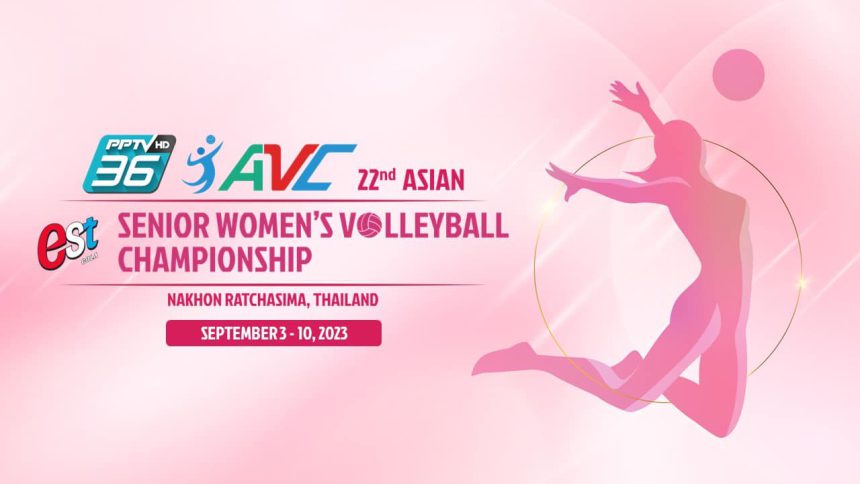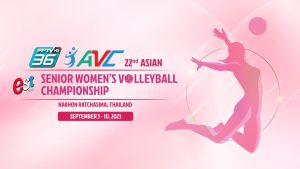 Last but not least, the highly-anticipated 22nd Asian Senior Women's Volleyball Championship in Nakhon Ratchasima, Thailand from September 3 to 10 sees all eyes likely to be on formidable China, current world No.5 and the Rio de Janeiro Olympic gold medallists, whether they can make a strong comeback this time.
The Chinese side had won 13 Asian titles, but suffered a sudden slump in the past two editions when they surprisingly did not make top three in 2017 in Philippines and 2019 in Korea (the championship in Philippines in 2021 was cancelled due to the COVID-19 pandemic).
Fourteen teams will mount strong challenges against one another in the top-tier eight-day championship to vie for top honor. Hosts and 2009 and 2013 Asian champions Thailand are in Pool A with Australia and Mongolia, while reigning and five-time champions Japan will compete in Pool B together with Iran and India. Pool C comprises Korea, which have yet won gold medal in this topflight championship, Chinese Taipei, Vietnam and Uzbekistan, with powerhouses China in Pool D with Kazakhstan, Hong Kong China and Philippines.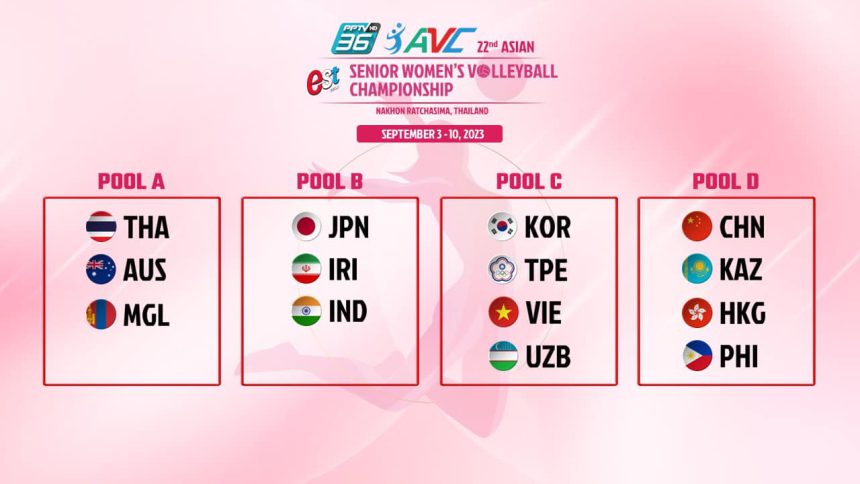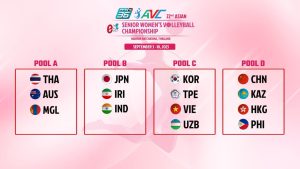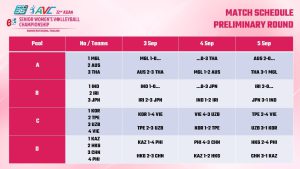 Hosts Thailand will play Australia in their first clash of the championship on September 3, while Iran battle it out with title-holders Japan and Korea meet Vietnam. The other encounters see Chinese Taipei kick off their campaign against Uzbekistan, Kazakhstan play Philippines and Hong Kong China challenge China.
Following the completion of the drawing of lots of the remaining 6 AVC championships on Thursday, Mr Shanrit informed representatives of participating teams that AVC will forward the results of the drawing of lots to AVC Headquarters for information and further consideration and will circulate to all participating teams within 10 days.
QUICK LINKS
AVC Website: click www.asianvolleyball.net
AVC Facebook: click www.Facebook.com/AsianVolleyballConfederation
AVC Twitter: click: www.twitter.com/AsianVolleyball
AVC Instagram: click: https://www.instagram.com/avcvolley/?hl=en
AVC Youtube: click: Asian Volleyball Confederation
AVC WeChat: Asian Volleyball Confederation