The Brazilian giants win the tournament in front of their home fans in Betim
The winningest club in Brazilian men's volleyball history, Sada Cruzeiro added another major trophy to their cabinet on Saturday as the reigning South American champions won the FIVB Volleyball Men's Club World Championship for the fourth time.
The winners of the 2013, 2015 and 2016 editions of the event, Sada Cruzeiro triumphed in the event for the fourth time, all of them at the Ginasio Poliesportivo Divino Braga, in their hometown Betim. The Brazilians avenged a setback from the tournament's gold medal match of two years ago to Cucine Lube Civitanova and took the reigning Italian champions down in impressive three sets (25-17, 25-22, 25-23) in front of nearly 5,000 home fans.
With four world titles to their name, Sada Cruzeiro trail only Italian powerhouse Trentino Itas, who have a record five gold medals (2009, 2010, 2011, 2012 and 2018) in the tournament. The Italians finished third in this year's edition.
Awarded at the tournament's Most Valuable Player, Cuban Olympian Miguel Angel Lopez was unstoppable in the gold medal match. The 24-year-old outside hitter delivered 12 points against Lube, with ten kills and two aces, and led the winners.
"I'm out of words to describe our performance tonight," Lopez said. "It's a very important day in the history of our club. We were strong from the first to the last point of the tournament and I'm really proud of each of us. When I first got here, I said I wanted to win as many titles as possible with Sada and this victory is a big part of it. To me, our entire team is the real MVP. Every player did their job really well and I'm proud of the entire team. My serve didn't work well in the opening match and my teammates gave me all the confidence I needed to keep going for it."
https://www.instagram.com/p/CXXUH01FJLf/
The MVP of the 2021 FIVB Volleyball Nations League, star opposite Wallace de Souza produced nine points (even kills) for the winners. The 34-year-old Olympic champion veteran returned to Sada Cruzeiro ahead of the 2021-2022 season after five years playing for other clubs and won his third world title with the Betim side.
Two young Lube players reached double digits in scoring in the final match of the tournament – Cuban outside hitter Marlon Yant, who scored 11 points, all in kills, and Puerto Rican opposite Gabriel Garcia, who reached the same amount with nine kills and two aces.
"We feel like we accomplished our mission here," middle blocker Isac Santos reflected. "We knew it wasn't going to be easy, but we gave everything we had and we earned it. We never expected a 3-0 victory in the victory, but we know that when we're focused, we're really hard to beat. We approached every match as a final and played with a lot of intensity and focus."
Sada Cruzeiro also dominated the tournament's Dream Team with four of the seven selected players. Besides Lopez and Wallace, the hosts also had setter Fernando 'Cachopa' Kreling and middle blocker Otavio Pinto in the ideal lineup. Lube's Robertlandy Simon (middle blocker) and Fabio Balaso (libero) and Trentino's Alessandro Michieletto (outside hitter) completed the team.
Men's Club World Championship Dream Team
Most Valuable Player: Miguel Angel Lopez (Sada Cruzeiro)
Best Setter: Fernando 'Cachopa' Kreling (Sada Cruzeiro)
Best Opposite: Wallace de Souza (Sada Cruzeiro)
Best Outside Hitters: Miguel Angel Lopez (Sada Cruzeiro) and Alessandro Michieletto (Trentino Itas)
Best Middle Blockers: Otavio Pinto (Sada Cruzeiro) and Robertlandy Simon (Cucine Lube Civitanova)
Best Libero: Fabio Balaso (Cucine Lube Civitanova)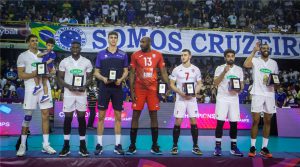 The Men's Club World Championship had four players from Sada Cruzeiro, two from Lube and one from Trentino
The triumph was also remarkable for head coach Filipe Ferraz, who captained Sada Cruzeiro to their first three world titles as a player. Appointed as the team's new coach following his retirement at the end of the last club season, the 41-year-old Filipe has celebrated his third title as a coach after victories at the Mineiro Championship and the Brazilian Supercup.
"I'm out of words," he reacted. "Not even in my greatest dreams I could expect such a great start to my coaching career. Winning the Club World Championship with just six months as a coach is unbelievable. I can only thank the club, the coaching staff and the players as they believed my ideas from the first minute and worked hard for it. I'm really proud to continue defending Sada Cruzeiro. Very few teams get to be world champions and we're really proud to be one of them."
Five-time world champions Trentino finished third in Betim to secure their eighth medal in the tournament and their third bronze after they swept (25-18, 25-18, 25-18) Brazil's FUNVIC – Fundação Universitária Vida Cristã a few hours ahead of the final.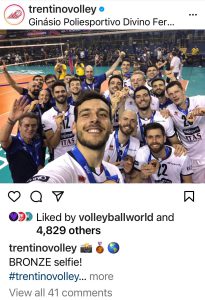 Team captain and outside hitter Matey Kaziyski, with 17 points (11 kills, tree blocks, three aces), and opposite Daniele Lavia, with 16 (15 kills, one block), led Trentino's scoring efforts in their last match in Betim. FUNVIC got 11 points (all in kills) from opposite Matheus Krauchuk and nine (eight kills, one block) from middle blocker Patrick 'Pat' Gasman.
"We're really happy with bronze medal," Michieletto said. "We were just one step away from the gold medal match, but it means a lot for our team to return to Italy with a medal. It was a great experience for our young squad to play this tournament. Now we'll rest for a few days and prepare to return to the Superlega and the Champions League. If we can keep the same level we showed in our last two matches here, we'll be on a good spot."
The 2021 FIVB Women's Club World Championship will take place in Ankara, Turkey, from December 15-19 and will reunite Italy's Prosecco Doc Imoco Volley Conegliano, Turkey's VakifBank Istanbul and Fenerbache Opet Istanbul, Brazil's Dentril Praia Clube and Itambe Minas and Kazakhstan's Altay Club.
Rewatch all matches of the Men's Club World Championships on Volleyball TV https://www.volleyballworld.tv/login
Related links of AVC
AVC Website: click www.asianvolleyball.net
AVC Facebook: click www.Facebook.com/AsianVolleyballConfederation
AVC Twitter: click: www.twitter.com/AsianVolleyball
AVC Instagram: click: https://www.instagram.com/avcvolley/?hl=en
AVC Youtube: click: Asian Volleyball Confederation
AVC WeChat: Asian Volleyball Confederation