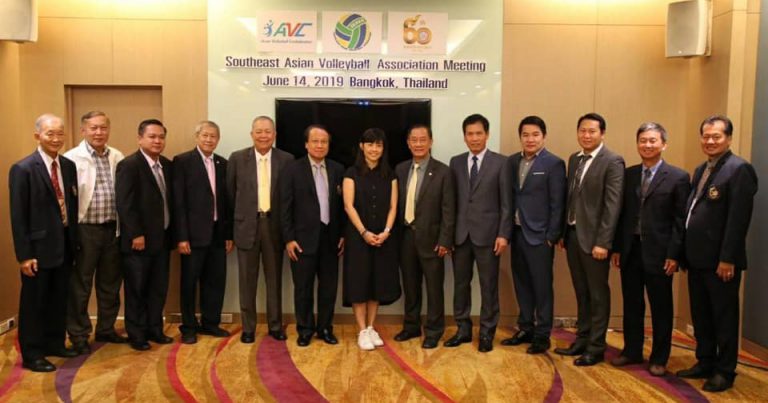 Bangkok, Thailand, June 14, 2019 – The 2019 South East Asian Volleyball Association Meeting was held on Friday at Dusit Princess Srinakarin Bangkok Hotel, where a number of milestone initiatives as well as FIVB and AVC updates related to the future of international volleyball competitions in South East Asia were raised for all SEAVA members to gain new understanding and learn new strategies.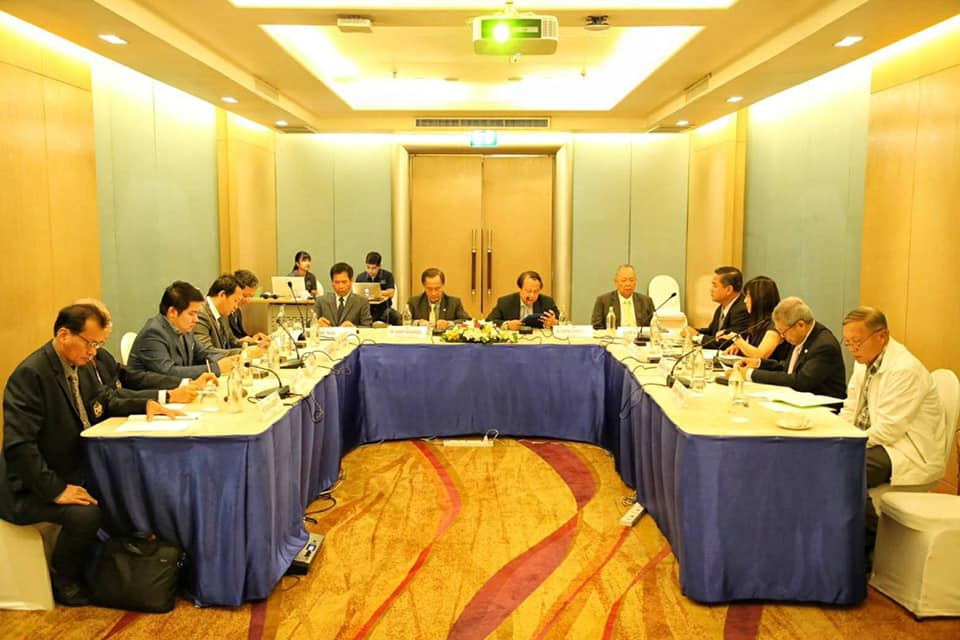 SEAVA President Mr Somporn Chaibangyang, himself President of Thailand Volleyball Association, and Mr Shanrit Wongprasert, AVC Zonal Vice President South East Asian Zone and AVC Secretary-General, jointly presided over the one-day meeting.
A welcome address by Mr Somporn focused on what really matters – giving a hearty, hospitable welcome to all SEAVA members and simultaneously informing these distinguished guests about Thailand's preparation for hosting the 37th FIVB World Congress in Bangkok in coincidence with the TVA's Diamond Jubilee Celebrations in 2020. He also came up with a video presentation on Thailand's readiness in hosting this significant meeting.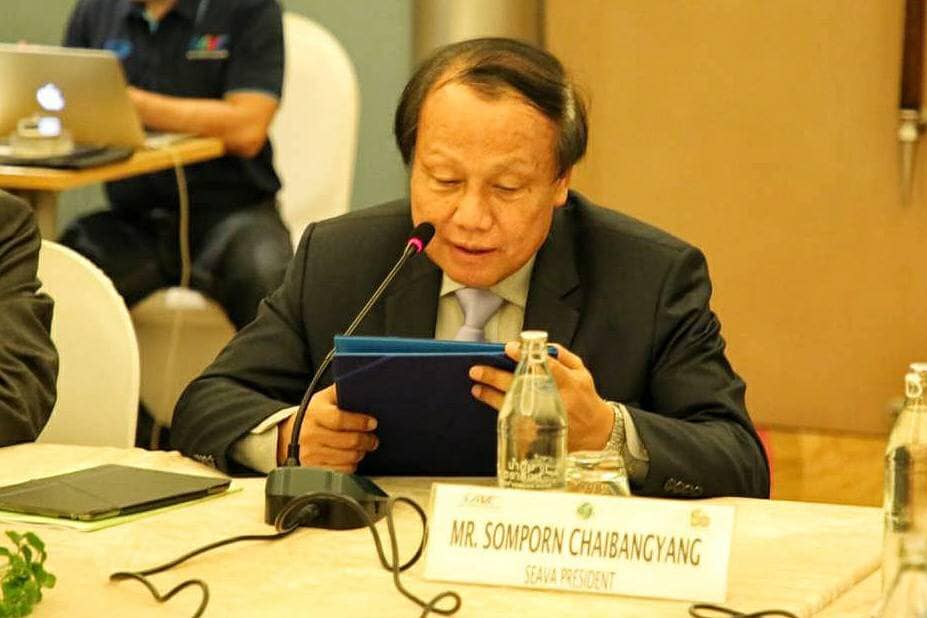 "It is my great honour and pleasure to preside over the 2019 South East Asian Volleyball Association Meeting here after completion of the AVC Board of Administration Meeting two days ago. I would like to extend my warmest welcome to all of you to Bangkok. Your comments and recommendations in the meeting are always welcomed and necessarily needed for sustainable development and promotion of volleyball in South East Asia," Mr Somporn was quoted as saying in his welcome speech.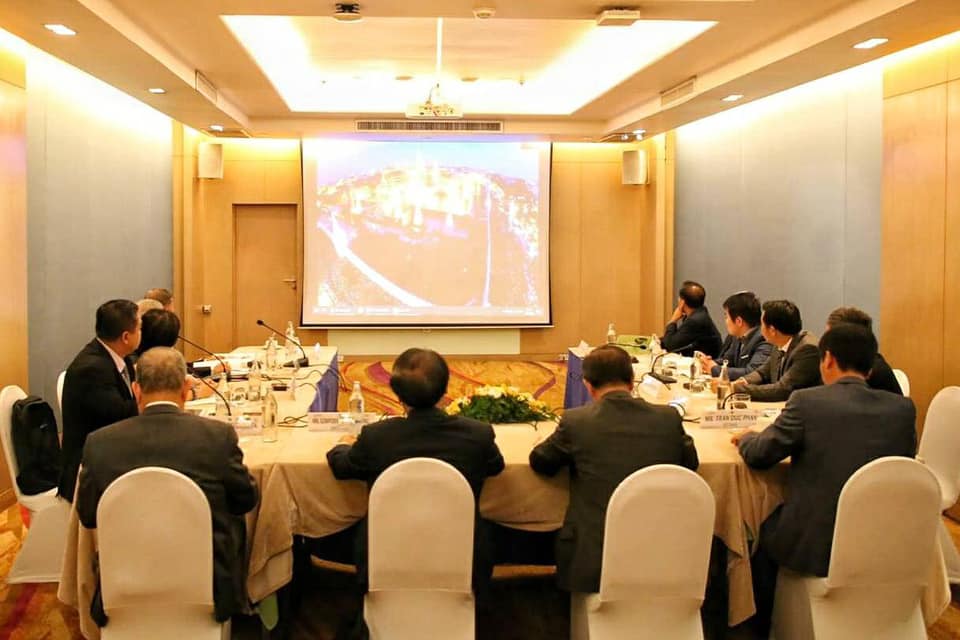 "Next year, TVA will hold our 60th Anniversary Celebration and we have already been entrusted by FIVB to host the 37th FIVB World Congress in Bangkok in 2020. I would like all South East Asian countries to merge into one and co-host the FIVB World Congress," he added.
Mr Jose A. Romasanta, AVC BA Member from the Philippines, agreed to Mr Somporn's kind request for all South East Asian countries to co-host the World Congress and said, "We are proud of South East Asia. This is not because I'm from this part. I believe South East Asia is the best part of anywhere in the world to hold this significant conference. As we, the Philippines, are hosting the South East Asian Games later this year, it was our initiative to propose that although we are hosting the SEA Games, we will project our country as one South East Asia to showcase our Games to Asia and the world. A success in hosting the next year's World Congress in Thailand can also be a success of South East Asia. Therefore, I think we can do to support TVA and Thailand in particular regarding co-hosting the FIVB World Congress next year.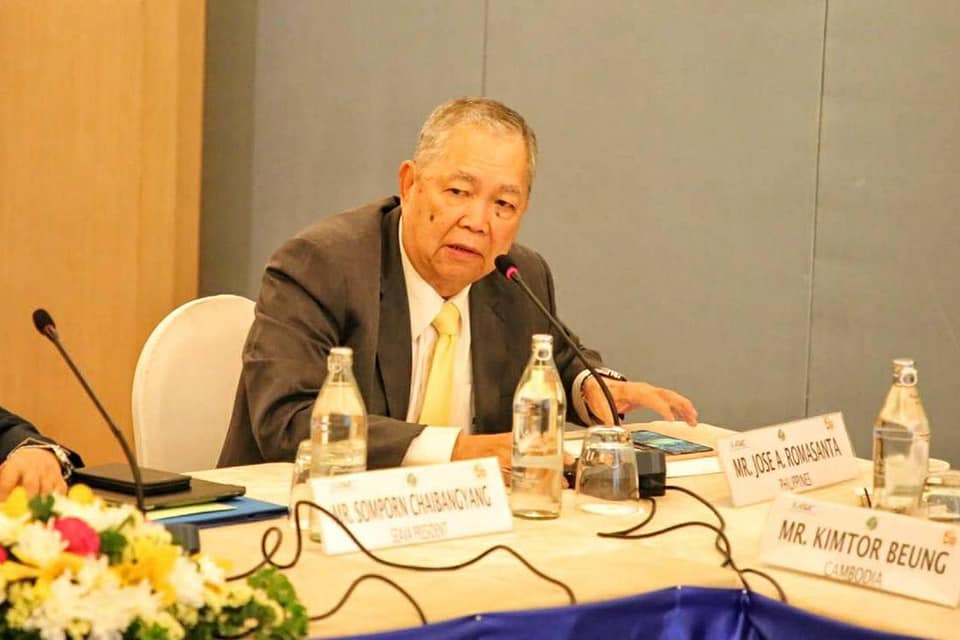 After that, the Minutes of the previous SEAVA Meeting in 2018 as well as relevant agenda items were approved. The Meeting was also informed of summary of FIVB BA Meeting in Lausanne, Switzerland on May 23-24, 2019 and the AVC BA Meeting here two days ago.
Mr Shanrit informed the Meeting attendants about the FIVB latest achievements and future steps, emphasizing that the FIVB President Dr Ary Graca has requested all National Federations to concentrate on "quality" and not "quantity."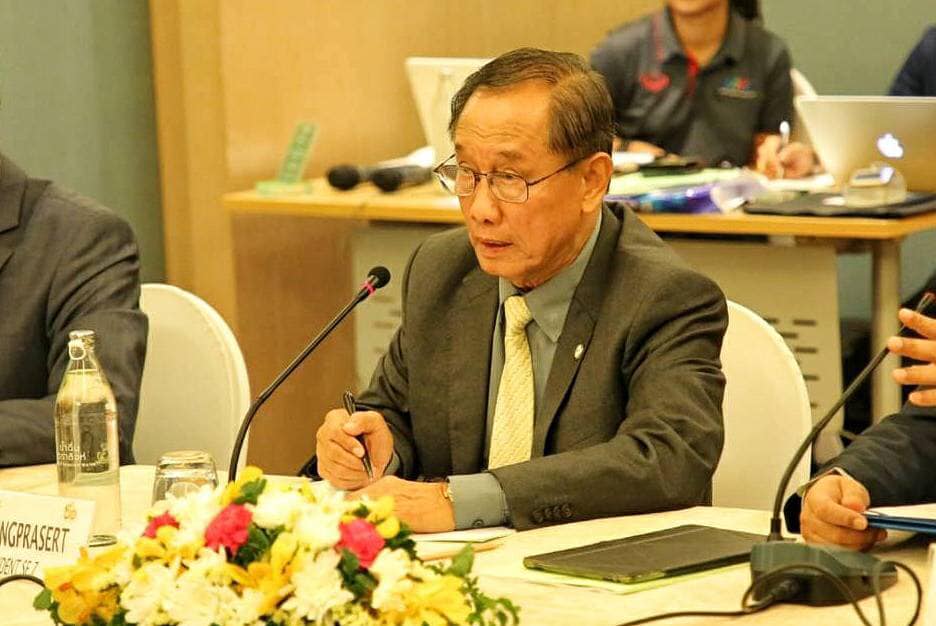 "FIVB has tried to make any FIVB competitions the sports entertaining events with modern technologies such as E-Scoresheet, Video Challenge as well as fantastic light sound effects during the FIVB competitions.
All SEAVA affiliated National Federations, Mr Shanrit insisted, have been asked to confirm the FIVB if any of them would like to host any Beach Volleyball World Tour event in the next couple years in order that the FIVB can include it to its competition calendar.
In terms of the Refereeing & Rules of the Games Commission's Proposals to the FIVB BA Meeting, Mr Shanrit said, the change of the denomination of "Referee Delegate" to "Referee Coach" has been approved.
According to Mr Shanrit, FIVB will hold one FIVB International Referee Candidate Course next year, but to attend the course, those referees from Asia must pass the AVC Referee Candidate Course in order that they can become FIVB International Referees in the near future. Importantly, all referees must make an online FIVB registration every year with their activity reports (this year, deadline of registration is on October 31) and all National Referees have to register online for three years (registration online must be done on yearly basis) in order that they can attend Continental Referee Courses.
Another important topic on the 2020 FIVB Development Projects Platform was raised for further information of all NFs. Mr Shanrit explained that FIVB has already launched the Development Projects Platform, which helps all NFs get the right support from the FIVB for improving the performance of their national teams as well as fostering the growth of volleyball and beach volleyball in their countries.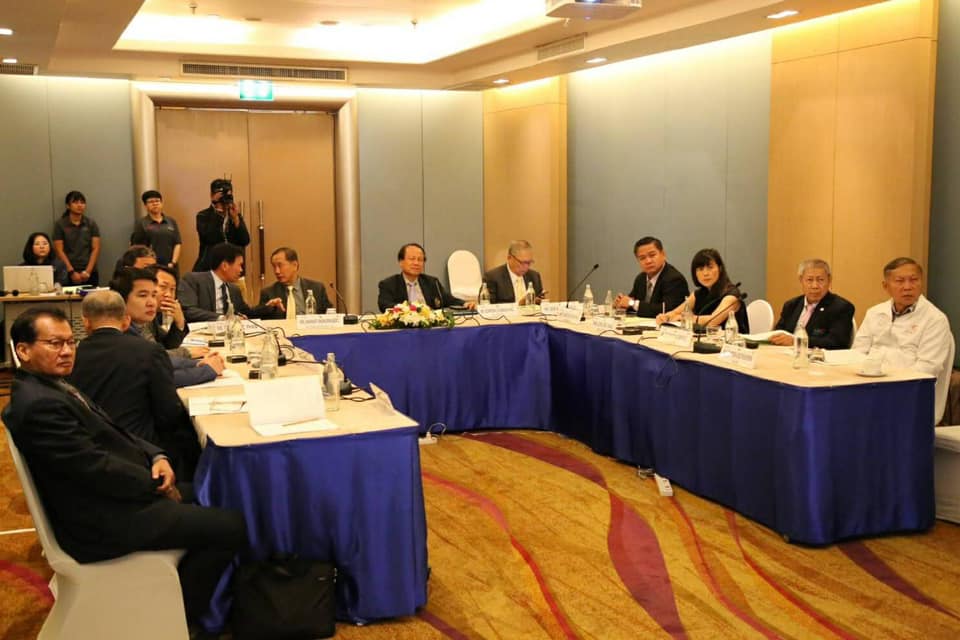 However, the FIVB Development Projects Platform must be done online, with the opening of the online application is on June 1, 2019 and closing on July 15, 2019.
Mr Shanrit also provided an update of the Sports Events Council's proposals to the FIVB BA Meeting including reconsideration of new World Ranking System, which will see points gained from Continental Championships be added to the participating teams for further updated world rankings.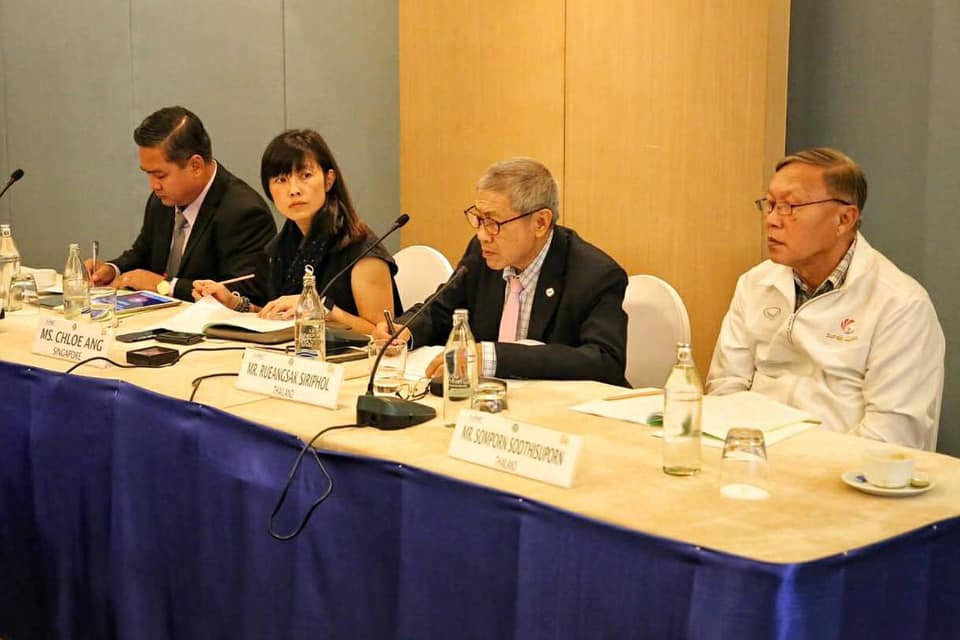 Updates on qualification tournaments for 2022 FIVB Volleyball World Championship, 2024 Paris Olympic Games and crucial information on 2020 Tokyo Olympic Game Asian Qualification Tournament and 2019 AVC Continental Cup Phase 1 were also raised for clear understanding of all SEAVA Members.
There was a crucial need to support women's volleyball and to strengthen the existing scenario of international women's competitions in South East Asia which resulted in the launch of the Women's South East Asian Grand Prix.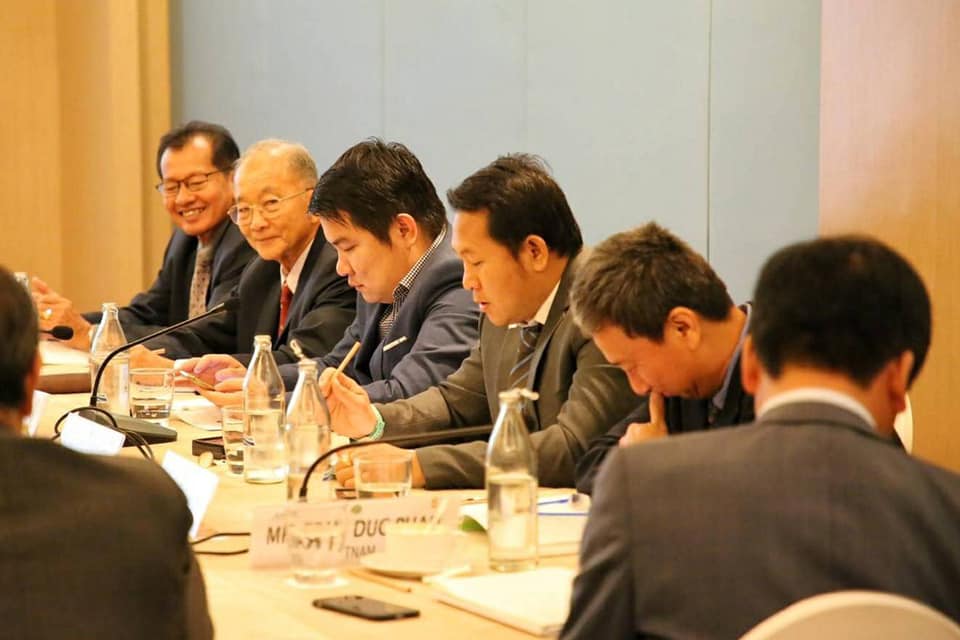 South East Asia's leading teams consisting Thailand, Vietnam, Indonesia and the Philippines, Mr Shanrit explained, have been invited to join the competition, vying for attractive cash prizes. The competition is set to be held on Friday to Sunday, with Thailand making a confirmation to organise the event on October 25-27, 2019.
As the competition is due to be ended one month ahead of the 30th South East Asian (SEA) Games in the Philippines, the other three teams have been asked to choose one of the following three weeks – September 6-8, September 13-15, September 20-22 and September 27-29 to host the event. However, if any team refuses to participate, Chinese Taipei and Kazakhstan are ready to be in place of them. The host federations and promoters are studying further details before the final decision will be made.
Mr Somporn gave another speech in the closing ceremony, while the Meeting was confirmed that the next year's SEAVA Meeting is due to be held in Vietnam after completion of the AVC BA Meeting.
Related links of AVC
AVC Website: click www.asianvolleyball.net
AVC Facebook: click www.Facebook.com/AsianVolleyballConfederation
AVC Twitter: click: https://twitter.com/avcvolley
AVC Instagram: click: https://www.instagram.com/avcvolley/?hl=en
AVC Youtube: click: Asian Volleyball Confederation
AVC WeChat: Asian Volleyball Confederation