DAY 6 WRAP-UP
Manama, Bahrain, May 20, 2023 – Japan's Suntory Sunbirds continued to soar while Indonesia's Jakarta Bhayangkara Presisi pulled off a stunner as the pair of continental juggernauts set up a titanic clash for gold medal in the 2023 Asian Men's Club Volleyball Championship.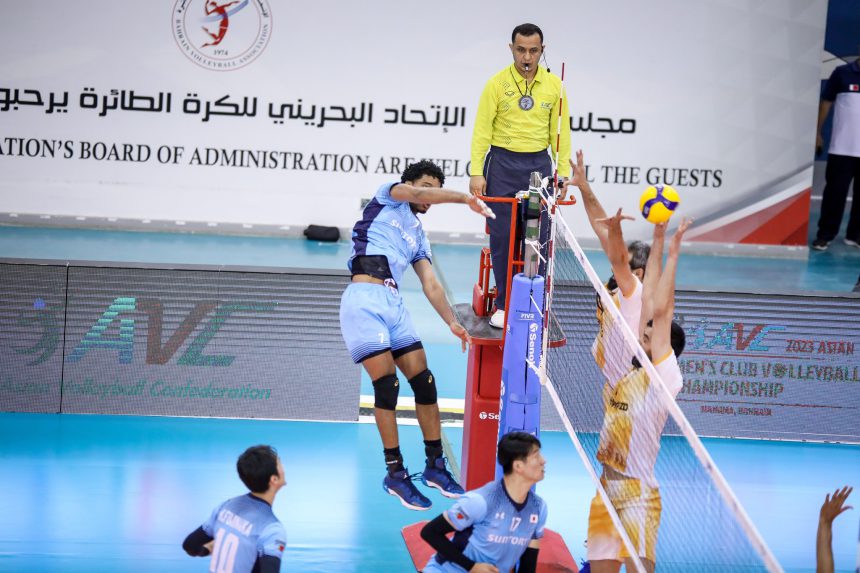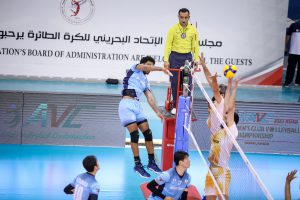 The Suntory Sunbirds, the only team unbeaten in this topflight championship, punched their ticket to the title-decider after a hard-earned victory in four sets against Shahdab Yazd of Iran on Saturday at Isa Bin Rashid Halls.
Jakarta Bhayangkara Presisi followed suit, outclassing the previously undefeated Police Sports Team of Qatar, also in a four-set thriller.
Both the Suntory Sunbirds and Jakarta Bhayangkara Presisi are now looking to be the first team from their respective countries to clinch the tournament crown. They will also be battling for the lone berth from this event in the 2023 FIVB Volleyball Men's Club World Championship, due to be hosted by India in December.
The highly-anticipated final of the 16-nation tournament is scheduled for 7:00pm Sunday night. It will be an epic climax to the hugely exciting week-long competition.
Losing semi-finalists Shahdab Yazd and Police Sports Team will face off for the bronze medal at 4.30pm. Also on the day's schedule are the concluding classification games, which get underway from 10:00am onwards. All are welcome to attend. Entrance is free of charge. The day's play will be followed by the official awards presentation and closing ceremony.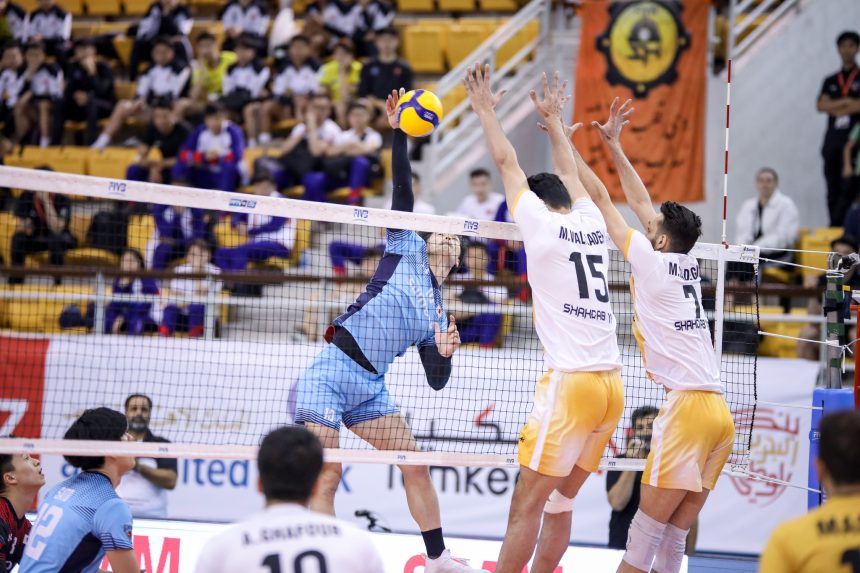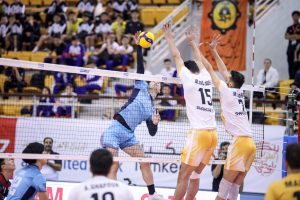 Suntory Sunbirds and Shahdab Yazd split the first two sets in their semi-finals but then the Japanese rallied to take the third in thrilling fashion. They rode their momentum into the fourth set, when Russian superstar Dmitriy Muserskiy carried them to the finish line for the 3-1 (25-22, 23-25, 34-32, 25-17) victory.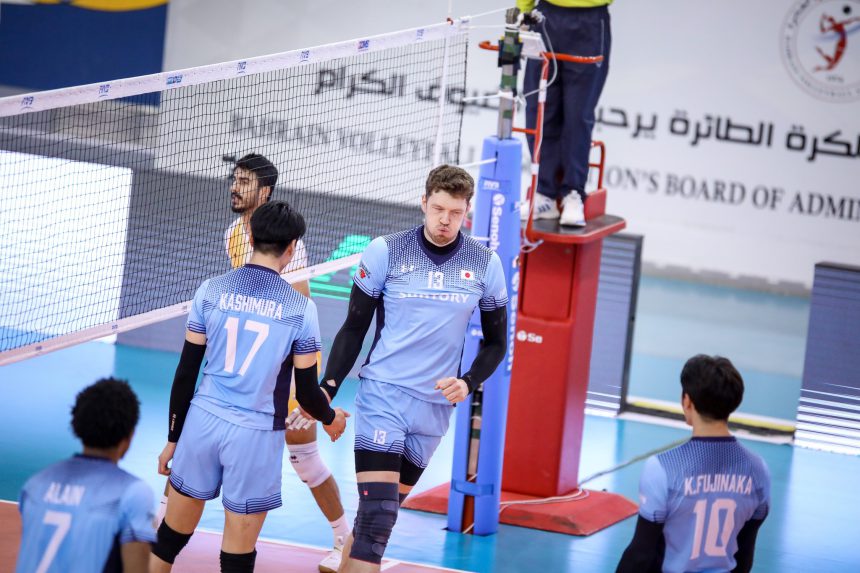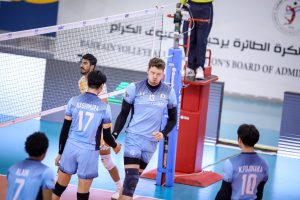 It was a similar feat repeated by the Japanese outfits. At the previous edition in Iran last year, Suntory Sunbirds also brushed off Shahdab Yazd 3-1 in the semifinals.
Muserskiy was unstoppable with 29 points, while Cuban teammate Alain Junior de Armas added 24. Mohammad Valizadeh scored 20 to pace Shahdab in defeat, while Amir Ghafour had 19.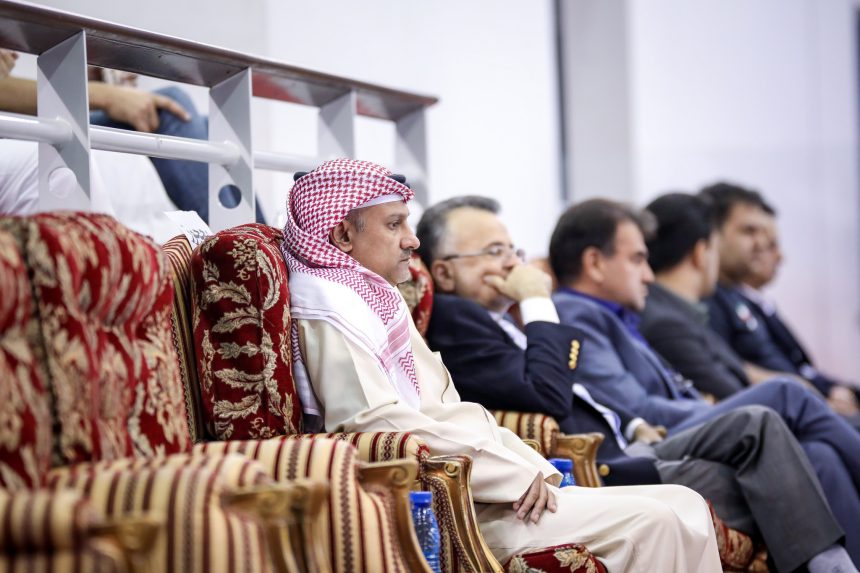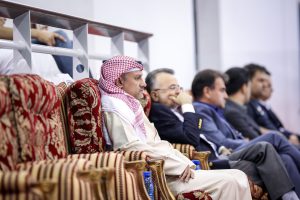 Suntory Sunbirds libero Soshi Fujinaka said after the win: "Today, everyone expected the match to be very tough, but each player did what they were supposed to during the game, and it was not a victory from just one of us, but it was a victory for the full team.
"After winning the third set, that mostly decided the match but we played like it was not decided. The fourth set was a totally new game and until we won, we concentrated on what we needed to do."
Of the Sunday's final, Fujinaka said: "No team from Japan has ever won this competition. We will do our best in each play, each ball, and give our 100 percent in the game."
The Sunbirds were the silver-medallists from last year's Asian Men's Club Championship, losing to champions Paykan Tehran of Iran, which did not compete this year.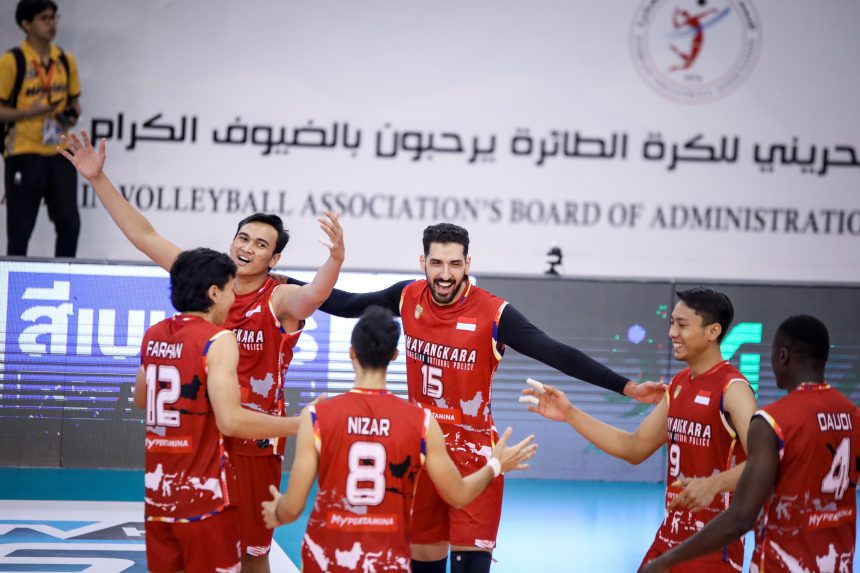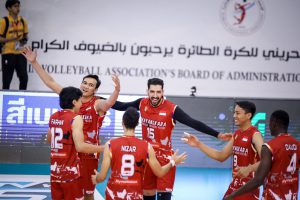 In Saturday's other final four encounter, Jakarta Bhayangkara Presisi shrugged off a horrendous start to power past their Qatari counterparts 3-1 (11-25, 29-27, 25-23, 25-23). The Indonesians also trailed late in the fourth set, but came away with the crucial plays to close out the match.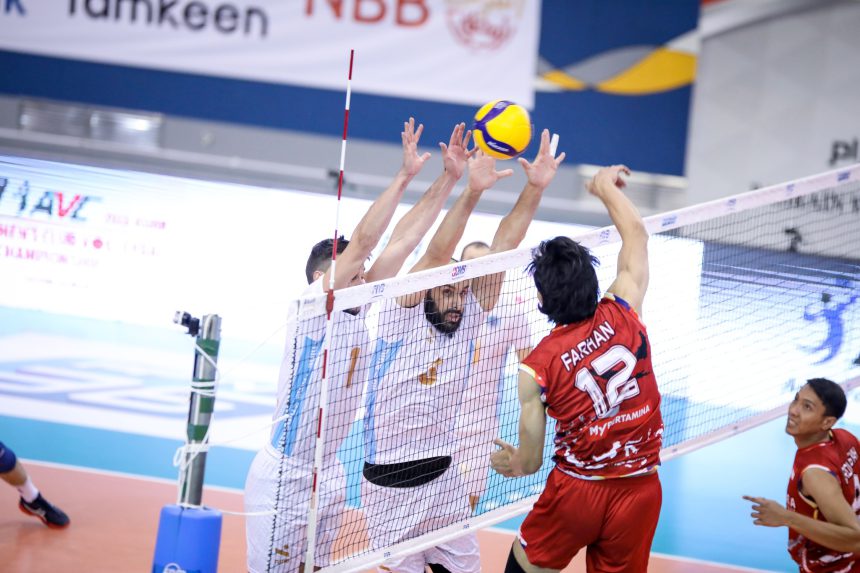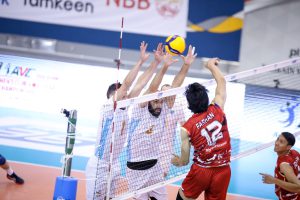 Ugandan Daudi Okello scored 24 points while Mohammadjav Manavinezhad added 16. Turkish player Efe Bayram had 18 points to lead the Qataris, while Estonian Oliver Venno chipped in with 15 in defeat.
Jakarta Bhayangkara Presisi skipper Nizar Julfikare Munawar was delighted with their victory, but admitted that they have some things to work on ahead of their title showdown with the Japanese.
"The match today was very hard, but we were very cool, and we knew we could win," Munawar said. "We made a lot of mistakes, I don't know why, maybe the players are tired, but for the next match, we must be even better. We must fix our mistakes.
"We have to work hard, be patient, and play with spirit. That's all."
Meanwhile, in the fifth-to-eighth classification bracket, Kuwait Sporting Club overcame a tough challenge against Korean Air Jumbos Pro-Volleyball Club.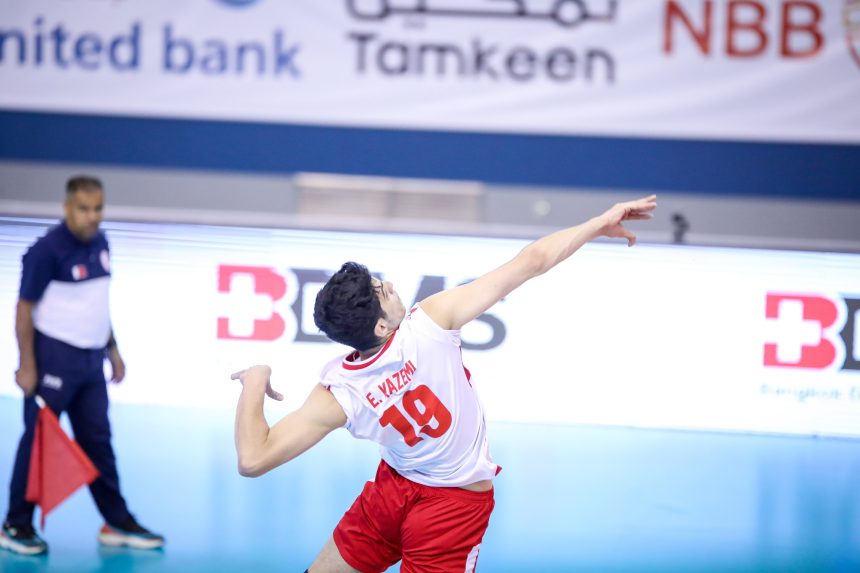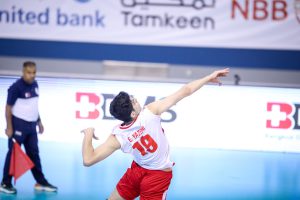 The Kuwaitis won 3-1 (28-26, 21-25, 34-32, 25-23), spearheaded by the superb 42-point performance of Iranian star Saber Kazemi. Omar Abdulrahman Alenezi added 11 for the Kuwaitis, while Im Donghyeok was the top scorer for the Koreans with an impressive 33 points. Lee Jun added 14 in the loss.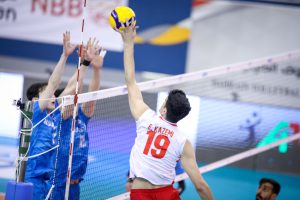 Kuwait Sporting Club wrapped up their tournament campaign Sunday contending for fifth place overall. They will face South Gas Sports Club from Iraq, while Jumbos take on Bayankhongor Crownd Geo VC of Mongolia for seventh position.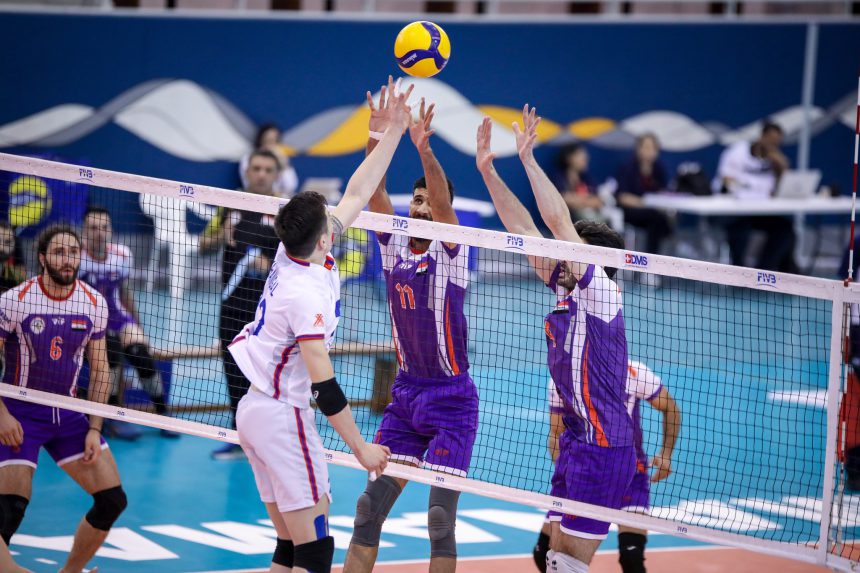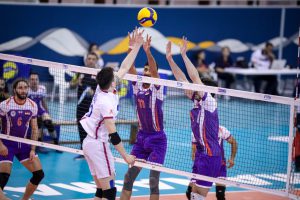 South Gas swept Bayankhongor 3-0 (25-21, 25-17, 25-16). Serbian Nikola Meljanac had 17 points while Muntadher Yasir finished with 14 for the Iraqis. Khangal Tamiraa had nine points to pace the Mongolians.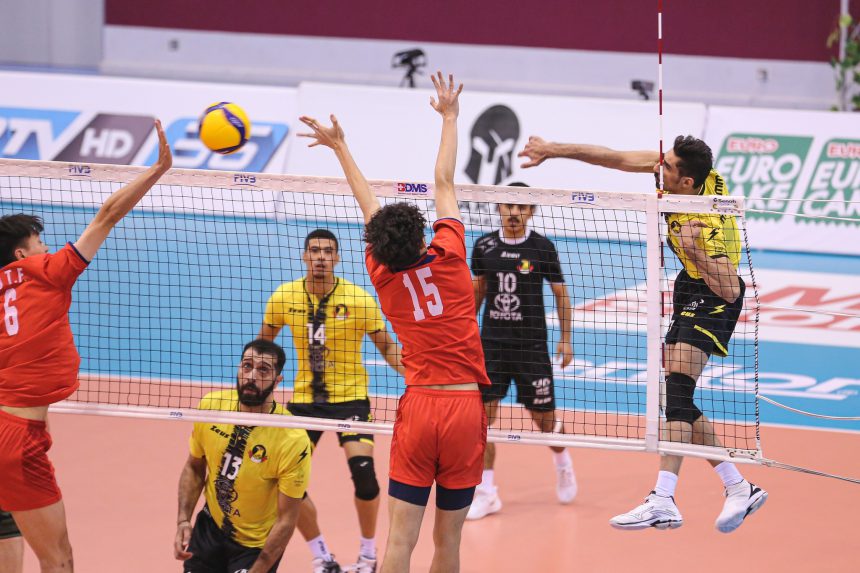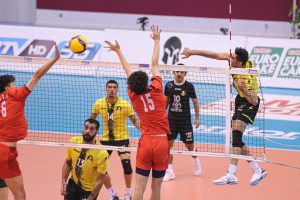 In the 9th-to-12th classification games, Bahrain's Al-Ahli have the chance to play for the top spot outside the elite eight after beating Taichung Bank of Chinese Taipei 3-0 (25-21, 26-24, 25-21) on Saturday.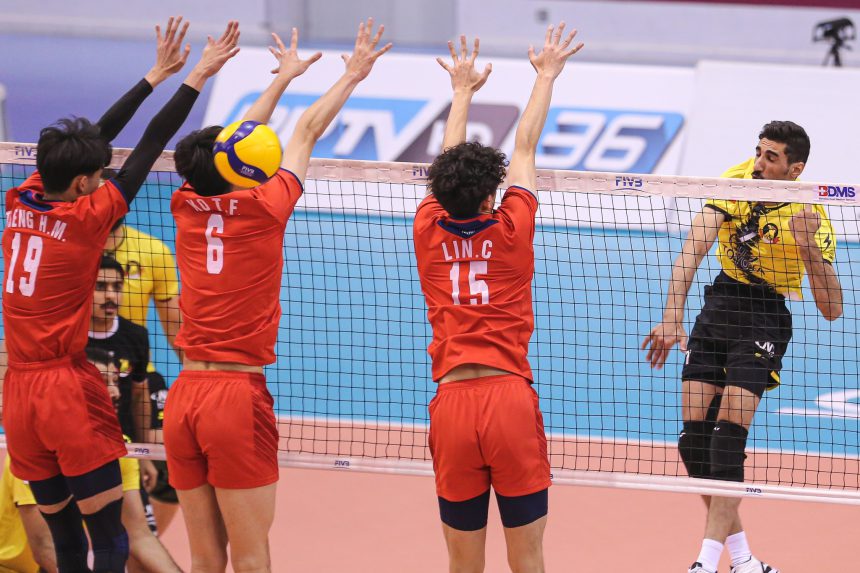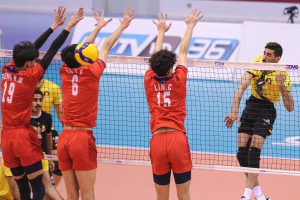 Mohammed Yaqoob was the hosts' best performer with 22 points, while Italian Davide Saitta finished with eight markers. Chang Yu-Sheng had 14 to lead Taichung, while Chen Cheng-Chi Chen scored seven points.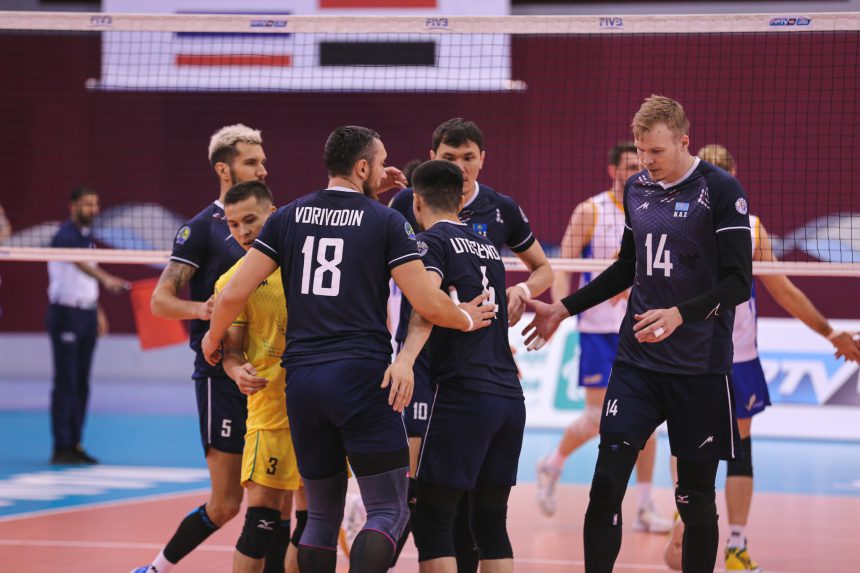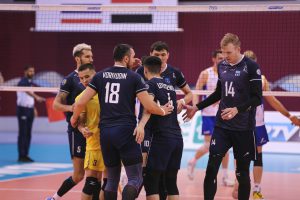 Al-Ahli will now take on Atyrau VC of Kazakhstan for ninth place overall, while Taichung face Canberra Heat of Australia for eleventh.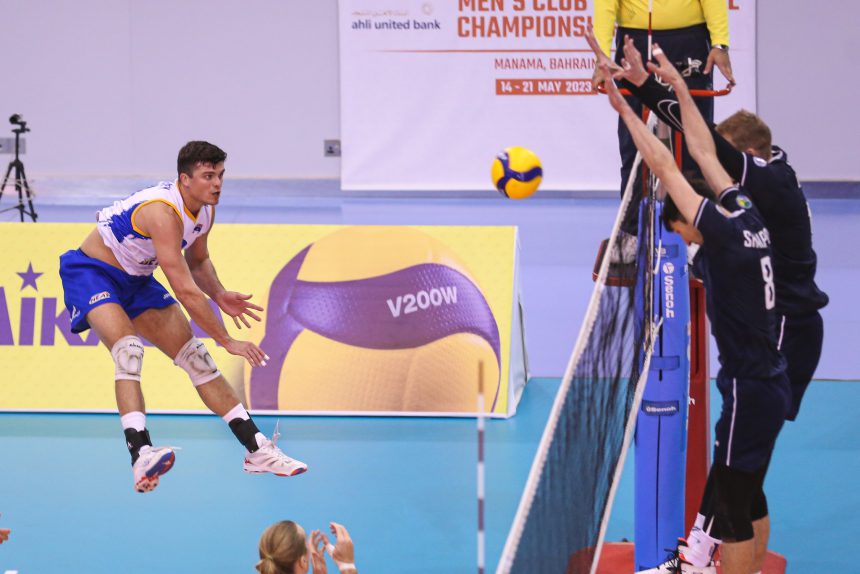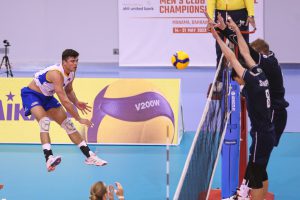 The Kazakhs were 3-0 (25-20, 25-14, 25-17) winners against the Aussies, with Vitaliy Vorivodin leading the way with 20 points. Artur Udrys added 13. Matthew Aubrey and Trent O'Dea were once again atop Canberra's scoresheet, but they had just nine and six points, respectively.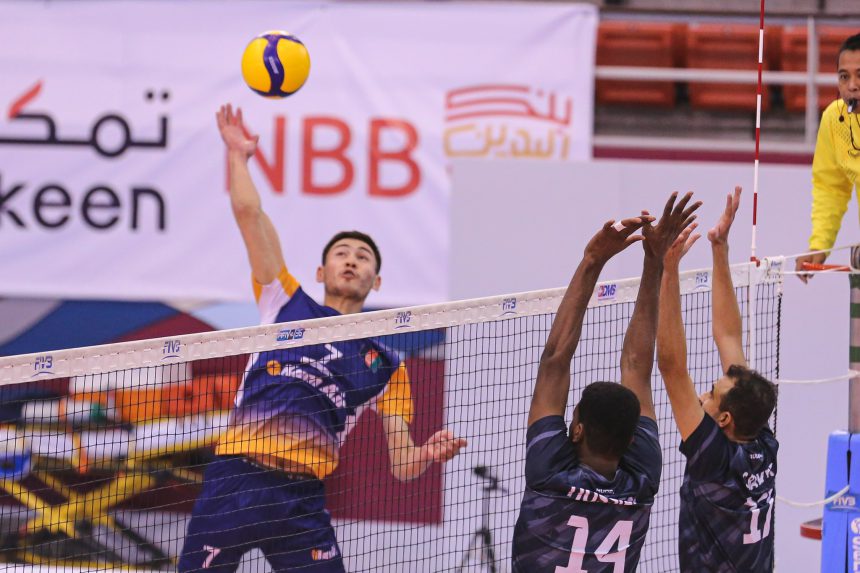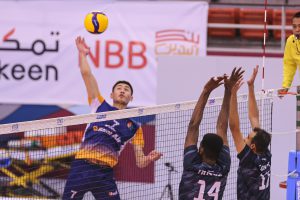 In the 13th-to-16th bracket, Afghanistan's Kam Air cruised past Yemen's Khaypil Sports Club 3-0 (25-17, 25-21, 25-22).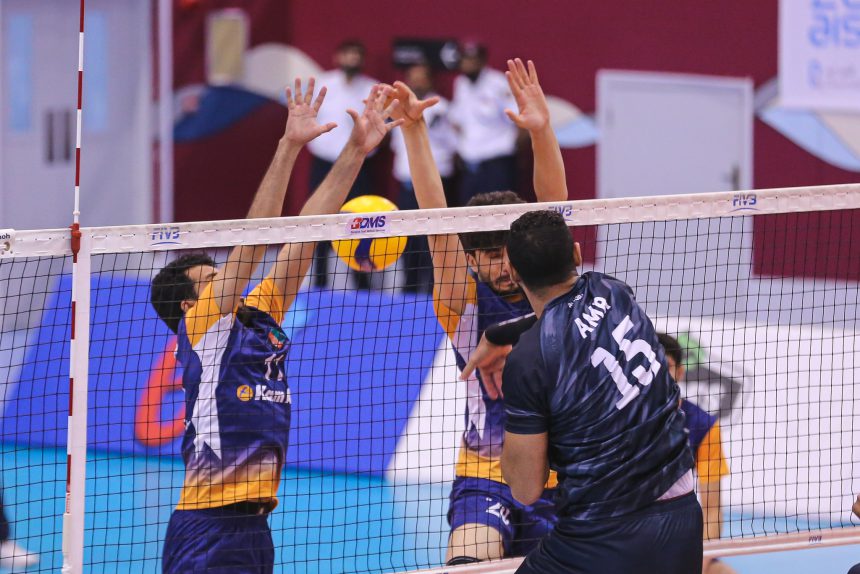 Ghulam Rasool Hidari had 16 points as Khaypil's best scorer while teammate Esmatullah Ahmadi finished with 12. For the Yemenis, Gamal Khairalah scored 16 points while Egyptian Amr Elawwad contributed 14.
Kam Air will lock horns with Diamond Food Fine Chef-Air Force from Thailand for 13th place, while Khaypil will play Aspiring Volleyball Team from Hong Kong, China for 15th overall.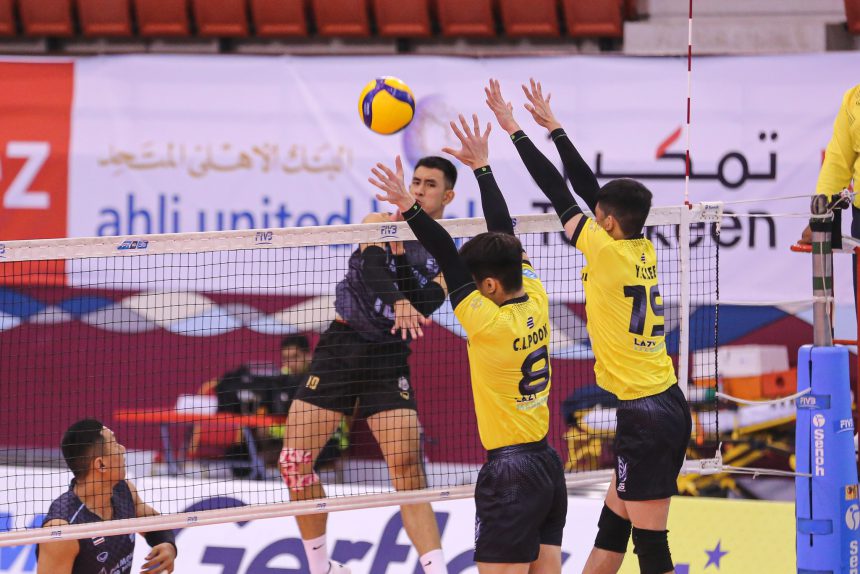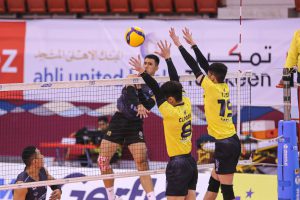 The Thais beat Aspiring 3-0 (25-10, 27-25, 25-18), with Chaiwat Thungkham and Brazilian Evandro Dias De Souza scoring 19 points apiece in the win. Yin Chun Kwok and Ting Xu Sit paced Aspiring with 10 points apiece.
MATCH SCHEDULE
COURT 1
11.30am: 7th-8th: Korean Air Jumbos Pro-Volleyball Club (Korea) v Bayankhongor Crownd Geo VC (Mongolia)
14.00pm: 5th-6th: Kuwait SC (Kuwait) v South Gas SC (Iraq)
16.30pm: Bronze Medal Match: Shahdab Yazd (Iran) v Police Sports Team (Qatar)
19.00pm: Gold Medal Match: Suntory Sunbirds (Japan) v Jakarta Bhayangkara Presisi (Indonesia)
COURT 2
10.00am: 15th– 16th: Aspiring Volleyball Team (Hong Kong, China) v Khaypil Sports Club (Yemen)
12.30pm: 13th-14th: Diamond Food Fine Chef-Air Force (Thailand) v Kam Air (Afghanistan)
15.00pm: 11th-12th: Taichung Bank (Chinese Taipei) v Canberra Heat (Australia)
17.30pm: 9th-10th: Al-Ahli (Bahrain) v Atyrau VC (Kazakhstan)
QUICK LINKS
AVC Website: click www.asianvolleyball.net
AVC Facebook: click www.Facebook.com/AsianVolleyballConfederation
AVC Twitter: click: www.twitter.com/AsianVolleyball
AVC Instagram: click: https://www.instagram.com/avcvolley/?hl=en
AVC Youtube: click: Asian Volleyball Confederation
AVC WeChat: Asian Volleyball Confederation