Iran's Shahrdari Varamin VC reign supreme at the 2019 Asian Men's Club Championship in Taipei
Bangkok, Thailand, April 23, 2020 – Let's keep our fingers crossed and hope for the best that the growing novel coronavirus (Covid-19) crisis will be improving drastically in order that AVC can resume operation, with the first AVC Championship in 2020 getting off the ground soon.
AVC has recently announced that if the Covid-19 situation gives an obvious sign of improved conditions within the end of June 2020, with Asian countries getting off the hooks to lift their lockdown restrictions and airports and transportation solutions starting to continue services, the 2020 AVC Championship then can get out from the starting blocks in either late August or early September until the first week of October in order to avoid the National League Season.
If things are going satisfactorily and life gets back to normal, it is likely that the first AVC Championship this year will be the 2020 Asian Men's Club Volleyball Championship in Nakhon Ratchasima, Thailand. The annual topflight tournament was due to take place from April 18 to 25, but was postponed due to the grave Covid-19 concerns and rescheduled for August 30-September 6.
The Championship, an international volleyball competition in Asia and Oceania contested by the men's clubs of the AVC's affiliated member countries, had dated back to 1999 when only six teams from five nations including two host sides took part in the inaugural Asian Men's Club Championship in Hefei. Sichuan Fulan handed hosts China the historic gold medal in the Championship after winning them all in the single round-robin event. Korea's Samsung Fire & Marine Insurance took silver, while Paykan Tehran from Iran had to be content with bronze medal.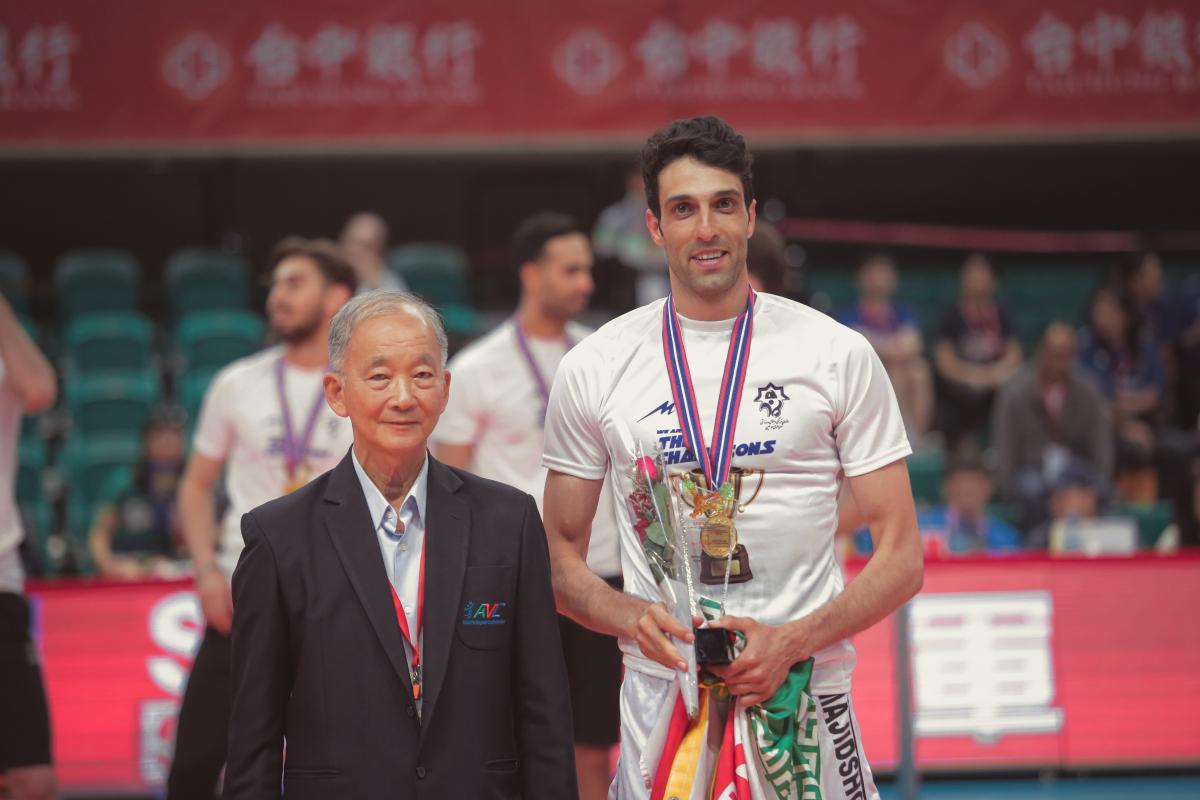 Shahrdari Varamin's Alireza Jalai takes MVP in Taipei in 2019
After that, the Championship has become an annual competition, with countries taking turns to host the top-tier event. The current champions are Iran's Shahrdari Varamin VC, which won their second title at the 2019 edition in Taipei, Chinese Taipei following their dramatic 3-2 win in the final showdown against Japan's Panasonic Panthers, powered by terrific Michal Kubiak from Poland.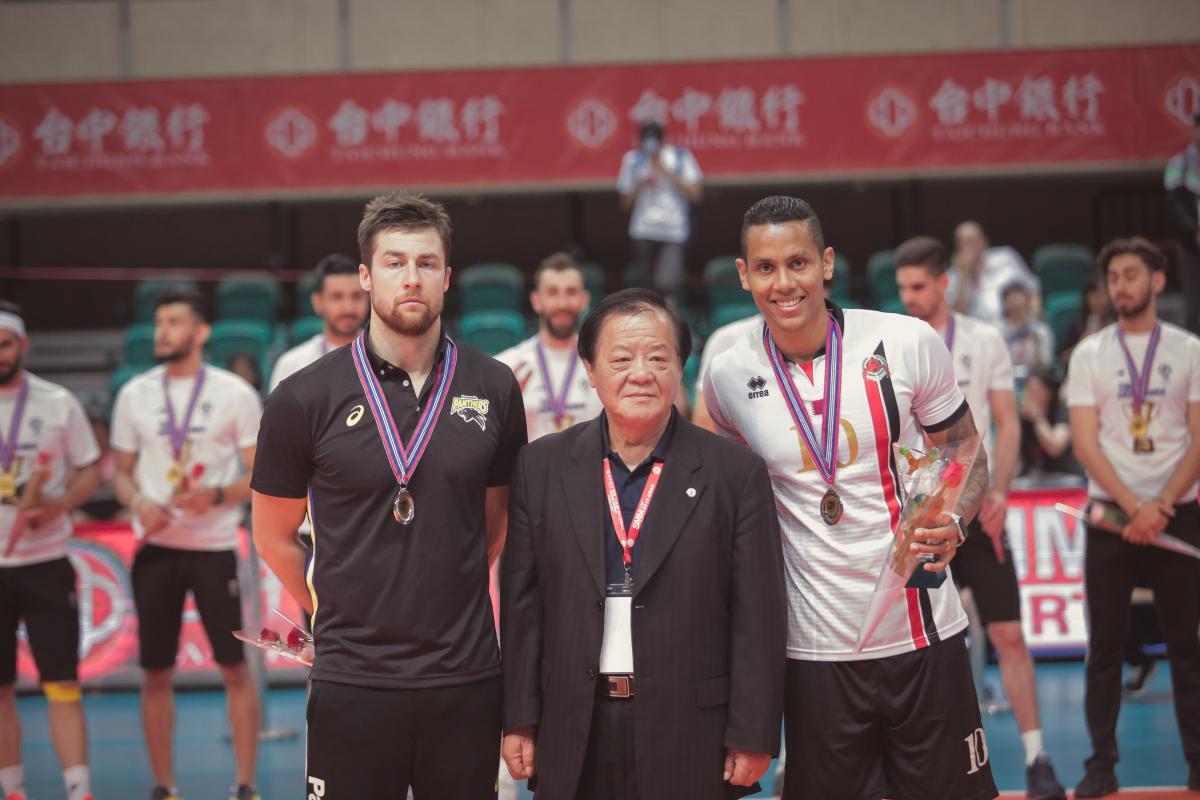 Panthers' Kubiak and Brazilian-born Marcus Costa of Al-Rayyan win Best Outside Spikers in Taipei in 2019
The previous 20 Asian Men's Club Championship tournaments have been won by six different countries, with Iran claiming 14 times and Korea 2. Qatar, Kazakhstan, China and Chinese Taipei shared one gold apiece.
Paykan Tehran had gone from unpredictable individual to brilliant teamwork to capture 7 gold medals in 2002, 2006, 2007, 2008, 2009, 2010 and 2011, with Shahdari Varamin and Samayeh Bank Tehran claiming 2 each and Sanam Tehran, Kalleh Mazandaran and Khatam Ardakan winning one apiece. Samsung Fire made an impact as the Korean side jumped from the second-place finish in 1999 to their supremacy in 2000 and 2001.
Al-Arabi captured the lone gold for Qatar in 2012, while Rahat CSKA emerged as the 2005 Asian Men's Club winners for Kazakhstan, China took the 1999 title, thanks to Sichuan Fulan's superb performance, and Taichung Bank made hosts Chinese Taipei greatly proud with their 2015 crown.
Regarding the hosts, China had organised the Championship for four times in 1999, 2001, 2010 and 2012. Iran hosted it in 2002, 2004 and 2013. The other host nations comprised Vietnam (2006 and 2017), Myanmar (2016 and 2018), Chinese Taipei (2015 and 2019), Thailand 1 (2000) and due to host the 2020 episode, Pakistan (2005), Bahrain (2007), Kazakhstan (2008), United Arab Emirates (2009), Indonesia (2011) and Philippines (2014).
The AVC Men's Club Championship has gained enormous popularity since the debut competition in Hefei, China in 1999 when only 6 teams vied for the top honour. The number of the participating teams has been improving in leaps and bounds since then, with the 2012, 2014 and 2015 editions in China, Philippines and Chinese Taipei similarly attracting 16 teams to challenge one another and chase the victory.
At the previous edition in Taipei, a total of 14 teams took part in the 2019 Asian Men's Club Championship. Shahrdari Varamin from Iran reigned supreme, but were banned by the FIVB in their attempts of testing their mettle in the 2019 FIVB Volleyball Men's Club World Championship in Betim, Brazil. Japan's Panasonic Panthers, second place at the Asian Men's Club Championship, declined the FIVB's invitation to compete in the world meet and third place Al-Rayyan represented Asia to join the fray.
Al-Rayyan and Iran's Paykan Tehran became the only two Asian sides which finished top three in the Men's Club World Championship, with the former picking up silver in 2014 in Brazil and the latter bronze in 2010 in Doha, Qatar.
However, the 2020 FIVB Volleyball Men's Club World Championship has yet been confirmed, while a cloud of uncertainty still looms over the staging of the 2020 Asian Men's Club Championship in Nakhon Ratchasima, Thailand due to the Covid-19, which has spread around the planet, sending billions of people into lockdowns as health services struggled to cope.
Thailand's Covid-19 situation is significantly improving. Only 13 new cases and one death (50 in total) have been confirmed on April 23, bringing Thailand's total to 2,839 since the outbreak began, of whom 2,430 or 85.5% have now been released from hospital and returned home.
Despite the fact that Thailand will soon get out of Covid-19 trouble and is ready to host the 2020 Asian Men's Club Volleyball Championship, it remains to be seen. Still, there are some other factors that might affect the staging of the topnotch competition. At least, team players should stay safe to make sure they are in the pink physically and not travelling from the Covid-19- affected countries to compete in Thailand.
Related links of AVC
AVC Website: click www.asianvolleyball.net
AVC Facebook: click www.Facebook.com/AsianVolleyballConfederation
AVC Twitter: click: https://twitter.com/avcvolley
AVC Instagram: click: https://www.instagram.com/avcvolley/?hl=en
AVC Youtube: click: Asian Volleyball Confederation
AVC WeChat: Asian Volleyball Confederation