Nakhon Ratchasima, Thailand, September 11, 2022 – In-form Thailand stamped their authority over the 2nd ASEAN Grand Prix Women's Volleyball Invitation with a perfect sweep in the three-day tournament including a convincing straight-set triumph against SEA Games archrivals Vietnam in their final clash at the Chartchai Hall here on Sunday.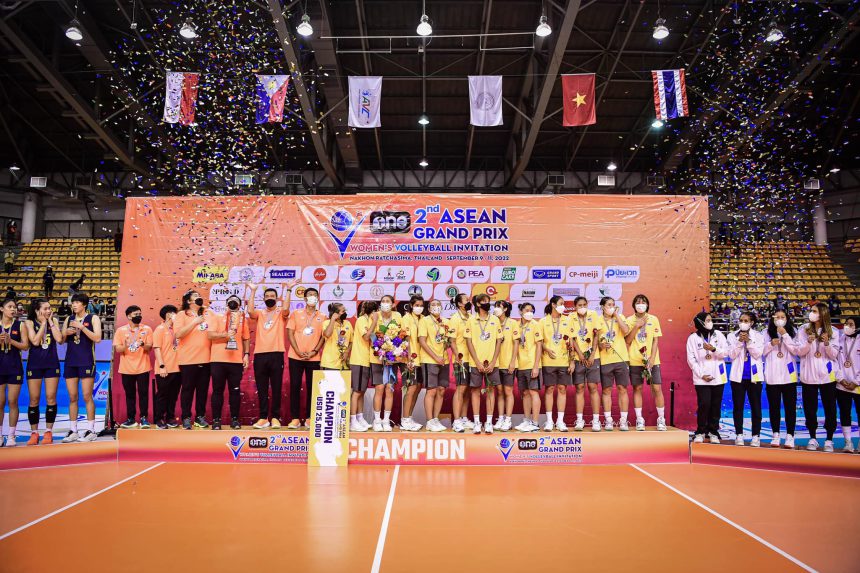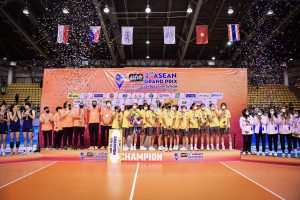 It was a massive match with over 5,000 spectators packing the competition site, while world No.14 and Thailand ended their title defence campaign in the ASEAN Grand Prix with remarkable unbeaten run without dropping a single set to their respective rivals to capture the title for two times in a row.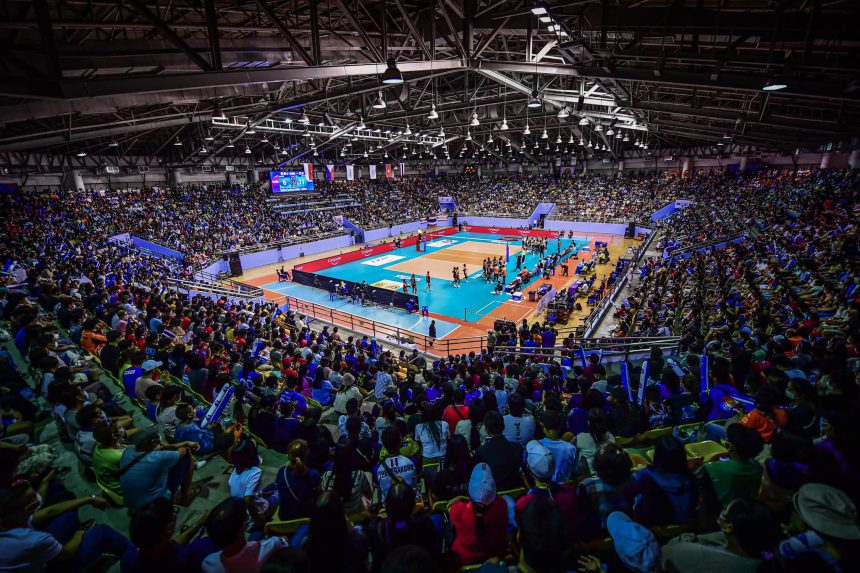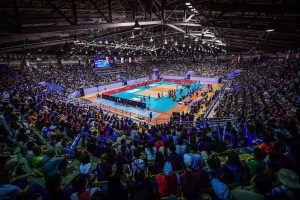 Thailand, which picked up bronze medal at the AVC Cup for Women two weeks ago in Pasig City, Philippines, claimed their unprecedented title in the inaugural Grand Prix in 2019 which was split into the first leg on home soil at Terminal 21 Hall here and the second leg in Santa Rosa, Philippines. To their name, Thailand won the Vietnam-hosted SEA Games in Quang Ninh in May for consecutive 15 times in SEA Games history.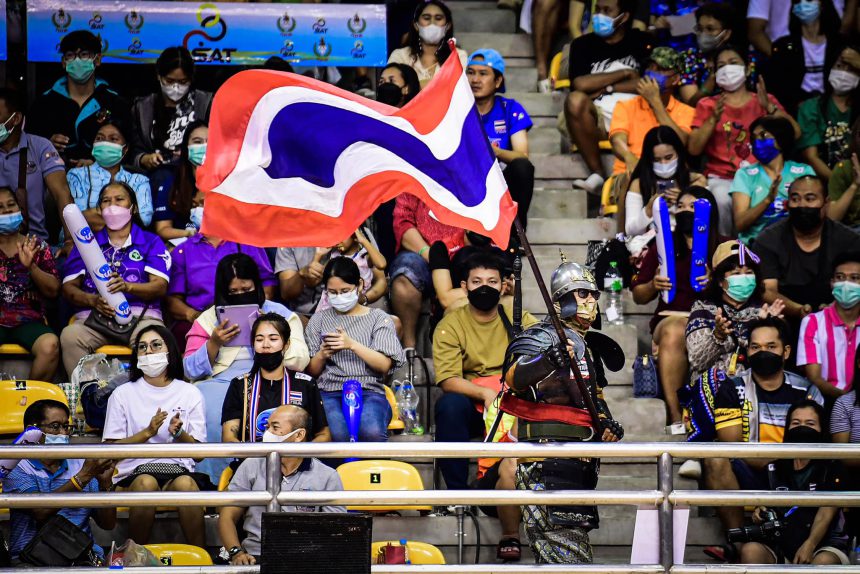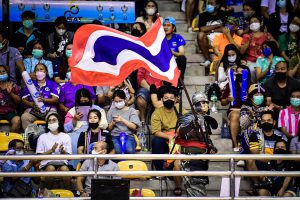 Against Vietnam, the team they had already beaten for three times this year including the first two in the SEA Games (3-1 in the preliminary match and 3-0 in the final showdown), Thailand were strong with the likes of Pimpichaya Kokram, Ajcharaporn Kongyot and Hattaya Bamrungsuk.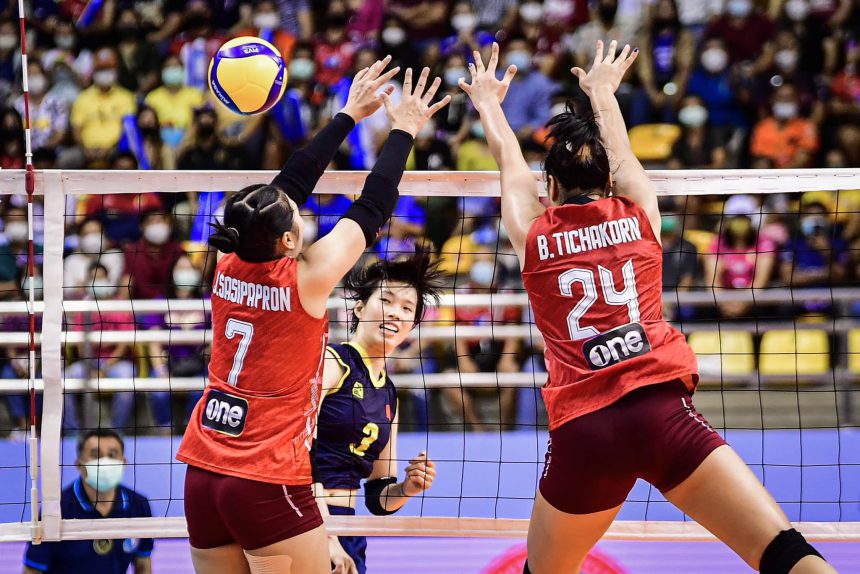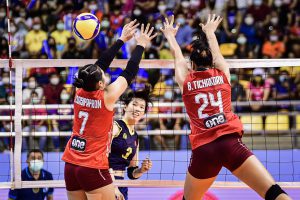 The loud atmosphere inside the packed gymnasium saw the home team, which shut out the Vietnamese in straight sets in the third-place playoff clash at the 2022 AVC Cup for Women in Pasig City two weeks ago, make a strong start to take the thrilling first set 25-19.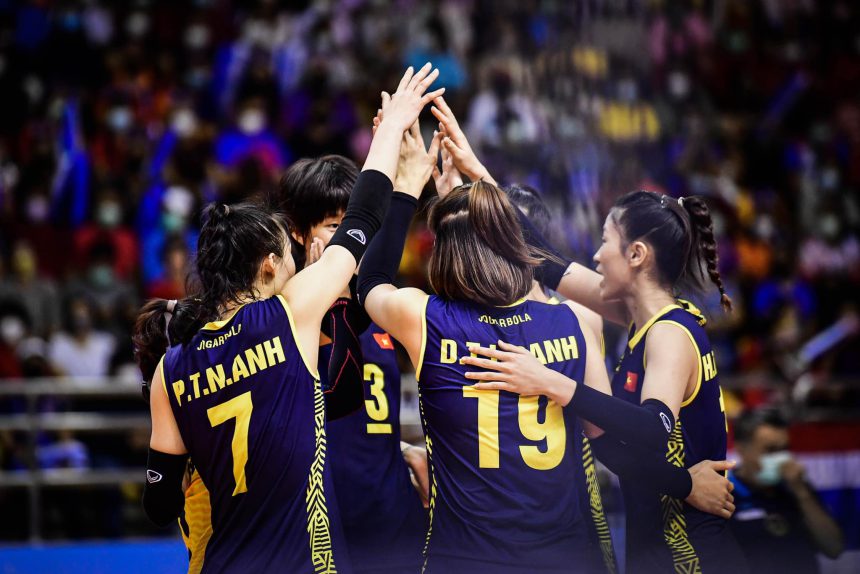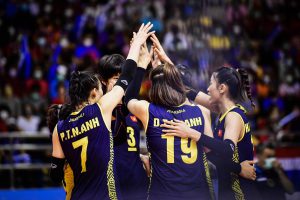 Thailand and Vietnam were locked in a very tight contest in the second set. At 9-9, the host side lost hard-attacking Wipawee Srithong, one of their key players, as she suffered from a sprained left ankle and was carried out of the competition court, replaced by another strong player, Sasipaporn Janthawisut.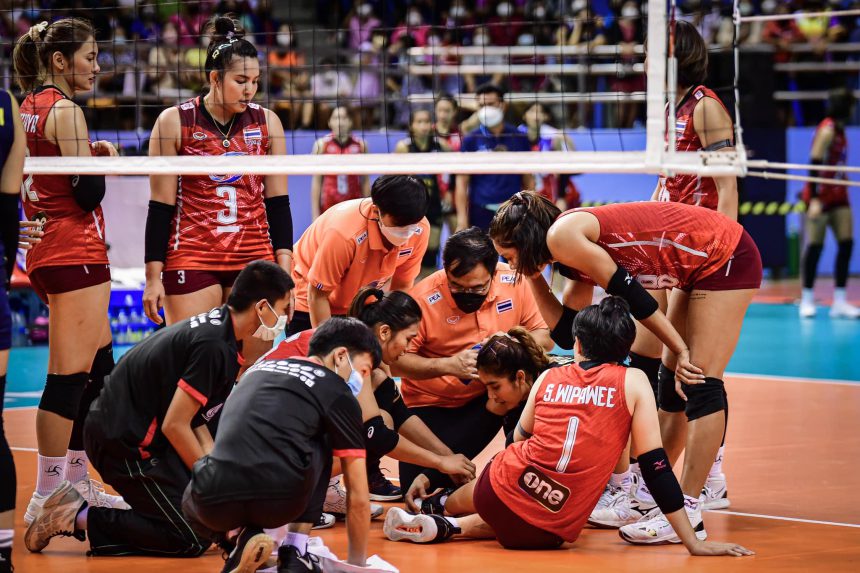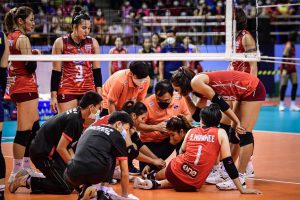 Still, nothing changed that much in this tough-looking set, with the Thais managing to put more pressure on the opponents and quickly took control to run off with a five-point clear at 18-13, thanks to spectacular attacks from Pimpichaya and Ajcharaporn and impenetrable wall set by captain and setter Pornpun Guedpard and Hattaya. Powerful hitter Tran Thi Thanh Thuy, who stands 193cm tall, tried hard to bring her team back on track, utilising her height advantage to attack effectively at the net. However, the host side defended solidly to foil her determined efforts and advanced 24-17. Thailand clinched the second set 25-17 after a spike from Tran Thi Thanh Thuy went wide.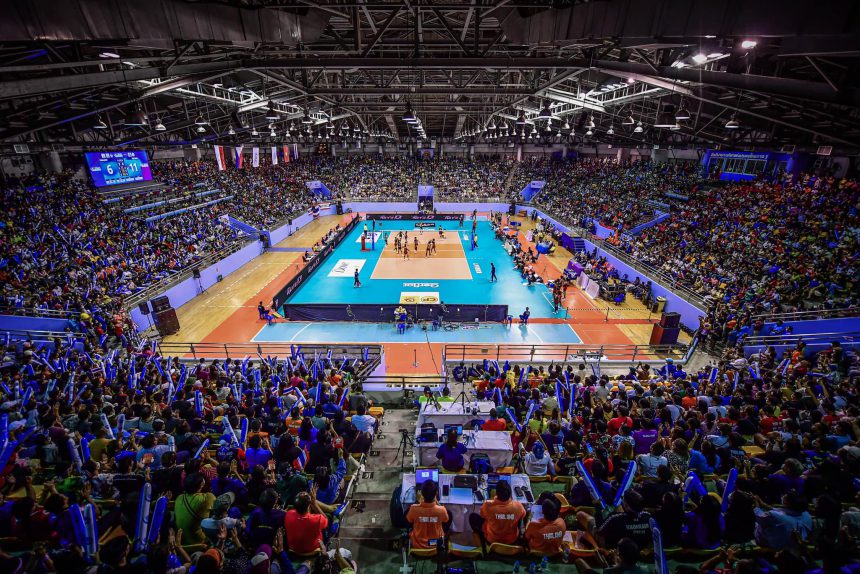 The third set was more thrilling when Vietnam gradually regained control with an initial 14-10 lead. Thailand recovered from a slow start to catch the rivals at 17-17 and 23-23. Hattaya's lightning-fast spike put Thailand in front 24-23, but Vietnam did not surrender as Tran Thi Thanh Thuy fired an off-the-block spike to level 24-24. Still, Ajcharaporn came to the team's rescue as she scored the remaining two points for the home team 26-24 to completely end the strong visitors' challenge.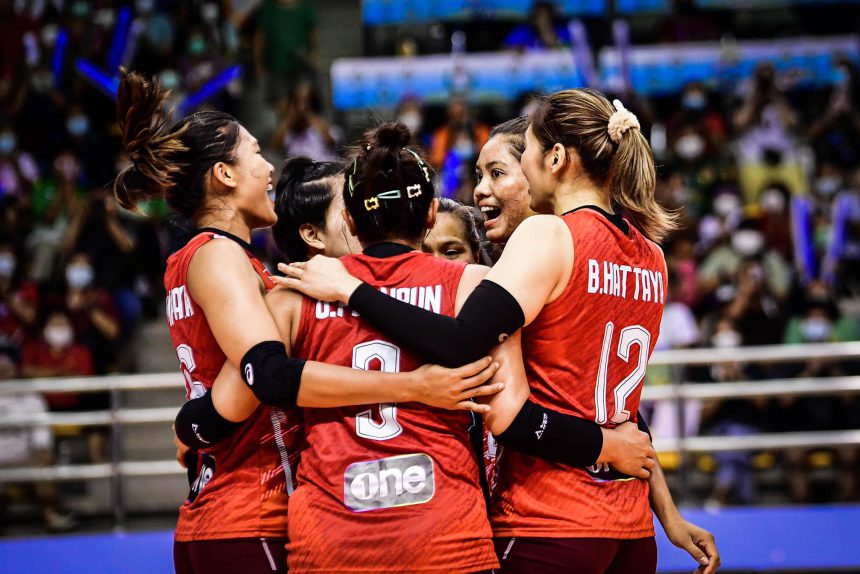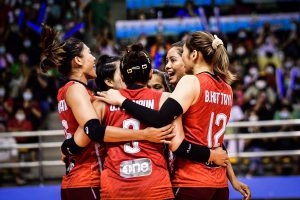 Pimpichaya Kokram scored a team-high 16 points from 14 attacks, one block and one ace serve for Thailand, with Ajcharaporn Kongyot keeping her good company to add another 15 points. Tran Thi Thanh Thuy led Vietnam with 16 points from 15 attacks and one block.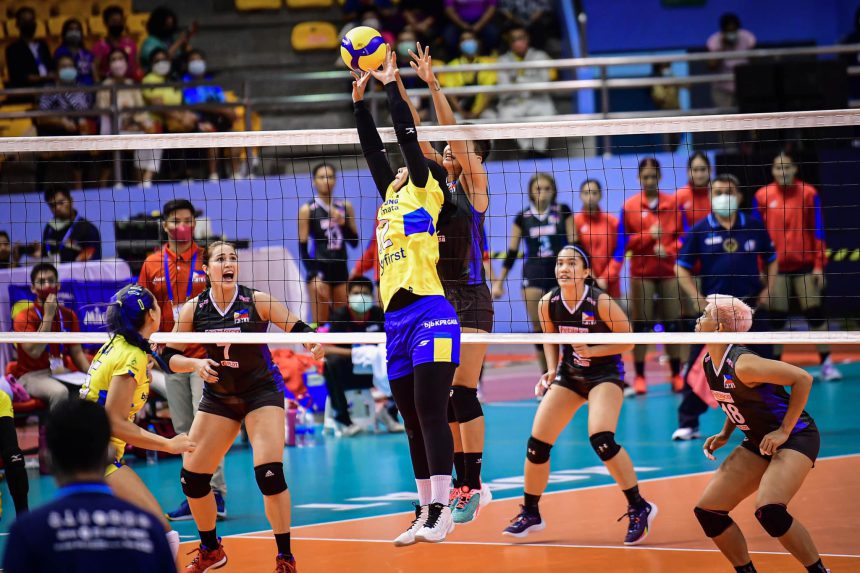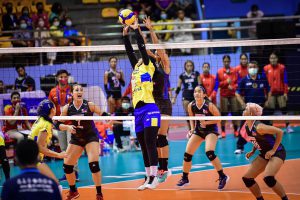 Earlier, Indonesia played their last encounter against Philippines, which decided the bronze medallists for the winning team and the fourth place for the losers.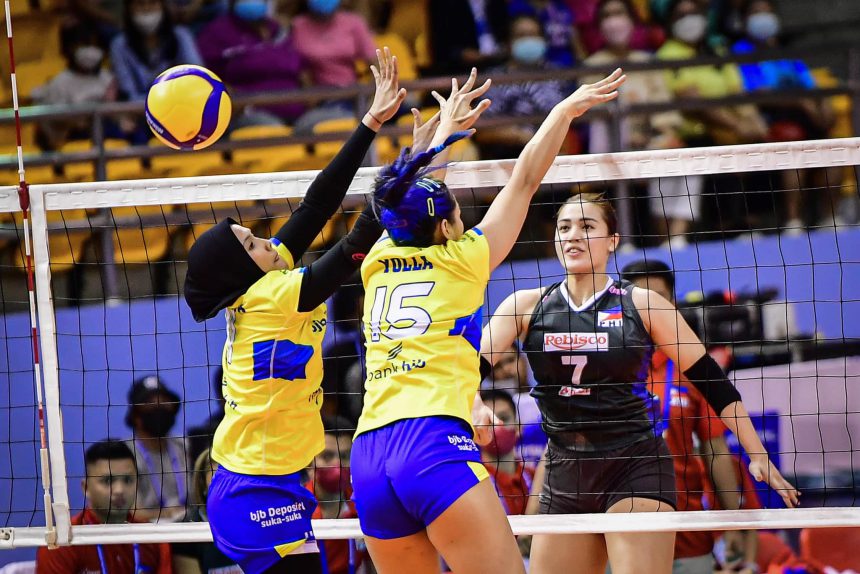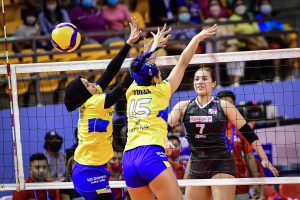 Indonesia, fielding their full team which picked up bronze medal at this year's SEA Games in Quang Ninh, played a daunting task against the Philippines, represented by Creamline Cool Smashers, the Club team which captured the 2022 PVL Invitational Conference title.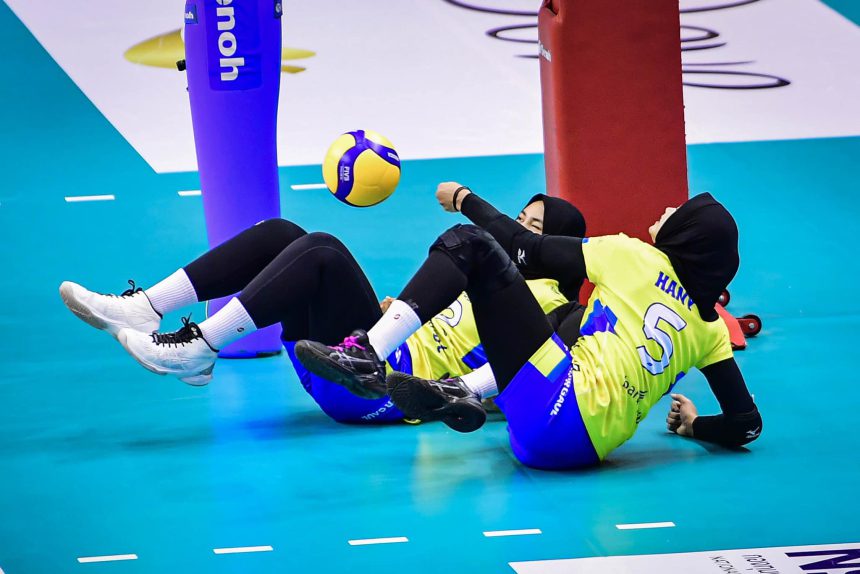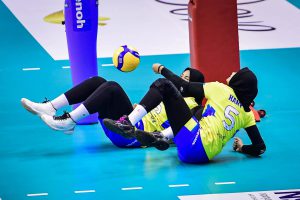 Despite consecutive two wins (3-1 in the round-robin preliminaries and 3-1 in the bronze-medal match) against Philippines in the SEA Games, Indonesia found Creamline a tough nut to crack.
In the first set, the Philippines lived up to their expectation as they pushed Indonesia to the limit with their fine form including powerful attacks from Galanza Jessica Margarett, Gumabao Michele Theresa and Carlos Diana Mae and solid block by Galanza and Domingo Celine. The Philippines performed well to lead all the way before the Indonesians fought back.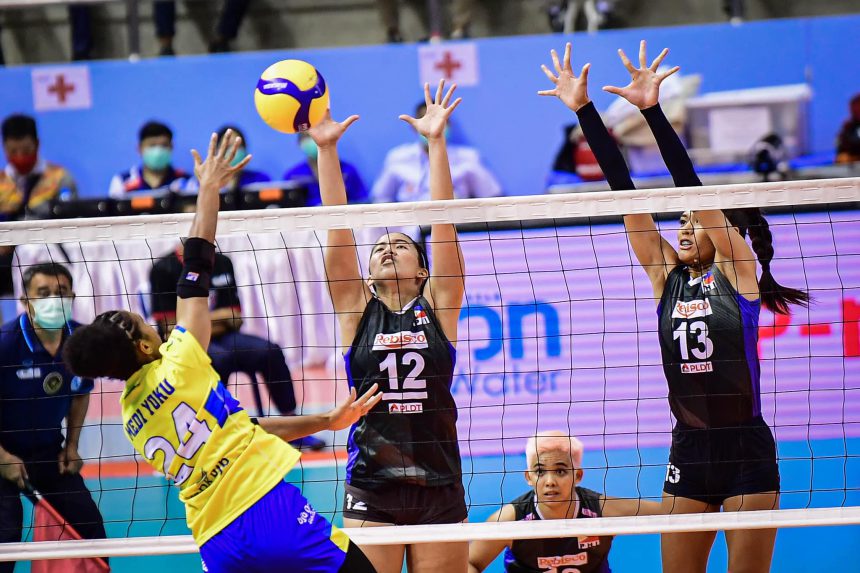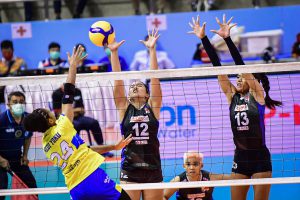 The 183cm-tall Megawati Hangesri Pertiwi and Mediol Stiovanny Yoku unleashed thundering attacks to help level 20-20 and 23-23. To their cheering fans' delight, Philippines netted a crucial point to lead 24-23, needing only one more point to win the first set, but things turned sour as they let the win slip through their fingers. Indonesia struck back hard to take the hard-fought set 26-24.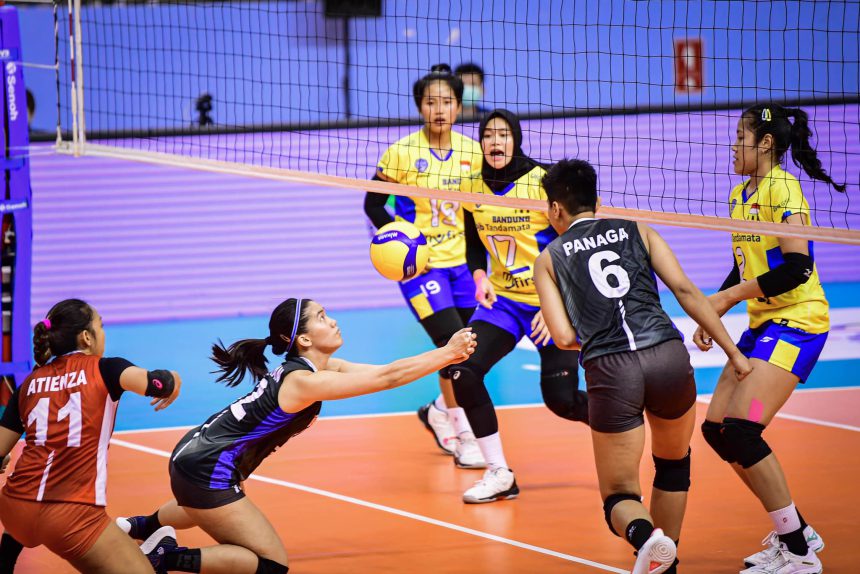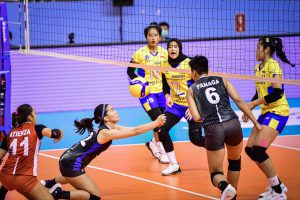 Both sides fought tooth and nail in the second set and the points gap between them throughout the closely-contested set was not more than 2 points. At 15-15, Indonesia clawed back into the game as Megawati and Mediol took turns hitting spike after spike to bring the team up in front 22-20.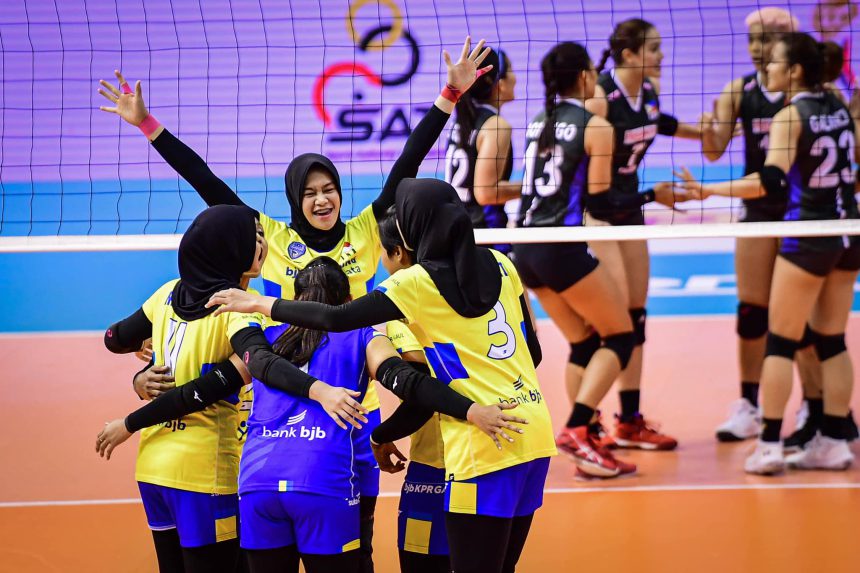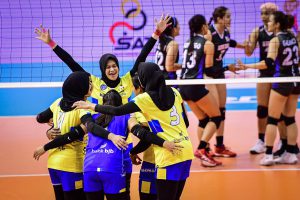 However, Philippines did not give up easily as they regrouped and bounced back to level 22-22. Indonesia surged into two-point lead at 24-22 and a minute later won the close set 25-22 following their successful requested challenge for the opponents' net fault.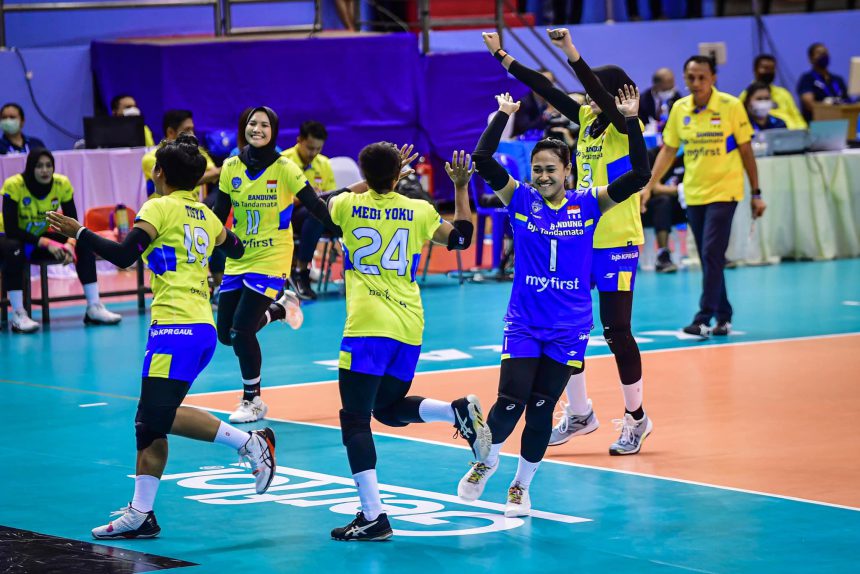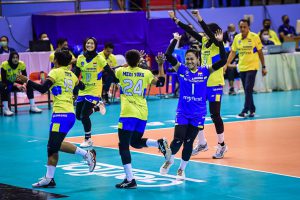 The third set was still tight, with both Indonesia and Philippines giving it all-out to set an early pace. Indonesia again maintained their momentum to jump ahead with a narrow 16-14 lead. However, Philippines turned the tide on their strong opponents by chipping back-to-back points to catch up with the Indonesians at 18-18 and again 23-23. The Indonesians fared better at home stretch to bag the remaining two points to claim the set 25-23, match and the bronze medal.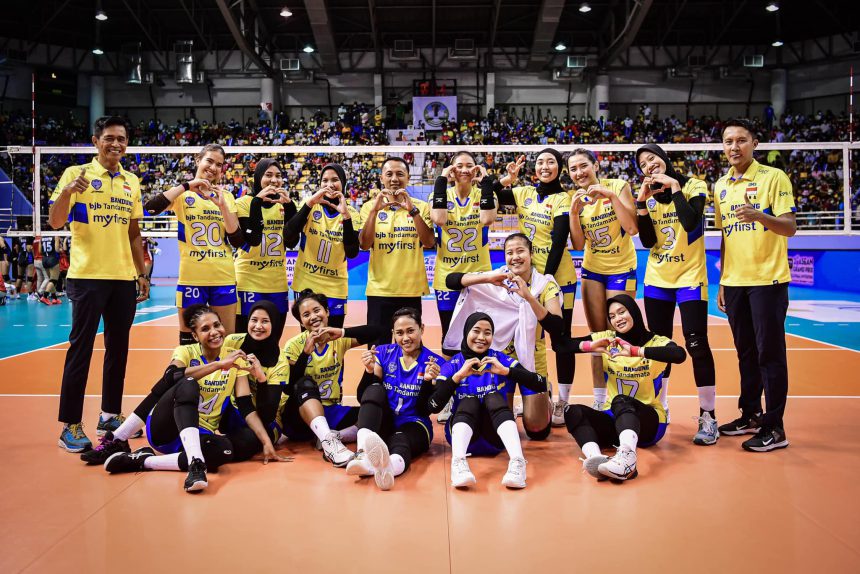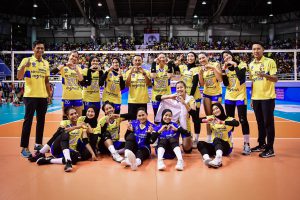 Megawati Hangesri Pertiwi weighed in with a huge 21 points from 20 attacks and one block for Indonesia, while Mediol Stiovanny Yoku and Wilda Siti Nurfadhilah Sugandi contributed with 18 and 10 points respectively.
"It's a big victory for us as we lost to Thailand and Vietnam. We played a relaxed match today and solved any problem coming up in the match. We then got the best result today," Indonesia head coach Muhamad Alim Suseno commented after the match.
"Between the Philippines national team we had beaten at the SEA Games in Quang Ninh and another Philippine team we had just overcome here, I think they are almost the same. Only the Philippine team here were fighting a bit better than their SEA Games squad.
"After this, we will go back and prepare for our Proliga League which will start later this month. Some players remain with the national team in our preparation for the next year's SEA Games in Cambodia, but some may leave. It's up to their own reasons. However, I think we will have a little change in our team for the SEA Games."
Asked what is the secret for his team's success in this match against Philippines, the team head coach said, 'I instructed my players to work very hard and keep fighting. Don't easily give up."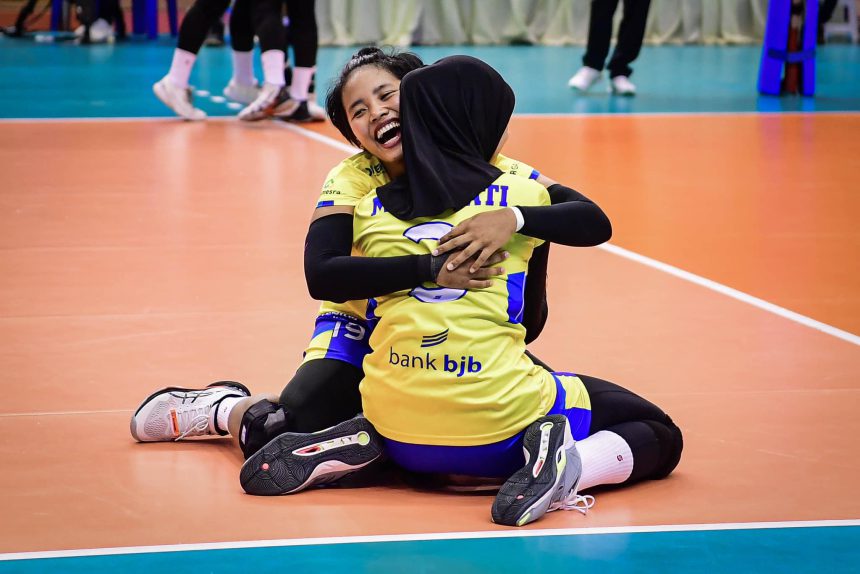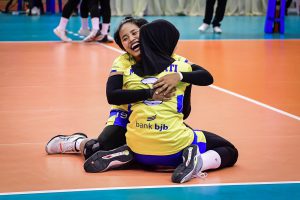 Indonesia claimed silver medals in both legs in the previous edition of the ASEAN Grand Prix three years ago, but this time had to be content with bronze medal. Philippines finished on bottom fourth place.
In the awards presentation, eventual winners Thailand received Champions' Trophy plus gold medal and US$25,000 cash, while second place Vietnam took silver medal and US$20,000 cash prize. Third place Indonesia took home bronze medal and US$15,000 cash, with fourth place Philippines claiming US$10,000 cash.
FINAL RESULTS
Indonesia beat Philippines 3-0 (26-24, 25-22, 25-23)
Thailand beat Vietnam 3-0 (25-19, 25-17, 26-24)
FINAL STANDINGS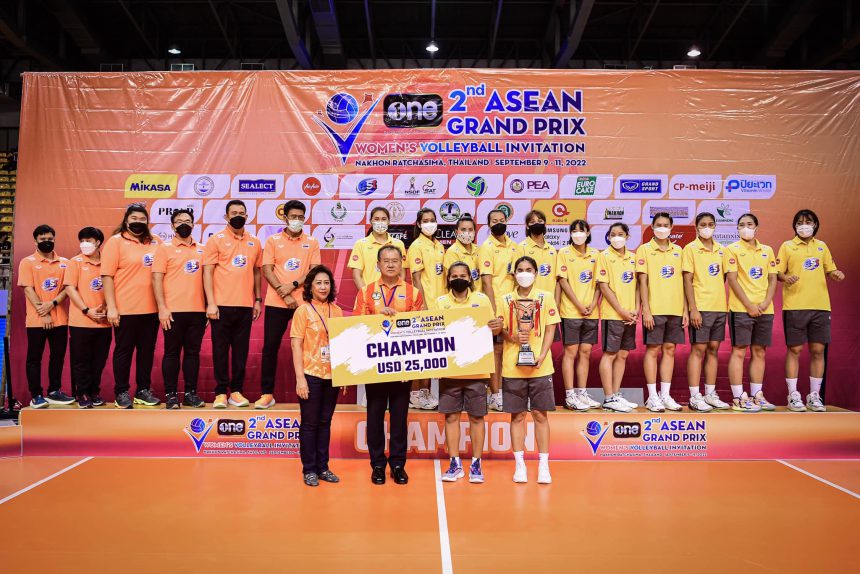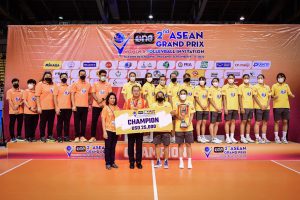 1. THAILAND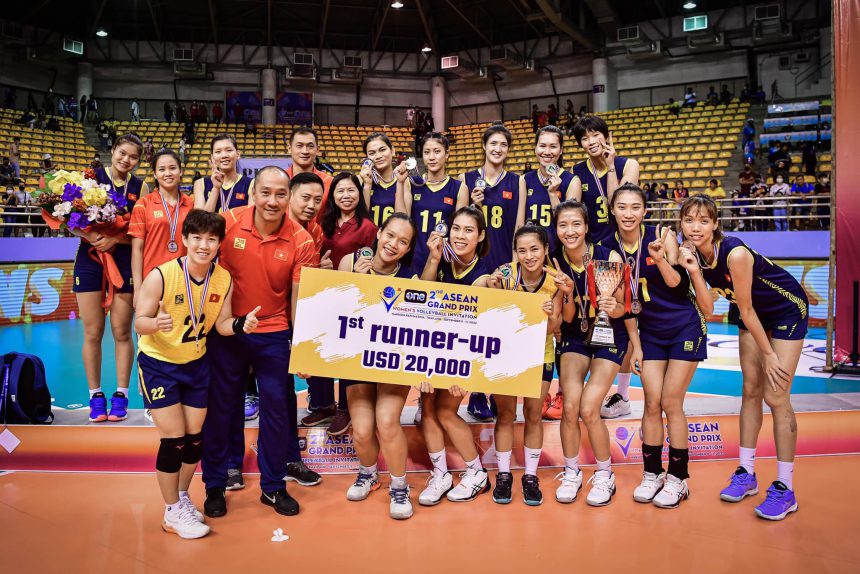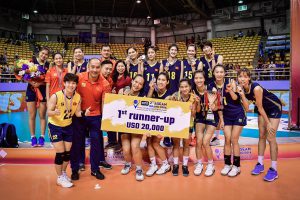 2. VIETNAM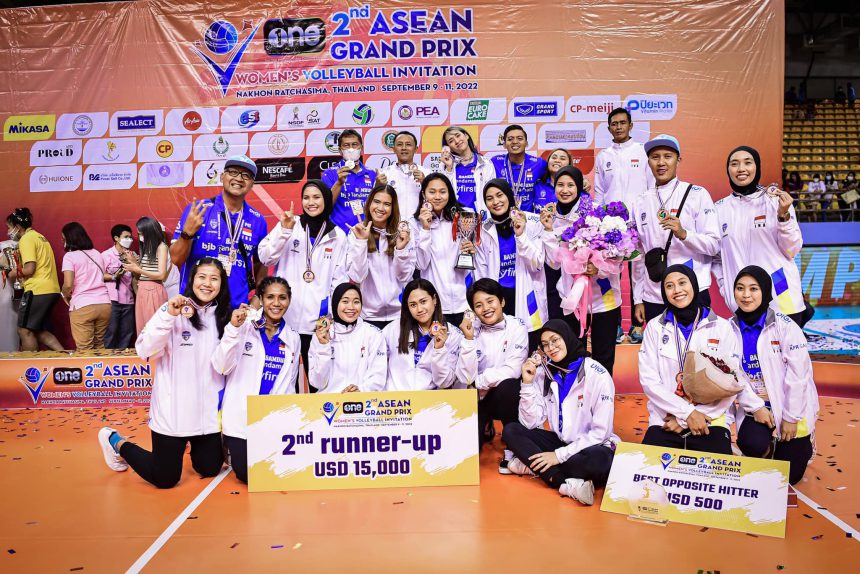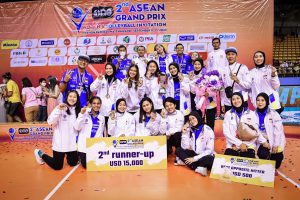 3. INDONESIA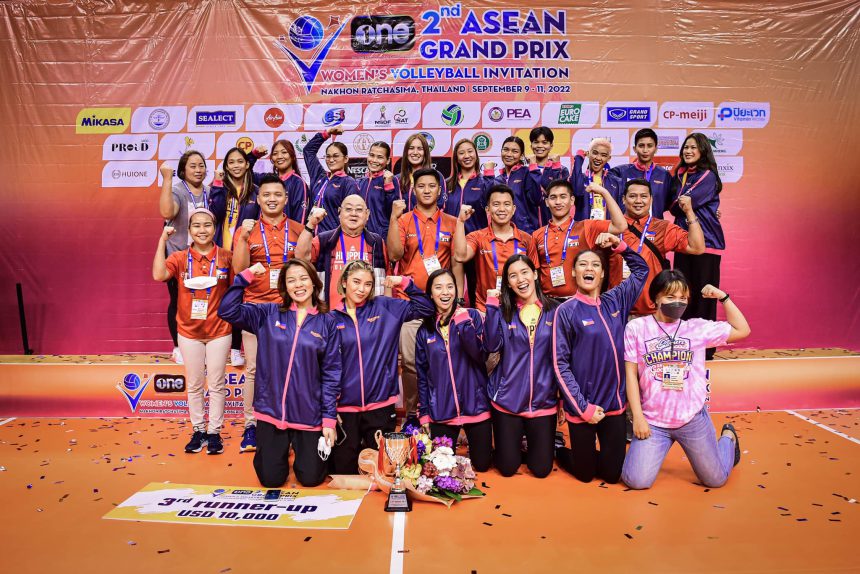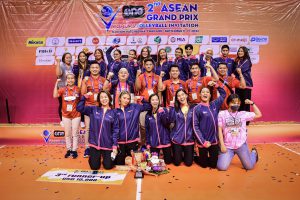 4. PHILIPPINES
INDIVIDUAL AWARDS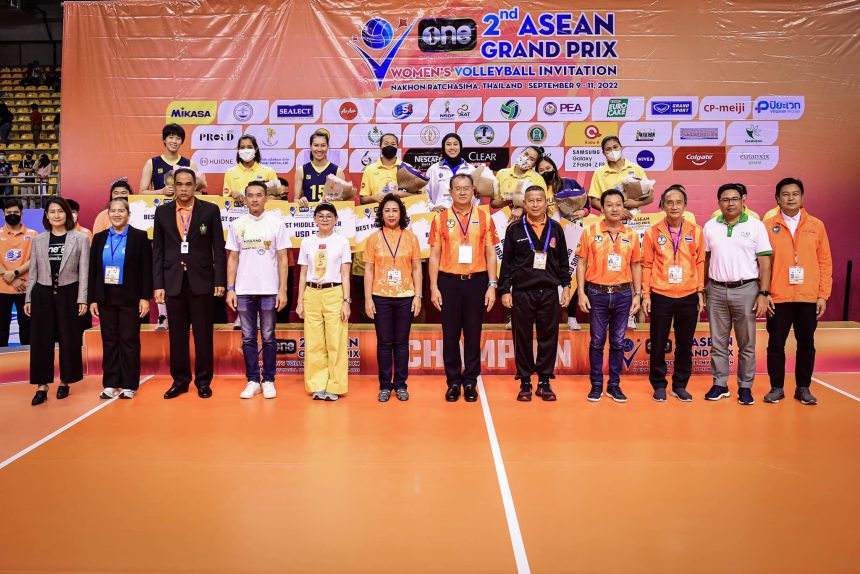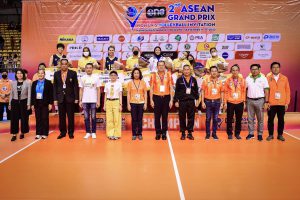 BEST OUTSIDE HITTERS
1. Tran Thi Thanh Thuy (No.3 Vietnam) US$500
2. Ajcharaporn Kongyot (No.18 Thailand) US$500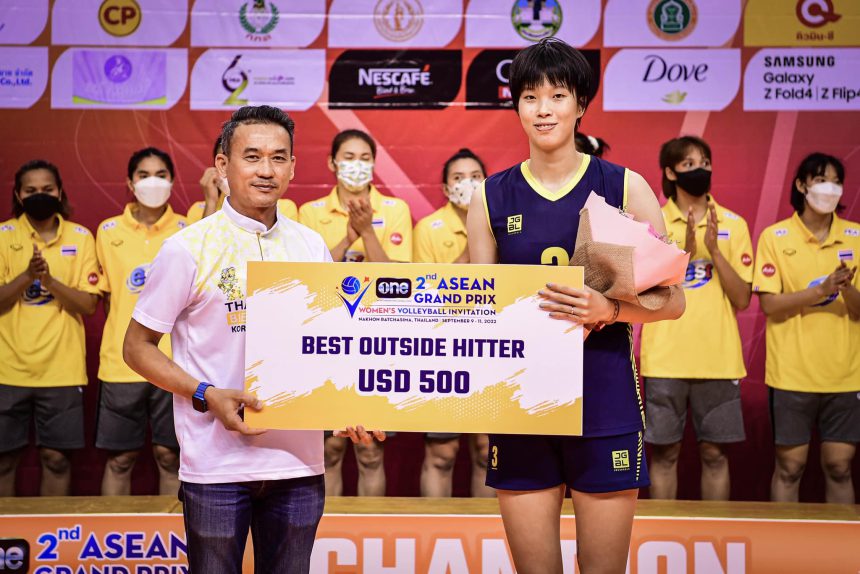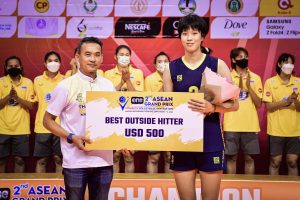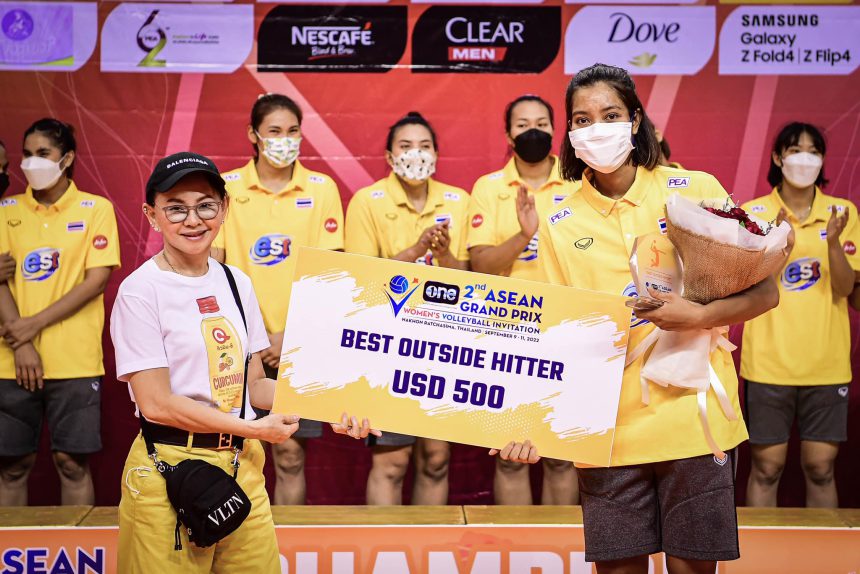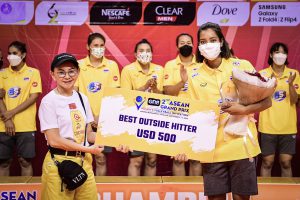 BEST MIDDLE BLOCKERS
1. Nguyen Thi Trinh (No.15 Vietnam) US$500
2. Tichakorn Boonlert (No.24 Thailand) US$500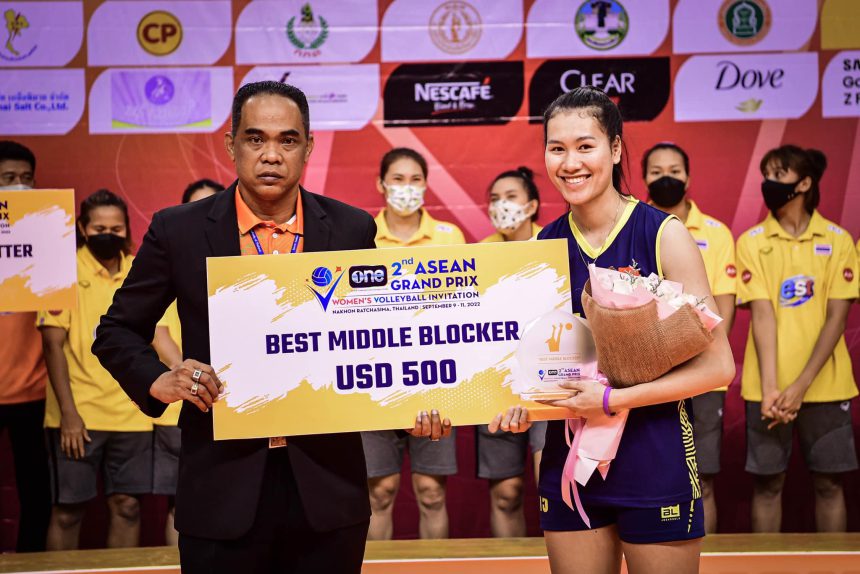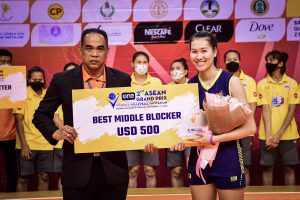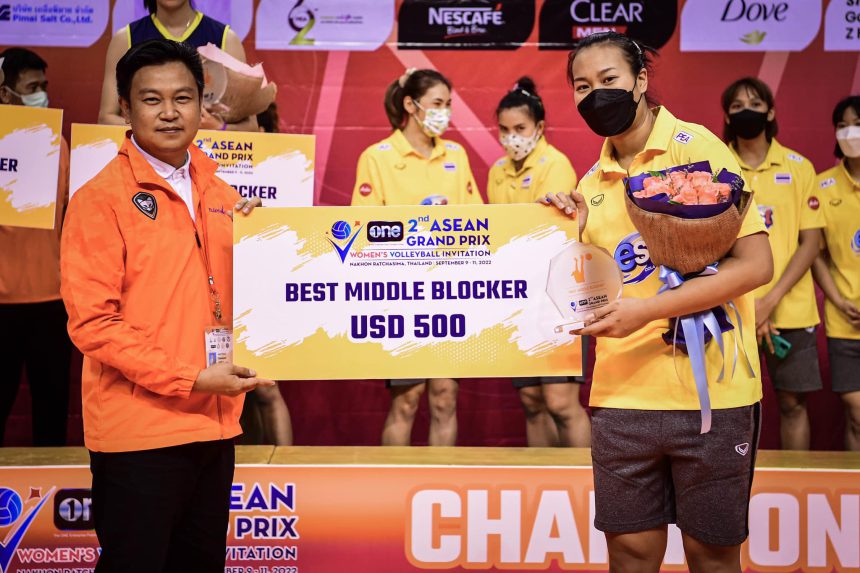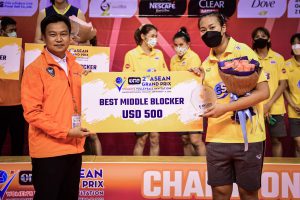 BEST OPPOSITE HITTER
Megawati Hangesri Pertiwi (No.3 Indonesia) US$500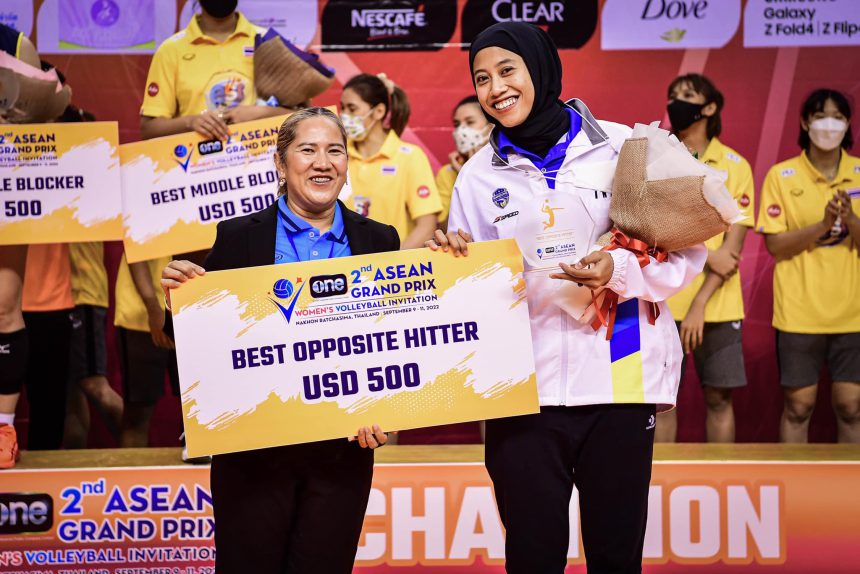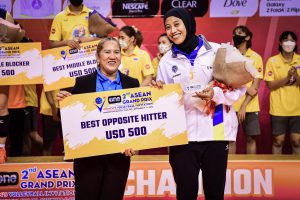 BEST SETTER
Pornpun Guedpard (No.3 Thailand) US$500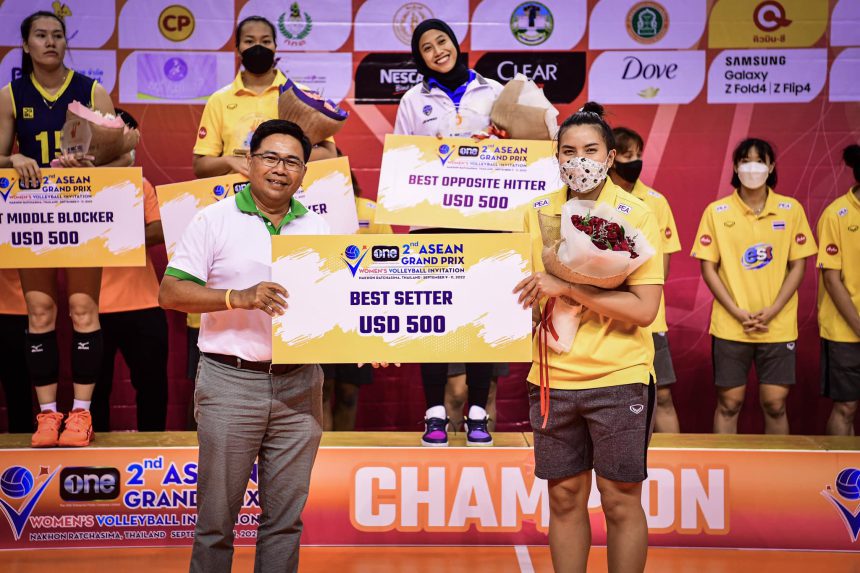 BEST LIBERO
Atienza Kyla LLana (No.11 Philippines) US$500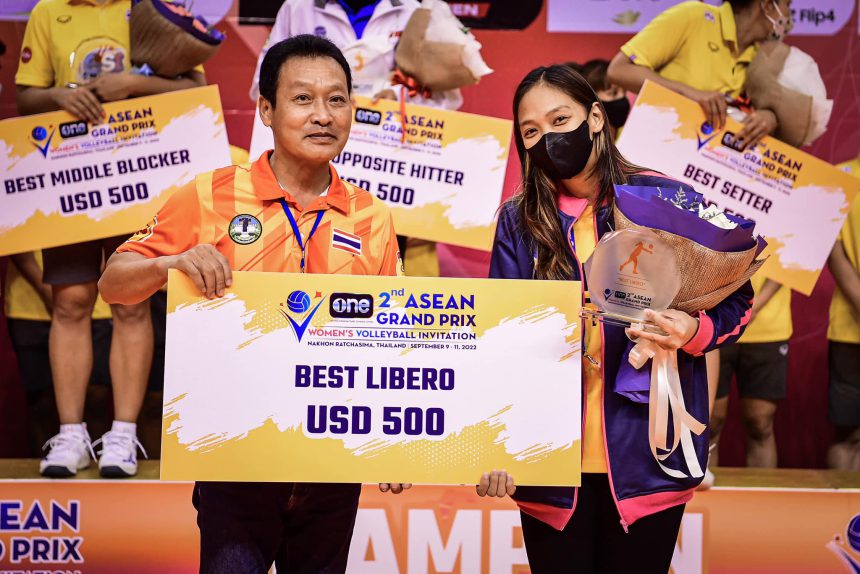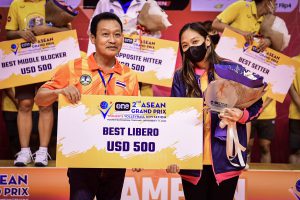 MVP
Pimpichaya Kokram (No.16 Thailand) US$1,000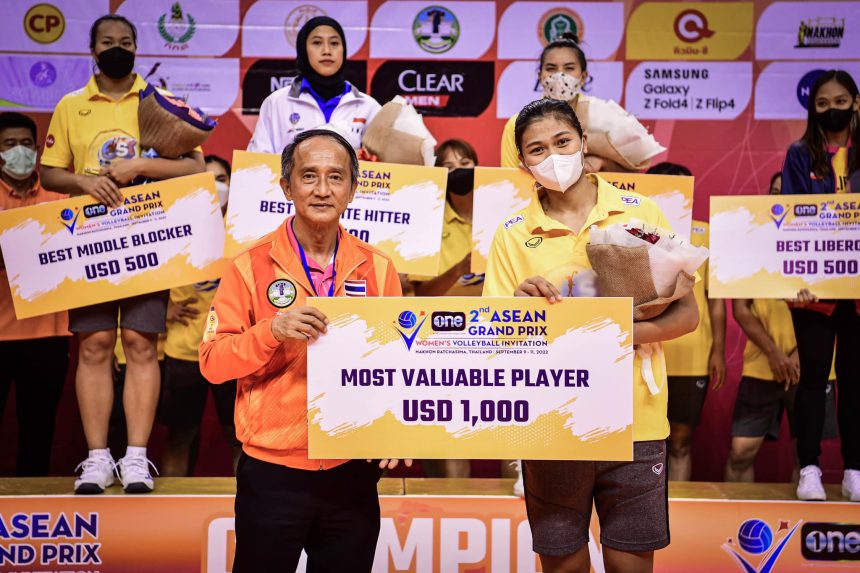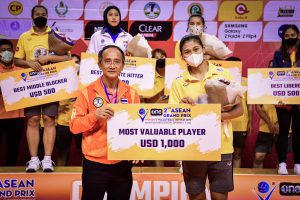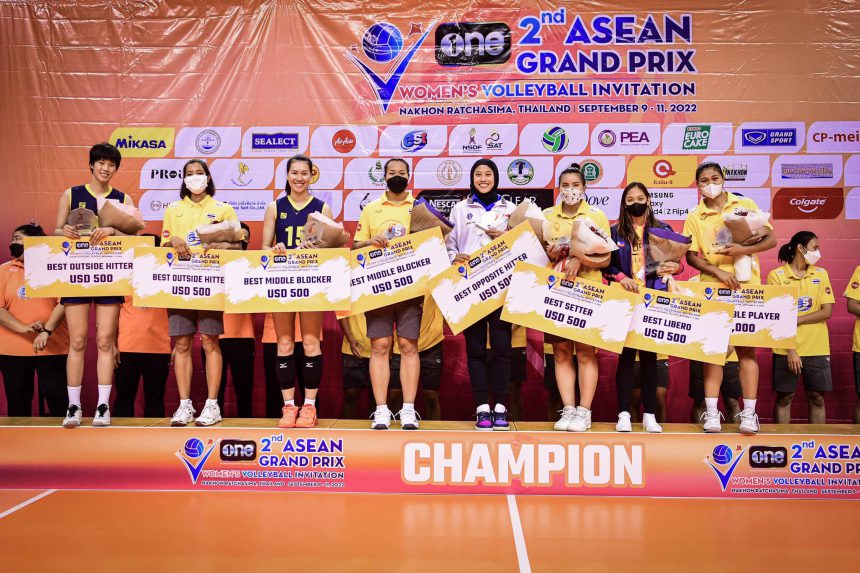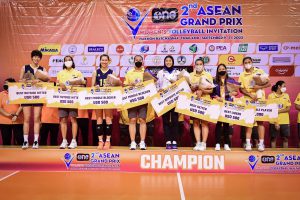 Related links of AVC
AVC Website: click www.asianvolleyball.net
AVC Facebook: click www.Facebook.com/AsianVolleyballConfederation
AVC Twitter: click: www.twitter.com/AsianVolleyball
AVC Instagram: click: https://www.instagram.com/avcvolley/?hl=en
AVC Youtube: click: Asian Volleyball Confederation
AVC WeChat: Asian Volleyball Confederation