Brazil, Hungary, Latvia, Russia, Switzerland, Ukraine and two teams from Spain win their women's pools
Thais Apinya/Jidapa celebrate Thursday's win against Bolivians
Phuket, Thailand, December 16, 2021 – Three Asian women's teams including two Australian pairings advanced to the round of 24, but have to strive to win their Friday's single-elimination matches for the round of 16 in the 2021 FIVB Beach Volleyball U21 World Championships at Bang Tao Beach here.
A total of 31 teams in the women's main draw (Pool B featured only 3 teams) were split into eight round-robin pools. With the pool winners advancing straight to the round of 16, the pool runners-up and the third-placed pairs will have the chance to make it there through the round of 24.
Top seeds Apinya Saengpaeng/Jidapa Bunongkhun had 5 points from 2 wins against one loss to finish second in Pool A. The Thai duo on Thursday pulled off a convincing 21-19, 21-8 win against Bolivians Maria Isabel Chacon Espinoza/Maria Jose Galindo Quiroga.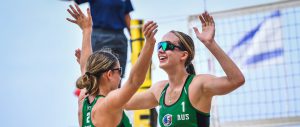 Fleming and Mears celebrate
Australians Jasmine Fleming/Kayla Mears bagged 4 points from one win against 2 losses to come in second in Pool E, with another Australian duo, 7th seeds Alisha Stevens/Stefanie Fejes, who swept both Asian U19 and U21 titles in Nakhon Pathom, also in Thailand early this year, finished third in Pool G with 4 points from one win against 2 losses.
In the single elimination round of 24 on Friday, Aussies Fleming/Mears will challenge USA's Raelyn White/Caitlin Godwin, with compatriots Stevens/Fejes going up against another USA duo, Nicole Nourse/Madelyne Anderson. Thais Apinya/Jidapa are due to take on Paraguay's Maggie Paiva Goiburu/Romina Ediger.
Two teams apiece from Thailand and Kazakhstan crashed out of the world-class, end-of-year action. Thais Salinda Mungkhon/Samitta Simarongnam and Suchinna Choemphun/Jutaporn Senanikhom, silver medallists at this year's Asian U19 and U21 Beach Volleyball Championships, failed to make their mark to finish fourth in Pool F and Pool H respectively.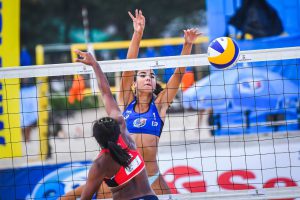 Spain's Vergara Ana blocks Suchinna
Actually, Thailand's Salinda/Samitta and Ava Mann/Kaylee Glagau claimed similar 4 points from one win against 2 losses, but the Canadians had better set points ratio to advance to the round of 24, leaving the Thai tandem to pack their bags.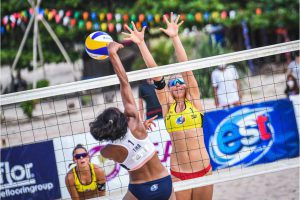 Salinda attacks Switzerland's Menia Bentele in Thursday match
Kazakhstan's Laura Kabulbekova/Nadezhda Ivanchenko and Dana Shingissova/Yuliya Khristolyubova also missed the cut for the round of 24 following their fourth-place finish in respective Pool C and Pool G.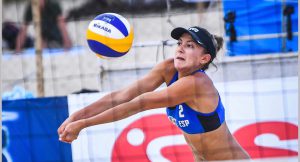 Spain's Moreno in reception
Meanwhile, both Spanish women's pairs showed their superiority at the start of the main draw and finished the pool stage with the two best records among all 31 participants in Thailand. They topped their pools to advance straight to the last 16 together with teams from Brazil, Hungary, Latvia, Russia, Switzerland and Ukraine.
The remaining eighth-finalists will be determined in Friday's first elimination round, where the eight pool runners-up will go against the eight third-placed duos in direct knockout duels.
Tania Moreno Matveeva and Ana Vergara, seeded 24th, cruised to the first place in Pool H. The Spanish duo yielded only 77 points to all three of their opponents. Although their very last set of the pool stage was pushed to overtime, they were still able to maintain an impeccable record of three wins and 6-0 sets after a 2-0 (21-17, 22-20) victory over Germany's Hanna-Marie Schieder and Paula Schurholz.
Their fourth-seeded compatriots Daniela Alvarez Mendoza and Sofia Gonzalez Racero were even more emphatic in Pool D, where they topped the standings with a convincing 126-73 total point record. In Thursday's decider for the first place, they delivered a 2-0 (21-9, 21-11) blowout of Mexico's Maria Jimena Ramirez Campas and Abril Cristina Flores Castro.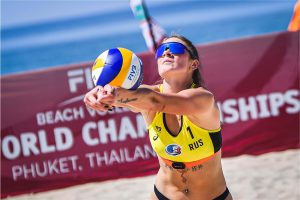 Russia's Bocharova in action
Third-seeded Russians Mariia Bocharova and Elizaveta Gubina were also merciless in their Pool C, allowing the opponents only 79 points in total in the six sets they played.
Eszter Vasvari and Zsofi Vasvari dominated Pool A and booked a spot in the second elimination round, also without dropping a set along the way. The Hungarian sisters' second-leg match proved key to the first place in the pool. In that game on Wednesday, they upset top-seeded Thai duo Apinya and Jidapa 2-0 (21-19, 21-13), leaving the home favourites in the pool runners-up position.
In Pool B, the only one with three teams, Latvia's Varvara Brailko and Anete Namike started off with a 2-0 (21-14, 21-12) shutout of Paraguay's Maggie Paiva Goiburu and Romina Ediger and then produced a 2-0 (21-15, 22-20) upset of second-seeded Brazilians Thainara Mylena Feitosa de Oliveira and Anne Karolayne Figueredo Gois to top the standings.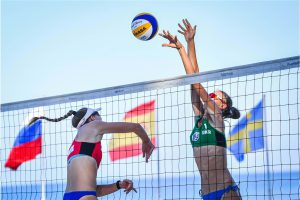 Ukraine's Khmil blocks a shot from Czechia's Neuschaeferova
Ukraine's Anhelina Khmil and Tetiana Lazarenko played three very tough matches in Pool E, but won them all to top the standings. Their first two games were decided in tie-breakers, 2-1 (21-13, 22-24, 15-12) against Czechia's Michaela Brinkova and Kylie Neuschaeferova and 2-1 (21-12, 14-21, 16-14) against fifth-seeded Svenja Muller and Anna-Lena Grune of Germany. In the third leg, the Ukrainians emerged on top of an epic nail-biting first set against Australia's Jasmine Fleming and Kayla Mears before celebrating with a 2-0 (37-35, 21-17) victory. Each of the other three teams in the pool finished on a 1-2 win-loss record, with the Germans eliminated on point ratio.
Russians Arina Riazhnova and Elizaveta Ludkova were well on their way to a perfect ending of their Pool F campaign and becoming the lowest ranked team to win a direct ticket to the last 16, when an injury prevented them from completing that goal. They had won all five of their sets and leading 8-4 in the sixth (against Thailand's Salinda and Samitta), when Riazhnova suffered heat exhaustion and Russia had to forfeit the match. The situation left the team in second place, allowing sixth-seeded Menia Bentele and Leona Kernen of Switzerland to win the pool on a 2-1 win-loss record and better point ratio.
The only three-setter in Pool G occurred in the first leg of action and proved to have served as the decider for the first place in the final standings. In that match, Brazil's Maria Fernanda Ferreira Dias and Carolina Sallaberry Cavalcanti managed a 2-1 (21-18, 16-21, 15-13) victory over Italy's Valentina Gottardi and Margherita Tega to start their quest to the top of the table.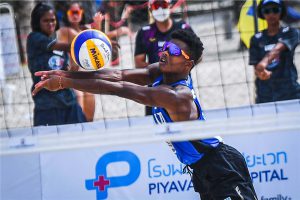 Thailand's Wachirawit in defence
The last leg of the pool stage in the men's competition is scheduled on Friday. After the first two legs in the eight pools, only nine pairs still remain unbeaten: Spain's Gabriel Gutierrez Mendez and Alvaro Viera Iglesias in Pool A, Brazil's Mateus De Paula Dultra and Gabriel Zuliani and Latvia's Olivers Bulgacs and Davis Teteris in Pool B, Czechia's Tadeas Trousil and Matyas Dzavoronok in Pool C, Sweden's David Ahman and Jonatan Hellvig in Pool D, Germany's Philipp Huster and Lui Wust in Pool E, Ukraine's Oleksandr Boiko and Oleksii Bublyk in Pool F, USA's Matthew Gentry and Phillip Catanzaro in Pool G, and Thailand's Netitorn Muneekul and Wachirawit Muadpha, fresh from winning silver medal at the last week's FIVB U19 World Championships, in Pool H.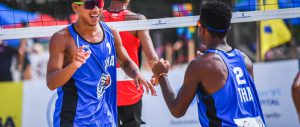 Netitorn and Wachirawit celebrate a point win
Netitorn and Wachirawit have yet lost a set to their opponents in respective matches to become the only Asian team to top pool.
Elsewhere, Thailand's Phichakon Narathon/Poravid Taovato are trailing in second place in Pool A with one win and one loss, with Aussies Joshua Howat/Soloman Bushby, who entered the main draw through the lucky losers draw, in fourth position with two straight losses.
Qataris Abdallah Ibrahim Nassim/Yousef Alyafeal and Kazakhs Darkhan Amanzholov/Damir Lapov had tough goings when both sides are trailing in similar fourth place in Pool E and Pool F respectively after going down two matches on the trot.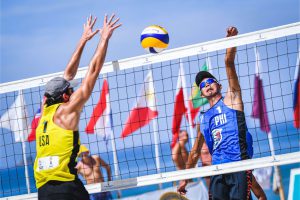 De La Noche attacks USA's Matthew Gentry
In Pool G, Jay Rack De La Noche/Alexander Jhon Iraya remained in third place in Pool G after collecting 3 points from one win against one loss. The Filipinos on Thursday went down in thrilling three-setter 14-21, 21-19, 8-15 to USA's Matthew Gentry/Phillip Catanzaro.
Aussies Jack Pearse/Lucas Josefsen also claimed one win and one loss to Portugal's Guilherme Maia/Filipe Leite 1-2 (21-13, 11-21, 14-16) on Thursday to trail in second place in Pool H.
Saturday's women's semifinals, as well as the men's semifinals and both genders' medal matches on Sunday, will be streamed live on the Beach Volleyball World video channel on YouTube https://www.youtube.com/c/BeachVolleyballWorld
MEN'S RESULTS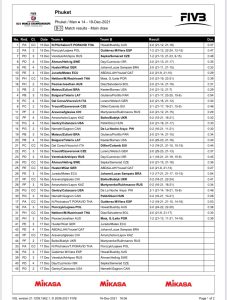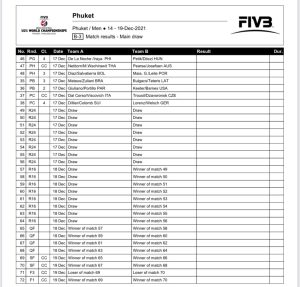 WOMEN'S RESULTS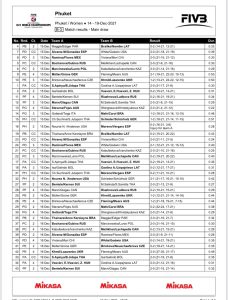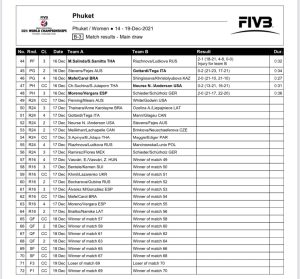 MEN'S STANDING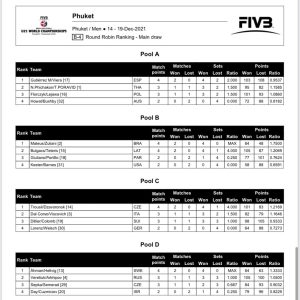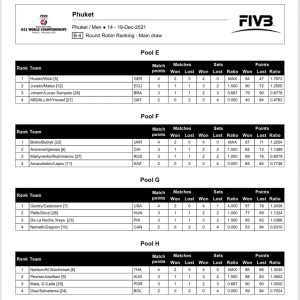 WOMEN'S STANDING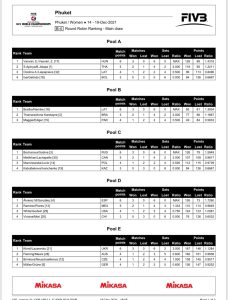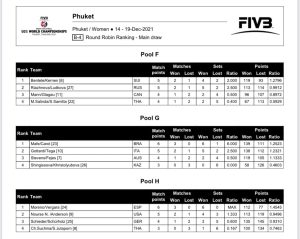 MEN'S SCHEDULE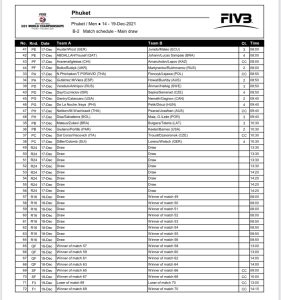 WOMEN'S SCHEDULE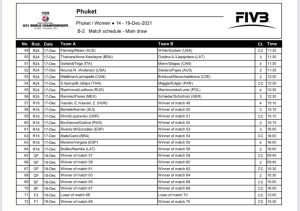 Related links of AVC
AVC Website: click www.asianvolleyball.net
AVC Facebook: click www.Facebook.com/AsianVolleyballConfederation
AVC Twitter: click: www.twitter.com/AsianVolleyball
AVC Instagram: click: https://www.instagram.com/avcvolley/?hl=en
AVC Youtube: click: Asian Volleyball Confederation
AVC WeChat: Asian Volleyball Confederation