Beijing, China, February 17, 2019 – In-form defending champions Tianjin Bohai Bank claimed a comfortable 3-0 (25-19, 27-25, 25-17) victory at Jiangsu Zhongtian Steel's home while Beijing Auto struggled with the stiff resistance from hosts Shanghai Bright Ubest but finally prevailed in the thrilling five-setter (25-21, 21-25, 25-13, 19-25, 15-11) at the second round of China Volleyball Super League semi-finals on Saturday.
Back to their home court at Changzhou University, Jiangsu Zhongtian Steel misfired in attacking due to their unstable reception. No one scored double digits for Jiangsu, while Li Yingying led Tianjin with remarkable 25 points followed by Wang Yuanyuan and Aleksandra Crncevic with 12 and 11 points.
"Generally speaking, we played well today. Our service,reception improved than the previous match. However, we still have some problems in details. We will review and get better prepared for the next match." commented Chen Youquan, head coach of Tianjin.
"Our team showed many deficiencies in this match. However, my players played very hard. We have to maintain our confidence whether winning or losing the match. " said Cai Bin, head coach of Jiangsu.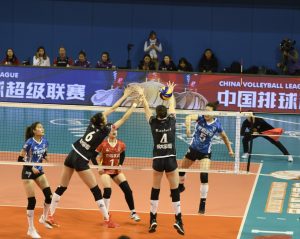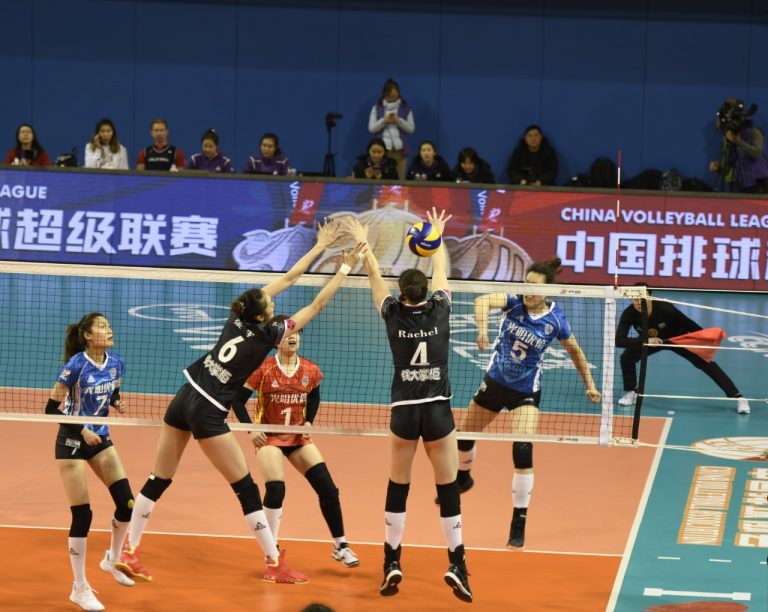 In the other semi-final encounter, Shanghai Bright Ubest fought hard for over two hours but failed to defeat the visiting Beijing Auto. Foreign aids Margaret Rachel (scoring 24 points) and Elsie Tetori (16 points) jointly contributed 40 points for Beijing, followed by Rio Olympic gold medalist and the match MVP Liu Xiaotong with 14 points. Shanghai had 4 players scoring double digits but in vain. Yang Jie led Shanghai with 20 points followed by Kelly Murphy, Zhang Yichan and Hu Mingyuan with 17, 14 and 12 points respectively.
The first set saw the visitors gain the initiative to a 6-3 lead through their mixture of spikes and drops in attacking. Shanghai called timeout and managed to close the margin at 17-17 relying on their efficient serves, even if Shanghai once widened the lead to 5 points. Beijing also called their first timeout and they took the first set 25-21 after a scoring streak of 4 points.
Beijing continued their momentum to the second set with a 4-0 start, forcing Shanghai to call an early timeout. Back to the court, Shanghai geared up as cheered by home supporters and chased up to a 9-9 tie. Both sides stuck to each other to 15-15 tie before Shanghai scored 2 points in a row to surpass Beijing 17-15. Beijing asked for timeout but mistakes ruined themselves to yield the set in 21-25 even though they struggled to save several set points.
Beijing started the third set in another 4-0 lead and this time they did not miss the set and smoothly won 25-13.
The fourth set also saw Beijing lead from the beginning before Shanghai seized the counterattacking opportunities to reverse the situation to 11-9 lead. Captain Zhang Yichan helped Shanghai widen the gap up to 8 points with her destructive serves. Without more suspense, Shanghai took back the fourth set 25-19 following a powerful spike by Yang Jie.
The tie-breaker kicked off with a long rally and finally Shanghai took the first point from an attacking error by Beijing. However, Beijing kept up with Shanghai all the way till a 5-5 tie. A mighty spike by Margaret Rachel from the back row helped Beijing take back the lead 6-5. Shanghai called timeout but in vain as Liu Xiaotong launched an ace serve in return. Beijing managed to hold their advantage to the end and finish the set 15-11 and the tough 3-2 match.
"I am happy to win the match. It is an important win for our team. I would like to thank all my teammates for their hard effort." said Liu Xiaotong, captain of Beijing Auto.
"We played better than last match. But we did not handle well enough in dealing with crucial balls. We will review and get better prepared for the next match." said Wang Zhiteng, head coach of Shanghai Bright Ubest.
The semi-finals of China Women's Volleyball Super League (2018-2019) apply the best-of- five format. Winners of the semi-finals will vie for the title of the League also in the best of five, while losers will fight for the third place in the best-of-three. The third round of semi-finals will be played on February 19. Jiangsu Zhongtian Steel and Shanghai Bright Ubest will try their best to protect their home courts so as not to be eliminated by Tianjin Bohai Bank and Beijing Auto respectively in a winless record.
Related links of AVC:
AVC Website: www.asianvolleyball.net
AVC Facebook: www.Facebook.com/AsianVolleyballConfederation
AVC Twitter: https://twitter.com/avcvolley
AVC Instagram: https://www.instagram.com/avcvolley/?hl=en
AVC Youtube: Asian Volleyball Confederation
AVC WeChat: Asian Volleyball Confederation