Preview: 2021 Asian Senior Beach Volleyball Championships in Phuket, Thailand from November 23 to 27, 2021
Phuket, Thailand, November 21, 2021 – Big names and up-and-comers are set to be on their mettle when the 2021 Asian Senior Beach Volleyball Championships will kick off on Tuesday, November 23 at Bang Tao Beach, Phuket, known as one of the world's finest beach destinations, with fine white sands, nodding palm trees, glittering seas and lively town.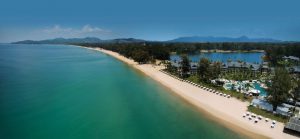 fantastic Bang Tao Beach in Phuket
Following a great success in hosting the previous edition last year in Udon Thani, Thailand remains the competition venue for the double-gender Asian Championships between November 23 to 27, 2021. It will be the sixth time the country of volleyball lovers has held the annual competition since its debut organisation in 2005 in Songkhla. Thailand also hosted the following editions – 2007 (Songkhla), 2017 (Songkhla), 2018 (Satun) and 2020 (Udon Thani).
This year, the five-day event will take place at pretty-deserted Bang Tao Beach within the Laguna Phuket Resort Complex which spans 6 kilometres in length, making it the second-longest beach on Phuket's west coast after Mai Khao Beach.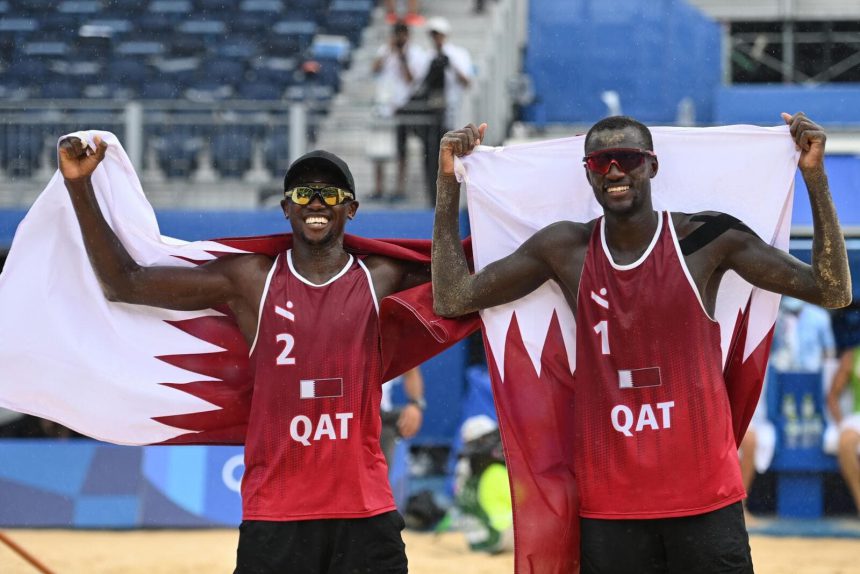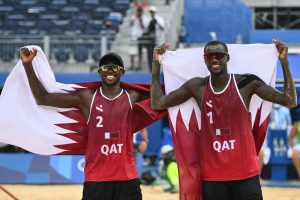 Ahmed/Cherif
FIVB World No.1 Ahmed Tijan/Cherif Younousse, who performed brilliantly to win bronze medal at the Tokyo 2020 Olympic Games, the first Olympic medal for Qatar and the first-ever beach volleyball medal in the Arab world and Asia since the Olympic beach volleyball debut in 1996 in Atlanta, will return to prove their worth at the Asian meet.
The Qatari top seeds had already captured the Asian title for two times in a row in 2018 in Thailand and 2019 in China aside from handing Qatar the first beach volleyball gold in the 2018 Asian Games in Indonesia.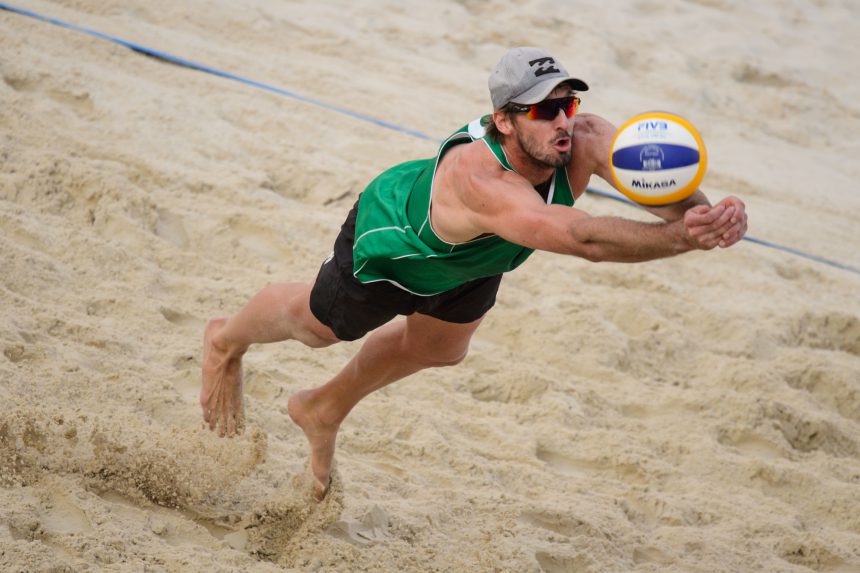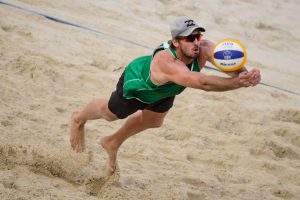 McHugh
As potential contenders China and Indonesia did not send their players to the Championships, the strongest challenge can be expected from Australian third seeds veteran Christopher McHugh, who will come up with new partner Paul Burnett following the recent retirement of his regular partner Damien Schumann.
McHugh with Isaac Kapa captured their first Asian title in 2012 in China and repeated the similar feats in 2014 in China and 2016 on home soil. In the previous edition last year in Udon Thani, McHugh teamed up with Schumann to win his fourth gold in the Asian Championships. They also strutted their stuff at the Tokyo 2020 Olympics.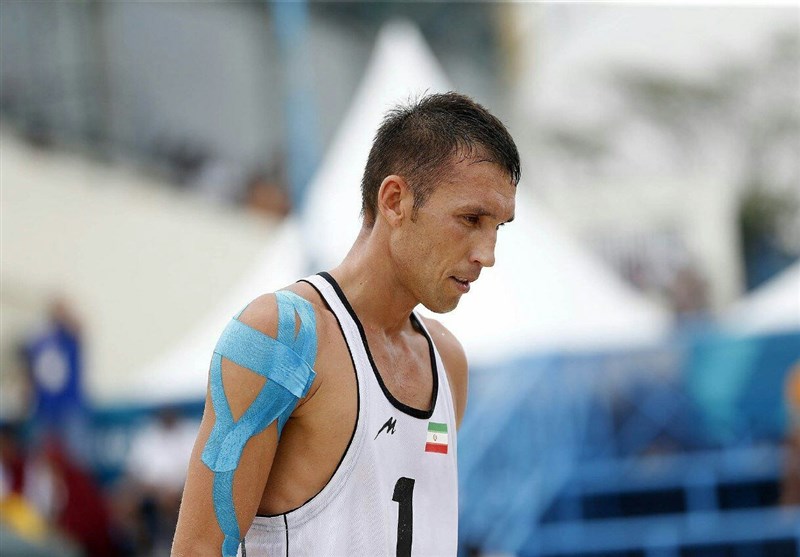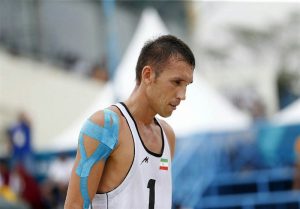 Salemi
Iran also headed into the 2021 Asian Championships looking to fend off other teams' daunting challenges in the highly-anticipated contest. Their dominant forces included Bahman Salemi, who teamed up with Rahman Raoufi to land the 2017 Asian title in Thailand.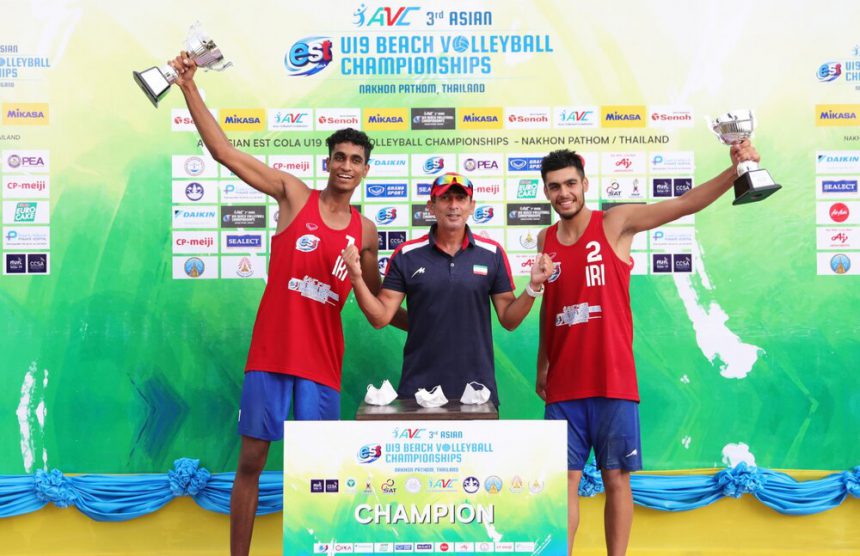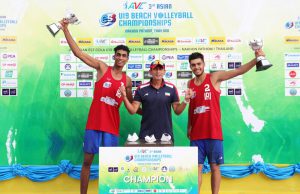 Khakizadeh, left, holds Asian U19 trophy aloft after winning the title in Thailand early this year.
However, this time, Salemi switched his partner to gifted Abolhassan Khakizadeh, who in July swept both Asian U19 and U21 titles in Nakhon Pathom, Thailand with respective partners Ali Ghorbanpasandi and Sina Shokati Shekarsarael.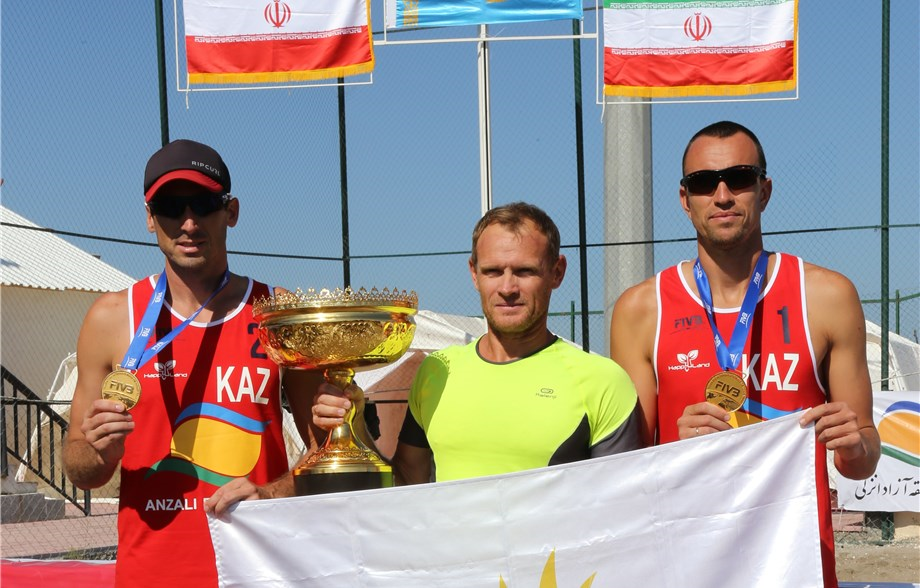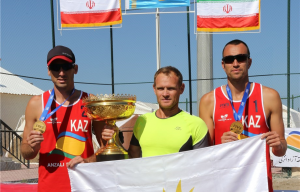 Sidorenko, far right, while winning Banda Anzli One Star even in Iran in 2018
Kazakhstan's Alexey Sidorenko, who partnered Alexandr Dyachenko to snatch the gold medal at the 2013 Asian meet in China and earn the country's first ever FIVB Beach World Tour gold medal at the Caspian Sea Series Banda Anzli One Star in Iran in 2018, came up with new partner Kirill Gurin this time with their sights set on winning the Kazakhstan's second gold in the Asian Championships.
Japan, spearheaded by fourth seeds Japan1's Yoshiumi Hasegawa/Takashi Tsuchiya, hope to end their gold-medal drought in the Asian meet, while hosts Thailand, with second seeds Banlue Nakprakhong/Surin Jongklang leading the charge, Oman, Philippines, Singapore and Sri Lanka also target their historic men's gold medal in Phuket.
Meanwhile, in the women's event, with the absence of renowned players from China and Australia including Tokyo 2020 silver medallists and consecutive two-time (2018-2019) Asian champions Mariafe Artacho del Solar/Taliqua Clancy, the opportunity to capture the women's crown is open to all.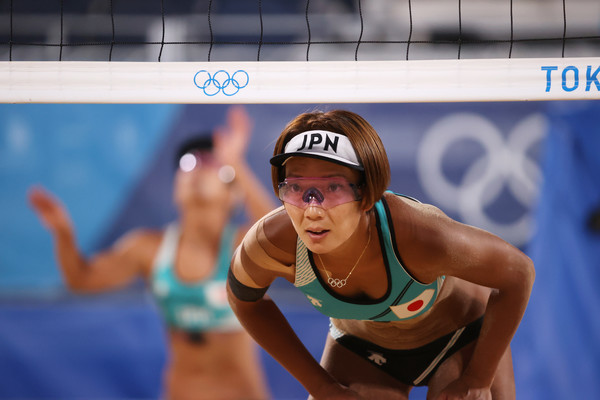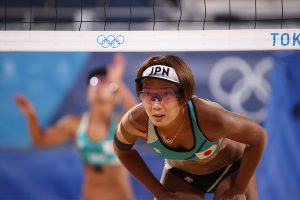 Miki Ishii
Japan, claiming both gold medals in the first two editions in Philippines in 2000 and 2001, have their sights firmly set on winning their first gold in 20 years in Phuket. Tokyo 2020 Olympian Miki Ishii, who teamed up with Megumi Murakami to pick up bronze medal in the previous edition, switched to partner Sayaka Mizoe as top seeds with high hopes of making a strong comeback this time. Sayaka and Takemi Nishibori finished fourth in the Udon Thani-hosted Asian meet in 2020.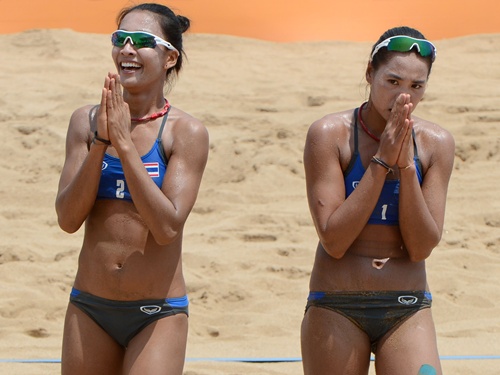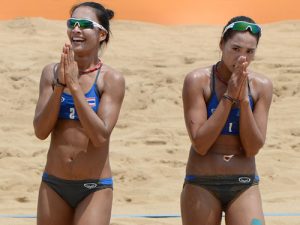 Thailand's hopefuls Varapatsorn/Tanarattha
Second seeds and veterans Varapatsorn Radarong/Tanarattha Udomchavee, who claimed silver medal two times in succession in 2013 and 2014, will be out to prove their talents, hoping to hand hosts Thailand the fourth gold medal in the Asian Championships following the three victories in a row of Thai women's players in 2005, 2007 and 2008 (no competition in 2006).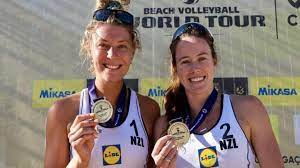 Zeimann/Polley while winning in Portugal last month
Third seeds Akiko Hasegawa/Yurika Sakaguchi of Japan2, New Zealand's Alice Zeimann/Shaunna Polley, who headed to Europe including Portugal and Czech Republic last month in an effort of qualifying for the 2022 Commonwealth Games in Birmingham, winning the FIVB One-Star event in Cortegaca, Portugal, and Australia1's Phoebe Bell/Georgia Johnson are also ready to stamp their authority in Phuket.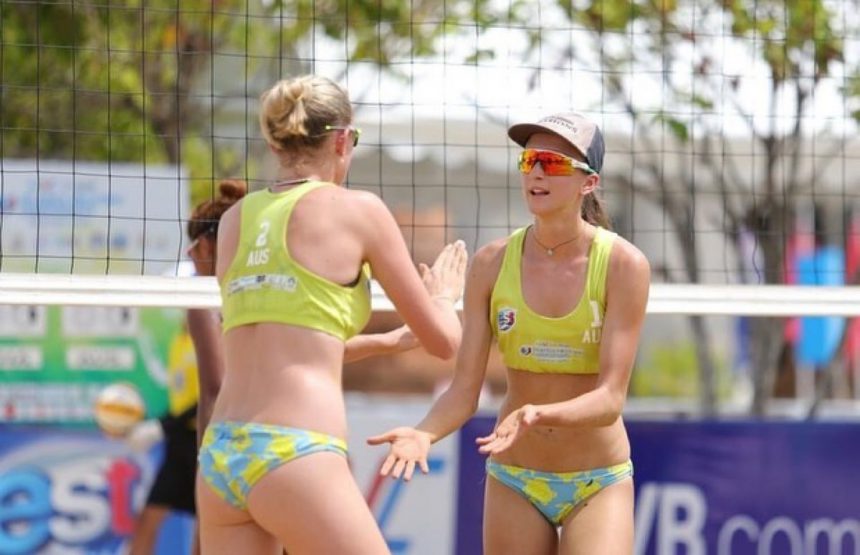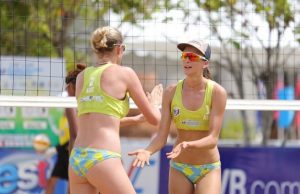 Fejes/Stevens sweeps both Asian U19 and U21 titles early this year in Thailand
Keep your eyes peeled for young guns from Australia2's Jasmine Fleming/Stefanie Fejes and Australia3's Alisha Stevens/Jana Milutinovic. Fejes and Stevens have already claimed two titles on Thai soil early this year as they swept both gold medals on offer in the Asian U19 and U21 Championships in Nakhon Pathom. However, the Phuket meet sees Fejes split up with Stevens to have new partner with one goal in mind – coming up with brilliant combination and form to hand Australia the women's sixth gold medal in the Asian Championships.
Players from Kazakhstan, Singapore, Sri Lanka, the Philippines are also expected to make their mark in the five-day double-gender competition.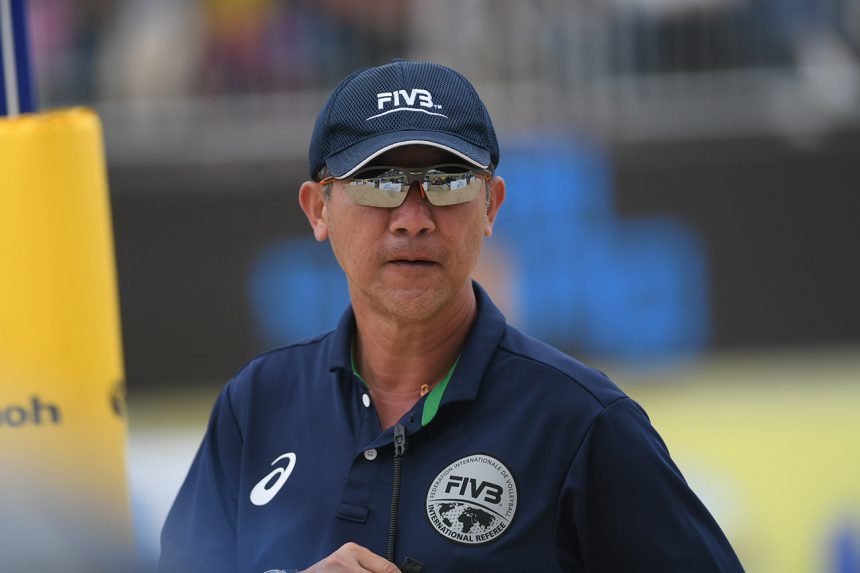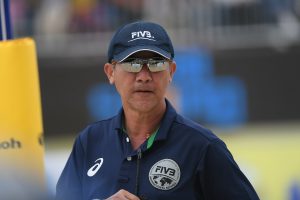 Kritsada
Technical Delegate Mr Kritsada Panaseri from Thailand said that the on-site General Technical Meeting will be held on Monday, November 22, with only one from each participating team allowed to attend. Referee Delegate Ms Mariko Satomi from Japan will also join the Monday's meeting.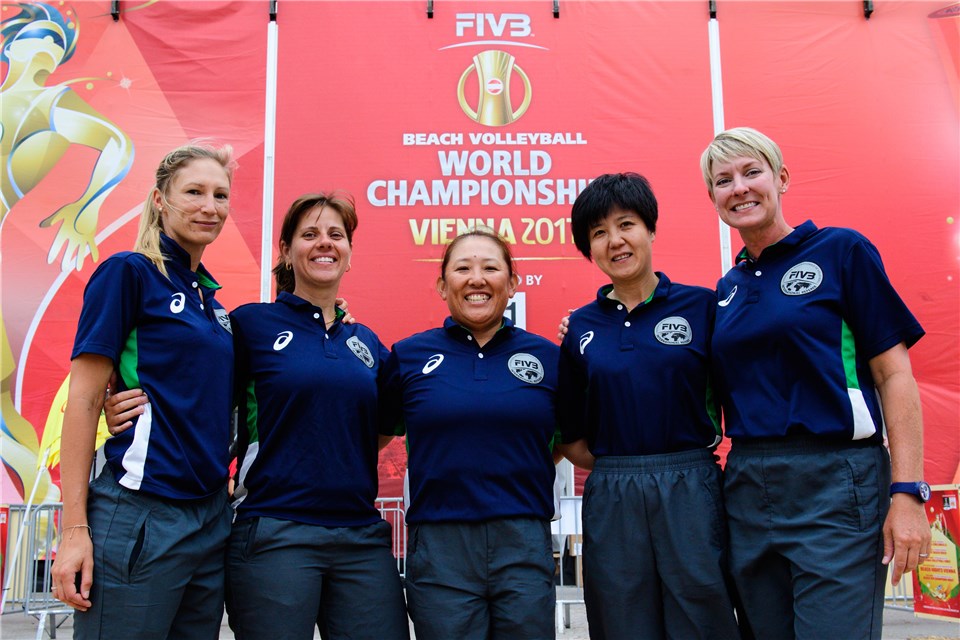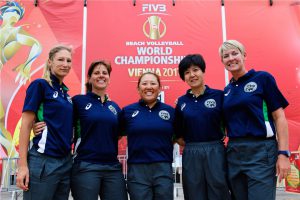 Tokyo 2020 beach volleyball referee Mariko, middle, in charge of Referee Delegate at 2021 Asian Championships in Phuket
"Despite the fact that the team briefing will be held on site, not online during the current COVID-19 situation, strict restrictions will still be implemented to reduce the risk of infections and prevent COVID-19 while organising the Asian Championships. Only one from each team will be allowed to attend the team briefing to ensure social distancing and reduce density during the meeting," Kritsada said.
According to the Technical Delegate, all participating teams will be divided into pools with possible eight pools in the men's event and four in the women's division. Teams will play pool round-robin preliminaries, with top two teams after the first round advancing to the single elimination round.
"The 2021 Asian Senior Beach Volleyball Championships will be played on four courts on Bang Tao Beach, with teams fighting not only for AVC points but also cash prizes of US$30,000 in total up for grabs. Although the Championships are not held behind closed door at Bang Tao Beach, which is even more quiet and secluded, the organisers expect that only hotel guests will come and watch the competition at the venue," he concluded.
Related links of AVC
AVC Website: click www.asianvolleyball.net
AVC Facebook: click www.Facebook.com/AsianVolleyballConfederation
AVC Twitter: click: www.twitter.com/AsianVolleyball
AVC Instagram: click: https://www.instagram.com/avcvolley/?hl=en
AVC Youtube: click: Asian Volleyball Confederation
AVC WeChat: Asian Volleyball Confederation