Bangkok, Thailand, March 28, 2022 – After a hectic week of learning the combined program of methods and concepts from both Europe and Asia with a mixture of theoretical and practical sessions, the EuroAsia Coaches Cooperation Project came to a fruitful close on Monday.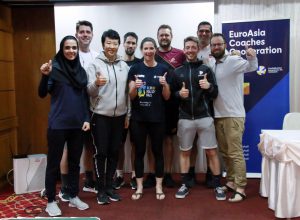 Actually, this truly historic joint project, aimed at fostering the education of coaches working with young players and wishing to upgrade their skills, started early February in 2020 with the workshop held in Luxembourg, attended by AVC Coaches Committee Members.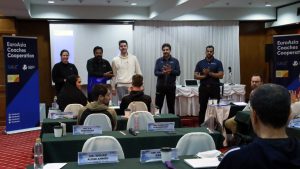 After that, online meetings had been held occasionally, with the supportive expert teams, coaches and collaborative partners at the Asian Volleyball Confederation (AVC) and European Volleyball Confederation (CEV) and all parties involved in the project discussing relevant issues including possible preparations, work placements and other educational topics amidst the global COVID-19 pandemic.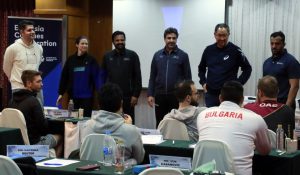 CEV and AVC had initially decided to organise the first week of the project in Belgium between March 20 and 28, 2021 and the second week in Bangkok from April 19 to 25, 2021. However, with all European participants reporting their travel restrictions resulting from the global health crisis, it appeared that it would be impossible to organise the program onsite as originally planned to be held in both continents. As the COVID-19 epidemic played havoc to organising the program in Europe, the eagerly-anticipated workshop was then switched solely to the in-person education in Bangkok from March 22 to 28, 2022.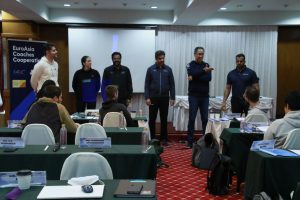 Benefiting from funding through the Mobility and Exchange in Sport Fund from the European Commission, the unique project had been held with the first four days (March 22-25) being the CEV-run educational program under the close supervision of CEV Expert Mr Gert Van de Broek from Belgium and the last three days (March 26-28) the AVC-hosted workshop conducted by AVC Expert G.E. Sridharan from India and AVC Expert Team including Mr Shihab Aldin Bin Ahmed of Oman and Mr Mahmoud Afshadoust form Iran.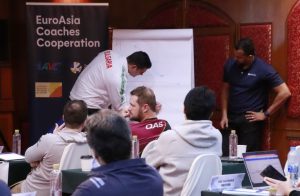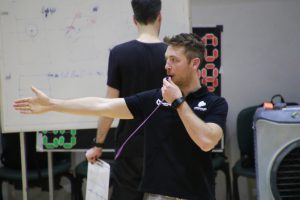 Regarding the CEV program from March 22 to 25, the educational topics included introduction coaching philosophy, talent identification & detection, coach leadership, sport psychology in elite volleyball, data analysis & scouting, strength & conditioning theoretical insights and team dynamics.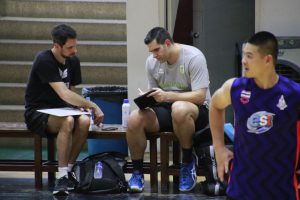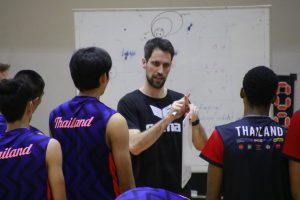 Key issues of the AVC workshop between March 26 and 28 included volleyball physical conditioning, role and importance of physiotherapists, injuries to players and rehabilitation, polymeric & resistance training, coach's role & ethic, recovery methods: concentration techniques & injuries prevention through Yoga practices, volleyball periodisation (micro cycle/mezzo cycle/macro cycle/multi cycle), analysis in volleyball, communication between scout and coach, technique evaluation and tactical methods and energy systems: volleyball physiology.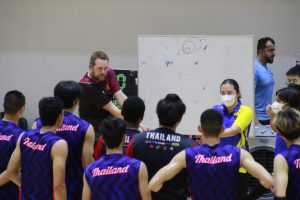 During the theoretical sessions at Busara Room in Alexander Hotel in Bangkok, the participants from as many as seven European and Asian countries exchanged feedback on their experiences with an open group discussion on various matters they had learned.
Aside from the theoretical part, the practical sessions were held at FIVB Development Centre in Thailand and Sports Science Centre, Sports Authority of Thailand.
As physical conditioning is not just going to the weight room and making heavy lifts with the team, it must also consider the rest and recovery time needed after tough trainings and matches. On this special educational opportunity, AVC had invited an assistant expert, Dr Digvijay Singh Rathore from India who presented the physiotherapist role and how they can collaborate with coach to ensure top health of their athletes.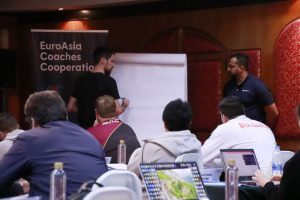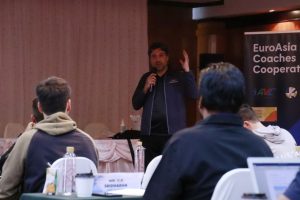 In terms of the physical conditioning and strength session with the Thailand men's volleyball team, Mr Ahmed set up different exercise stations to establish a circuit, with coaches split up at each station and responsible for conducting the circuit training with the players, thus accounting for work and rest time. At the end, coaches took one player from the team and conducted an example individual training with him for a few strength exercises.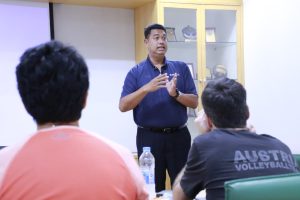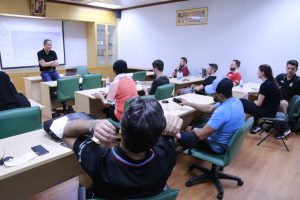 In addition to AVC Expert G.E. Sridharan and supportive Expert Team, former highly-experienced coaches Mr Kiattipong Radchatagriengkai from Thailand, himself AVC Secretary General and Member of FIVB Board of Administration, and Mr Park Ki-Won from Korea, himself Chairman of the AVC Coaches Committee and FIVB Technical and Coaching Commission Member, also lectured the participants on basic knowledge on relevant topics.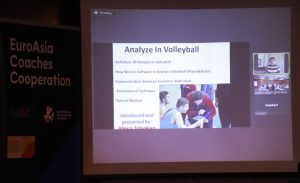 After seven days of learning educational programs, the historic EuroAsia Coaches Cooperation Project came to a successful close on Monday. Despite the fact that they are not experts, these participants had been actively engaged in all activities, theoretically and practically and thus, they brought with them valuable knowledge and once-in-lifetime experience at the end of the one-week workshop.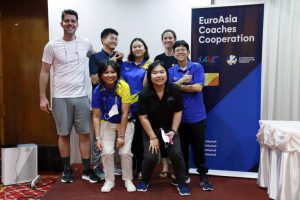 CEV TEAM
Project Manager: Vuk Karanovic
Project Coordinator: Katrina Reuter
LOCAL ORGANISING COMMITTEE
AVC Executive Director: Mr Shanrit Wongprasert
AVC Secretary General: Mr Kiattipong Radchatagriengkai
AVC Development Department: Ms Mingkwan Pusiddusid
AVC Staff: Ms Nattalida Sumdandech
CEV Expert: Mr Gert Vande Broek from Belgium
CEV Expert Team: Mr Jan Van Venckenray from Belgium
CEV Expert Team: Mr Kris Eyckmans from Belgium
AVC Expert: G.E. Sridharan from India
AVC Expert Team: Mr Mahmoud Afshardoust from Iran
AVC Expert Team: Mr Shihab Aldin Bin Ahmed from Oman
PARTICIPATING COACHES
CEV COACHES
Nikola Dimitrov from Belgium
Stijn Hoessels from Belgium
Andreas Reiser from Austria
Frieder Strohm from Switzerland
AVC COACHES
Feng Kun from China
Chris Todd from Australia
Mahsa Arasteh from Iran
Related links of AVC
AVC Website: click www.asianvolleyball.net
AVC Facebook: click www.Facebook.com/AsianVolleyballConfederation
AVC Twitter: click: www.twitter.com/AsianVolleyball
AVC Instagram: click: https://www.instagram.com/avcvolley/?hl=en
AVC Youtube: click: Asian Volleyball Confederation
AVC WeChat: Asian Volleyball Confederation