Eczacibasi and VakifBank shut out their opponents on day one of the Club World Championship
The two Turkish teams got off to an emphatic start of the FIVB Volleyball Women's Club World Championship 2022 in Antalya on Wednesday. Hosts Eczacibasi Dynavit Istanbul mastered a 3-0 (25-14, 25-15, 25-18) sweep of Brazil's Dentil Praia Clube in the Pool A opener, followed by VakifBank Spor Kulubu's 3-0 (25-15, 25-15, 25-17) shutout of Kazakhstan's Kuanysh Club in Pool B.
On Thursday, Dentil Praia will look for a better outcome against Italy's Prosecco Doc Imoco Conegliano as they open the competition day at 16:30 local time (13:30 UTC). Defending champions VakifBank of Istanbul will take on the other Brazilian participant, Gerdau Minas of Belo Horizonte, at 20:00 (17:00).
Watch all the matches at the Club World Champs live or on demand on Volleyball TV.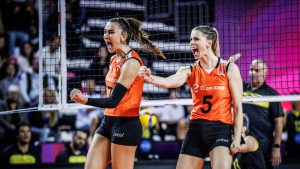 Eczacibasi's Hande Baladin and Laura Heyrman rejoice
Eczacibasi's Serbian opposite and captain Tijana Boskovic led her team to victory, producing a match-high 20 points, including three aces and a kill block, and registering a 70% success rate in attack. Belgian middle blocker Laura Heyrman impressed with 88% success in offence towards a total of eight points, while outside hitter Hande Baladin reached double digits, contributing 10 points, including two blocks and two aces. Eczacibasi's serving made the biggest difference in the match as it accounted for as many as nine aces against none for their opponents. Also with 10 points to her name, opposite Tainara Santos was Dentil Praia's leading scorer in the match.
Eczacibasi's Serbian setter Maja Ognjenovic delivered the first serve of the championship and then Tainara produced the first two points with successful swings. A four-point run, garnished with two sizzling aces by Boskovic, put the home team at an 8-4 lead and they never looked back. They kept the pressure from the serving line, adding three more aces towards an emphatic 25-14 win. The Tigers stormed into the second set with a 7-0 run on Ognjenovic's serve. An ace by Russian outside hitter Irina Voronkova widened the gap to 11-3 and then Eczacibasi just cruised on to another convincing set win at 25-15. The third set was very tight and competitive until 16-15 Eczacibasi's way. Their middle Sinead Jack of Trinidad and Tobago impressed from the end line hammering two aces within a five-point run towards a 21-15 lead, which practically decided the match. Moments later, Boskovic delivered the winner at 25-18.
"We are very happy to start the tournament with a win. It has motivated us a lot. It was teamwork done with lots of confidence in each other and fighting for every ball. On Friday, we will fight to win against Imoco with the same ambition and enthusiasm."
Hande Baladin, outside hitter of Eczacibasi Dynavit Istanbul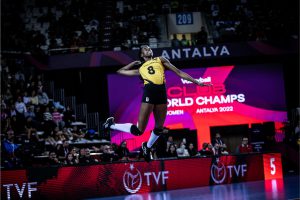 American middle blocker Chiaka Ogbogu and Italian opposite Paola Egonu shared the top scorer honours in VakifBank's straight-set victory over Kuanysh, contributing 15 points apiece. They registered an 81% and a 68% success rate in attack, respectively. Ogbogu also put away a couple of kill blocks. The other middle, Zehra Gunes made another 11 points (83% in attack), while Dutch outside Nika Daalderop added 10 (62%). On Kuanysh's side, French outside hitter Maeva Orle was the most prolific scorer with 15 points, all in offence.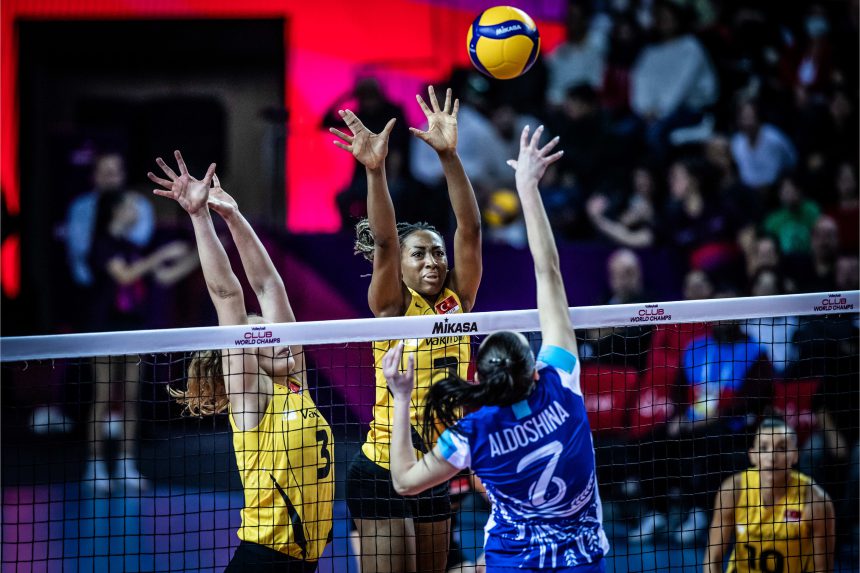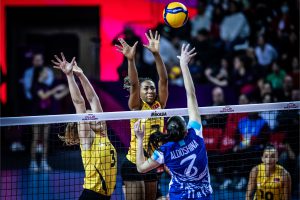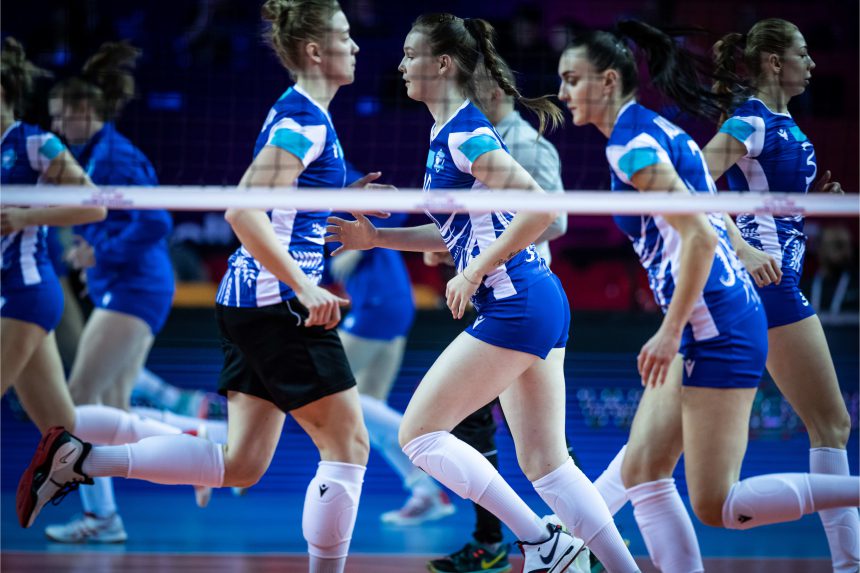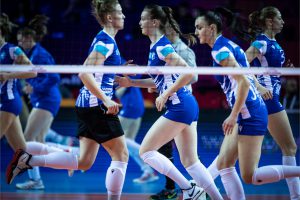 The first set started with a successful first tempo attack by Zehra for 1-0 and finished with a successful first tempo attack by Zehra Gunes for 25-15. In between, VakifBank dominated the court with their powerful offence, spearheaded by Egonu with seven points. Zehra stayed consistent and once again scored VakifBank's first and last points of the second set. And once again, the Yellow-and-Blacks won it by 25-15.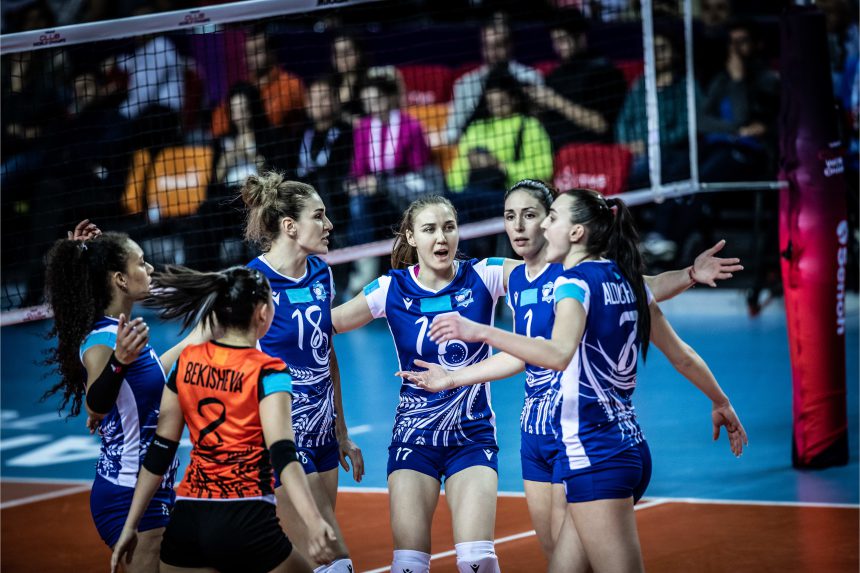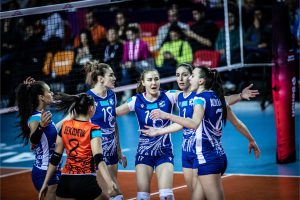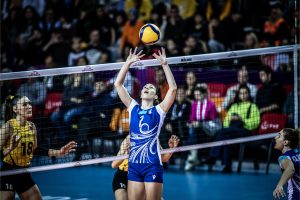 It was quite competitive at the beginning, but after 9-8 Kuanysh's way, the Turkish team went on a nine-point run on Brazilian outside hitter and captain Gabriela Guimaraes' serving turn and broke away again to cruise on to another comfortable set close. In the third set, it was once again on Gabi's serve when VakifBank scored four in a row to run off with a 20-13 advantage. With two kills by substitute opposite Alexia Karutasu and a Kara Bajema ace in between, the Turkish side finished off the set and the match at 25-17.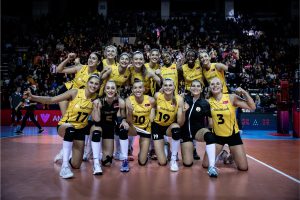 Related links of AVC
AVC Website: click www.asianvolleyball.net
AVC Facebook: click www.Facebook.com/AsianVolleyballConfederation
AVC Twitter: click: www.twitter.com/AsianVolleyball
AVC Instagram: click: https://www.instagram.com/avcvolley/?hl=en
AVC Youtube: click: Asian Volleyball Confederation
AVC WeChat: Asian Volleyball Confederation