Spain and Switzerland complete women's podium, Italy and Russia take men's silver and bronze
Teammate hug between Hellvig and Ahman after the gold medal victory
Ukraine's Anhelina Khmil and Tetiana Lazarenko and Sweden's David Ahman and Jonatan Hellvig triumphed on top of the podium at the 2021 FIVB Beach Volleyball U21 World Championships after winning Sunday's gold medal matches in the women's and the men's tournaments, respectively, at Bang Tao Beach in Phuket, Thailand.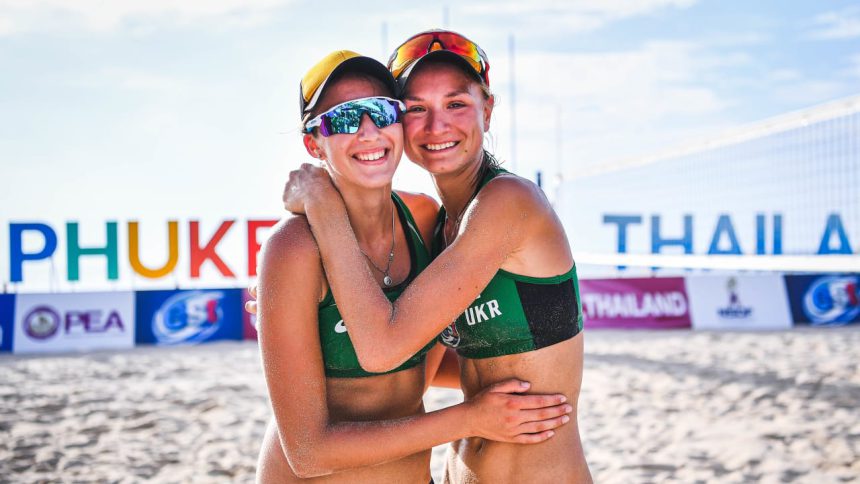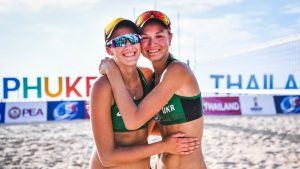 Happy Khmil and Lazarenko after winning the women's final
18-year-old Khmil and Lazarenko, who took the bronze at last week's U19 World Championship at the same venue in Thailand, now went all the way to claim the U21 gold medals and world title after a dramatic 2-1 (21-17, 18-21, 17-15) victory over third-seeded Daniela Alvarez Mendoza and Sofia Gonzalez Racero of Spain in the women's final.
The Ukrainian girls, seeded 21st in the main draw, survived three opponent match points in the tie-breaker before emerging with the win. They went through the whole tournament undefeated and, in the last two games before the gold medal match, they produced a 2-0 (21-19, 21-13) quarter-final shutout of third-seeded Mariia Bocharova and Elizaveta Gubina of Russia and a 2-0 (21-11, 25-23) semi-final victory over sixth-seeded Menia Bentele and Leona Kernen of Switzerland on Saturday.
It was already the eighth international podium for the Ukrainian teens. They claimed the titles at the 2020 CEV U18 European Championship and one of this year's FIVB Beach Volleyball World Tour 1-star events in Sofia as well. They have also earned three bronze medals on the World Tour and one at this year's U22 European Championship.
After taking six age-category world or continental championship bronze medals in her career so far, Daniela Alvarez was finally able to advance to the final and break that "bronze curse." Alvarez and Gonzalez did not lose a single set on the way to the gold medal match. On Saturday, the Spanish pair delivered a 2-0 (21-16, 23-21) quarter-final victory over Brazil's Maria Fernanda Ferreira Dias and Carolina Sallaberry Cavalcanti and an emphatic 2-0 (21-13, 21-13) semi-final clean slate over Latvia's Varvara Brailko and Anete Namike.
Although Alvarez suffered a neck injury early into the deciding third set of the final, she was able to grind her teeth and finish the match, even reach three match points with her partner. While Alvarez had previously won bronze medals at the 2018 U19 World Championship and the 2019 U21 World Championship, the U21 silver was Sofia Gonzalez's first FIVB medal. She also picked up a bronze medal at the 2018 U18 European Championship, together with Daniela.
Sixth-seeded Bentele and Kernen reached the semi-finals after a convincing 2-0 (21-15, 21-13) shutout of seventh-seeded Australians Alisha Stevens and Stefanie Fejes in the quarter-finals. Having lost to Khmil and Lazarenko in the semis, the Swiss pair came back to battle it out for the bronze in a three-setter for the third place, in which they managed a 2-1 (21-11, 18-21, 15-11) win over Brailko and Namike. Both Bentele and Kernen have previously won medals at European age-category championships with different partners, but the bronze in Phuket was their first FIVB podium.
Ahman and Hellvig, reigning Youth Olympic champions from Buenos Aires 2018, topped the U21 men's podium in Phuket after losing only a single set throughout tournament, in their hard-earned 2-1 (21-13, 17-21, 17-15) victory over Italy's Gianluca Dal Corso and Marco Viscovich in Sunday's final. The 13th-seeded Swedes went through the knockout rounds shutting out Switzerland's Leo Dillier and Thibaud Colomb by 2-0 (21-17, 21-19) in the eighth-finals, Thailand's Netitorn Muneekul and Wachirawit Muadpha by 2-0 (21-11, 21-14) in the quarter-finals and Czechia's Jakub Sepka and Tomas Semerad by 2-0 (23-21, 21-17) in the semis.
Ahman and Hellvig's international record also includes a gold and a bronze on the FIVB World Tour, as well as three age-category European Championship titles. Hellvig turned 20 in October, while Ahman won the U21 title on his very last full day as a teenager.
To advance to the final, third-seeded Dal Corso and Viscovich mounted a nail-biting comeback in their semi-final earlier on Sunday to defeat Russia's Dmitrii Veretiuk and Aleksei Arkhipov by 2-1 (19-21, 21-17, 20-18). Their path to the last four in the previous two rounds on Saturday was more straight-forward. The Italians shut out USA's Matthew Gentry and Phillip Catanzaro in the Round of 16 and Czechia's Tadeas Trousil and Matyas Dzavoronok in the quarters. The U21 world silver was Dal Corso and Viscovich's second international medal as a pair. Last year they took the bronze at the CEV U20 European Championship. Dal Corso's medal count also includes three podiums on the 2021 FIVB World Tour with different partners.
After finishing third in Pool D, behind Ahman and Hellvig and Sepka and Semerad, fourth-seeded Veretiuk and Arkhipov cruised through the first three knockout rounds beating teams from Hungary, Germany and Brazil, all in straight sets. They stumbled in their semi-final against the Italians, but returned to claim a hard-fought 2-0 (28-26, 21-19) victory over Sepka and Semerad in the bronze medal match, getting back at the Czechs for the three-set loss in the pool. While Veretiuk won gold at the 2018 U19 World Championship, Arkhipov claimed his first FIVB medal in Phuket. Both of them have previously medalled at CEV continental age-category championships with different partners.
Related links of AVC
AVC Website: click www.asianvolleyball.net
AVC Facebook: click www.Facebook.com/AsianVolleyballConfederation
AVC Twitter: click: www.twitter.com/AsianVolleyball
AVC Instagram: click: https://www.instagram.com/avcvolley/?hl=en
AVC Youtube: click: Asian Volleyball Confederation
AVC WeChat: Asian Volleyball Confederation