The Italians win their 20th consecutive match this season and triumph against Trentino in Betim
Perugia players pose with the Club World Championship trophy in Betim
Sir Safety Susa Perugia needed only one attempt to secure their first world title as the Italian giants won the 2022 FIVB Volleyball Men's Club World Championship on Sunday in Betim, Brazil, in their first appearance in the tournament.
Perugia faced national rivals Trentino Itas in the gold medal match and showed strength to come back from a first-set loss to win 3-1 (20-25, 25-23, 27-25, 25-19) and become the sixth different Italian team to claim the title, joining Trentino, Civitanova, Milano, Ravenna and Parma. Brazil's Sada Cruzeiro Vôlei completed the podium in third place.
The Club World Championship was the second title won by head coach Andrea Anastasi's team in the 2022-2023 season after Perugia, who are currently at the top of the standings in the Italian League and in their CEV Champions League pool, also triumphed in the Italian Supercoppa.
Perugia's undefeated campaign in Betim also extended the team's winning streak to 20 matches – they have won all their 11 Italian League matches, their four encounters at the Club World Championship, their three Champions League duels and also both their Supercoppa games. Three of these victories were against Trentino, who stood in Perugia's way in the Supercoppa semifinals and also in the first round of the Italian League.
"I thought our team did great tonight," team captain Wilfredo Leon commented. "To win the Club World Championship here in Betim is an incredible achievement for our club. I'm really proud of the squad and of what we did, it was a big team win for us. It means a lot to me and to everyone. It was a really difficult week for us here in Betim, but we're going back home with the trophy, so it's all worth it. It's been an incredible season for us and I hope it continues this way."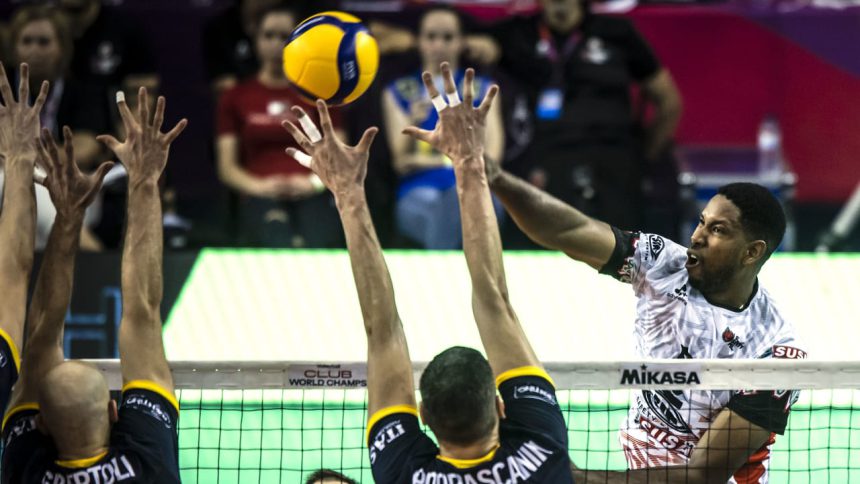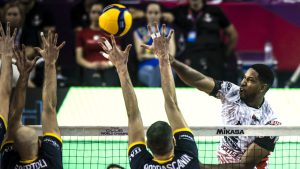 Leon his during the gold medal match against Trentino
Perugia's power from the service line and the team's blocking strength made a difference in the final as the champions outscored Trentino in aces (ten to eight) and blocks (14 to 11), as well as in kills (43 to 39).
The gold medal match also proved the strength of Perugia's squad as three players who started the match against Trentino on the bench finished among the team's top scorers – outside hitter Oleh Plotnytskyi, who tallied 15 points (eight kills, three blocks, four aces), opposite Jesus Herrera, who added nine (seven kills, two blocks), and middle blocker Roberto Russo, who contributed another nine (four kills, three blocks, two aces). Only team captain and star outside hitter Leon did better, leading his team's scoring efforts with 17 points in his 13-kill, one-block, three-ace performance.
"We have a really strong roster and I've been trying to do the best I can with it," Anastasi explained. "Every player in our squad has been on the court already and today we really needed all of them. We had to make a lot of changes and they responded really well. It's a challenge to try and find the right solutions every single time. To have won our first 20 matches and to have lifted two trophies this season already is unbelievable. I couldn't be any prouder of the team."
Trentino had the top scorer of the gold medal match in star outside hitter Alessandro Michieletto, who left the court with 19 points (13 kills, two blocks, four aces). Veteran opposite and team captain Matey Kaziyski also produced 16 points (13 kills, one block, two aces).
https://www.instagram.com/p/CmCvNUSIfoR/
Trentino had a spectacular start to the match and, with Michieletto and Kaziyski both getting aces early on, they quickly built a 9-4 lead. After another ace, this time from Daniele Lavia, and a block from Michieletto, the five-time champions improved their lead to 12-5. Perugia reacted during the set and cut the lead to five points at 14-9 with a kill from Kamil Rychlicki, but Trentino didn't slow down and won the set 25-20 with a kill from Kaziyski.
There was more balance within the first points of the second set, but a big block from Plotnytskyi helped Perugia jump ahead at 6-3, causing Trentino to call a timeout. The break didn't stop the reigning Italian Supercoppa winners, who managed to score three more points before Trentino were finally able to side out. Trentino fought back and brought their opponents' lead down to three points at 16-13 with a block from Marko Podrascanin, but Perugia were able to hold on to their advantage until the end and won the set 25-23.
Trentino's late push saw the team start the third set well and after a block from Srecko Lisinac, they built a 6-3 lead. The teams continued to exchange points until Perugia got two in a row to cut their deficit to a single point at 13-12. An ace from Michieletto placed Trentino in control again (15-12), but benefiting from a good serving run from Plotnytskyi, Perugia pushed hard to take the lead for the first time in the set at 19-18. They got close to the victory after Herrera hustled to save the ball near the bench and Russo blocked to score 24-23, but had to wait a little longer to win the set 27-25 with a block by Flavio Gualberto.
Perugia won the first three points of the fourth set and Trentino quickly made a timeout call – the break worked this time and they got four straight points to take the lead. Plotnytskyi came up big for Perugia again and scored on back-to-back aces to get Perugia ahead at 6-4. Serving continued to be a strength for Perugia, who improved their lead to 14-8 with another ace, this time from Russo. A strong serving run from Michieletto helped Trentino make a push and cut the lead to 17-14, but three straight aces from Leon helped Perugia claim the 25-19 set and match victory.
"A lot of dreams came true to me tonight," Flavio said. "To win the Club World Championship with one of the top teams in the world such as Perugia and to do it in my country, with my family in the stands, it was amazing. This was a really difficult tournament and the gold medal match was really tough too. We had some issues on the first set and played well below our usual level, but I'm proud of our fight to turn things around and win."
Earlier on Sunday, Sada Cruzeiro secured their seventh Club World Championship medal in ten appearances and their second bronze (they also have four golds and one silver) with a victory over in-state rivals Itambé Minas. They started by trailing their opponents, but recovered from a tough first-set loss to win 3-1 (29-31, 26-24, 25-21, 25-19) and find their way to the podium.
Rio 2016 Olympic champion and team captain Wallace de Souza led the team as the 35-year-old opposite produced a match-high 23 points with 22 kills and one block. Middle blocker Otavio Pinto and outside hitter Gabriel Vaccari tallied 13 points each.
"I'm really happy that we managed to end the tournament with a medal as it somehow repays our fans for all the love they showed and the amazing atmosphere they created," middle blocker Lucas Saatkamp commented. "During the tournament, it became evident that the Italian teams are both at a higher level than us. Understanding that helped us to recover in time for the bronze medal match. I hope this result helps us to continue strong in our national season."
Cuban outside hitter Luis Elian was Minas' leading scorer in the bronze medal match with 18 points (all in kills). Veteran opposite Leandro Vissotto added another 15, with 13 kills, one block and one ace.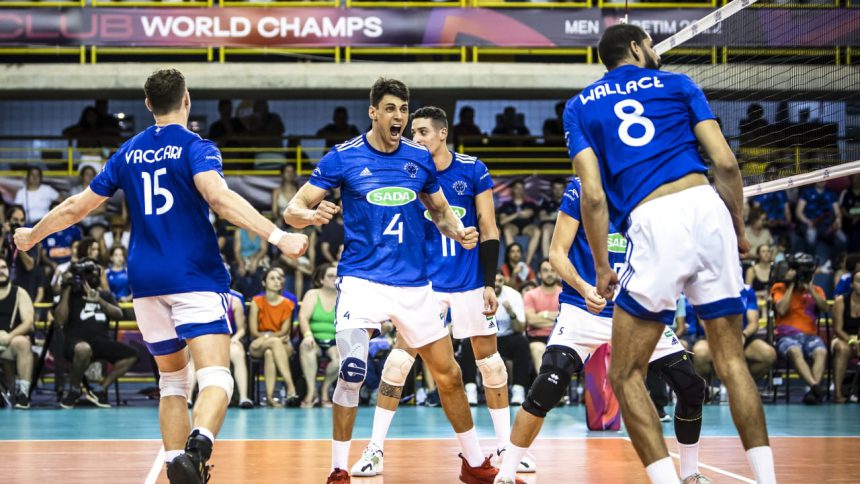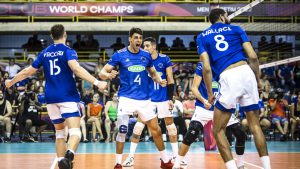 Sada Cruzeiro players celebrate their victory against Minas
FINAL STANDING
1. SIR Safety SUSA Perugia (Italy)
2. Trentino Itas (Italy)
3. Sada Cruzeiro Volei (Brazil)
4. Itambe Minas (Brazil)
5. Paykan Club (Iran)
6. Volei Renata (Brazil)
INDIVIDUAL AWARDS
Best Setter: Simone Giannelli (Sir Safety Susa Perugia)
Best Opposite: Matey Kaziyski (Trentino Itas)
Best Outside Hitters: Alessandro Michieletto (Trentino Itas) and Wilfredo Leon (Sir Safety Susa Perugia)
Best Middle Blockers: Marko Podrascanin (Trentino Itas) and Flavio Gualberto (Sir Safety Susa Perugia)
Best Libero: Lukas 'Lukinha' de Deus (Sada Cruzeiro Vôlei)
MVP: Simone Giannelli (Sir Safety Susa Perugia)
Related links of AVC
AVC Website: click www.asianvolleyball.net
AVC Facebook: click www.Facebook.com/AsianVolleyballConfederation
AVC Twitter: click: www.twitter.com/AsianVolleyball
AVC Instagram: click: https://www.instagram.com/avcvolley/?hl=en
AVC Youtube: click: Asian Volleyball Confederation
AVC WeChat: Asian Volleyball Confederation