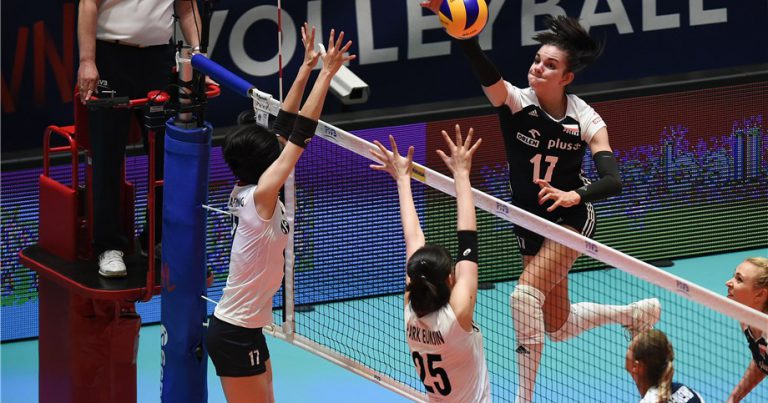 Lausanne, Switzerland, May 8, 2019 – As the 2019 FIVB Women's Volleyball Nations League approaches, get ready to follow the action across the globe with 16 teams battling it out for top honours and here are some of the things to look out for.
Although the 30-player wide rosters that teams have submitted are just an indication of what we'll actually see on court, Belgium and Bulgaria are fielding the yougest teams of the pack, at an average of 22 years. At an average of 27 years, Brazil and Thailand have the oldest squads amongst the 16 entrants.
Of the 465 players registered, the youngest of the lot are Russia's opposites Tatiana Kadochkina and Valeria Gorbunova, both born on March 21, 2003.
Brazil's Carol Gattaz, a two-time FIVB World Championship silver medallist, is the oldest player on the list, having been born on July 27, 1981 – but still going strong having just been named Best Middle Blocker of the Brazilian Superleague after leading her club of Minas Tenis Clube to the crown.
China and Russia stand tallest on average at 187cm each, with Japan and Thailand registering the shortest on average teams at 21cm below that on 176cm each.
Across the board there's four players more than two metres tall, but USA middle blocker Dana Rettke stands just a bit taller than the lot, at 203cm.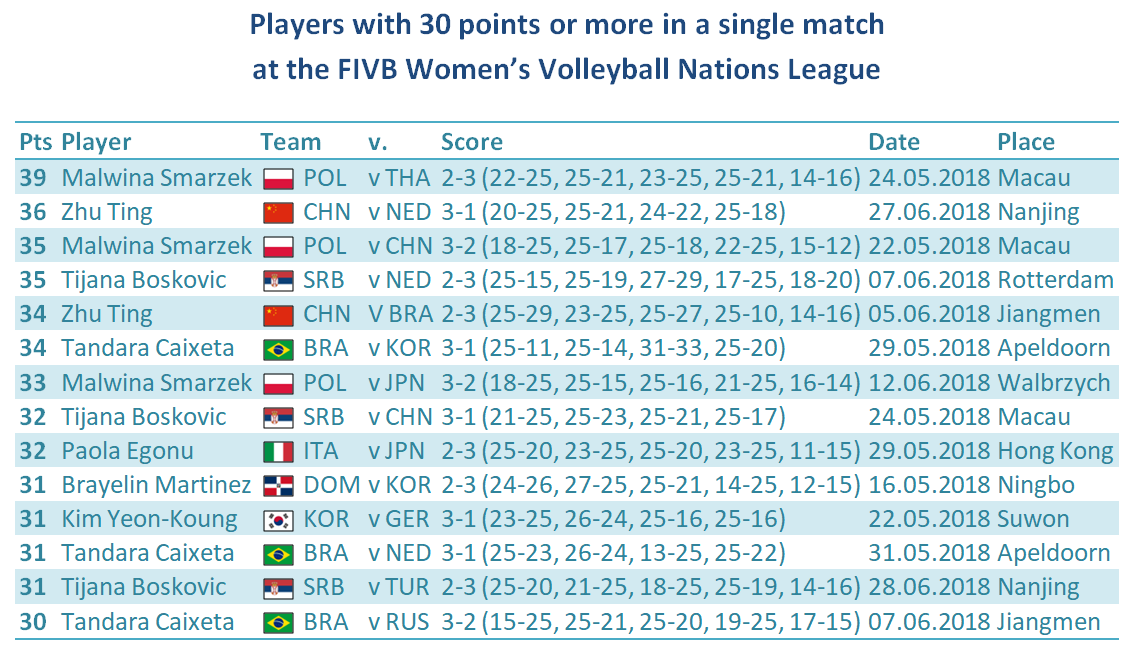 Records ready to fall
Once the games begin, on May 21, there's plenty to watch out for, with VNL records set in the inaugural edition last year ready to be broken.
As many as fourteen entries were made in the list of players scoring 30 points or more in a single match at the 2018 VNL. Heading the list was Poland's Malwina Smarzek, who bagged 39 in her team's five-set defeat to Thailand. The 22-year-old opposite appears two more times on the list.
Also with multiple entries on the list are Serbia's Tijana Boskovic, China's Zhu Ting and Brazil's Tandara Caixeta. The the first two of those are the only players to have scored 30 points or more during the Final Six tournament in Nanjing.
Also look out for individual blocking and serving records that could fall during the 2019 VNL.
• Most blocks: 9 – Agnieszka Kakolewska, Poland (v Germany, 3-1) and Adenizia da Silva, Brazil (v Russia, 3-2).
• Most aces: 7 – Eda Erdem, Turkey (v Russia, 2-3).
The best team performances in these skills were 22 aces by Russia in their five-set win over Turkey and 16 stuffs by USA in their four-set win over Serbia.
Other records to be beaten:
• Longest match: 2:29 – Poland v Thailand (2-3) & Germany v China (2-3).
• Quickest match: 1:03 – Poland v Argentina (3-0).
• Longest set (regular): 0:42 – Korea v Brazil (1-3), 3rd set 33-31.
• Quickest set (regular): 0:18 – Netherlands v Argentina, 3rd set 25-8 & Poland v Argentina (3-0), 1st set 25-11.
• Highest-scoring match: 223 points – USA v Turkey (2-3).
• Lowest-scoring match: 115 points – Netherlands v Korea (3-0).
• Highest-scoring set: 33-31 – 3rd set Korea v Brazil (1-3).
Lowest-scoring set: 25-8 – 3rd set Netherlands v Argentina (3-0).
Related links of AVC
AVC Website: click www.asianvolleyball.net
AVC Facebook: click www.Facebook.com/AsianVolleyballConfederation
AVC Twitter: click: https://twitter.com/avcvolley
AVC Instagram: click: https://www.instagram.com/avcvolley/?hl=en
AVC Youtube: click: Asian Volleyball Confederation
AVC WeChat: Asian Volleyball Confederation