Ningbo, China, September 21, 2023 – 10 teams have booked berths in Top 16 after Day 3 of the 19th Asian Games Men's Beach Volleyball Competition held here at Xiangshan Beach Volleyball Center.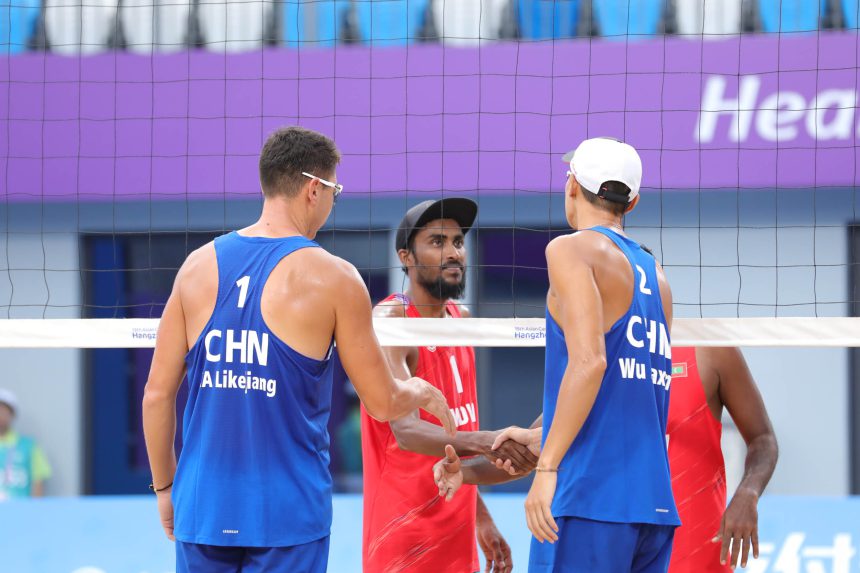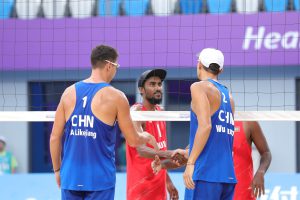 Following a hard-fought three-setter win Wednesday, No. 1 seeds Abuduhalikejiang/Wu of China claimed a comfortable 2-0 (21-11, 21-12) victory Thursday afternoon against Ismail/Naseem of Maldives and thus secured the top spot from Pool A. The Maldives duo will challenge Garcia/Buytrago of Philippines Friday morning to decide the remaining berth from the Pool to the next elimination round of 16.
The host duo had a slow start before they invigorated themselves to score 5 points in a row, widening the gap from 9-7 to 14-7. With sharpened attacks and impenetrable blocks, China soon took down the set in 21-11 following a dip by Ha Likejiang/Mutailipu.
The second set was quite similar, seeing the host boost a 7-point run from 5-5 tie to a remarkable 12-5 lead. China kept on a hot hand and wrapped up the second set in 21-12.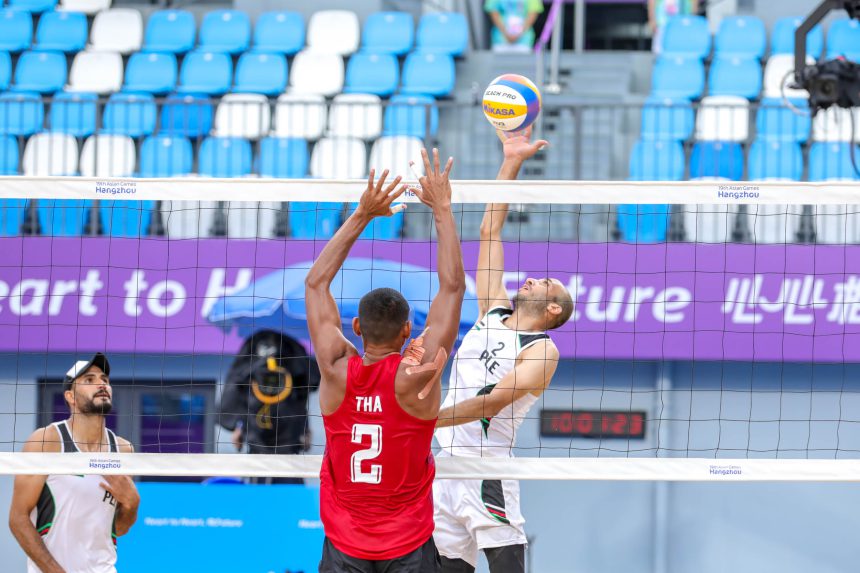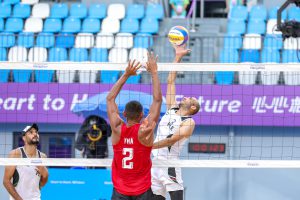 In Pool D, No. 4 seeds Kaewsai/Jongklang of Thailand tasted their maiden victory after defeating Alnajjar/Alqishawi of Palestine in 2-0 (21-12, 21-19) and joined the undefeated Ashfiya/Akbar of Indonesia to the Top 16 from the pool. The winless Palestine duo have already, in fact, finished their journey in the 19th Asian Games.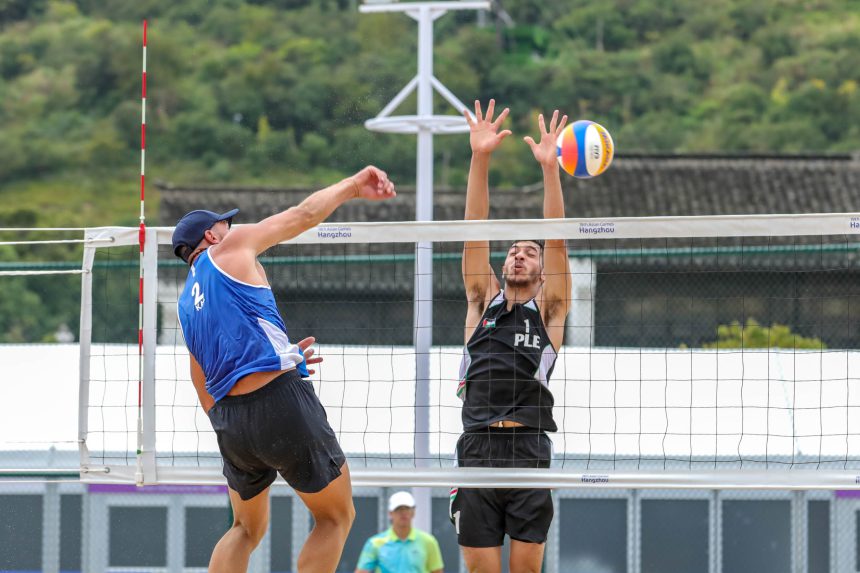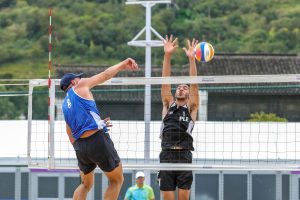 In Pool E, No. 12 seeds Aldash/Gurin of Kazakhstan made their debut at the Games with a convincing 2-0 (21-15, 21-16) win against Qassiya/Alarqan of Palestine and sent the latter of winless record home together with their compatriots. Kazakhstan duo will fight against the host pair Wang/Li for the pool top spot Friday afternoon.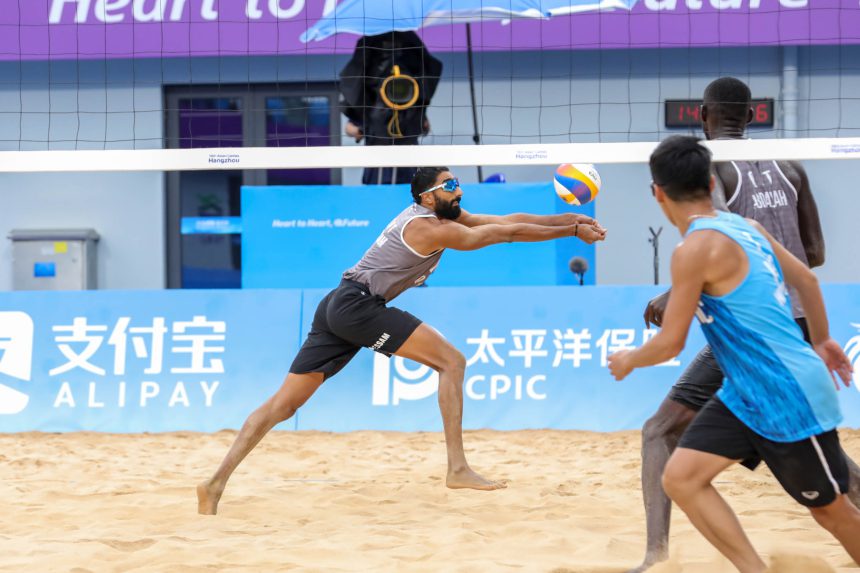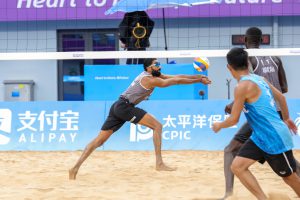 In Pool F, No. 6 seed Mahmoud/Nassim of Qatar showed no mercy to Cheong/Wong of Macao, China by a sweeping 2-0 (21-6, 21-5) win, while No. 11 seeds Pourasgari/Aghajanighasab of Iran kept winning streak following a 2-0 (21-11, 21-11) triumph over Lee/Kim of Korea.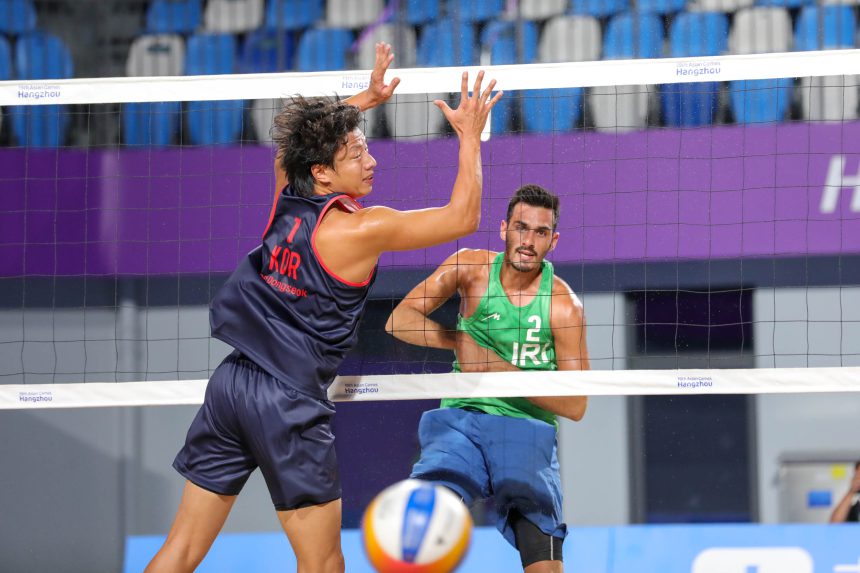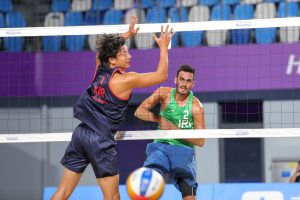 Iran with a 3-0 record and Qatar with 2-1 thus secured their berths in Top 16, while Korea with a 1-2 record and Macao, China with 0-3 have to say goodbye to the tournament.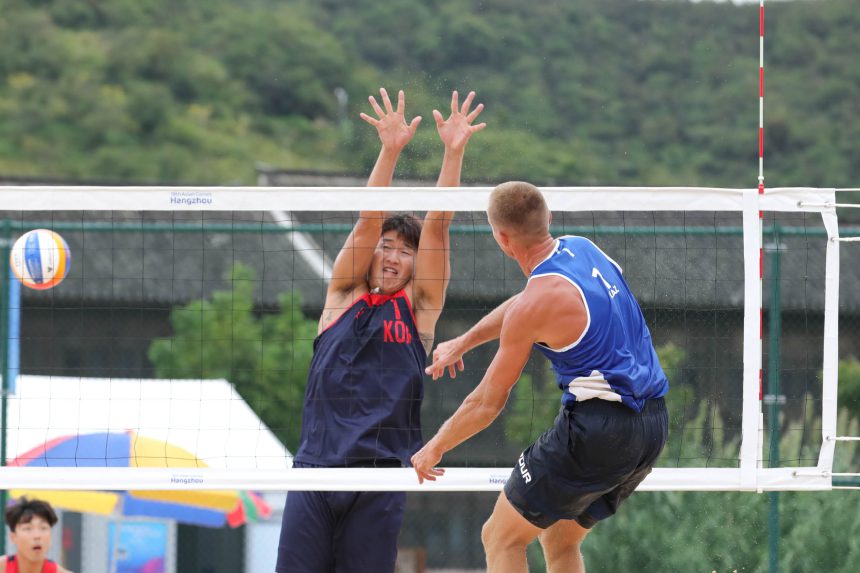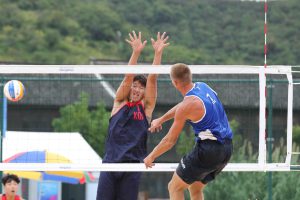 In Pool G, No. 10 seeds Bogatu/Yakovlev of Kazakhstan outgunned Kim/Bae of Korea with a 2-0 (21-16, 21-8) victory and topped the pool with an undefeated 3-0 record, while No. 7 seed Al-housni/Al Shereiqi of Oman also grabbed the other ticket to Top 16 as the pool second place with a 2-1 record following their 2-0 (21-11, 21-13) win over Correia/Valente of Timor-Leste. The duos of Korea and Timor-Leste have to pack up and go home.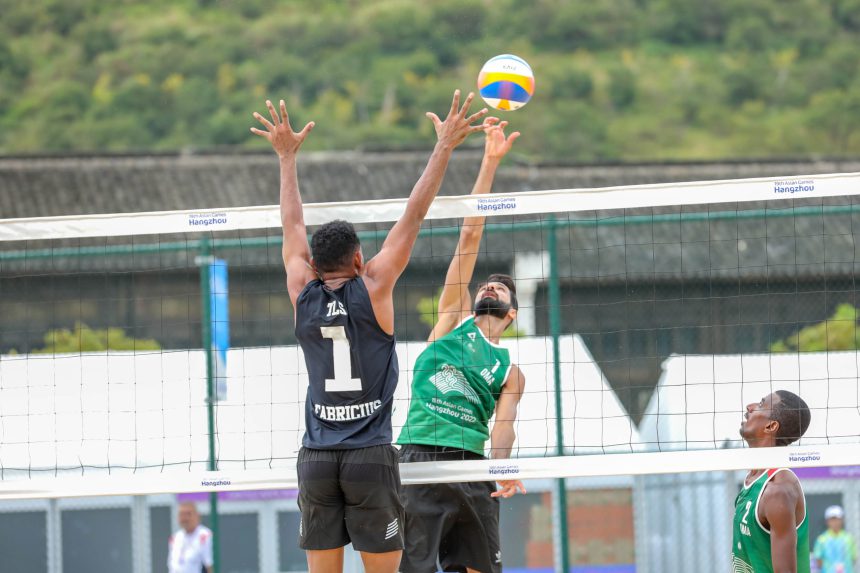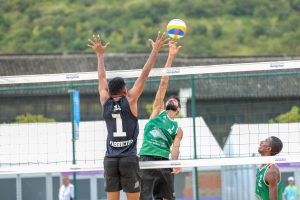 In Pool H, No. 8 seeds Salemiinjehboroun/Shoukati of Iran outperformed No. 9 seeds Al Jalbubi/Al Hashimi of Oman 2-0 (21-17, 21-11) and clinched their second consecutive win.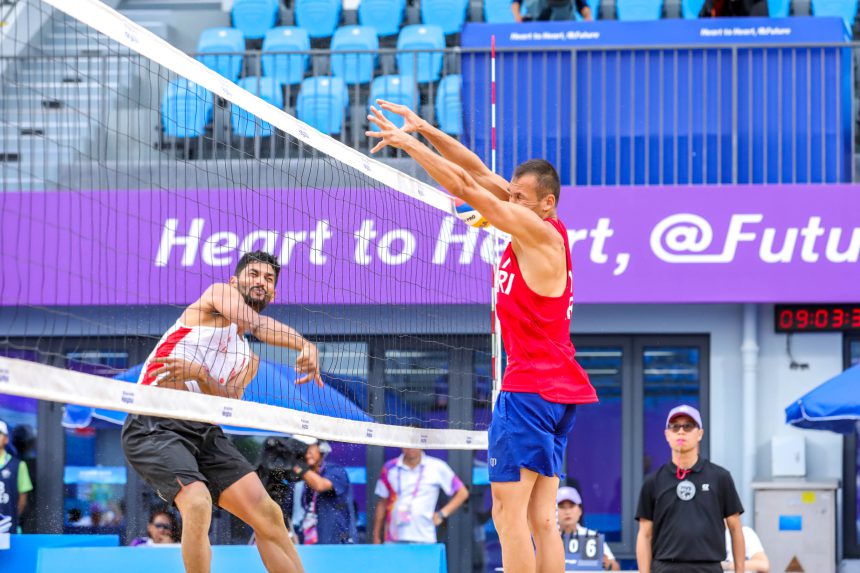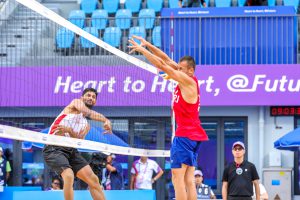 Tam/Chan of Macao, China were on losing streak as they were edged out by Rustamzoda/Tursunov of Tajikistan 0-2 (17-21, 20-22).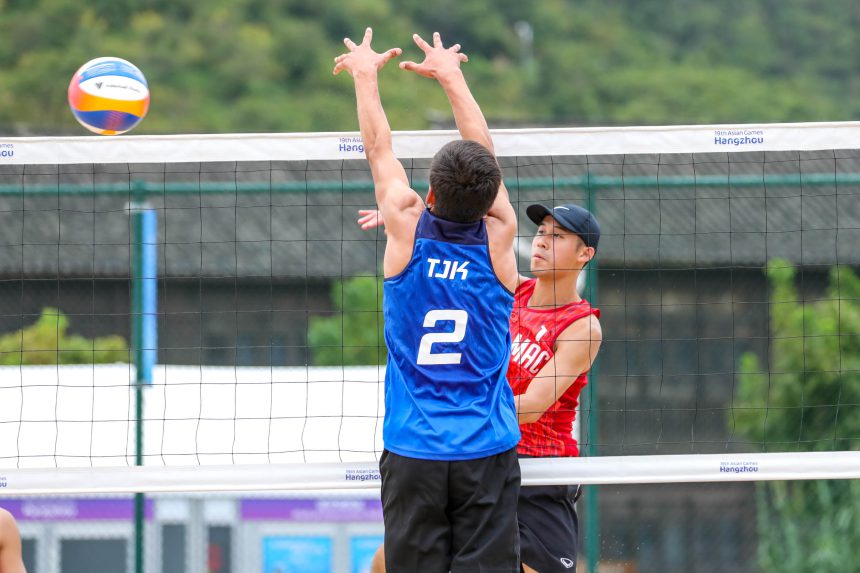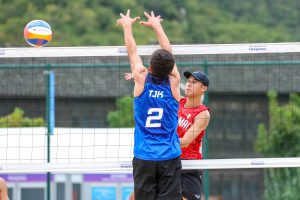 With a 2-0 record, the Iranian duo have already confirmed their place in Top 16. The pairs of Oman and Tajikistan, both with 1-1 record, will clash against each other Friday morning for the remaining ticket from the pool. Macao, China, already disqualified with a 0-2 record, still have a chance to prove themselves in their last match against undefeated Iran.
The 10 teams qualified to Top 16 are: Abuduhalikejiang/Wu of China from Pool A, Ashfiya/Akbar of Indonesia and Kaewsai/Jongklang of Thailand from Pool D, Wang/Li of China and Aldash/Gurin of Kazakhstan from Pool E, Pourasgari/Aghajanighasab of Iran and Mahmoud/Nassim of Qatar from Pool F, Bogatu/Yakovlev of Kazakhstan and Al-housni/Al Shereiqi of Oman from Pool G, Salemiinjehboroun/Shoukati of Iran from Pool H.
The preliminary round of men's beach volleyball competition of the 19th Asian Games continues at Xiangshan Beach Volleyball Center Friday, which will decide the remaining 6 berths in Top 16. The elimination round of 1/8 will start on September 24 and the final showdown on September 28.
Ningbo, the second largest city of Zhejiang Province, enjoys a long history of over 7,000 years with plenty of historical and religious sites. Served as one of the co-host cities for the 19th Asian Games, Ningbo will host two events of beach volleyball and sailing in its coastal Xiangshan County. The 19th Asian Games will be held in Hangzhou, capital city of Zhejiang from September 23 to October 8, 2023.
Match Result and Schedule (Local time)
September 21, 2023 (Thursday)
9:00 Pool H IRI (Salemiinjehboroun/Shoukati) v OMA (Al Jalbubi/Al Hashimi) 2-0 (21-17, 21-11)
9:00 Pool H MAC (Tam/Chan) v TJK (Rustamzoda/Tursunov) 0-2 (17-21, 20-22)
10:00 Pool D THA (Kaewsai/Jongklang) v PLE (Alnajjar/Alqishawi) 2-0 (21-12, 21-19)
10:00 Pool G OMA (Al-housni/Al Shereiqi) v TLS (Correia/Valente) 2-0 (21-11, 21-13)
14:00 Pool E KAZ (Aldash/Gurin) v PLE (Qassiya/Alarqan) 2-0 (21-15, 21-16)
14:00 Pool F QAT (Mahmoud/Nassim) v MAC (Cheong/Wong) 2-0 (21-6, 21-5)
15:00 Pool A CHN (Abuduhalikejiang/Wu) v MDV (Ismail/Naseem) 2-0 (21-11, 21-12)
15:00 Pool G KAZ (Bogatu/Yakovlev) v KOR (Kim/Bae) 2-0 (21-16, 21-8)
20:00 Pool F IRI (Pourasgari/Aghajanighasab) v KOR (Lee/Kim) 2-0 (21-11, 21-11)
September 22, 2023 (Friday)
9:00 Pool A PHI (Garcia/Buytrago) v MDV (Ismail/Naseem)
9:00 Pool H IRI (Salemiinjehboroun/Shoukati) v MAC (Tam/Chan)
10:00 Pool H OMA (Al Jalbubi/Al Hashimi) v TJK (Rustamzoda/Tursunov)
14:00 Pool C THA (Taovato/Tipjan) v HKG (Wong/Lam)
15:00 Pool E CHN (Wang/Li) v KAZ (Aldash/Gurin)
20:00 Pool B QAT (Samba/Janko) v PHI (Requinton/Abdilla)
QUICK LINKS
AVC Website: click www.asianvolleyball.net
AVC Facebook: click www.Facebook.com/AsianVolleyballConfederation
AVC Twitter: click: www.twitter.com/AsianVolleyball
AVC Instagram: click: https://www.instagram.com/avcvolley/?hl=en
AVC Youtube: click: Asian Volleyball Confederation
AVC WeChat: Asian Volleyball Confederation