Ningbo, China, September 21, 2023 – Top 3 seeds continued their winning streak with 2-0 wins against their rivals respectively on Day 3 of the 19th Asian Games Women's Beach Volleyball Competition here at Xiangshan Beach Volleyball Center.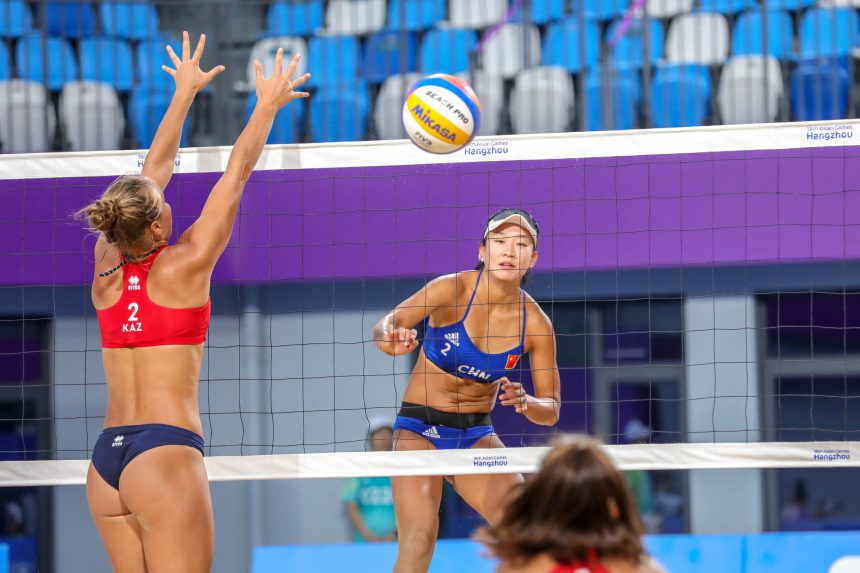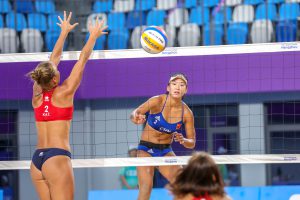 No. 1 seeds Xue/Xia of China registered their third successive victory as they emitted destroying services including remarkable aces to conquer Kabulbekova/Ivanchenko of Kazakhstan in a comfortable 2-0 (21-10, 21-5) win.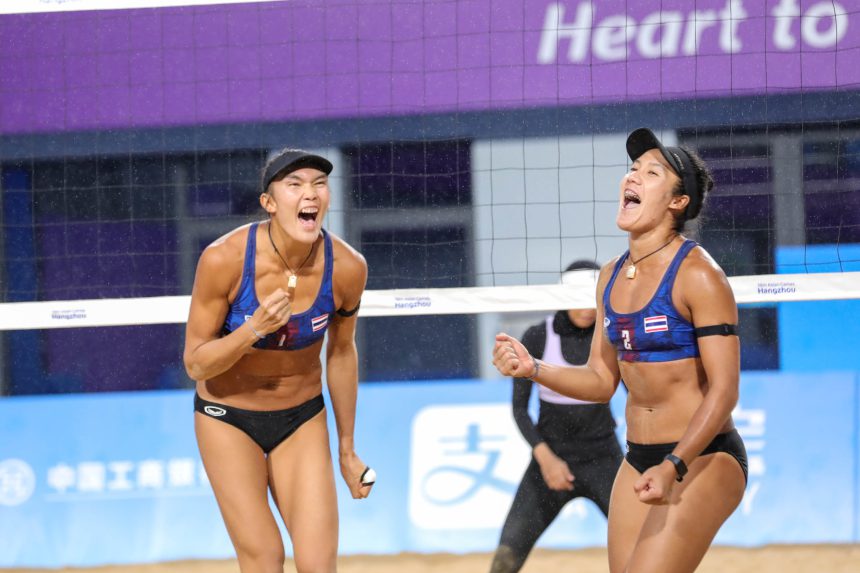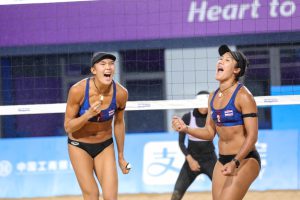 No. 2 seeds Naraphornrapat/Kongphopsarutawadee of Thailand also tallied their third win as they edged out No. 10 seeds Juliana/Ratnasari of Indonesia 2-0 (21-18, 21-15). The Indonesia duo thus tasted their first failure following 3 wins in a row.
Indonesia came into the match solidly with a narrow lead, and they seized every chance to earn points until 15-10 lead. Thailand committed several errors but they did not lose concentration. With the improvement of their chemistry, they came back with a 6-1 run to even the tide at 16-16. Indonesia requested a timeout but it was feeble to stop the momentum of Thailand. Following two forced errors, Indonesia yielded the first set 18-21.
The second set saw Indonesia fight hard to keep themselves in the match till 9-10 behind. Thailand gradually geared up to widen the gap and finished the set 21-15 following a tricky ace service.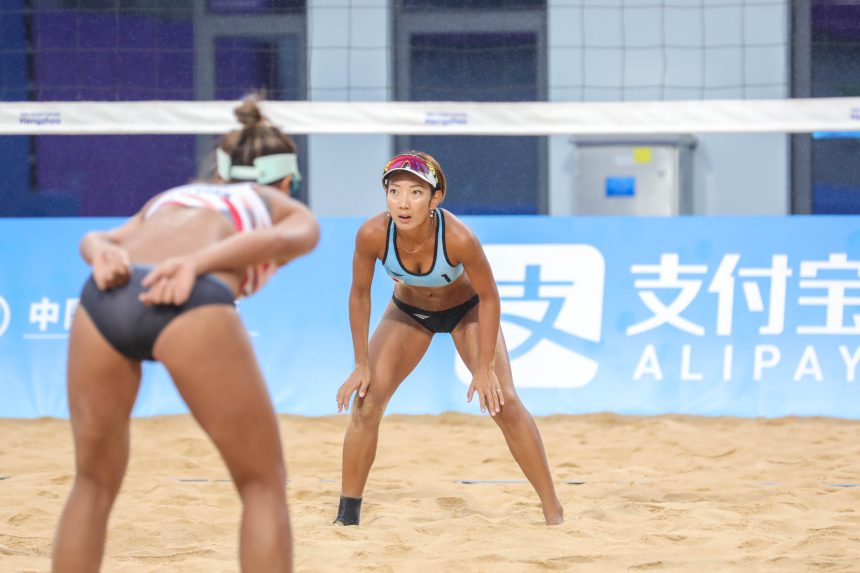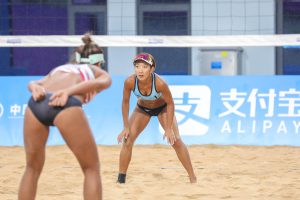 No. 3 seeds Mizoe/Ishii of Japan also had accumulated 3 wins in Pool C after beating Yuen/Lo of Hong Kong, China 2-0 (21-8, 21-11) in the morning and Law/Leong of Macao, China 2-0 (21-7, 21-12) in the afternoon.
In Pool D, No. 4 seeds Hasegawa/Sakaguchi of Japan recovered from their 0-2 loss to Wang/Dong of China on Wednesday, enjoyed two victories on Thursday.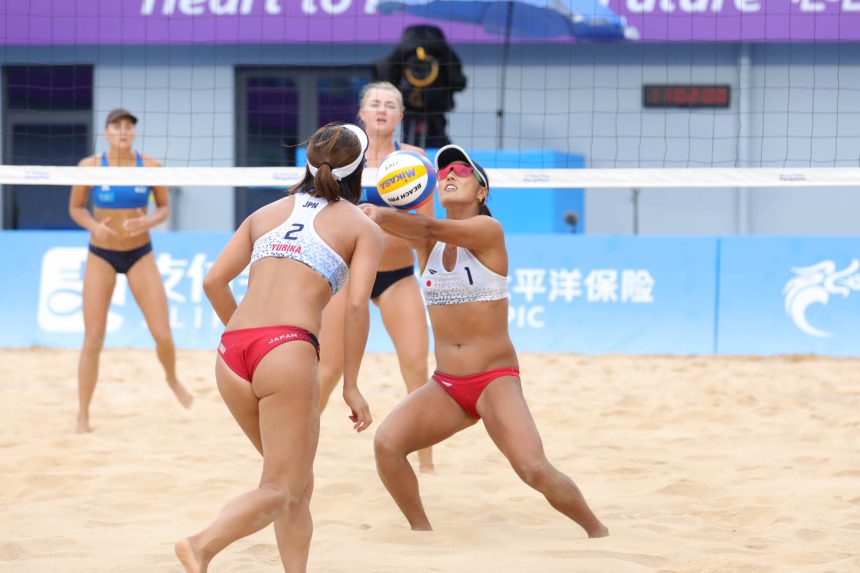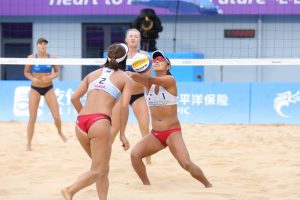 In the morning session , they capped Rachenko/Ukolova of Kazakhstan 2-0 (21-9, 21-11) and in the afternoon they knocked down Sari/Herdanti of Indonesia 2-0 (21-8, 21-18).
Indonesia showed their persistence in the second set by sticking to the opponents till 16-18. But their effort was in vain as the experienced Japanese requested a timeout and took control of the situation before they finished the set in 21-18.
"Height is our disadvantage. So we have to train more our techniques and ball control."said Hasegawa Akiko of Japan. "We have been paired since 2021. In the past months, we have participated in several stops of World Tours and National Tours before we came to the Asian Games. I hope we can have a good result here."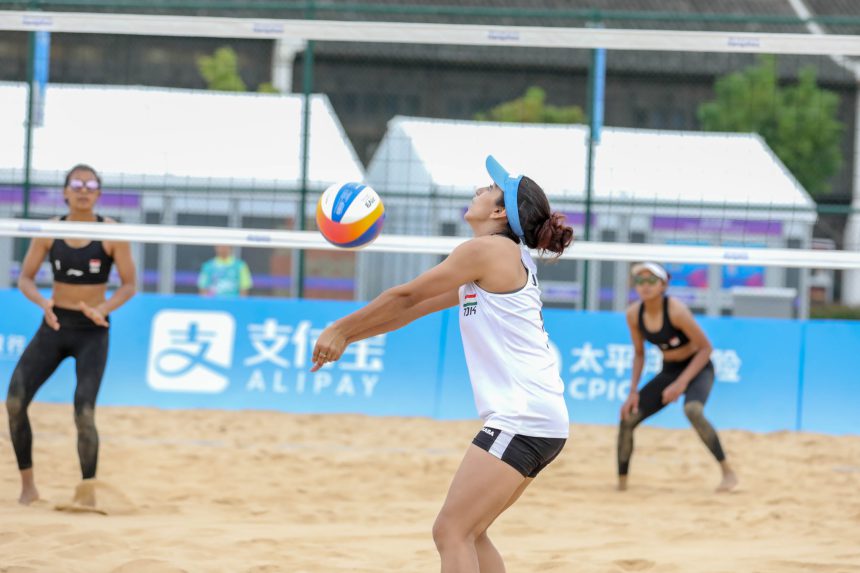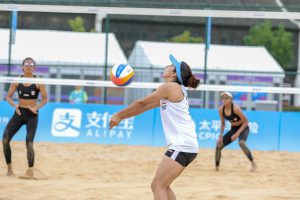 In the other four matches, Sari/Herdanti of Indonesia swept Badalbekova/Khurshedodova of Tajikistan 2-0 (21-8, 21-6) in Pool D, while Law/Leong of Macao, China outplayed Lee/Jeon of Korea 2-0 (21-14, 21-11) in Pool C.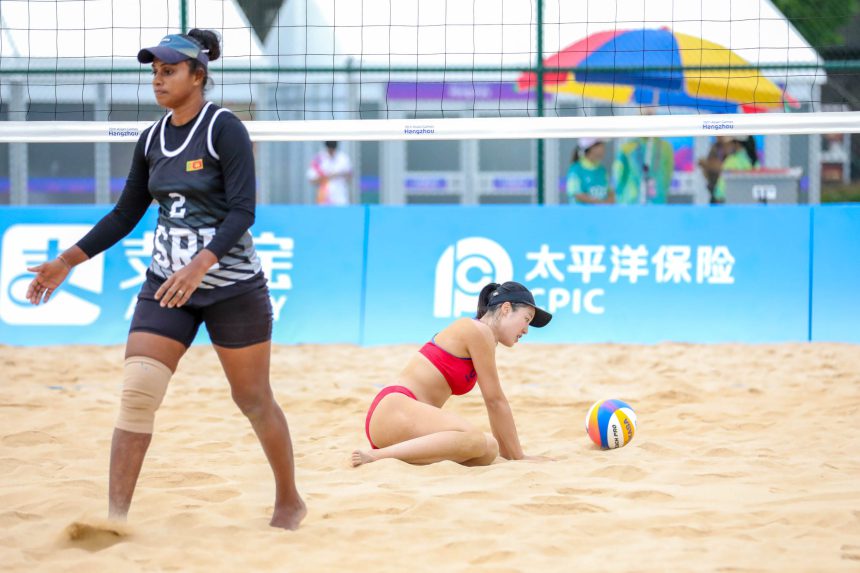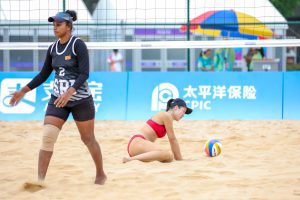 Deepika/Chathurika of Sri Lanka booked their maiden victory in Pool A by nosing out Shin/Kim of Korea 2-0 (25-23, 21-12), while in Pool B, Tam/Lei of Macao, China were taken down by Progella/Matibag of Philippines in 0-2 (18-21, 15-21).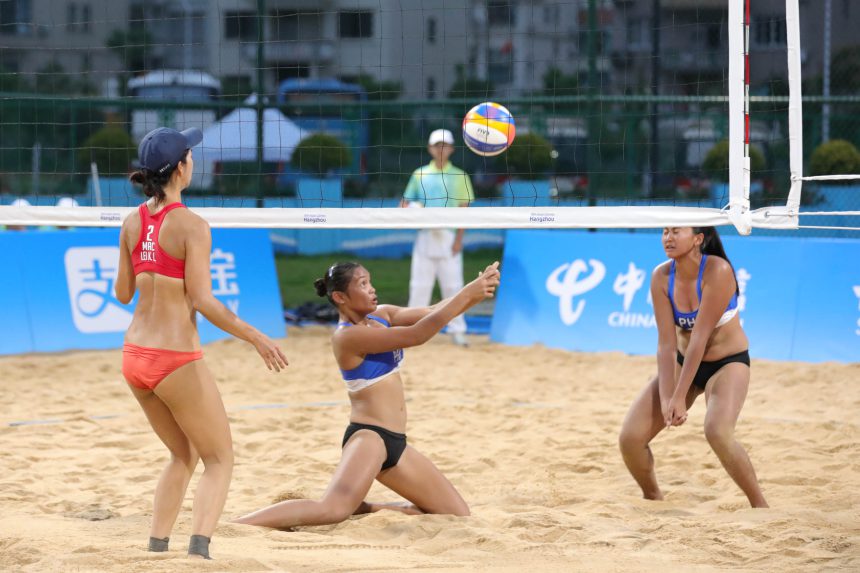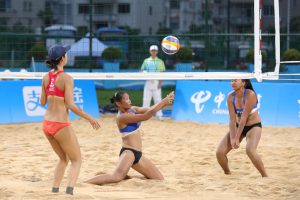 The preliminary round of women's beach volleyball competition of the 19th Asian Games will continue at Xiangshan Beach Volleyball Center Friday, which will decide the final ranking of each pool. Top 4 of each pool will qualify to the elimination round of 1/8, which will start on September 24. The final showdown will be staged on September 27.
Ningbo, the second largest city of Zhejiang Province, enjoys a long history of over 7,000 years with plenty of historical and religious sites. Served as one of the co-host cities for the 19th Asian Games, Ningbo will host two events of beach volleyball and sailing in its coastal Xiangshan County. The 19th Asian Games will be held in Hangzhou, capital city of Zhejiang from September 23 to October 8, 2023.
Match Result and Schedule (Local time)
September 21, 2023 (Thursday)
11:00 Pool D KAZ (Rachenko/Ukolova) v JPN (Hasegawa/Sakaguchi) 0-2 (9-21, 11-21)
11:00 Pool D INA (Sari/Herdanti) v TJK (Badalbekova/Khurshedodova) 2-0 (21-8, 21-6)
12:00 Pool C HKG (Yuen/Lo) v JPN (Mizoe/Ishii) 0-2 (8-21, 11-21)
12:00 Pool C MAC (Law/Leong) v KOR (Lee/Jeon) 2-0 (21-14, 21-11)
16:00 Pool A KAZ (Kabulbekova/Ivanchenko) v CHN (Xue/Xia) 0-2 (10-21, 5-21)
16:00 Pool A SRI (Deepika/Chathurika) v KOR (Shin/Kim) 2-0 (25-23, 21-12)
17:00 Pool B INA (Juliana/Ratnasari) v THA (Naraphornrapat/Kongphopsarutawadee) 0-2 (18-21, 15-21)
17:00 Pool B MAC (Tam/Lei) v PHI (Progella/Matibag) 0-2 (18-21, 15-21)
19:00 Pool D JPN (Hasegawa/Sakaguchi) v INA (Sari/Herdanti) 2-0 (21-8, 21-18)
21:00 Pool C JPN (Mizoe/Ishii) v MAC (Law/Leong) 2-0 (21-7, 21-12)
September 22, 2023 (Friday)
11:00 Pool A KOR (Shin/Kim) v CHN (Xue/Xia)
11:00 Pool C MAC (Law/Leong) v THA (Phirachayakrailert/Patcharamainaruebhorn)
12:00 Pool A SRI (Deepika/Chathurika) v PHI (Rodriguez/Eslapor)
12:00 Pool D CHN (Wang/Dong) v KAZ (Rachenko/Ukolova)
16:00 Pool B PHI (Progella/Matibag) v THA (Naraphornrapat/Kongphopsarutawadee)
16:00 Pool B MAC (Tam/Lei) v HKG (Wong/To)
17:00 Pool C THA (Phirachayakrailert/Patcharamainaruebhorn) v HKG (Yuen/Lo)
17:00 Pool D TJK (Badalbekova/Khurshedodova) v JPN (Hasegawa/Sakaguchi)
19:00 Pool D INA (Sari/Herdanti) v CHN (Wang/Dong)
21:00 Pool C KOR (Lee/Jeon) v JPN (Mizoe/Ishii)
QUICK LINKS
AVC Website: click www.asianvolleyball.net
AVC Facebook: click www.Facebook.com/AsianVolleyballConfederation
AVC Twitter: click: www.twitter.com/AsianVolleyball
AVC Instagram: click: https://www.instagram.com/avcvolley/?hl=en
AVC Youtube: click: Asian Volleyball Confederation
AVC WeChat: Asian Volleyball Confederation