Bangkok, Thailand, December 1, 2021 – After a resounding success at organising the 2021 Asian Senior Beach Volleyball Championships at Bang Tao Beach in Phuket, Thailand has confirmed its readiness to host two world-class beach volleyball tournaments at the same competition site later this month.
The FIVB Beach Volleyball U19 World Championships from December 6 to 11 and the FIVB U21 Beach Volleyball World Championships between December 14 and 19 will be held at Bang Tao Beach, also known as Laguna Beach, one of the longest beaches on Phuket Island in Southern Thailand and one of the resort town's most popular destinations with a very long strip of white soft sand.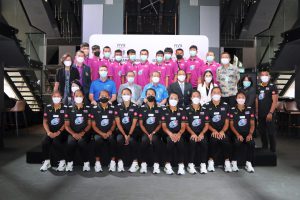 Following remarkable success in hosting some major tournaments this year consisting of the AVC Continental Cup Semifinals and Finals, the Asian U19 and U21 Beach Volleyball Championships and the recent top-flight Asian Senior Beach Volleyball Championships, Thailand coped well with the large influx of participants (as a large number of spectators watched live matches on TV and live streaming online). Those events were widely used to be resounding success that considerably raised the profile of the organisers – Thailand Volleyball Association, Asian Volleyball Confederation and Sports Authority of Thailand.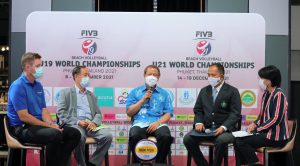 To make things clear that Thailand and Phuket in particular gets ready for hosting the U19 and U21 World Championships at the afore-mentioned period, a press conference was held at Banyan Tree Bangkok on November 30, with TVA President Mr Somporn Chaibangyang and AVC Executive Director Mr Shanrit Wongprasert, himself AVC Honorary Life Vice President, presiding.
In attendance as guests of honour were Mr Damrong Chaisena, Director of the Sports Authority of Thailand (SAT) Office in Phuket Province, and Assistant Vice President/Group Director of Laguna Golf Mr Paul Wilson. Thailand's beach volleyballers and a number of reporters also turned up at the meeting.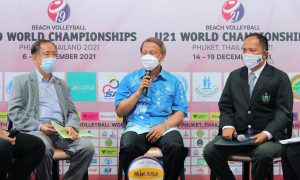 Given the significance of the matter, Somporn has stressed that the two World Championships in Phuket will not only help promote tourism and increase the long-run economic growth in the province but also boost confidence on how Thailand effectively tackled the COVID-19 pandemic.
"Hosting two consecutive world-class competitions will stimulate the domestic economy, particularly in the heavily-hit tourism industry. In addition, it will help boost confidence and ensure the rest of the world what Thailand can do in terms of prevention and control of COVID-19 pandemic," said Somporn.
"The Asian Senior Beach Volleyball Championships in Phuket ended on a high note last week with a great success in effectively managing the COVID-19 situation. We had well-planned COVID-19 prevention and control strategies, with strict measures implemented. So, with the standard of the competition significantly improved and the COVID-19 restrictions strictly implemented, I strongly believe that the two World Championships can be a launch pad for future success and also a stepping stone for young stars to showcase their talents in hope to represent their countries in the near future," he added.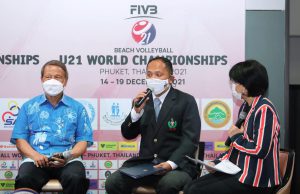 Damrong said both tournaments will be held within the Laguna Complex at Bang Tao Beach and the organisers are well-prepared in all aspects, not only the official hotel, but also training/competition courts, medical support and giving knowledge, attitude and practice toward COVID-19 to all participants including team players from around the world.
"Everything is set. Strict COVID-19 restrictions will be imposed during the competition to make sure both tournaments will come to fruitful conclusions without the spread of the COVID-19 pandemic. We get ready to create a safe environment to protect the health and wellbeing of all participants including players, their families and officials. Due to the amendment of the travel restrictions for tourists from some listed countries detected by the Omicron coronavirus variant, it comes to effective that they cannot enter Thailand and as a result, some players from those countries are unlikely to compete in Phuket," he said.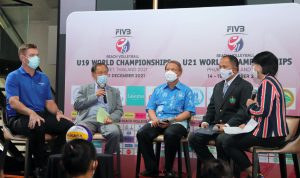 Meanwhile, Shanrit revealed that beach volleyballers from 48 countries of five continents including Czech Republic, Algeria, Australia, Canada, Italy, Denmark, Finland, Russia and Iran have qualified for the U19 World Championships from December 6 to 11.
"In both men's and women's events, a total of 28 qualified teams have been confirmed for the main draw. The other 24 teams will compete in the qualification round and the best four teams will secure their places in the 32-team main draw," Shanrit explained.
"It's the same in the U21 World Championships from December14 to 19. In each category, a total of 28 teams qualified from five continental competitions will make it to the main draw, while the other 24 teams will compete in the qualification round, where only top four teams will make the cut for the 32-team main draw," he added.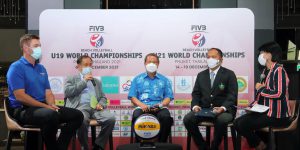 As players from 48 countries will test their mettle in the U19 World Championships, the U21 World Championships will feature players from only 37 countries from five continents including Poland, Israel, Chile, Egypt, USA, Norway, Spain and Portugal. For hosts Thailand, two teams from each event will be eligible in both Championships.
"With Thailand hosting many beach volleyball events this year, we have enjoyed an entertaining and exciting season, full of promise and skill. The FIVB U19 and U21 World Championships in Phuket are all set to provide incredible thrills for volleyball fans in Thailand and across the world."
Related links of AVC
AVC Website: click www.asianvolleyball.net
AVC Facebook: click www.Facebook.com/AsianVolleyballConfederation
AVC Twitter: click: www.twitter.com/AsianVolleyball
AVC Instagram: click: https://www.instagram.com/avcvolley/?hl=en
AVC Youtube: click: Asian Volleyball Confederation
AVC WeChat: Asian Volleyball Confederation