Wuhan, China, October 19, 2019 – Following the grand opening ceremony of the 7th CISM Military World Games at Wuhan Sports Center on Friday night, the General Technical Meeting of the Games men's volleyball tournament was held here Saturday morning at the Conference Hall of Jianghan University to finally confirm competition and refereeing matters set for the opening of the competition the following day.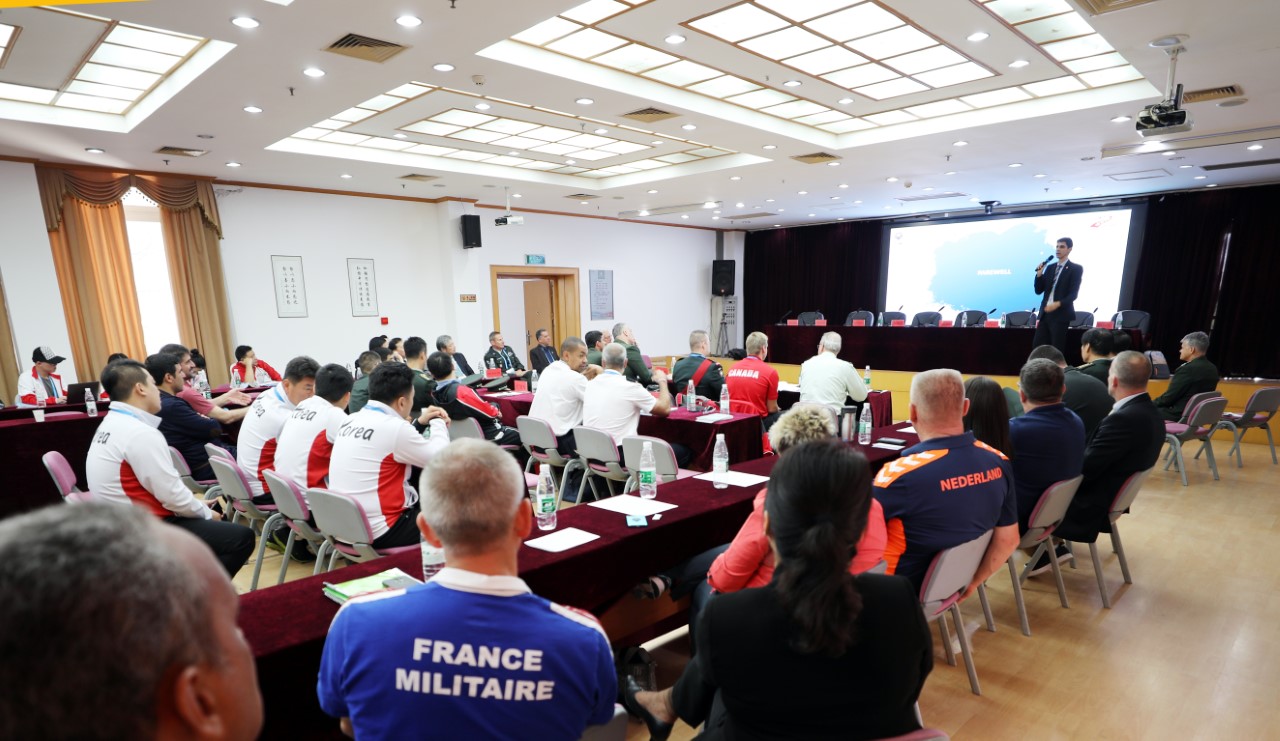 Colonel José Carlos Pinheiro from Brazil, President of CISM Sport Committee-Volleyball & Beach Volleyball, presided over the meeting, which saw representatives from Brazil, Canada, France, Iran, Korea, the Netherlands, Pakistan, Qatar, Venezuela and hosts China as well as CISM Sport Committee Members, China Army representatives, CVA officials, Doping Control Manager of China Anti-Doping Agency, all international referees and local competition management team members in attendance.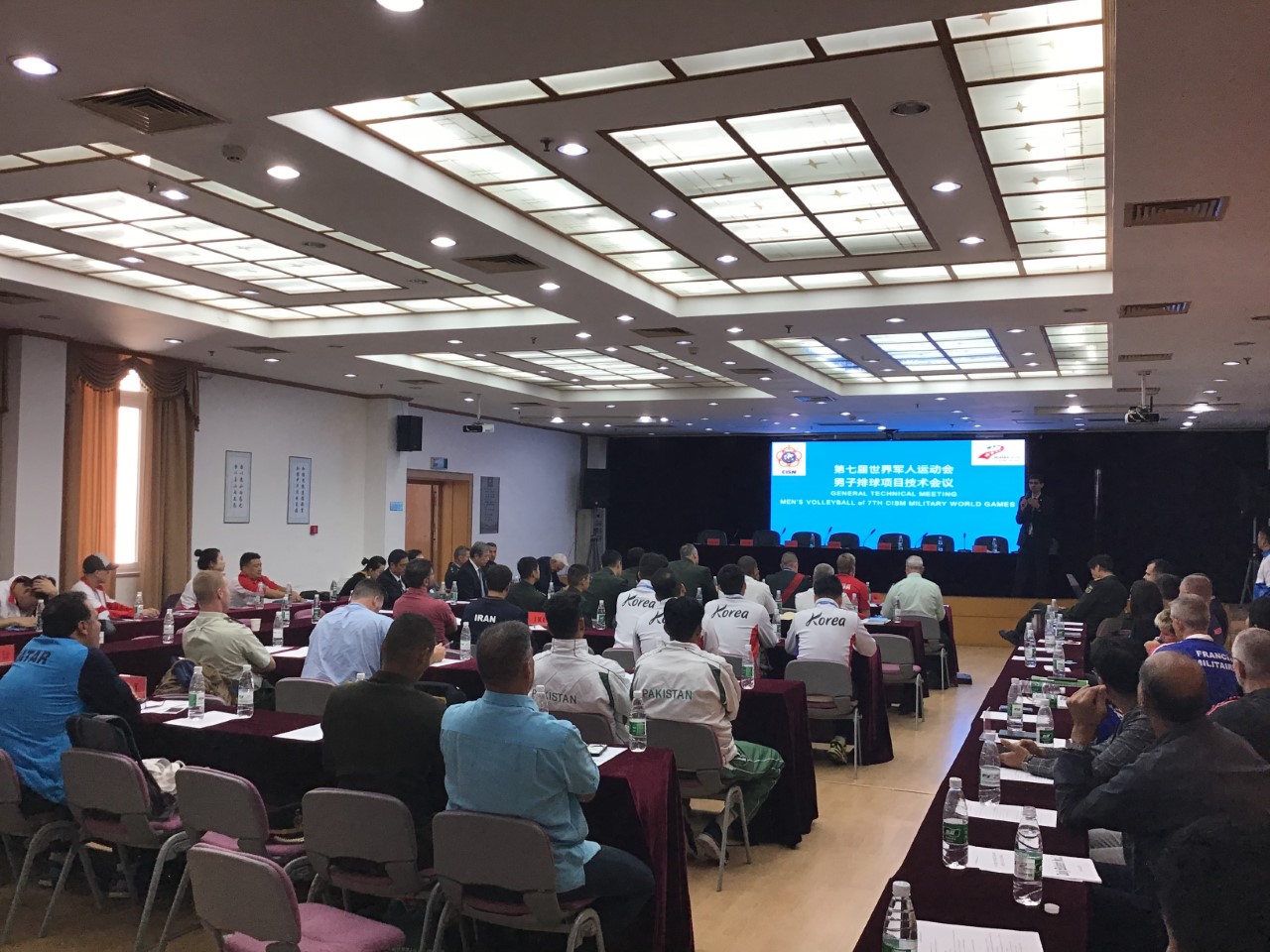 In his opening speech, Colonel José Carlos Pinheiro expressed his gratitude to the local competition management team and organizing committee for offering the best condition as possible to the men's volleyball competition. His appreciation also went to China Volleyball Association and all the staff who had paid contribution to the opening of this event. Mr. Pinheiro viewed this pleasant occasion as an opportunity to meet both old and new faces. He also noted that Wuhan is an important city standing out to be an excellent model since all the facilities and conditions provided are of the world-class standard, though it is the first time for China to organize the CISM Military World Games.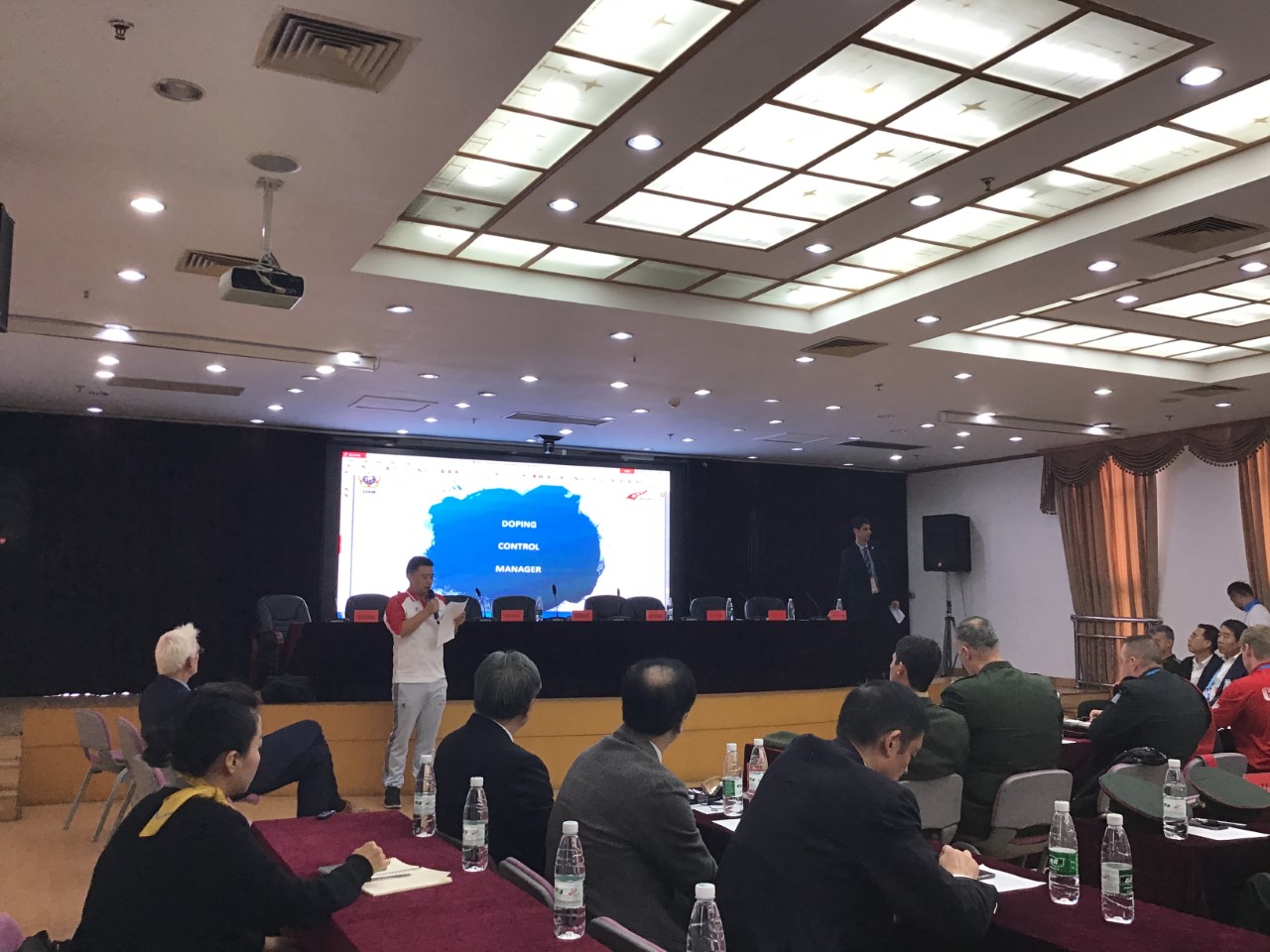 In his welcome speech, Chen Gongjiang, Vice Principal of Jianghan University and Deputy Director of Men's Volleyball Competition Management Committee extended his honor for organizing the 7th CISM Military World Games Men's Volleyball Tournament and made a brief introduction of Jianghan University, which is being well-known as an attractive hub of both education and sports. Mr.Chen also noted that Wang Shuang, one of the most famous Chinese women's football players who once played for Paris Saint-Germain Football Club, AFC Women's Player of the Year in 2018 and one of the torch bearers at the Opening Ceremony, is from Jianghan University. To conclude, Mr.Chen rallied the slogan " We are ready" as a simple yet convincing conclusion to his speech.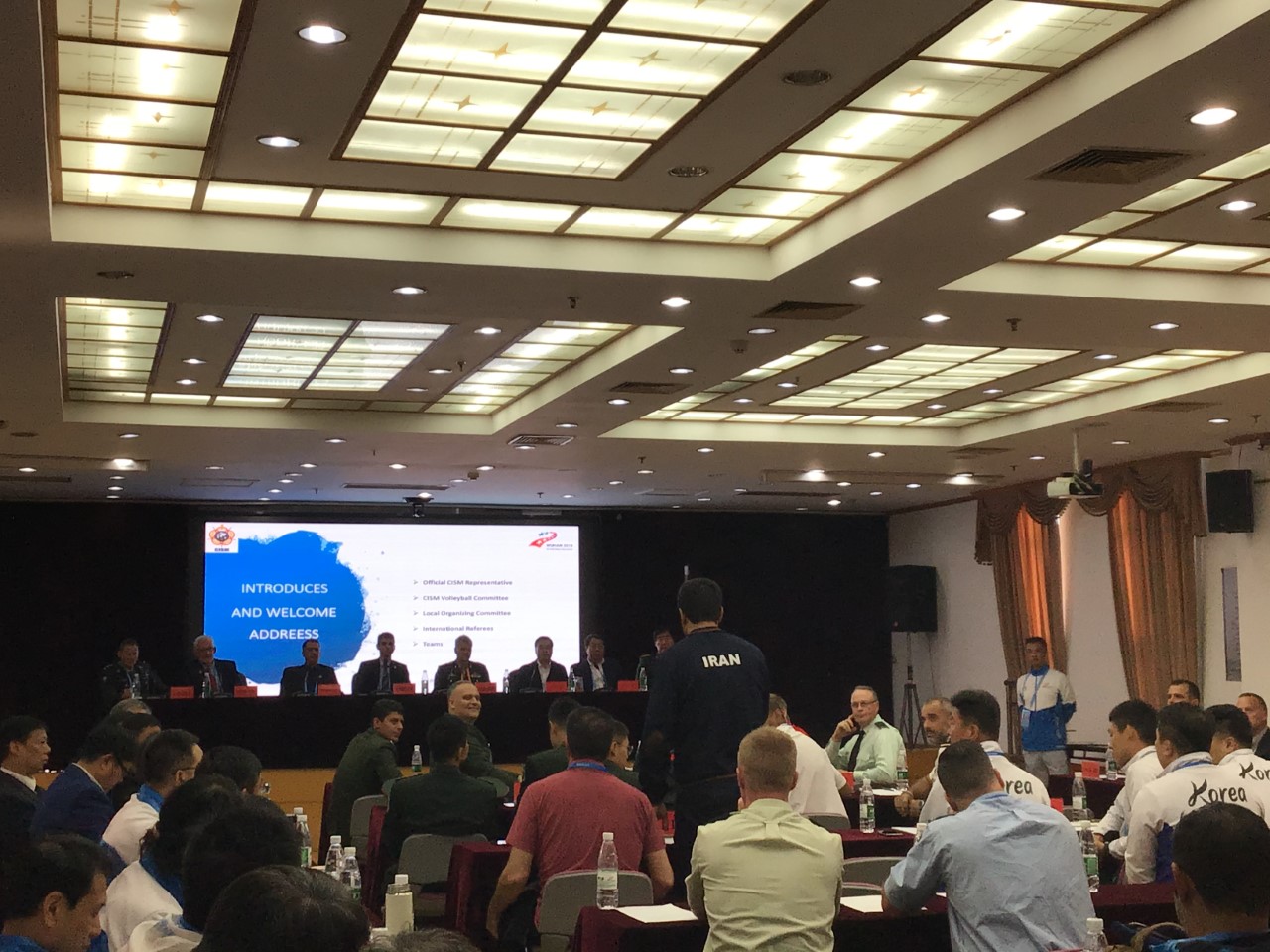 After the speeches, Mr. Pinheiro made a presentation on competition matters like competition regulations, format, schedule, dress code for officials on bench, Technical Jury duties and Jury of Appeal duties.
According to the competition format, 10 team are divided into two pools, with title holders Brazil, France, Venezuela, Qatar and hosts China in Pool A, and Pakistan, the Netherlands, Korea, Canada and Iran in Pool B. The round robin will be applied to the pool preliminaries to determine rankings in each pool. The first and second of each pool will play cross semi-finals, and the two winners will battle it out for championship and runners-up. The two losing teams in the semi-finals will compete in the third-place playoff. Teams finishing third and fourth of each pool will vie for 5th, 6th, 7th and 8th places, while two bottom teams of each pool will compete for the 9th and 10th places.
After that, Referee Delegate Mr Masoud Yazdanpanah from Iran explained about the issues of match protocol and challenge system, which is used for the first time in the CISM volleyball competition, while Leng Shijun, doping manager from China Anti-Doping Agency, briefed on the doping control matters.
As the meeting came to an end, Colonel José Carlos Pinheiro released an important announcement of his next potential candidate Zijlstra Robert as the new CISM Sport Committee-Volleyball & Beach Volleyball, which had received general consent during the Committee meeting 2 days ago. Mr. Pinheiro expected volleyball as a tie bonding friends and colleagues who devoted themselves in making better volleyball profession.
The Men's Volleyball Competition of the 7th CISM Military World Games 2019 will kick off at 10am local time on Sunday, October 20 at Jianghan University Gymnasium, featuring Qatar against Venezuela. The final showdown will be held on October 26 to decide the gold medal in the men's event. In the previous 6th CISM Military World Games 2015 in Korea, Brazil conquered Egypt 3-1 (25-22, 25-22, 22-25, 29-27) in the final to claim gold medal.
Wuhan, the capital of Hunan Province and the largest city of China central area, was granted the right in May 2015 to host the 7th CISM Military World Games 2019. This is for the first time that China hosted the CISM World Games. The Games were open on October 18 and will be closed on October 27.
MATCH SCHEDULE
SUNDAY, OCT 20 
10:00 QAT vs VEN
13:30 IRI vs KOR
15:30 PAK vs NED
19:30 CHN vs FRA
MONDAY, OCT 21 
10:00 BRA vs QAT
13:30 KOR vs PAK
15:30 CAN vs IRI
19:30 VEN vs CHN
TUESDAY, OCT 22 
10:00 PAK vs CAN
13:30 FRA vs VEN
15:30 NED vs KOR
19:30 CHN vs BRA
WEDNESDAY, OCT 23
10:00 NED vs IRI
13:30 VEN vs BRA
15:30 FRA vs QAT
19:30 KOR vs CAN
THURSDAY, OCT 24 
10:00 BRA vs FRA
13:30 CAN vs NED
15:30 IRI vs PAK
19:30 QAT vs CHN
FRIDAY, OCT 25 
10:00 5th PoolA vs 5th PoolB
12:00 3rd PoolA vs 4th PoolB
14:00 3rd PoolB vs 4th PoolA
16:00 1st PoolB vs 2nd PoolA
19:30 1st PoolA vs 2nd PoolB
SATURDAY, OCT 26 
10:00 7th/8th Final
13:30 5th/6th Final
15:30 3rd/4th Final
19:30 1st/2nd Final
Related links of AVC
AVC Website: click www.asianvolleyball.net
AVC Facebook: click www.Facebook.com/AsianVolleyballConfederation
AVC Twitter: click: https://twitter.com/avcvolley
AVC Instagram: click: https://www.instagram.com/avcvolley/?hl=en
AVC Youtube: click: Asian Volleyball Confederation
AVC WeChat: Asian Volleyball Confederation