Sermey, Kazakhstan, April 29, 2022 – Unbeaten Altay stormed past Diamond Food – Fine Chef Sport Club in pulsating straight sets on Friday to make a clean sweep of all five matches in the single round-robin preliminaries and set up title defence against Kuanysh in all-Kazakhs showdown of the 2022 Asian Women's Club Volleyball Championship.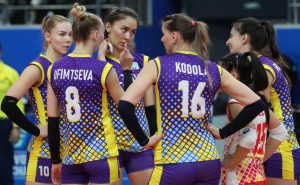 Altay VC
In their last preliminary matches on Friday, Altay VC and Kuanysh VC proved too strong for their rivals to respectively beat Diamond Food – Fine Chef Sport Club and Barij Essence with the similar margin 3-0, while Jizzakh State Pedagogical Institute pulled off a dramatic 3-1 win against Kyrgyzstan VC.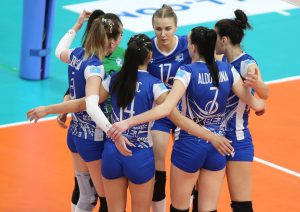 Kuanysh VC
After the completion of five matches in the preliminaries, Altay stayed atop the standing with 15 points from five straight wins, followed by Kuanysh with 12 points from 4 wins against one loss.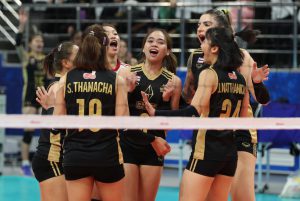 Diamond Food
Diamond Food came in third place with 9 points from 3 wins against 2 losses, with Barij Essence in fourth position after bagging 6 points from 2 wins against 3 losses. Jizzakh State were placed 5th overall with 3 points from one win against 4 losses and winless Kyrgyzstan VC were rooted to the bottom of the tournament to return with the 6th place.
On Saturday, the final day of the championship, Altay will renew rivalry with Kuanysh in the all-Kazakhs final, while Diamond Food take on Barij Essence in the third-place playoff match for bronze medal.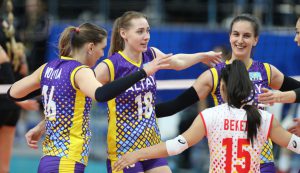 Altay VC beat Diamond Food – Fine Chef Sport Club 3-0 (25-12, 25-20, 26-24)
Altay VC of Kazakhstan entered the competition site at the Abay Arena Cultural and Sports Complex with their heads high in confidence following their four wins on the trot in the preliminaries, while Diamond Food badly needed a must-win match in this highly-anticipated encounter to enhance their chances of advancing to the Saturday's showdown. However, things turned sour for the consecutive two-time Thailand League winners.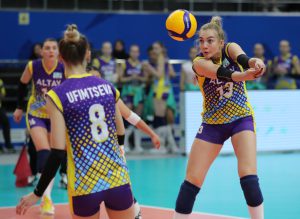 Altay fielded the similar formidable lineup which stunned Nakhon Ratchasima QminC VC of hosts Thailand 3-0 in the final clash to stamp their mark on the previous edition last year comprising instrumental captain Sana Anarkulova, who captured the MVP award, Ukrainian Nadiia Kodola, the Best Outside Spiker, highly-skilled setter Serbian Danica Radenkovic, powerful Kristina Anikonova and fast, energetic Madina Beket, the Best Libero in 2021.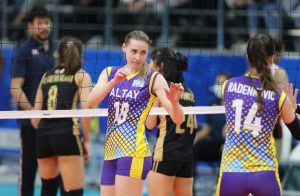 Diamond Food were offensively strong with the likes of hard-attacking Thanacha Sooksod and Brazilian Fernanda Tome, who stands 195cm tall.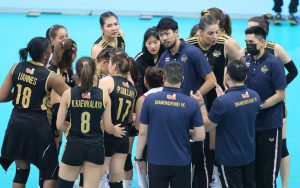 In front of their estimated 2,000 supporters at the venue, Altay started with aggression and excellent combinations to surge ahead Diamond Food 12-6 and put the Thai outfit under constant pressure from the front and back of the court with some spectacular attacks from Anarkulova and Kodala.
Diamond Food tried hard to catch up with Altay but struggled to get past the formidable rivals' solid block marshalled by Anikonova and Anarkulova. Taking a commanding lead with 13-point clear at 24-11, Altay allowed Diamond Food only one more point from a powerful attack from Tome to take the comfortable first set 25-12.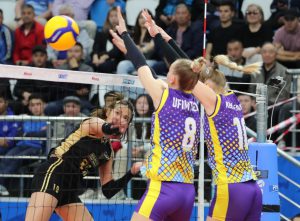 Going down one set, Diamond Food began to find some success early on in the second set to narrowly lead 14-13, thanks to Thanacha's thundering back-to-back spikes and Kaewkalaya Kamulthala's effective fast attacks.
However, Kodola and Anarkulova gave Altay a strong comeback as they combined well to methodically tear the Thai defence into shreds with their explosive attacks to level the score at 16-16 and from then started to take control of the on-going battle.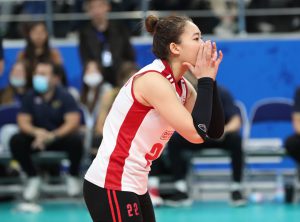 Altay notched one crucial point from Anikonova's well-placed serve to stretch the lead to 24-19, but the spirited Diamond Food fought back hard with an amazing never-say-die attitude and their determination paid off impressively when Thanacha overcame the taller blockers with an aggressive spike to save the day for Diamond Food. Unfortunately, the Thais' fightback was shortlived as a few seconds after that, a serve from Kanjana Kuthaisong went into the net. Altay clinched the hotly-contested set 25-20.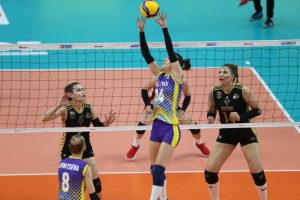 With their backs against the wall, Diamond Food upped their tempo in a much improved third set, aiming to make amends for the loss in the first two sets. Levelling 11-11, Altay found their groove and began to run away with it as they surged into a four-point advantage 20-16 and stretched it to 24-21, courtesy of their impenetrable defence and offensive combinations from Anarkulova and Kodola.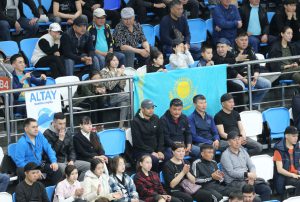 Diamond Food moved on with their confidence boosted, with Thanacha unleashing monstrous spikes to help the team mount an amazing comeback to hold the rivals to 24-24 tie. Despite battling hard in the closing stages, the Thai team failed to really get out of the second gear and Altay stormed on to win the remaining two points to wrap up the hard-fought set 26-24 and match.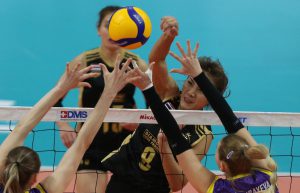 Nadiia Kodola topscored with 15 points including 14 attacks from 28 attempts, while Sana Anarkulova and Kristina Anikonova kept good company to add 14 and 12 points respectively. Thanacha Sooksod scored a match-high 16 points including 15 attacks on losing effort of Diamond Food.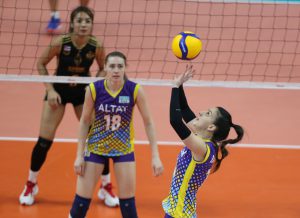 Following the 3-0 rout of Diamond Food in their last preliminary match, Altay made a clean sweep with five wins, losing only one set to Kuanysh VC throughout the single round-robin competition. As expected, the Kazakh side captured the top spot at the 6-team standing and secure their place in the Saturday's showdown, where they are set to defend their title against compatriots Kuanysh VC.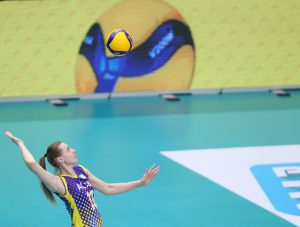 "We won this match agains the strong Thai team to advance to the tomorrow's final. After this, we will go back to the hotel to take some rest and have a meeting to prepare for the final, probably against Kuanysh VC, another strong team from Kazakhstan," Altay head coach Serbian Marko Grsic was quoted as saying during the press interview after the match against Diamond Food.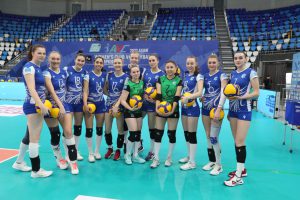 Kuanysh VC beat Barij Essence 3-0 (25-16, 25-16, 25-17)
Captain Tatyana Adoshina chipped in with 15 points to steer Kazakhstan's Kuanysh to a sensation straight-set win against Iran's Super League winners Barij Essence.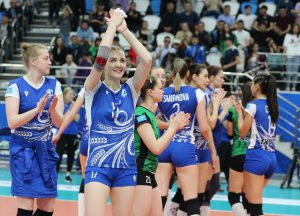 Kuanysh needed one crucial win in this match to brighten up their chances of booking a berth in the Saturday's showdown and with Thailand's Diamond Food succumbing to their 0-3 loss to Altay, Kuanysh looked set to emerge as the top two finishers at the completion of the single round-robin preliminaries on Friday.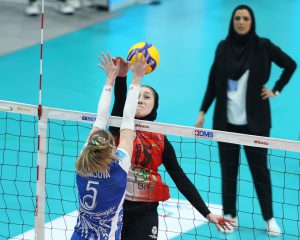 Kuanysh, losing only one match against reigning champions Altay, had too much power with Aldoshina a constant thorn in the Barij Essence's defence and she was aided by the likes of Ukrainian Karyna Denysova and Margarita Belchenko, while Natalya Smirnova marshalled her teammates defensively.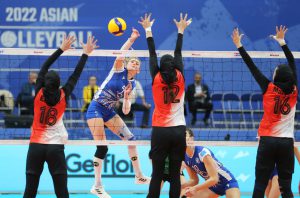 Kuanysh raced out to a 10-5 lead and sealed the opening set 25-16 after just 24 minutes, thanks to head coach Serbian Darko Dobreskov, who excellently mixed and matched his lineup.
Holding a 1-0 advantage, Kuanysh started the second set in brighter fashion, with Aldoshina and Denysova taking turns penetrating the Iranian defence with exceptional attacks to put their team ahead 19-11. Barij Essence responded well as Elaheh Poorsaleh Shahdehsari was on fire to notch some blistering spikes, but the Iranians' all-out efforts were in vain as the irresistible host team went on their superb form to wrap up the set with the similar margin 25-16.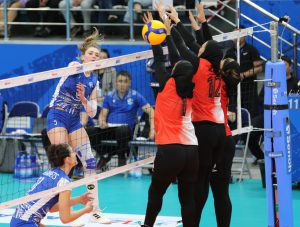 Kuanysh gained the upper hand in the third set to lead by wide margin of 22-11, while the Iranians put their acts together, hoping to get their push back on track. With the winds in their sails, Kuanysh were unstoppable as Aldoshina and Denysova split the rivals' blocks with their powerful cross-court spikes to help the Kazakh side capture the set 25-17.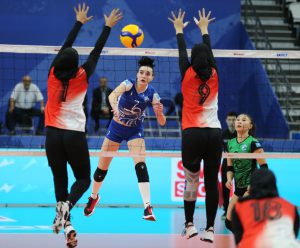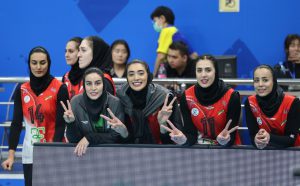 Tatyana Aldoshina yielded 15 points including 13 attacks from 31 attempts for Kuanysh, while Karyna Denysova assisted with 12 points including 10 attacks. Elaheh Poorsaleh was the lone Iranian player who scored double digits in this match, bagging 12 points for Barij Essence.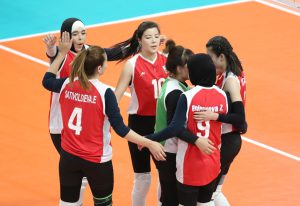 Jizzakh State Pedagogical Institute beat Kyrgyzstan VC 3-1 (25-16, 25-20, 12-25, 25-19)
Both Jizzakh State and Kyrgyzstan VC have yet won a single set from their respective rivals and have already crashed out of the one-week competition following their similar records of four consecutive losses in the single round-robin preliminaries.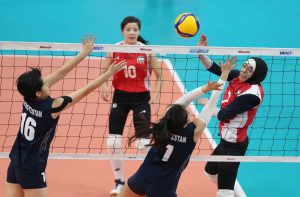 The Friday's match between the two teams decided not only the first and last victory but also the tournament's fifth place of the winning team, while the losers will take home the bottom sixth position.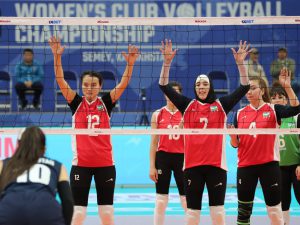 Gifted Ezozakhon Sativoldieva and Zarnigora Askarova combined well in uncorking a barrage of impressive attacks to help Jizzakh State take the easy first set 25-16.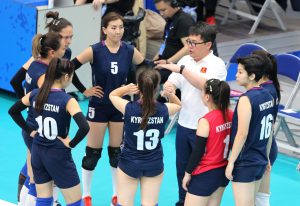 Conceding one set, Kyrgyzstan VC, led by Nurselia Chorobaeva, forced the rivals to work harder in the second set. However, things looked to be following form after the first set when the Kyrgyz side never looked comfortable and Jizzakh State continued their good show to stretch it 2-0 with the well-fought 25-20 win in the second set.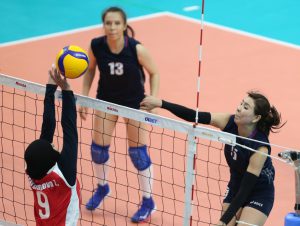 In the third set, Kyrgyzstan VC clawed their way back into game as Chorobaeva and Ogulai Kudaikolova troubled the rivals with their good attacks and Aldai Kadyrova and Kamila Kumarbekova produced stuff blocks. The determined Kyrgyz team sealed the set win 25-12.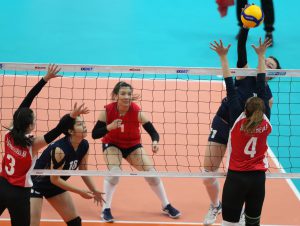 The fourth set became more thrilling as both teams poured everything to win the set, but Jizzakh State picked things up and played more confidently to capture the tight set 25-19 and match.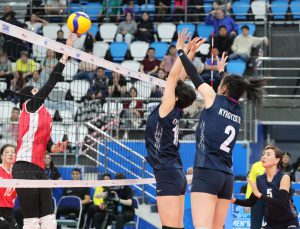 Ezozakhon Sativoldieva scored a match-high 21 points including 19 attacks from 46 attempts for Jizzakh State Pedagogical Institute, while Nurselia Chorobaeva led Kyrgyzstan VC with 15 points.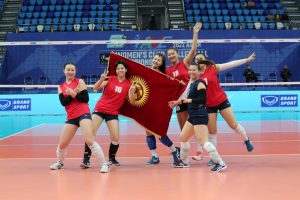 With only the showdown and third-place playoff match taking place on the final day on Saturday, Jizzakh State and Kyrgyzstan VC returned home with the respective 5th and 6th places.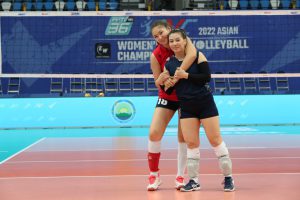 MATCH SCHEDULE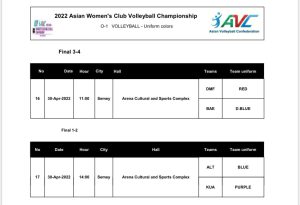 Related links of AVC
AVC Website: click www.asianvolleyball.net
AVC Facebook: click www.Facebook.com/AsianVolleyballConfederation
AVC Twitter: click: www.twitter.com/AsianVolleyball
AVC Instagram: click: https://www.instagram.com/avcvolley/?hl=en
AVC Youtube: click: Asian Volleyball Confederation
AVC WeChat: Asian Volleyball Confederation