Semey, Kazakhstan, April 26, 2022 – Title-holders Altay VC became the only unbeaten team in the 2022 Asian Women's Club Volleyball Championship at Abay Arena and Cultural Sports Complex following their 3-0 demolition of Kyrgyzstan VC on Tuesday, as in-form Diamond Food – Fine Chef Sport Club powered past formidable Barij Essence in hard-fought three-set thriller.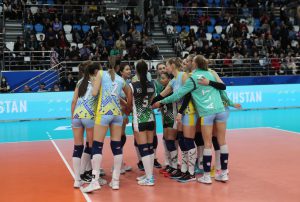 Altay VC
Diamond Food – Fine Chef Sport Club beat Barij Essence 3-0
The day's first match between the consecutive two-time Thailand League champions Diamond Food and Iran's Super League winners Barij Essence turned out to be thrilling than anticipated.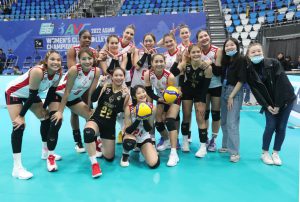 Diamond Food
Diamond Food, which suffered their first loss in the one-week tournament at the hands of Kazakh outfit Kuanysh VC on Monday, fielded an all-Thais lineup led by gifted Thanacha Sooksod, who scored a match-high 25 points the previous day, hard-attacking Kanjana Kuthaisong and powerful Sasipaporn Janthawisut.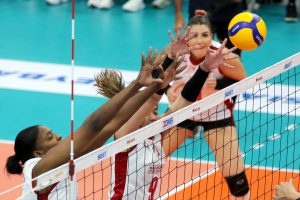 Barij Essence, the only team which had yet lost a set to their respective rivals while going up against the Thai team on Tuesday, were also strong with the likes of Aytak Salamatgharamaleki, who bagged 19 points to emerge as the top scorer in the match against Jizzakh State Pedagogical Institute the previous day, and inspirational captain Mahsa Kadkhoda.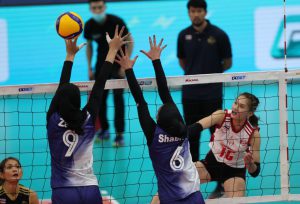 Barij Essence got off to a flying start to race to an initial 16-13 lead in the first set, thanks to their impeccable defence and excellent teamwork. Kanjana gave Diamond a comeback as she chipped in a huge attacks to help her team level 18-18 before the Thai side clawed their way back to advance to 22-19. After that, Diamond Food mixed the offensive combinations of Cuban Liannes Castaneda Simon's sharp spikes and Brazilian Fernanda Tome's powerful attacks to widen the gap to 24-22.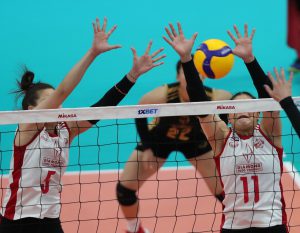 A few minutes later, another Tome's spike went wide, but Diamond Food's head coach Kittikun Sri-Utthawong challenged the referees calls. His decision was fruitful as the hit ball was in and the Thai team finally took the hotly-contested set 25-22.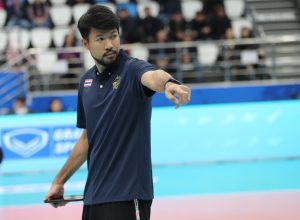 The second set was tight as both sides traded aggressive attacks from the very beginning, but Diamond Food played confidently, with Thanacha and Kanjana influential to penetrate the Iranian defence with their exceptional attacks for the team's initial 12-8 lead. With the 196cm-tall Tome using her height advantage to attack effectively at the net, Liannes unleashed on several powerful blows to stretch the margin to 22-16.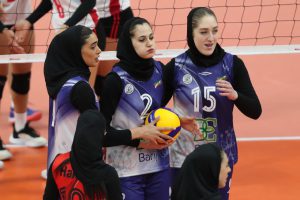 However, Barij Essence regrouped and bounced back in style with their superb form to score three points on the trot to narrow the margin 19-22. Still, Kanjana and Tome saved the day for Diamond Food as the superb duo were on fire, spiking from all corners to erase the Iranian hopes for a determined comeback in the set. The Thai team clinched the second set 25-20.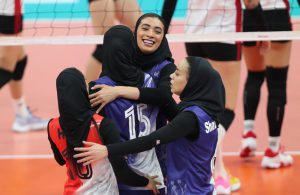 With Kanjana in particular on good form, Diamond Food gained the upper hand early in the third set to lead 12-8 and widened it to 19-15. At this crucial moment, the Thai team surged into a 3-point advantage to lead 23-20, allowing Barij Essence only one more point from a fierce attack from Zahra Karimi before Kanjana scored two points in a row to help Diamond Food capture the set 25-21 and match.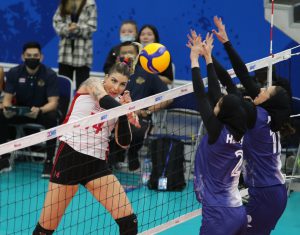 Kanjana Kuthaisong scored a team-high 18 points including 17 attacks for Diamond Food, while Fernanda Tome and Liannes Castaneda Simon assisted with 11 and 9 points respectively. Mahsa Kadkhoda led Barij Essence with 13 points including 10 attacks from 33 attempts and 2 aces.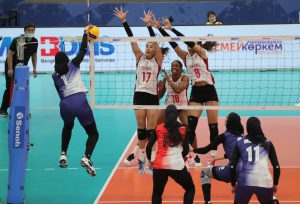 "We have come closer to another step of success. We corrected the mistakes we made the previous day and came out with improved form in this match, attempting to reduce the unforced errors as many as possible. I would like our fans to continue morale-boosting our team Diamond Food," Kanjana Kuthaisong was quoted as saying after the match.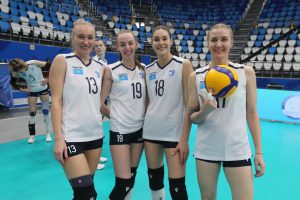 Kuanysh VC
Kuanysh VC beat Kyrgyzstan VC 3-0
Kuanysh VC from Kazakhstan were sure of victory against winless Kyrgyzstan VC and thus, rested two key players, Ukrainian Karyna Denysova and Anastassiya Kolomoyets for the whole match.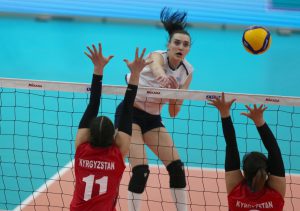 As expected, the match was one-way traffic with Kyrgyzstan VC simply blown away by an aggressive Kuanysh's barrage with Margarita Belchenko and Ekaterina Mikhailova too powerful from spike range. Leading by a wide margin 24-11, Kuanysh made short work of the rivals to take the lop-sided first set 25-12, with Tatyana Aldoshina nailing a crucial spike to hand the Kazakh side the last point.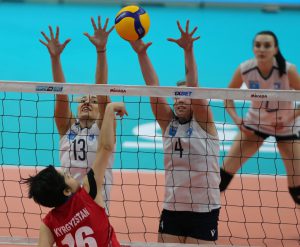 Kuanysh' brilliant form proved too much for Kyrgyzstan VC in the second set which saw the Kazakhs take turns puncturing the rivals' defence apart with aggressive attacks to win the comfortable set 25-8.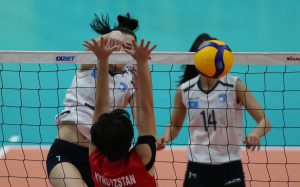 Going down two straight sets, Kyrgyzstan VC suffered on poor reception and erratic attacks, while Kuanysh shuffled their lineup, but still lived up to their billing. The Kazakh outfit cruised to 25-12 victory in the third set for the scintillating 3-0 win against Kyrgyzstan VC.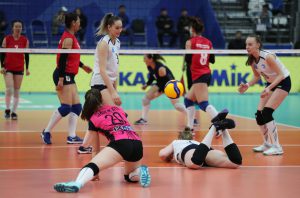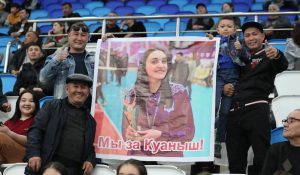 Margarita Belchenko chipped in with 14 points including 12 attacks from 22 attempts for Kuanysh VC, while Ekaterina Mikhailova and Yana Petrenko kept good company to assist with 13 and 10 points respectively. Madina Mirlan Kyzy and Kamila Kumarbekova handed Kyrgyzstan VC 4 points apiece.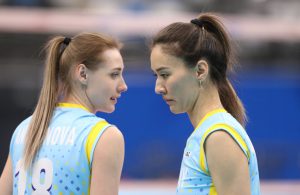 Altay VC
Altay VC beat Jizzakh State Pedagogical Institute 3-0
Defending champions Altay VC, undefeated after two matches in the single round-robin preliminaries, faced no issues in shutting out Jizzakh State Pedagogical Institute in a completely one-sided battle.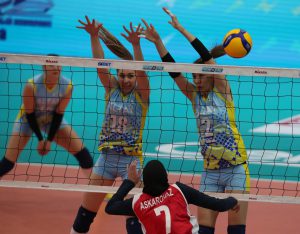 Jizzakh State were utterly outclassed and lost the easy first set 4-25, but came up with a brave fightback early in the second set, which they managed to level the score at 5-5. After that, Altay took total control to wrap up the comfortable set 25-11.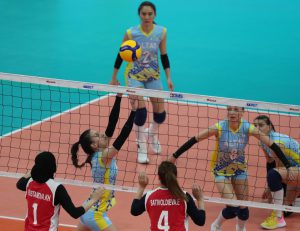 The third set was still dominated by Altay to take a commanding 17-7 lead and never looked back after that to win the set 25-11, again with ease.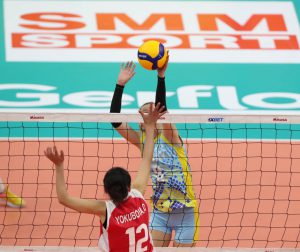 Kristina Belova topscored with 16 points including 13 attacks from 18 attempts and 3 ace serves for Altay VC, while Ezozakhon Sativoldieva led Jizzakh State Pedagogical Institute with 7 points from her effective attacks.
After the first three days of the single round-robin preliminaries, Altay VC moved atop the 6-team standing with 9 points from three straight wins, while Diamond Food – Fine Chef Sport Club surged ahead the overnight leaders Barij Essence to the second spot. The Iranian side and Kuanysh VC are trailing in third and fourth places.
Similarly, Diamond Food, Barij Essence and Kuanysh VC had 6 points apiece from two wins against one loss, but the set win/loss ratio made a difference among the three teams. Jizzakh State Pedagogical Institute and Kyrgyzstan VC have yet won a single set in the championship to trail in 5th and 6th places respectively.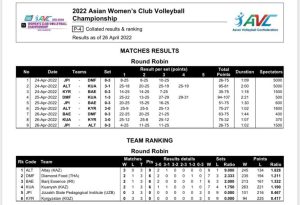 Wednesday, April 27 will be the rest day and the single round-robin preliminaries will resume the following day, with Diamond Food taking on Kyrgyzstan VC, Barij Essence going up against Altay VC and Kuanysh VC pitted against Jizzakh State Pedagogical Institute.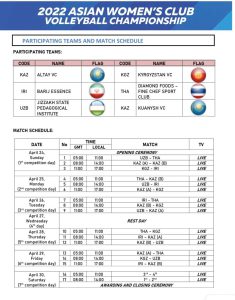 Related links of AVC
AVC Website: click www.asianvolleyball.net
AVC Facebook: click www.Facebook.com/AsianVolleyballConfederation
AVC Twitter: click: www.twitter.com/AsianVolleyball
AVC Instagram: click: https://www.instagram.com/avcvolley/?hl=en
AVC Youtube: click: Asian Volleyball Confederation
AVC WeChat: Asian Volleyball Confederation