Semey, Kazakhstan, April 25, 2022 – Diamond Food – Fine Chef Sport Club from Thailand suffered their first loss in the 2022 Asian Women's Club Volleyball Championship after going down in dramatic four-setter to formidable Kuanysh VC, as Barij Essence and title-holders Altay VC continued their unbeaten streak.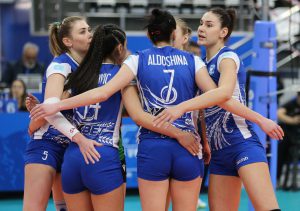 Kuanysh VC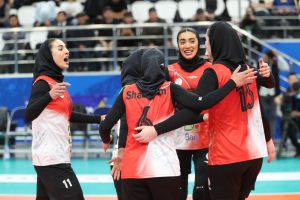 Barij Essence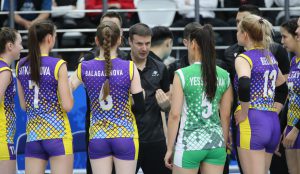 Altay VC
Diamond Food, fresh from brushing off Jizzakh State Pedagogical Institute in a totally one-sided battle the previous day, succumbed to their defeat in the continent's top-flight women's club tournament on Monday when Kazakhstan's Kuanysh produced a fantastic comeback 3-1 (22-25, 25-13, 29-27, 31-29) win against the Thai outfit.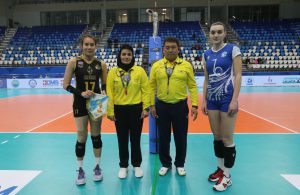 Diamond Food, defending and successive two-time Thailand League champions, fielded a strong all-Thais lineup, led by ace spiker Thanacha Sooksod and powerful Sasipaporn Janthawisut, in their tough match against Kuanysh, third place at the last year's Kazakhstan Women's Cup and the Kazakhstan National League Masters.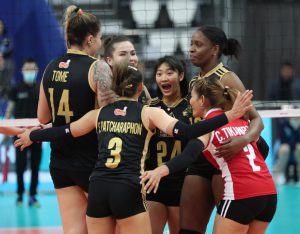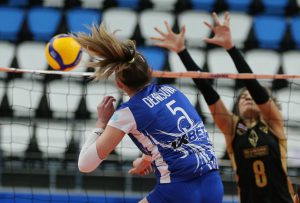 Thanacha's heroic efforts and solid blocks from Sasipaporn and Kaewkalaya Kamulthala paid off impressively in the first set as Diamond Food clawed their way back into game to take the hard-fought set 25-22, with Kuanysh losing the last two points on their erratic play.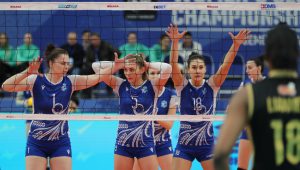 Going down one set, Kuanysh engineered a gallant fightback in the second set. After levelling 7-7, the Kazakh side took 4-point clear to surge ahead Diamond Food 11-7 and stormed on with their great form to win the comfortable set 25-13.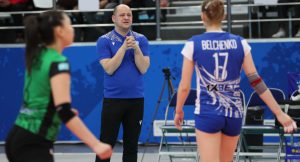 Both sides started the third set in a similar fashion. Levelling 10-10 and 13-all, Kuanysh came roaring back through the sensational blocking of Tatyana Aldoshina and Yana Petrenko and thundering attacks from Ukrainian Karyna Denysova to take a commanding 23-19 lead.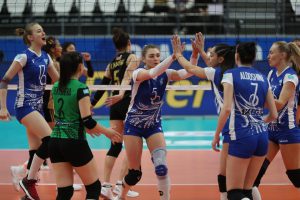 However, Diamond Food were playing smart and positioning themselves well for the counterattacks as the team narrowed the margin to 22-23 and caught up with the rivals at 24-all. After that, both sides battled hard to exchange the leads, but Kuanysh fared better at home stretch to capture the closely-contested set 29-27.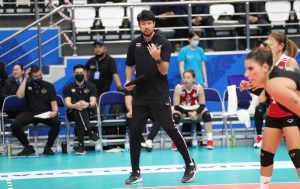 With their backs against the wall, Diamond Food played all-out in the crucial fourth set to initially lead 4-1, but Kuanysh gradually pulled their game together to close the margin at 10-all. The on-going battle was tight as both teams continued their aggressive combination attacks, but the Kazakh side were soon back in control to lead 24-23, needing only one more point to wrap up the set and match.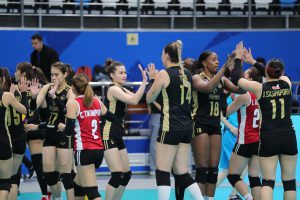 Still, Diamond Food taught the rivals victory never comes easily. Scintillating blocks from Sasiwimol Sangpan and Gullapa Piampongsan and effective spikes from Thanacha and Sasipaporn helped the Thai team level the scores for several times until 29-29. However, Kuanysh impressively resisted the rivals' best efforts of a comeback, winning the remaining two points to end the Thais' sturdy challenge 31-29 for the hard-fought 3-1 match.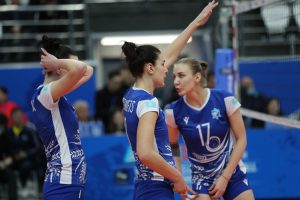 Karyna Denysova scored a match-high 30 points including 25 attacks and team-leading 3 aces for Kuanysh VC, assisted by Tatyana Aldoshina with 21 points including 19 kills. Thanacha Sooksod weighed in with a huge 25 points on losing effort of Diamond Food.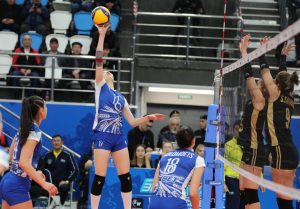 Diamond Food will next take on Iran's Barij Essence on Tuesday, while Kuanysh VC will play Kyrgyzstan VC.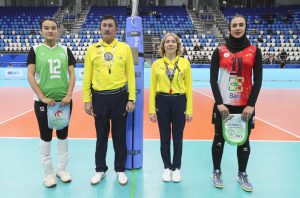 The Iranian team on Monday demolished Jizzakh State Pedagogical Institute of Uzbekistan in comfortable straight sets 25-20, 25-15, 25-16 to make it two on the trot in the one-week tournament.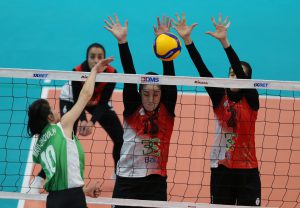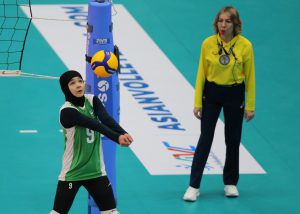 Barij Essence, fresh from 3-0 rout of Kyrgyzstan VC the previous day, fielded the similar lineup including Mahsa Kadkhoda, Aytak Salamatgharamaleki and Haniyeh Mohtasham Pour, while Jizzakh State Pedagogical Institute were spearheaded by Ezozakhon Sativoldieva, Khodisakhon Toshkenboeva and Oyatkhon Yokubova.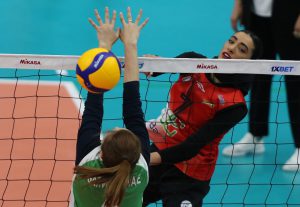 The Iranian outfit waltzed into 22-17 lead in the opening set, but their concentration dropped to allow the rivals back into it. Jizzakh State chipped in a huge attacks to notch some crucial points and reduce the gap at 20-24, but a few minutes later, Barij Essence were jubilant when they saw a spike from the Uzbek team went wide.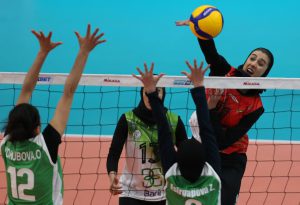 The second and third sets were completely dominated by the Iranian side. With Mahsa's accurate serving causing the rivals' problem, Barij Essence turned the heat on the rivals, attacking spectacularly and blocking everything at the net to take the second set 25-15.
The third set was a procession towards victory as the Iranians remained superior in every department against the rivals to seal the deal rapidly 25-16 in the third set.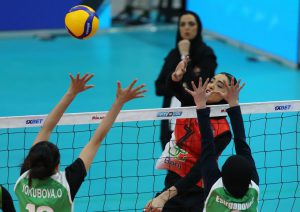 Artak Salamatgharamaleki chipped in with 19 points including 18 attacks for Barij Essence, while Ezozakhon Sativoldieva led Jizzakh State Pedagogical Institute with 10 points from all her attacks.
"I'm very happy that my team won this match against Jizzakh State. Actually, it turned out to be a bit difficult in the beginning of the match, but my team worked pretty well to gain control after that. We are here to get good results from each match and hope we can do our best in our next match against Diamond Food," Artak Salamatgharamaleki was quoted as saying during the press interview.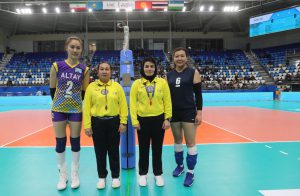 The third match of the day between Altay VC from Kazakhstan, defending champions and sixth place at the last year's FIVB Volleyball Women's Club World Championship, and Kyrgyzstan VC saw the former, despite playing without captain Sana Anarkulova, puncture the latter's defence into shreds with their spectacular attacks, solid blocks and impressive combinations.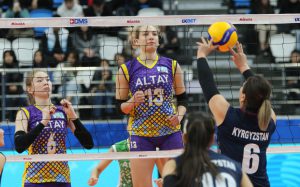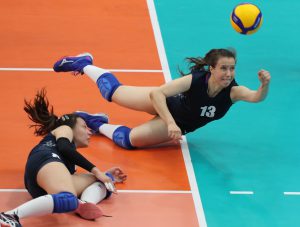 After effortlessly taking the first two sets 25-9, 25-5, Altay nailed crucial spikes to fashion an 11-4 lead and widened it to 20-7 before the young opponents put their acts together to narrow the gap 12-24. Altay allowed the spirited rivals one more point to wrap up the set 25-13 and match.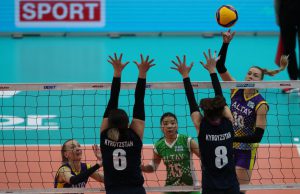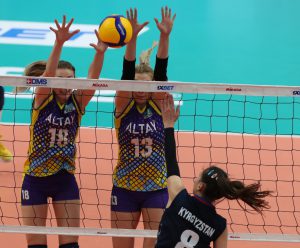 Kristina Belova topscored with 11 points for Altay, while Zarina Sitkazinova and Lyudmila Issayeva added with 8 points apiece. No one scored double digits for Kyrgyzstan VC, with Aidai Kadyrova bagging 4 points for the team.
Altay VC will meet Jizzakh State Pedagogical Institute on Tuesday, with Kyrgyzstan VC going up against another Kazakhstan outfit, Kuanysh VC.
After two days in the single round-robin preliminaries, Barij Essence became the only team which have yet lost a set to their rivals to go atop the standing with 6 points from two wins in a row. Altay VC also remained undefeated to come in second place with similar 6 points.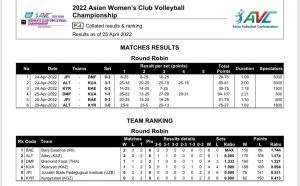 Diamond Food – Fine Chef Sport Club dropped to the third place with 3 points from one win against one loss, followed by Kuanysh VC with similar 3 points. Two winless teams, Jizzakh State Pedagogical Institute and Kyrgyzstan VC, have yet won a set to trail in 5th and 6th places respectively.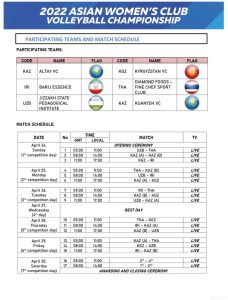 Related links of AVC
AVC Website: click www.asianvolleyball.net
AVC Facebook: click www.Facebook.com/AsianVolleyballConfederation
AVC Twitter: click: www.twitter.com/AsianVolleyball
AVC Instagram: click: https://www.instagram.com/avcvolley/?hl=en
AVC Youtube: click: Asian Volleyball Confederation
AVC WeChat: Asian Volleyball Confederation