Anders Mol and Christian Sorum are the clear-cut world No. 1, but Qatar's Ahmed Tijan and Cherif Samba are not far behind
In many respects, what we have been witnessing in Cancun these past three weeks, with one more up ahead, is a display of What You Were Doing During COVID. What skills did you hone? What wrinkles did you add? Where did you improve or regress?
Down 15-16 in the first set to Qataris Ahmed Tijan and Cherif Samba, Anders Mol and Christian Sorum provided another glimpse at yet another layer they've added to this team. It's not often we see the Norwegians in a rut. Prior to the second Cancun event, they had won seven of their previous 10 events and medaled in all 10. Rare was the occasion in which they really needed to add anything at all.
And yet, they were down. An early 7-4 lead had wilted then flipped into a deficit. And here we saw something that virtually every other team in the world does on a fairly regular basis, but something we have maybe never seen the Vikings do, perhaps because there had never been any need: they switched sides.
Sorum, typically a left sider who receives upwards of 90 percent of the serves, had struggled siding out. So he moved over to the right, putting Mol on the left. He passed the next ball and Mol, now with his enormous right arm on the inside, providing the availability of an option attack with far more ease, pounded one down the line.
In a blink, the rut was over, paving the way for the ensuing run, architected by the newest addition we've seen the Norwegians add: Mol's jump serve. His option led to an ace down Ahmed's line, then another down Cherif's line.
In a matter of four contacts on the ball – one pass, one swing, two serves – a one-point deficit had become a two-point lead late in a set.
Noway doesn't give away two-point leads late in sets.
They won that first, 21-18, and then the second, 21-18, putting together another massive run in the second half of the set to do so. A 12-9 lead at the technical timeout was not nearly enough cushion for the Qataris. A sideout and back-to-back blocks from Mol tied it, and it was all Norway from there, who have now won eight of their previous 11 tournaments.
"It's amazing to win again. Anders played some really good volleyball. I was so tired and he played against the players from Qatar, me, and the heat, so he played against four players," Sorum said, laughing. "I'm really happy that I have Anders by my side."
"That is crazy," Mol said, shaking his head. "It's been a perfect two weeks here. We're super tired here after twelve games and I can't believe we're standing here with two gold medals after playing all these great teams."
But for week three, someone else will finally have a shot to win gold.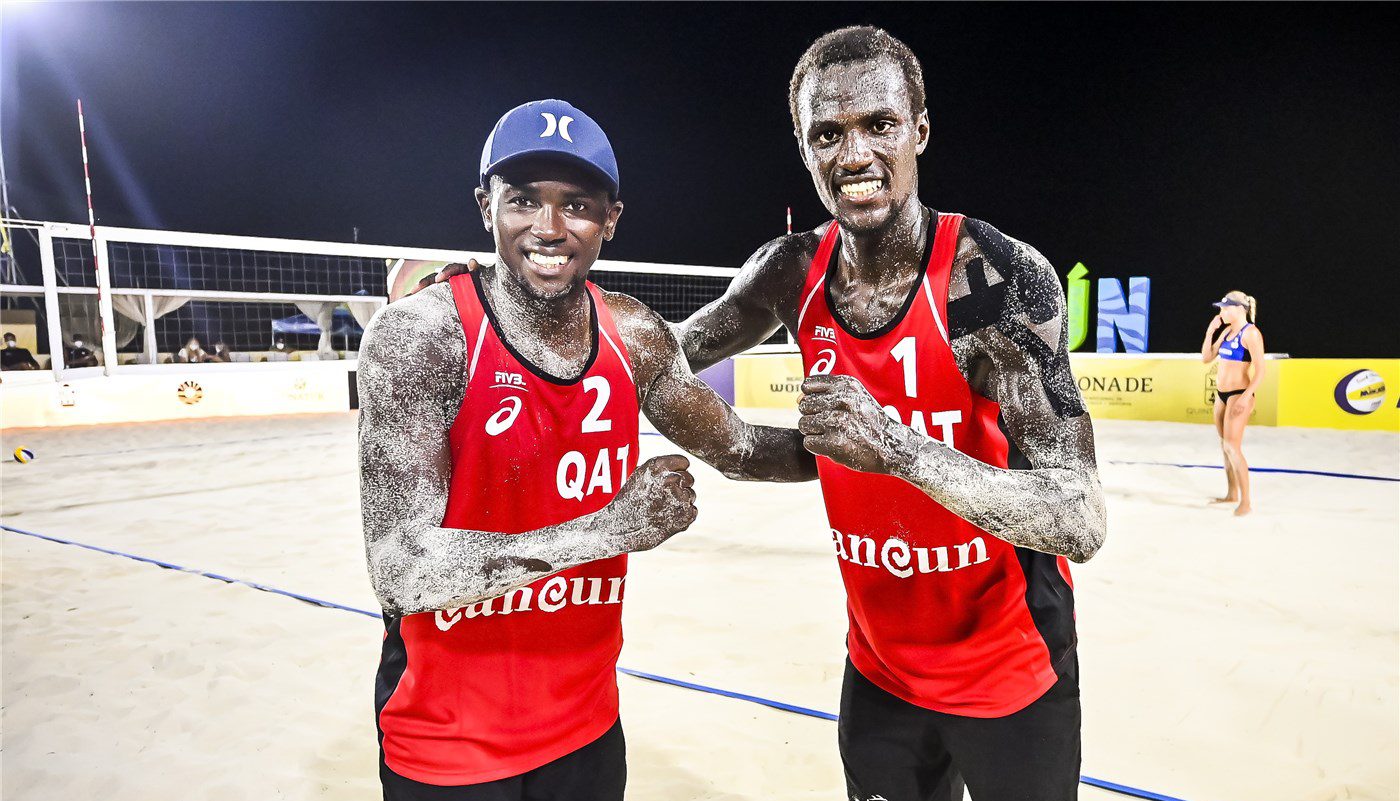 Cherif/Ahmed
Is Qatar the new favourite to win gold in the third event?
Four events have Cherif and Ahmed played this season; three of them have resulted in finals. They won their first gold medal as a team in February, at the Doha one-star. In Cancun, for the first time in their federation's history, they have made back-to-back finals, losing both to Mol and Sorum.
Now Norway is out of the way in this third event. Mol and Sorum, who appeared as if they might need to be dragged off the sand in Cancun, are not competing in the third Bubble tournament. After two gold medals, they've earned their rest.
It begs the question: who is the favourite after Norway?
Throughout 2019, that would have seemed an easy question. Russians Viacheslav Krasilnikov and Oleg Stoyanovskiy won both the World Championships and World Tour Finals. They were the No. 2 ranked team in the world and No. 2 in the Olympic Provisional Rankings. It was, the thinking went, Norway, Russia, then everyone else. But Russia is uncharacteristically struggling, and are also sitting out.
Germany's Julius Thole and Clemens Wickler were a close third, having made the finals in both World Championships and World Tour Finals, but Wickler isn't competing in the Bubble.
Who, then, is the favourite?
The obvious answer must be Qatar. They have made three finals in four events in 2021. The only tournament in which they did not make a final was a fifth at the Doha four-star, where eventual gold medalists David Schweiner and Ondrej Perusic squeaked by, 17-15, in the third set.
It is quite the jump for these Qataris. In their first 28 events, they didn't make a single final.
In the past four, they've made three.
And they're the new favourites to win the next.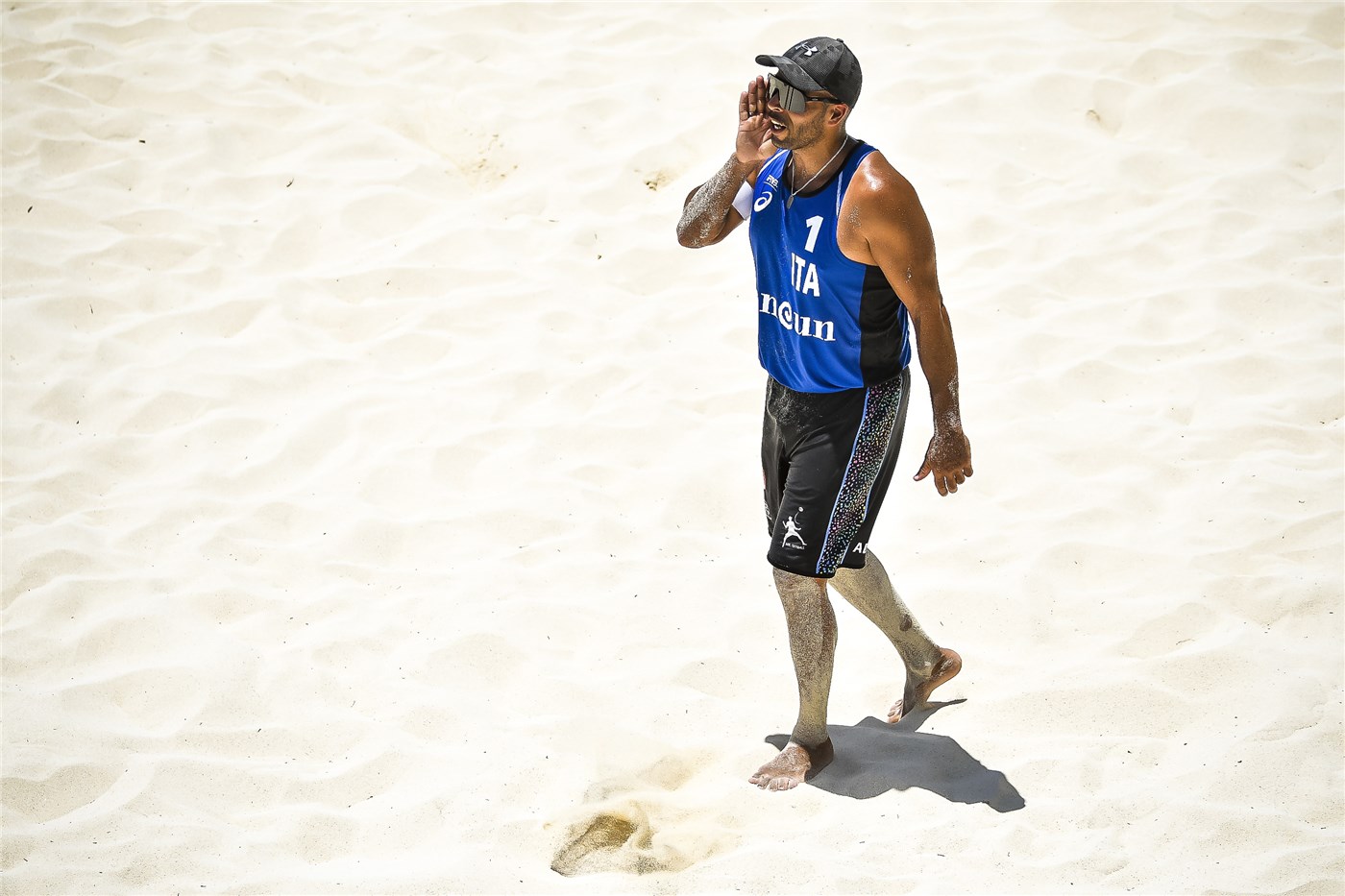 Adrian Carambula (Italy)
All eyes on Italy, Poland, Switzerland, Canada for final Olympic berth
Yes, it has been quite fun to watch Norway, and Qatar, go head-to-head in the previous two finals. But equally as interesting, to anybody who has been keeping up with the Olympic race, has been the competition in the quarterfinals and below.
The competition for the final few Tokyo berths via the Olympic Rankings.
Prior to Cancun, the final spot was occupied by Swiss Mirco Gerson and Adrian Heidrich, who surpassed Canadians Sam Schachter and Sam Pedlow in Doha.
In two events in Cancun, that final spot – and the two above it – has become quite a mess. Jumping into the last Olympic spot, after a fifth and a fourth in Cancun, are Italians Enrico Rossi and Adrian Carambula, whose signature skyball serve has been particularly devastating in the swirling and gusting Cancun winds. They jumped to 5,860 points, enough for the final spot and only 180 behind Latvians Aleksandrs Samoilovs and Janis Smedins at No. 16.
Directly behind the Italians is Poland's Piotr Kantor and Bartosz Losiak, who made a sizeable jump with a fifth-place finish in the second event. It could have been a bigger jump, too. Poland played Mol and Sorum as well as anybody has in this Bubble, losing 24-22, 14-21, 13-15 in the quarterfinals. While they didn't move into an Olympic spot, they did jump Schachter and Pedlow (5,700 points), as well as Gerson and Heidrich (5,800 points), and are just 40 points below Carambula and Rossi (5,860 points).
While the world's eyes are focused there, American fans are all dialled into two teams in particular.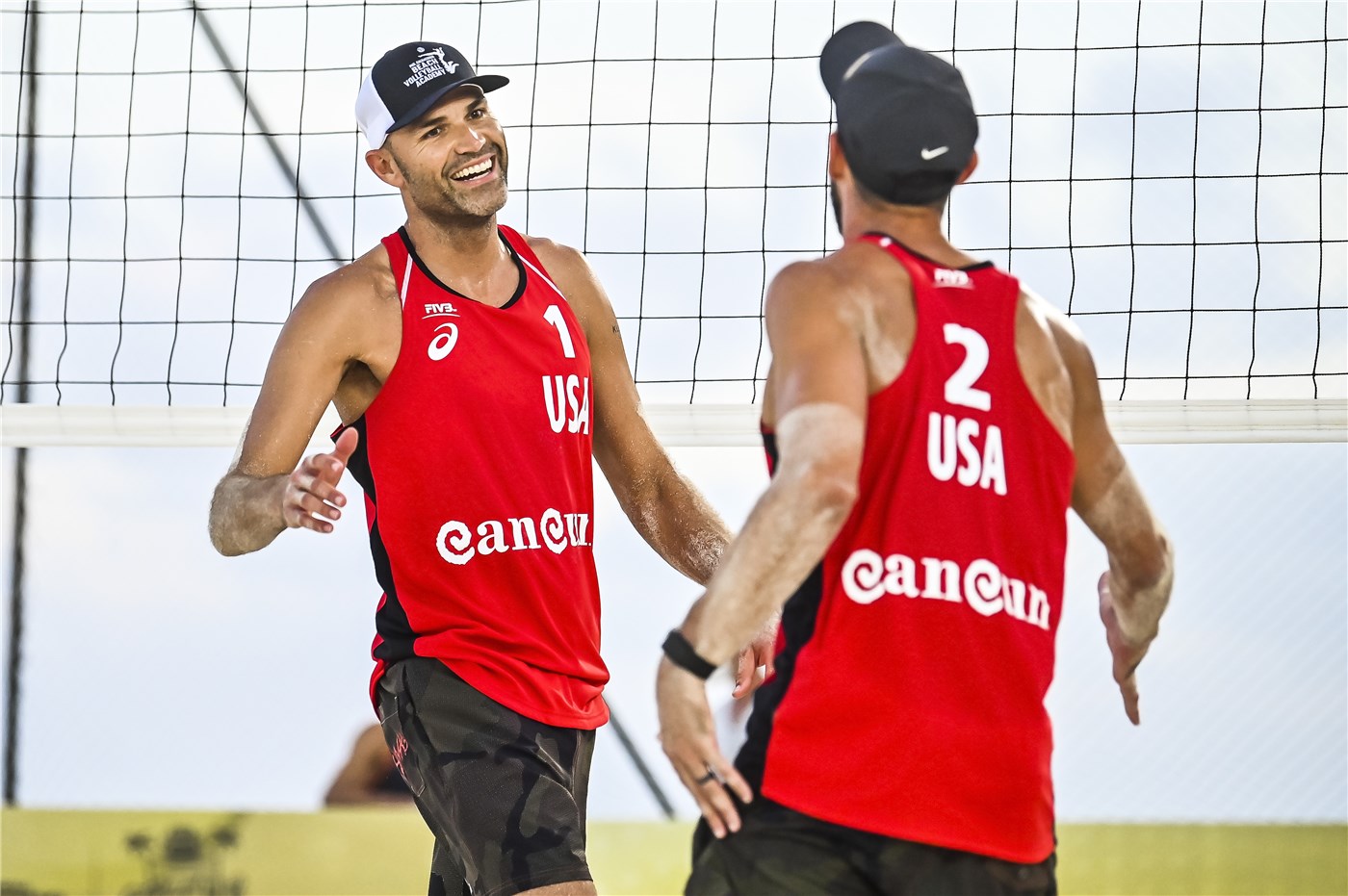 Phil Dalhausser-Nick Lucena add to lead over Tri Bourne-Trevor Crabb
The Doha four-star wasn't only big for Gerson and Heidrich, who passed Schachter and Pedlow in the Olympic race; it was momentous for Phil Dalhausser and Nick Lucena as well. Throughout the entire Olympic quad, Dalhausser and Lucena had trailed Jake Gibb and Taylor Crabb, and Tri Bourne and Trevor Crabb. That changed in Doha, where the veterans took fourth, enough to leap Bourne and Crabb and into the second American qualifying position for Tokyo.
In Cancun, they've continued adding to that lead. Back-to-back ninths by Dalhausser and Lucena have increased their lead from 40 points to 160 over Bourne and Crabb. It's far from a comfortable lead, but it is a lead nonetheless.
Readers and viewers may note, however, that Bourne and Crabb have also taken back-to-back ninths, so how could this be?
Dalhausser and Lucena had worse finishes to drop — you take only your 12 best finishes in the Olympic qualifying period — making their ninths a more significant addition than Bourne and Crabb, who were dropping 17th-place finishes rather than 25th. While Gibb and Taylor Crabb have not performed as well in Cancun – they have finished ninth and 25th – their lead coming in was much bigger, and are unlikely to be passed in the final three events remaining in the qualification period.
For the third event, Bourne and Crabb do not have to navigate the country quota or qualifier. They are directly into the main draw, in what can be boiled down to as a head-to-head race with Dalhausser and Lucena.
Related links of AVC
AVC Website: click www.asianvolleyball.net
AVC Facebook: click www.Facebook.com/AsianVolleyballConfederation
AVC Twitter: click: https://twitter.com/avcvolley
AVC Instagram: click: https://www.instagram.com/avcvolley/?hl=en
AVC Youtube: click: Asian Volleyball Confederation
AVC WeChat: Asian Volleyball Confederation