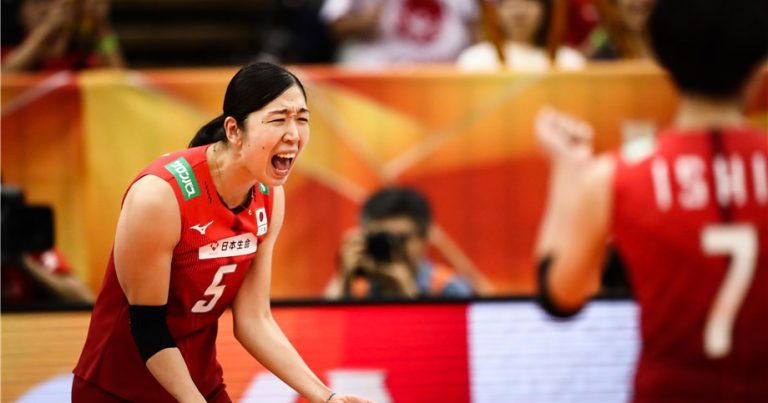 Experienced middle blocker Erika Araki will show the way for Japan in 2020
Tokyo, Japan, February 25, 2020 – Celebrating 150 days to go in the countdown to the Olympic Games Tokyo 2020, we take a look at the players who have been called up to feature in hosts Japan's women's volleyball team this year. Our dedicated website has all latest news about the Tokyo 2020 volleyball tournament.
The Japanese Volleyball Association released their 2020 women's national team roster on January 27. The women's national team are nicknamed "Hinotori Nippon" or Phoenix Japan. In this Tokyo Olympic year, many players were wanting to play in front of their home nation during the Olympic Games. Head Coach Kumi Nakata named a 29-player roster that is very veteran driven. Five players on the roster played in the 2016 Rio Olympic Games and 10 players on the roster played at the 2018 FIVB Volleyball Women's World Championship. Seven rookies have also been included.
The Japanese V.LEAGUE women's league season has already been completed and the Japanese women's national team started their training for the upcoming FIVB Volleyball Nations League and Tokyo Olympics on February 4.
Japan will be captained by middle blocker Erika Araki. Araki, who plays for the Toyota Auto Body Queenseis, will be the team's first captain who is a mother. In October 2013, Araki announced that she was pregnant with her first child and left her club team at that time. Araki gave birth to a daughter in January 2014. In the fall of 2014, Araki returned to play club volleyball with Saitama Ageo Medics and returned to the Hinotori Nippon roster in 2015. Araki joined the Queenseis before the 2016-2017 season. She was the captain of the women's national team during Japan's great run from 2010-2012, in which Japan won bronze medals at the 2010 FIVB Volleyball Women's World Championship and the 2012 London Olympics. Under her leadership, the Japanese teams ended medal droughts of 32 years in the World Championship (1978) and 28 years in the Olympics (1984).
Other Hinotori Nippon players with experience from the 2016 Rio Olympic Games are outside hitters Yuki Ishii and Yurie Nabeya. Setters Haruka Miyashita and Kanami Tashiro were also on the 2016 Rio Olympic Games roster for Japan.
Looking at the players who participated in the 2018 FIVB Volleyball Women's World Championship, middle blockers Nana Iwasaka and Mai Okumura are on the roster. Iwasaka was the captain of the team from 2017-2019 for Nakata. As for the outside hitters, Sarina Koga, Risa Shinnabe and Ai Kurogo were all factors in the 2018 World Championships. Liberos Mako Kobata and Kotoe Inoue also played their roles well in defence for the Hinotori. Araki, Ishii and Tashiro were the only players to play in both the 2016 Olympics and the 2018 FIVB Volleyball Women's World Championships.
Three players from the 2019 FIVB Volleyball Women's U20 World Championship winning team have made their debut in the senior Japanese women's national team. Libero Rena Mizusugi, middle blocker Nichika Yamada and outside hitter Haruna Soga all played important roles in their team winning the title in Mexico last year. Soga was named on the Dream Team for the tournament at outside hitter. The captain of the U20 title team was Mayu Ishikawa, who was also named the Most Valuable Player of the tournament. Ishikawa was then selected by Nakata to play with the women's national team during the FIVB Volleyball Women's World Cup last fall. Mayu is the younger sister of Japanese men's national team player Yuki Ishikawa.
Other players with experience from the 2019 FIVB Volleyball Women's World Cup are libero Akane Yamagishi, middle blocker Aika Akutagawa and outside hitter Miwako Osanai.
Filling out the roster of players with previous experience with the national team are middle blockers Aya Watanabe and Mai Irisawa, outside hitter Arisa Inoue and setter Nanami Seki.
Four other players are rookies to the national team including middle blocker Mayu Oikawa, outside hitters Kotona Hayashi and Rei Kudo, and setter Tamaki Matsui. Oikawa finished her second season with the Okayama Seagulls, while Hayashi finished her third season with the JT Marvelous and Kudo her fourth season with the Denso Airybees. Matsui is still playing in college but will join the Denso Airybees from April 1 and has played with the Japanese women's U-19 national team during the 2016 Asian Junior Championship.
Japan 2020 Women's National Team Roster
Outside Hitters & Opposites:
Ai Kurogo, Toray Arrows
Arisa Inoue, Hisamitsu Springs
Haruna Soga, NEC Red Rockets
Kotona Hayashi, JT Marvelous
Mayu Ishikawa, Toray Arrows
Miwako Osanai, Hitachi Rivale
Sarina Koga, NEC Red Rockets
Rei Kudo, Denso Airybees
Risa Shinnabe, Hisamitsu Springs
Yuki Ishii, Hisamitsu Springs
Yurie Nabeya, Denso Airybees
Yuri Yoshino, Saitama Ageo Medics
Middle Blockers:
Erika Araki, Toyota Auto Body Queenseis, captain
Aika Akutagawa, JT Marvelous
Aya Watanabe, Toyota Auto Body Queenseis
Mai Irisawa, Hitachi Rivale
Mai Okumura, Denso Airybees
Mayu Oikawa, Okayama Seagulls
Nana Iwasaka, Hisamitsu Springs
Nichika Yamada, NEC Red Rockets
Setters:
Haruka Miyashita, Okayama Seagulls
Kanami Tashiro, Denso Airybees
Miya Sato, Hitachi Rivale
Nanami Seki, Toray Arrows
Tamaki Matsui, Japan Women's College of Physical Education
Liberos:
Akane Yamagishi, Saitama Ageo Medics
Kotoe Inoue, Denso Airybees
Mako Kobata, JT Marvelous
Rena Mizusugi, Toray Arrows
Coach Nakada has revealed her 2020 roster which includes 2012 Olympic bronze medalists Erika Araki & Risa Shinnabe.
The 35 year old middle blocker Araki, who has played for the national team for over a decade, is the chosen team captain.
Related links of AVC
AVC Website: click www.asianvolleyball.net
AVC Facebook: click www.Facebook.com/AsianVolleyballConfederation
AVC Twitter: click: https://twitter.com/avcvolley
AVC Instagram: click: https://www.instagram.com/avcvolley/?hl=en
AVC Youtube: click: Asian Volleyball Confederation
AVC WeChat: Asian Volleyball Confederation