Bangkok, Thailand, March 25, 2021 – A virtual AVC Development and Marketing Committee Meeting came to a fruitful conclusion on Thursday, with ideas and recommendations presented to increase business opportunities with sponsorships through social media marketing tools.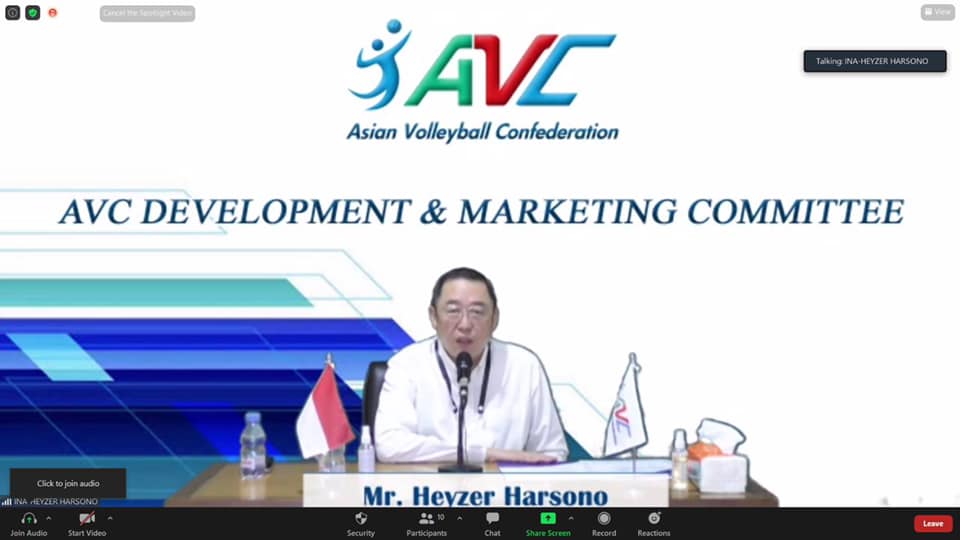 AVC DMC Chairman Mr Heyzer Harsono from Indonesia chaired the meeting, attended by Mr Seong Keehak from Korea as Committee Secretary, Mr Hugh Graham from Cook Islands, Mr Arachchillage Shanthasiri Nalaka from Sri Lanka, Mr Huang Kuo-Kuang from Chinese Taipei, Mr Thiti Pluckcha-oom from Thailand, himself Director of FIVB Development Centre in Thailand, Ms Song Yue from China, Mr Mohamed Latheef from Maldives and Mr Sabeeh Hantoosh Miabbas from Iraq.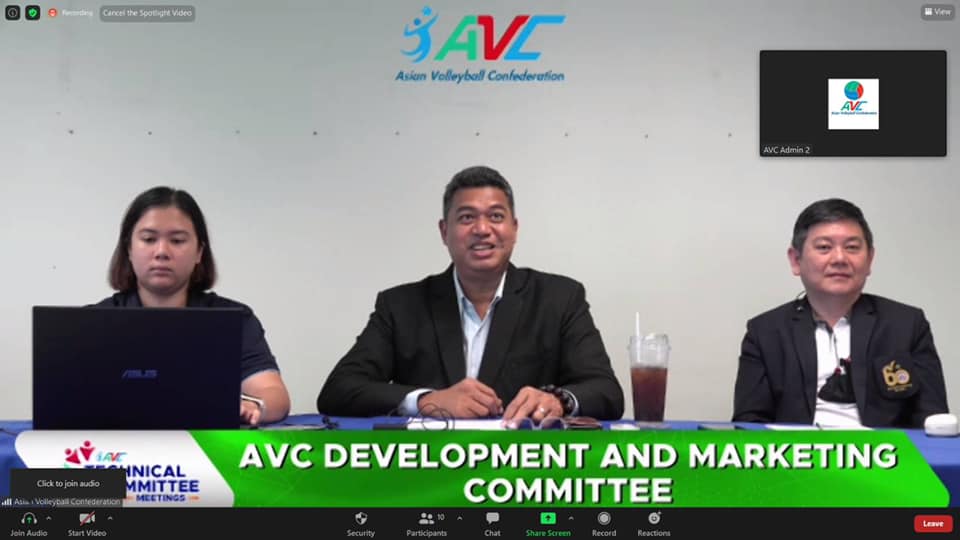 Also joining the meeting were AVC Executive Director Mr Shanrit Wongprasert, AVC General Manager Dr Rueangsak Siriphol, AVC Secretary General Mr Kiattipong Radchatagriengkai and AVC Development Coordinator Ms Mingkwan Pusiddusid.
AVC President Mrs Rita Subowo from Indonesia still kept a positive mindset in her welcome speech, suggesting that snow volleyball be promoted at the next year's Winter Olympics in China as exhibition sport. She has also urged the AVC DMC to substantially promote FIVB Development Centres in Asia, hoping that with the improved infrastructure and facilities within the centres and vicinities, those FIVB DCs will attract more visitors from NFs and those from other continents. This is an opportunity to gain income from those visitors which will be the benefit in the future of AVC.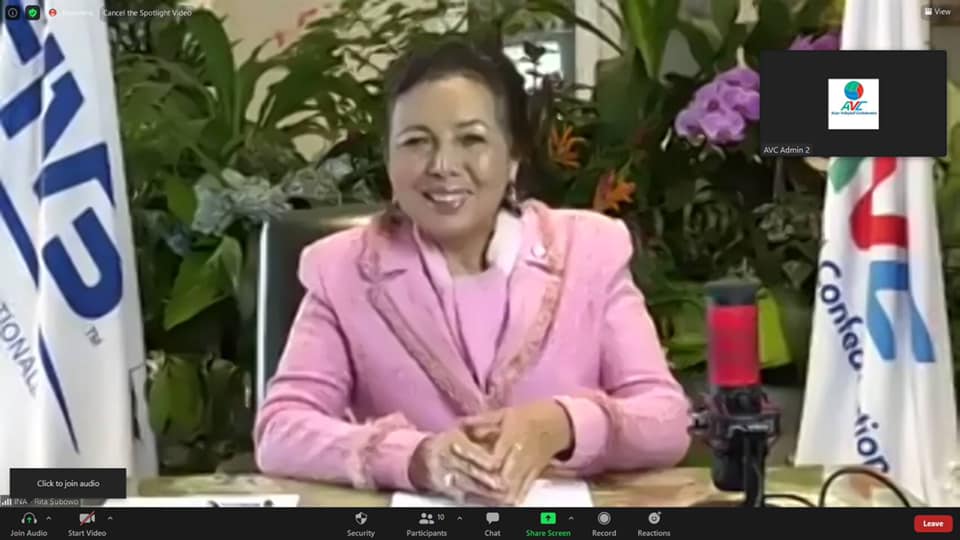 "I do hope that everything will be okay in the near future in order that we can start our activities again in the new normal. We really trust you, Mr Heyzer as Chairman of the Committee to work together with all NFs to accomplish and reach our aims and further development and marketing in Asia. We have to work together with FIVB Development Commission. Since Mr Heyzer is taking charge in both development and marketing, so, I would like Mr Kiattipong to invite AVC Executive Vice President Mr Abdulaziz A. Albalool from Kuwait to join the next AVC DMC Meeting or at least inform him how to help this committee to reach its aims because this is a very important committee," said Subowo.
"We have to promote FIVB Development Centers in line with the FIVB's development policy to support NFs in building their strong national teams. This is an opportunity to introduce all Centers, especially the one in Bangkok, which has already become well-known due to its various activities held. We next can help inform FIVB how far development and promotion strategies of the other Development Centers in Asia including the ones in Jakarta, Indonesia and in Chennai, India have been made.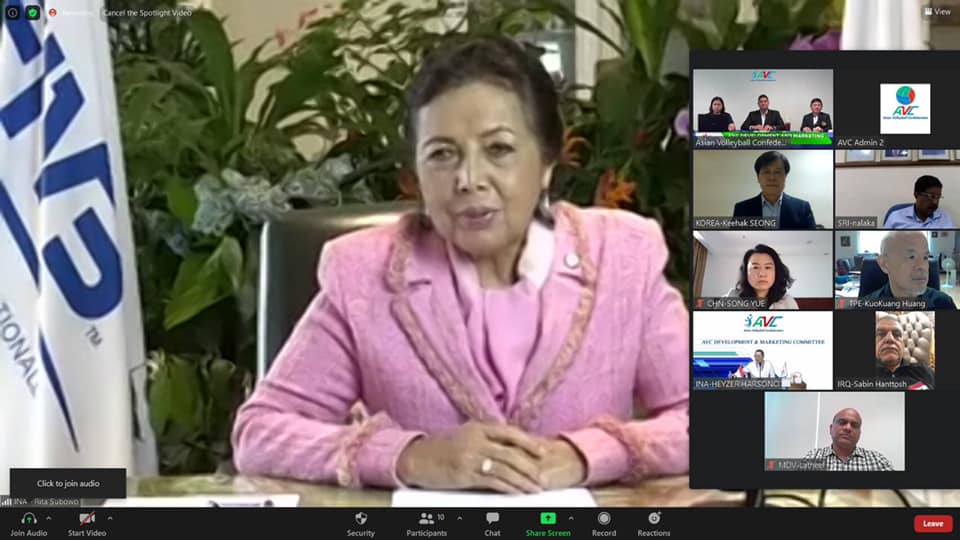 "Regarding the marketing matters, I think it's complicated but very challenging, especially during the global COVID-19 pandemic because we had cancelled so many activities and competitions which could generate income. So, we need more funding for organisations. It's not easy, but we should try to do it with our sources. In addition, without projects, FIVB won't give any financial support. So, you have to create a project for Asia, for AVC with our Development Centre and all NFs' needs and send them to FIVB to get support from them," she added.
After that, Kiattipong welcomed all members to the meeting, saying that all staffs at the AVC Headquarters are ready to help and support all of them and wishing them a success in the meeting.
The meeting later reviewed the FIVB Project Platform 2021 and Seong suggested that all NFs visit the FIVB website and apply online for FIVB resource equipment. The successful NFs with complete applications will be provided with 3 types of FIVB supports comprising Coaching support for technical and tactical development of national teams, Volleyball equipment and Coach to coaches.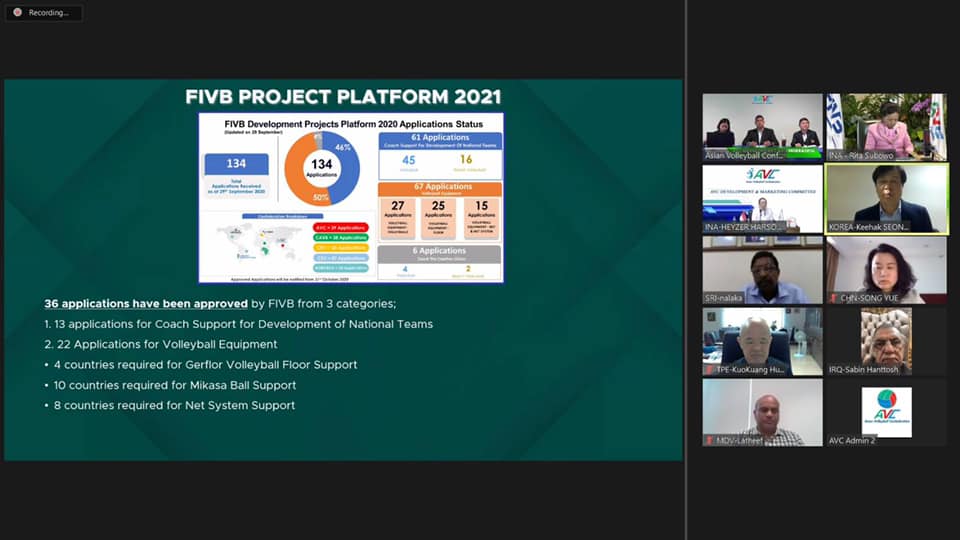 Another key point on the AVC Development Plan 2021-2022 related to coaches and referee courses has also been raised for further discussion in the meeting.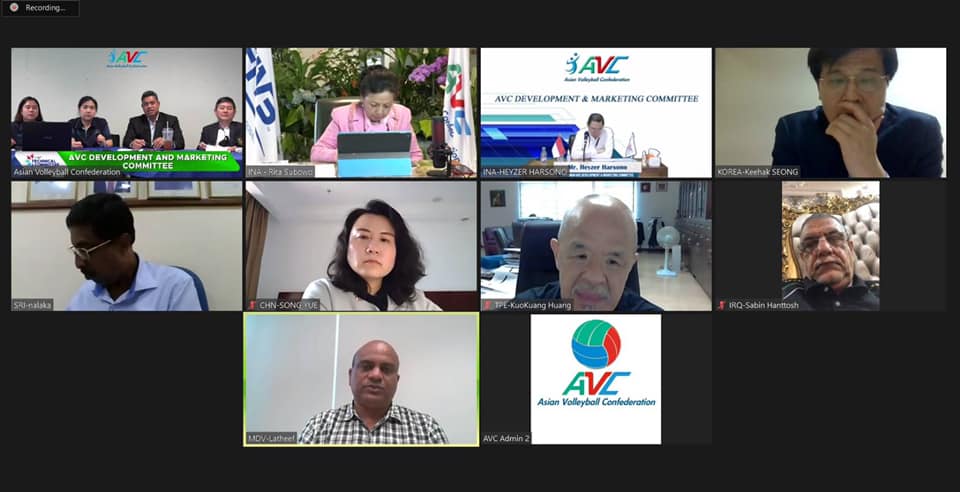 Secretary Seong also informed the meeting about the details of the Euro-Asia Coaches Cooperation Project, of which the onsite program will take place in Belgium between October 10-16 and in Thailand from November 14-21. He added that the qualified four coaches from Asia selected to join the project consist of Mr Martin Collins and Mr Chris Todd from Australia, Ms Feng Kun from China and Ms Wilavan Apinyapong from Thailand.
After that, Mr Kiattipong explained about the current COVID-19 situation in Thailand as well as the precautionary measures and secure bubble for arriving participants when the program will be held in Thailand in November.
Regarding the FIVB Coaches Resource Centre for NFs in 2021, Seong informed that NFs can apply coaches courses online via FIVB website, while those who would like to become AVC Official Sponsors 2021-2023 can download the application forms from AVC website, study all relevant information and apply for it by directly contacting AVC Headquarters in Bangkok.
To maximise sponsors' exposure, Mohamed Latheef recommended that all social media marketing tools such as AVC Facebook, Twitter, Instagram and even a video-sharing social networking service called TikTok be used increasingly in support for AVC.
"Social media offers an easy and low-commitment way for potential sponsors or supporters to express interest in our business and products. It allows sponsors to speak to their audience using our social media platforms they prefer. With more promotion via social media, AVC can get more sponsors and that means more income and financial support AVC will gain. It will also attract more fans, more followers and subscribers to our social media platforms," Latheef said.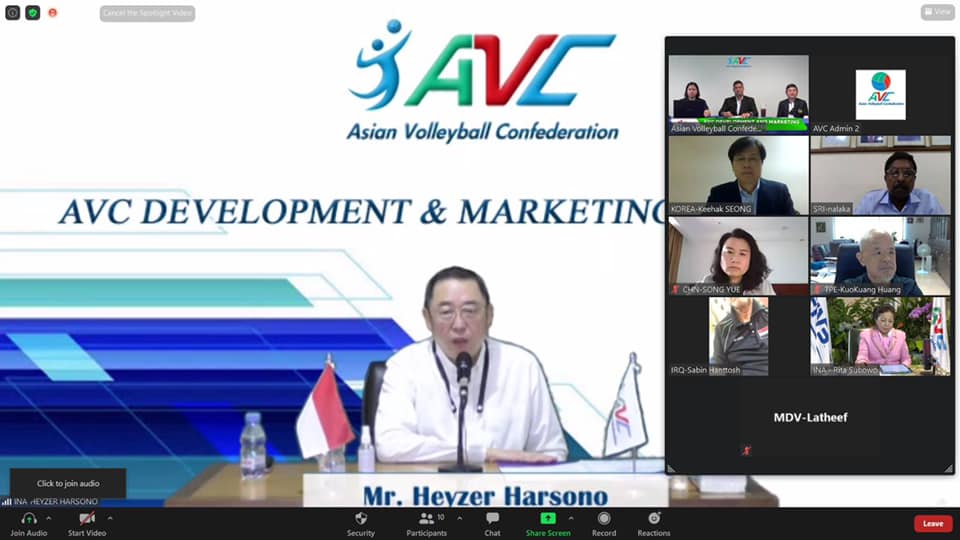 "In addition, we should have marketing plans. I recommend that before the end of each year, we should submit our marketing plans to AVC Board of Administration and FIVB for consideration. They will see what direction we, the Development and Marketing Committee, are heading," he added.
Subowo also supported Latheef's ideas for raising more sponsors and marketing policies through social media platforms, adding that promotions for all FIVB Development Centers in Asia can be done in the same way through such digital marketing tools.
In her closing speech, the AVC President expressed her satisfaction over the effective and successful meeting and thanked all members for their valuable ideas shared in the meeting.
Related links of AVC
AVC Website: click www.asianvolleyball.net
AVC Facebook: click www.Facebook.com/AsianVolleyballConfederation
AVC Twitter: click: https://twitter.com/avcvolley
AVC Instagram: click: https://www.instagram.com/avcvolley/?hl=en
AVC Youtube: click: Asian Volleyball Confederation
AVC WeChat: Asian Volleyball Confederation