Xiamen, China, April 23, 2019 – Beach volleyball's elite take to the sands for the seventh straight edition of the double-gender FIVB Beach Volleyball World Tour Xiamen Open from April 24-28, 2019.
The Xiamen 4-Star is a key event in the lead up to the FIVB Beach Volleyball World Championships Hamburg 2019 and the Chinese tournament will see the best in beach volleyball go head to head on Guanyinshan Golden Beach including top seeded men Norway's Anders Mol and Christian Sorum and women's Czech team Barbara Hermannova and Marketa Slukova.
Men's Preview
With every team within the main draw capable of taking it all the way to the podium, Xiamen promises to see some fierce competition.
Topping the men's seeding is Anders Mol and Christian Sorum. The Norwegian pair were unstoppable in the second half of 2018 taking five golds in a row; Gstaad 5-Star, CEV European Championships, Vienna 5-Star, Hamburg World Tour Finals and Las Vegas 4-Star. Mol, A./Sorum, C. kicked off the year in The Hague reaching the quarterfinals and enter Xiamen for a second time, reaching the quarters last year.
Snapping at the heels of Mol, A./Sorum, C. in 2018 was Michal Bryl and Grzegorz Fijalek, who enter Xiamen as number two seeds. The Polish team faced Mol, A./Sorum, C. in the finals of the Vienna 5-Star, the Hamburg World Tour Finals and Las Vegas 4-Star, taking the silver each time. Bryl/Fijalek got off to a positive start in 2019 reaching the final four in Doha in March.
Aleksandrs Samoilovs and Janis Smedins are back in Xiamen for a fifth edition, first appearing in 2013 and their best result a bronze in 2015. Samoilovs/Smedins posted two golds in 2018 at the Espinho 4-Star and Moscow 4-Star and will be aiming to improve on their most recent result in Doha where they ended in pool play.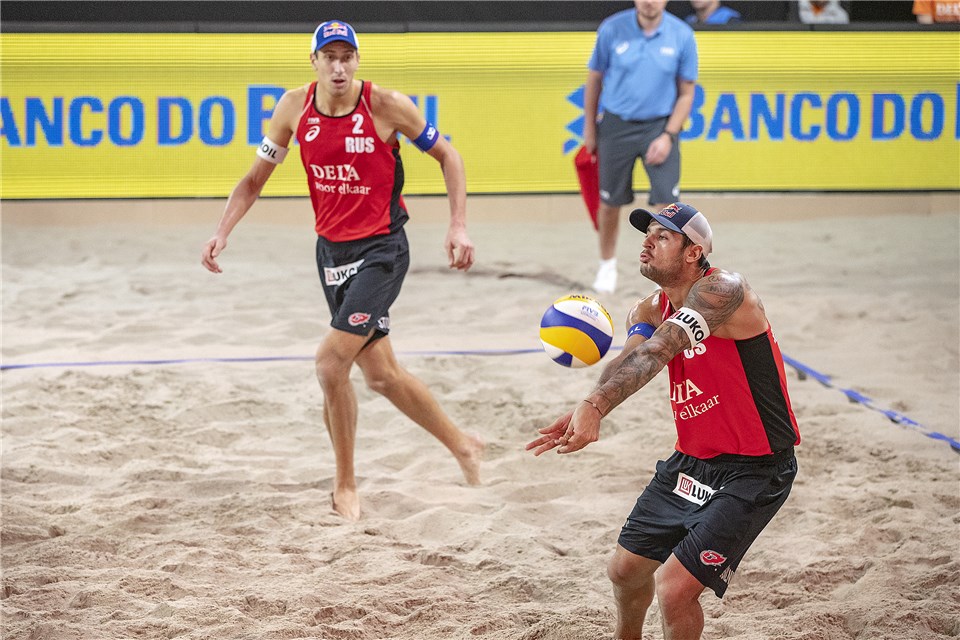 Russia's Oleg Stoyanovskiy and Viacheslav Krasilnikov will play in their fifth tournament as a team in Xiamen. Of their four tournaments together so far, three ended on the podium with silver at the Yangzhou 4-Star, their first tournament as a team, bronze in Las Vegas and most recently gold at The Hague 4-Star in January this year.
Stoyanovskiy won Xiamen last year alongside former partner Igor Velichko in an all-Russian final against Krasilnikov and Nikita Liamin. Velichko and Liamin now play together in a direct switch of partners among the Russian teams and will also feature in Xiamen's main draw.
In their tenth year as team, Spain's Pablo Herrera Allepuz and Adrián Gavira Collado are back in Xiamen for a fourth time, winning the tournament in 2016. With a bronze in Doha to start their year, the Spanish pair enter Xiamen as number five seeds.
Current Asian champions Cherif Younousse and Ahmed Tijan from Qatar have been creeping up the rankings since they teamed up in 2018. The pair will aim for their first FIVB World Tour final after taking two bronzes in 2018, in Doha and Vienna.
Former world champions, Alexander Brouwer and Robert Meeuwsen have stood on the podium twice before in Xiamen, earning silver in 2013 and gold in 2017. The Dutch team will be hungry for another FIVB medal, their last in March last year when they earned golds at the Aalsmeer 1-Star and Doha 4-Star.
Taylor Crabb/Jacob Gibb and Nicholas Lucena/Phil Dalhausser are the top USA teams competing in Xiamen. The two teams come with a wealth of experience and FIVB success, with Crabb at 27-years-old, the youngest among the four by over ten years.
Brazil has a large presence in Xiamen led by Pedro Solberg and Vitor Goncalves Felipe. Alison Cerutti appears in Xiamen for a third time, winning gold with Vitor Felipe in 2013 and bronze with Bruno Schmidt in 2018. Alison has been playing with Andre Loyola Stein since mid-2018, but pairs up with Alvaro Morais Filho for the first time in Xiamen. Alison/Alvaro Filho enter the qualification tournament after defeating Thiago/Oscar in the country quota match, 2-0 (21-14, 21-13).
Women's Preview
Xiamen will provide a good testament to current form in the lead up to the Hamburg World Championships, with most of the women choosing the Chinese tournament to begin their 2019 campaigns.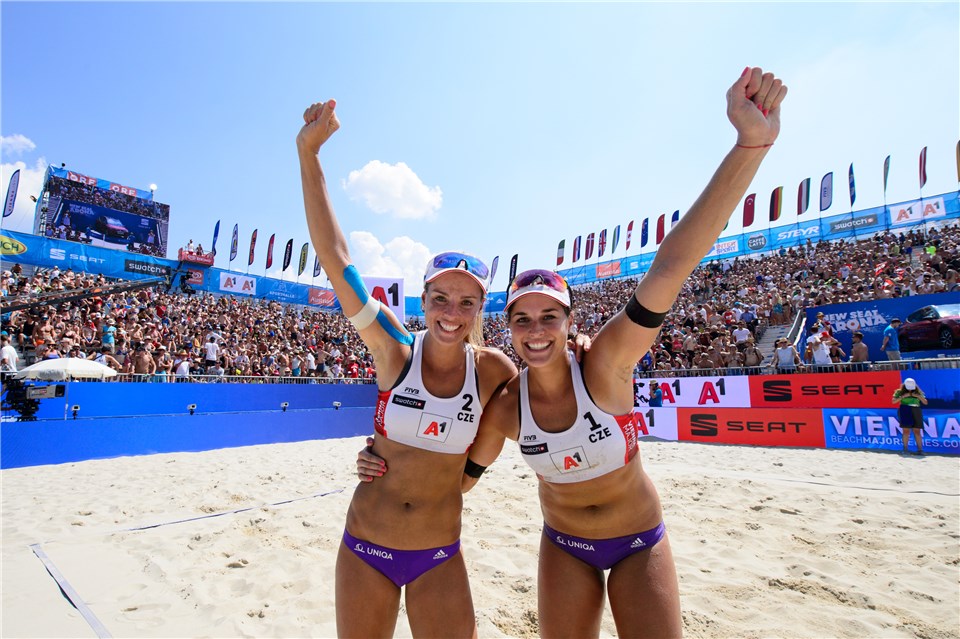 Entering Xiamen as top seeds is Czech team Barbara Hermannova and Marketa Slukova. In their latest appearances on the FIVB World Tour, the pair took gold at the Vienna 5-Star and followed with silver at the Hamburg 2018 FIVB Beach Volleyball World Tour Finals in August last year. The team will be eager to get back on competitive sands in Xiamen.
Agatha Bednarczuk and Eduarda Santos Lisboa were the team to beat Hermannova/Slukova to the Hamburg 2018 World Tour Finals gold and the Brazilians enter Xiamen as number three seeds. The pair's other victory of 2018 came at their home tournament in Itapema in May. Agatha/Duda will be eyeing a medal in Xiamen after closely missing the podium last year with Australia's Taliqua Clancy and Mariafe Artacho pipping them to the bronze.
2018 Xiamen Open champions Melissa Humana-Paredes and Sarah Pavan from Canada will be back on a quest to defend their title. The pair's 2018 success also included golds at the Gold Coast Commonwealth Games and Gstaad 5-Star. Humana-Paredes/Pavan's most recent FIVB World Tour results were a top four finish in Yangzhou and silver in Las Vegas, both in October.
Fellow Canadians Heather Bansley and Brandie Wilkerson enter Xiamen as second seeds ahead of fourth seeded Humana-Paredes/Pavan. Bansley/Brandie beat Humana-Paredes/Pavan to gold in the final of the 2018 Las Vegas 4-Star event and secured back to back victories topping the podium in Chetumal, Mexico a week later.
Reigning Olympic and world champion Laura Ludwig will be back on court, playing for the first time since 2017 after taking a year off to start a family. Ludwig teams up with former Germany volleyball team captain Margareta Kozuch in Xiamen following Kira Walkenhorst's recent retirement.
Kozuch's former partner Karla Borger has teamed up with Julia Sude, while Chantal Laboureur will form a duo with Sandra Ittlinger. The main draw also features Victoria Bieneck and Isabel Schneider for Germany who earned bronze in Xiamen in 2017.
The USA will field strong contenders in Xiamen with Alexandra Klineman/April Ross, Sara Hughes/Summer Ross and Emily Stockman/Kelley Larsen all entering the main draw.
China are always ones to watch on home soil and Wang Fan and Xia Xinyi lead the charge in Xiamen. Wang/X. Y. Xia took silver at the Nantong 2-Star in 2018 and Wang Fan has stood on Xiamen's podium previously with silver in 2017 with former partner Yue Yuan. Olympic bronze medallist and veteran Xue Chen teams up with Wang Xinxin in their third outing of 2019.
The men's and women's qualification tournament begins on Wednesday, April 24 with Brazil's Andre Loyola Stein/George Souto Maior Wanderley and Ana Patricia Silva Ramos/Rebecca Cavalcanti Barbosa Silva heading the teams battling for a spot in the main draw which starts on Thursday, April 25.
Related links of AVC
AVC Website: click www.asianvolleyball.net
AVC Facebook: click www.Facebook.com/AsianVolleyballConfederation
AVC Twitter: click: https://twitter.com/avcvolley
AVC Instagram: click: https://www.instagram.com/avcvolley/?hl=en
AVC Youtube: click: Asian Volleyball Confederation
AVC WeChat: Asian Volleyball Confederation