Bangkok, Thailand, December 2, 2021 – The Central Asian Volleyball Association (CAVA) Extra Ordinary Online Meeting on Thursday came to a successful conclusion with exchanges of ideas, decisions and recommendations targeting some desirable long-term future achievements.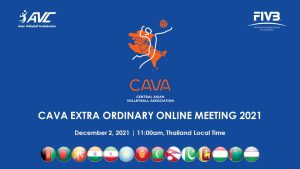 With all Members from 14 countries in attendance, AVC President Mrs Rita Subowo delivered an opening speech, welcoming all CAVA Members and wishing the meeting a great success. AVC Secretary General Mr Kiattipong Radchatagriengkai gave a speech, citing that AVC Headquarters is willing to provide the coordination support for CAVA's activities and competitions.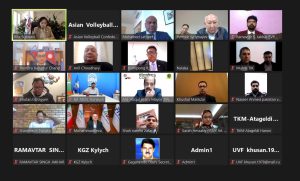 Interesting speeches were also made by Zonal Executive Vice President Mr Ramavatar Singh Jakhar and Zonal FIVB Board Member Dr Mohammad Reza Davarzani.
After that, the meeting, chaired by Mr Mohamed Latheef, approved the new versions (dated November 25, 2021) of CAVA Statues and CAVA General Regulation, which, according to CAVA Secretary General Mr Kylych Sarbaghyshev, did not make a big change.
"The meeting studied and unanimously approved the new versions of both items. It's almost the same as the previous version which explained about the National Federations as well as CAVA Board of Administration, CAVA President, Executive Committee, Committees & Council and CAVA Secretariat in addition to the composition, the membership conditions and their responsibilities," Kylych said.
All members also agreed to approve the CAVA Board of Administration and CAVA Executive Committee, while the updates of the Competition Calendar 2021 and the Tentative Calendar 2022-2025 had been brought for consideration and further discussion.
Due to the COVID-19 pandemic, CAVA had decided to cancel 5 events this year comprising the Central Zone Women's Challenge Cup 2021 in Maldives, the Central Zone Men's Volleyball Championship 2021 (for top 8 NFs) in Iran, the Central Zone Women's Championship 2021 (for top 8 NFs) in India, the Central Zone Beach Volleyball Challenge Cup 2021 in Maldives and the Central Zone Beach Volleyball Championships 2021 in Sri Lanka.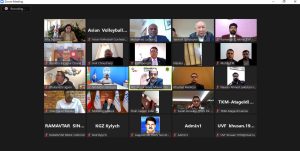 In terms of the proposed CAVA Competition Calendar 2022, a total of 11 volleyball events including 3 junior tournaments are expected to be organised next year. Among them are the Central Asia Senior Men's Volleyball League in Kyrgyzstan starting from June 22 (with participation of Kazakhstan, Kyrgyzstan, Turkmenistan and Uzbekistan), the Central Asia Senior Women's Volleyball League starting from the same day on June 22 in Kyrgyzstan (with the aforementioned four teams participating) and the South Asia Senior Men's Volleyball League in Sri Lanka (competition dates yet to be confirmed) with Maldives, Sri Lanka, India, Pakistan, Nepal, Bhutan, Afghanistan and Bangladesh participating.
"One important thing I would like to mention is that we (CAVA) are very proud that next year, AVC will organise 10 Championships and six of them will be hosted by Central Zone countries – Kazakhstan, Iran, Uzbekistan and Kyrgyzstan, with the first two countries hosting two Championships apiece," said Kylych.
"Moreover, we are expecting to host and arrange from 8 to 10 events in Central Zone next year as well. We want to host all Senior Championships in both men's and women's events and we also pay much attention in organising beach volleyball competitions. Importantly, the first AVC Snow Volleyball Championships will take place in Kazakhstan next year and all of us Central Zone will be there to develop volleyball in Asia and our zone in particular."
Kylych added that the meeting agreed and decided to next organise the onsite CAVA Meeting in Bangladesh on December 27, 2021.
Another topic related to the situation of Afghanistan volleyball team was raised by BA Member from Afghanistan Mr Khushal Malikzal and after that, CAVA President Mr Mohamed Latheef declared the session closed.
Related links of AVC
AVC Website: click www.asianvolleyball.net
AVC Facebook: click www.Facebook.com/AsianVolleyballConfederation
AVC Twitter: click: www.twitter.com/AsianVolleyball
AVC Instagram: click: https://www.instagram.com/avcvolley/?hl=en
AVC Youtube: click: Asian Volleyball Confederation
AVC WeChat: Asian Volleyball Confederation