The Qatari Olympic medallists will be the only team representing the host country in Doha
Cherif and Ahmed will be looking to cap off their excellent season with a victory in front of their fans
Cherif Younousse and Ahmed Tijan have played several international beach volleyball events in Doha and have even won medals at some of them, but the biggest of those events is now on the horizon.
The Tokyo Olympic bronze medallists are one of the ten men's teams set to compete at the Volleyball World Beach Pro Tour Finals, which will take place in the capital of Qatar from January 26-29 and will bring the historic inaugural season of the Tour to a close.
Watch all Beach Pro Tour Finals matches live or on demand on Volleyball TV.
The tournament will be the highlight of a busy period of competition in Doha for the Qataris, who played in the King of the Court Finals from January 11-14 and will also participate in the opening event of the 2023 Beach Pro Tour season, an Elite16 tournament to be held from February 1-5.
"It's really good that the season will start here in Doha," Cherif said in an interview to the King of the Court website. "And we'll have three tournaments in a row. We'll just stay home, work hard and get ready for those events."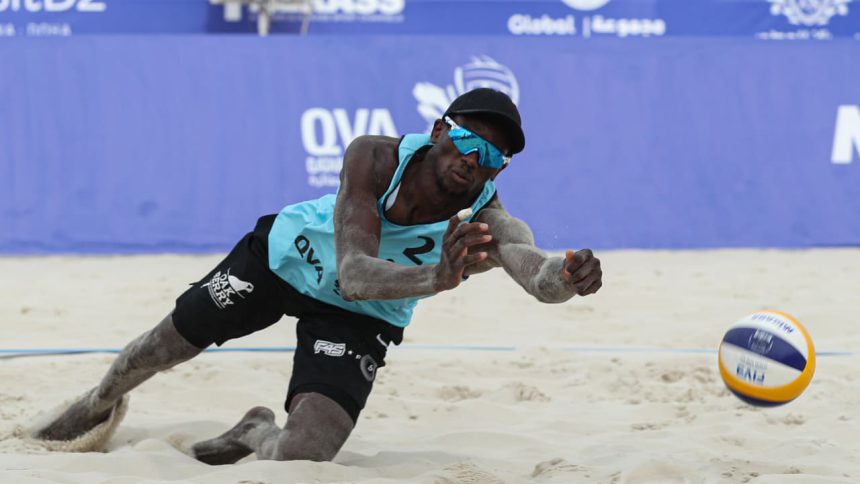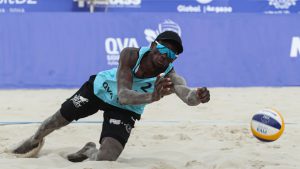 Ahmed in action during a Beach Pro Tour event in Doha in 2022
While playing at home obviously adds an extra level of incentive, it typically also fosters higher expectations and a desire to please home fans, especially if, as will be the case for Cherif and Ahmed, they are the only representatives of the host nation.
The Qataris have thrived in Doha before, taking gold at an FIVB World Tour one-star event in 2021 and bronze at a World Tour tournament in 2018, and feel they are prepared to handle the expectations of their supporters during the Beach Pro Tour Finals.
"People expect a lot from us, but so do we," Cherif said. "As Olympic medallists, everybody expects us to take gold in every tournament we play, or at least make it to the semifinals. We consider it fun, but at the same time, it adds some pressure. But I think we know how to handle it, especially because we have this mindset of just going and getting it."
https://www.instagram.com/p/ClJhDJzJ2AZ/
The recipe they use to cope with pressure is the same as they use to succeed when competing at the top international beach volleyball tournaments around the world. Although they do expect certain results from themselves, they are actually more focused on doing everything in their power to perform at the best possible level.
With that, they believe, they will be in a position to accomplish their goals no matter what.
And in 2022, the Qataris undoubtedly played very well. Set to enter the Finals as the top-seeded men's duo, Cherif and Ahmed currently rank second in the FIVB World Rankings and won as many as four medals in the ten tournaments they played at last year.
https://www.instagram.com/p/Cm1PYjNjiJd/
The Qataris were the first men to win gold at an Elite16 event with their victory in Rosarito and went on to win silver (Jurmala) and bronze (Cape Town) in two other events at the same level. At the Challenge level, the Qataris won the event in the Maldives. Perhaps most importantly, they were in the top ten at each event they played at and got top-five finishes six times.
"It was a tough season, but we consider it a positive one," Cherif reflected. "We started the season as the world's number one team, but had some ups and downs and lost some spots. Near the end of the year, we got to second place and that was good. We couldn't win every time, but we were always among the best and that's the most important thing. The level is so high now that a pool phase match could easily be the final of a tournament. Next season is going to be a big one with Olympic qualification. It's going to be interesting."
https://www.youtube.com/watch?v=rNGS3MOvq6o
The teams trying to prevent Cherif and Ahmed from winning the Beach Pro Tour Finals at home will be Norway's Anders Mol/Christian Sørum, the Netherlands' Alexander Brouwer/Robert Meeuwsen, Brazil's Andre Loyola/George Wanderley and Vitor Felipe/Renato Lima, Poland's Michal Bryl/Bartosz Losiak, Italy's Paolo Nicolai/Samuele Cottafava and Adrian Carambula/Alex Ranghieri, the Czech Republic's Ondrej Perusic/David Schweiner and Chile's Marco Grimalt/Esteban Grimalt.
Related links of AVC
AVC Website: click www.asianvolleyball.net
AVC Facebook: click www.Facebook.com/AsianVolleyballConfederation
AVC Twitter: click: www.twitter.com/AsianVolleyball
AVC Instagram: click: https://www.instagram.com/avcvolley/?hl=en
AVC Youtube: click: Asian Volleyball Confederation
AVC WeChat: Asian Volleyball Confederation