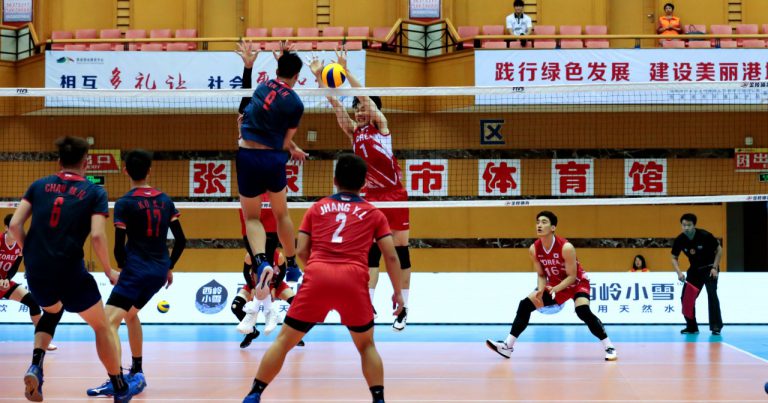 Zhangjiagang, China, July 17, 2019 – China and Chinese Taipei remain unbeaten as they defeated Macau China and Korea respectively on Day two of the 2019 AVC Eastern Zone Men's Volleyball Championship at Zhangjiagang Sports Centre on Wednesday.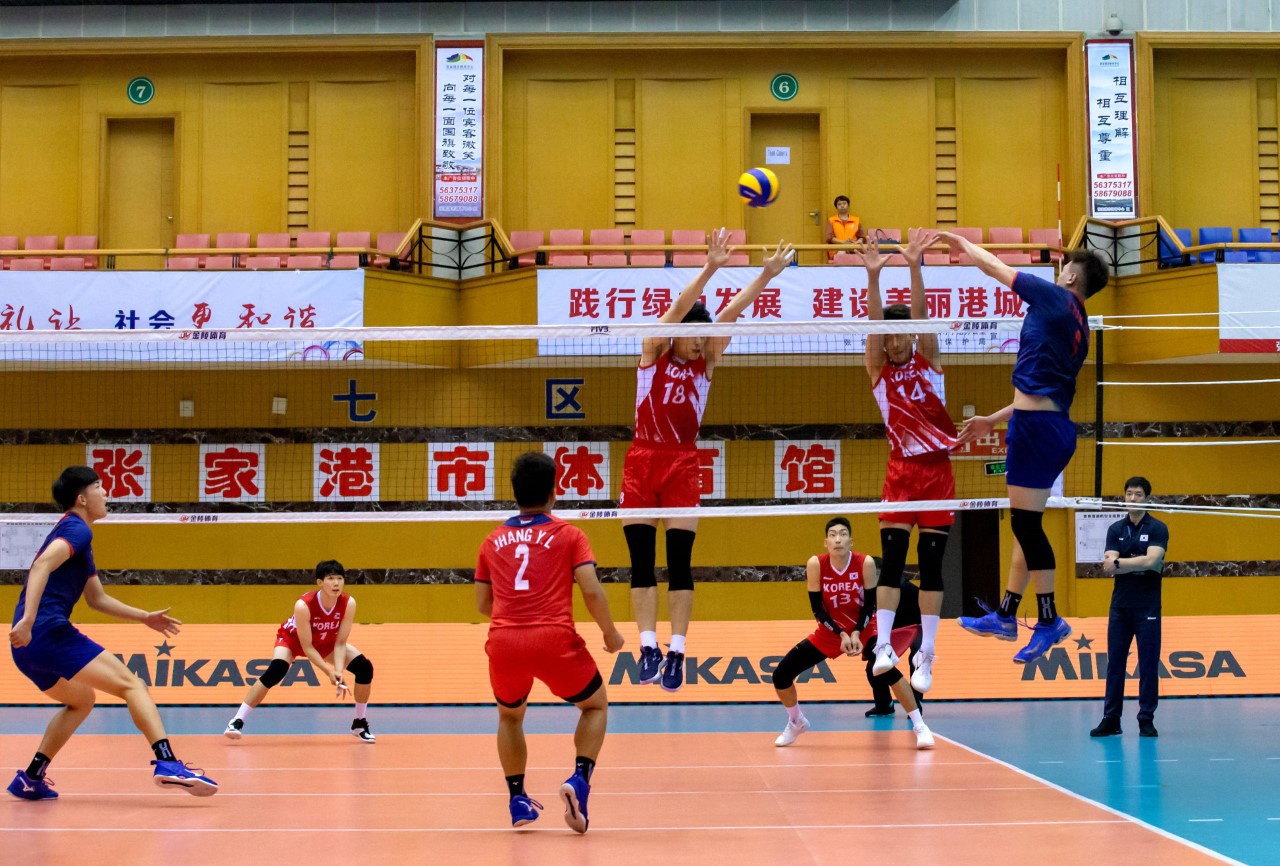 The first match of the day saw a thrilling encounter between Chinese Taipei and Korea while the former resisted the latter's counterattacks to an intense 3-1 (25-20, 27-29, 25-22, 25-23) victory.
During the first set, Chinese Taipei got the first point and continuously succeeded in attacking because of Koreans' mistakes. On the other hand, Korea players could not get into a better groove, so they only got 4 points before the first technical timeout. Chinese Taipei moved ahead until the end of the first set and won by 25-20.
Great serves and the excellent offensive ability contributed Chinese Taipei to a commanding 17-14 lead in the second set. To the spectators' surprise, stubborn Koreans fought back to catch up with the determined rivals at 27-27. A gusty play helped Korea end the second set 29-27.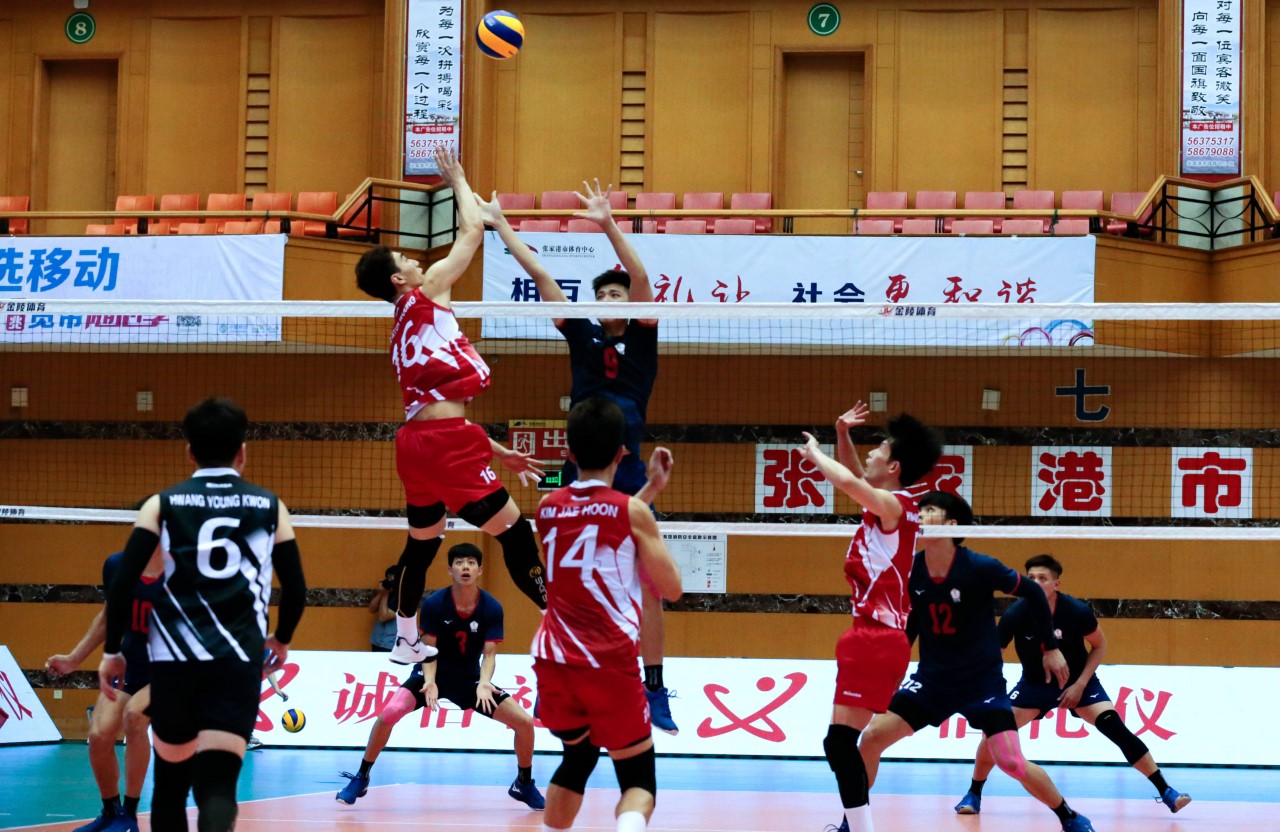 Korea improved attacking in the third and fourth sets. However, Chinese Taipei's players resisted the pressure and captured both sets 25-22, 25-23 and match.
In the second match, DPR Korea recovered from their Tuesday's failure to Chinese Taipei and registered their maiden victory following a thrilling 3-1 (25-19, 22-25, 25-23, 26-24) win over Hong Kong China on the second match day.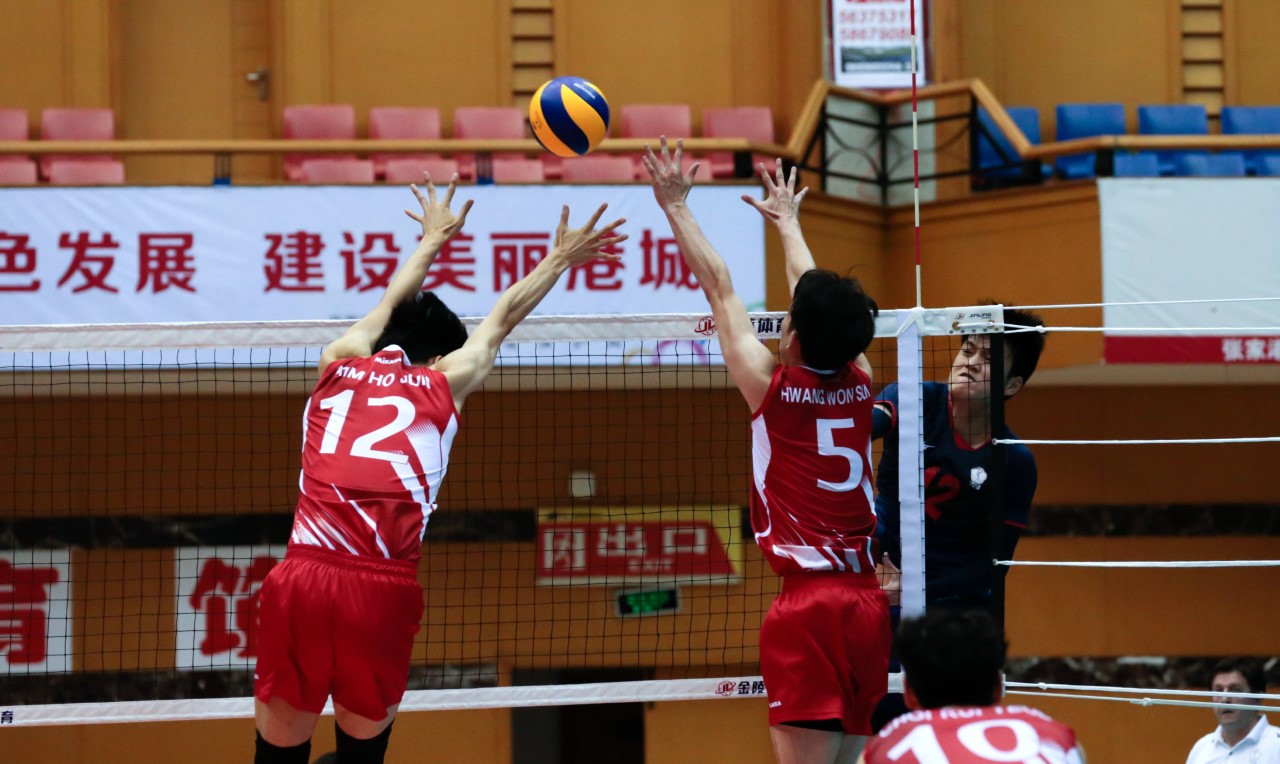 Hong Kong China were left behind from the beginning to a 4-10 deficit due to their unsatisfactory combination. Situation didn't get better after substitutions and timeout while DPR Korea got a very hot hand and have a much better defense as they took the set 25-19.
Going down one set, Hong Kong China improved their blocking and serving to see points go back and forth from the beginning of the second set. After the first technical timeout, DPR Korea found their rhythm back and came to a 20-15 lead. However, Hong Kong China didn't give up and with 5 points in a row, they were tied at 20-20. Following a powerful serve by Au Chin To, Hong Kong China wrapped up the set 25-20.
Hong Kong China tried to keep their momentum in the third set, and they did lead 19-16. However, effective attacking by DPR Korea helped them reverse the set 25-23.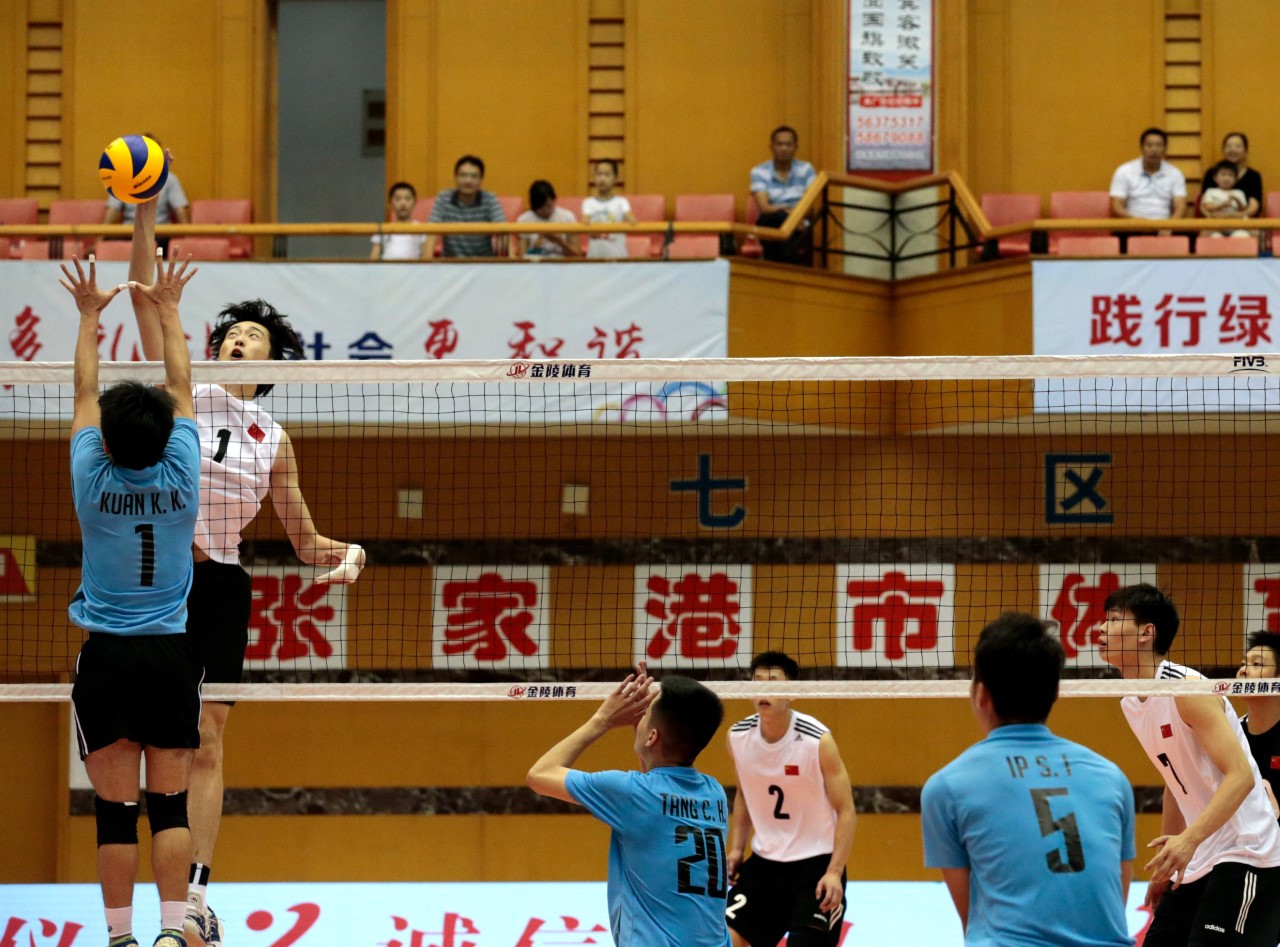 Even though Hong Kong China tried hard, DPR Korea grasped the crucial points and ended the fourth set 26-24.
Unlike the previous two matches of the day, China turned their match to a lopsided contest which saw Macao China come up with dismal form including poor receiving, blocking and erratic spiking. China brought their superiority into full play and firmly controlled the lead till the end 25-14.
The second and third sets remained unchanged for China as they went on back-to-back attacks to earn points before they concluded the match by 25-18, 25-15.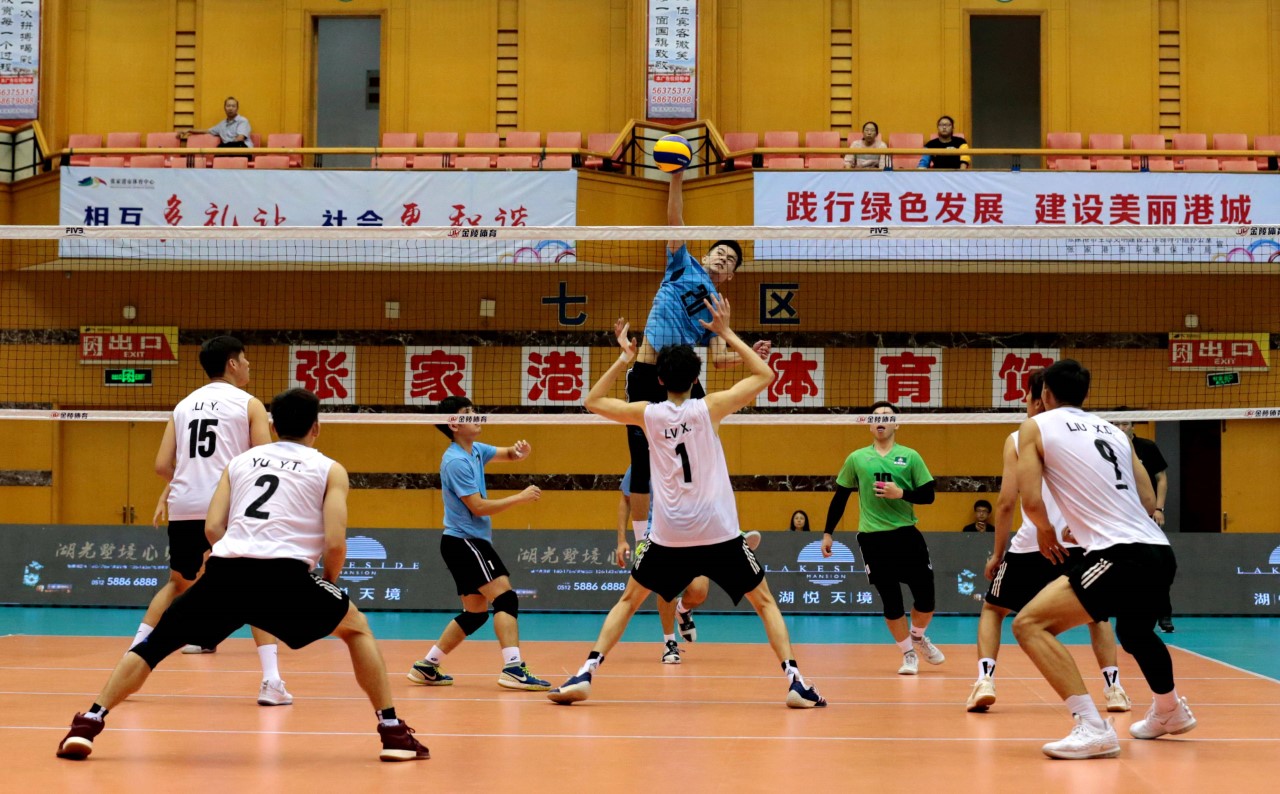 The AVC Eastern Zone Men's Volleyball Championship is a biennial competition of AVC Eastern Zone. With the participation of six teams from Chinese Taipei, Hong Kong China, Macau China, Korea, DPR Korea and hosts China, the championship this year applies round robin system and is being staged from July 16 to 21. July 19 will be the rest day for the AVC Eastern Zone Annual Meeting.
It is for the first time that Zhangjiagang hosts the men's championship since the city has successfully organized the women's championship in 2016 and 2018.
Zhangjiagang is China's National Health City, National Eco City and National Civilized City. It was recognized as International Garden City by UNEP in 2005 and was awarded the UN Habitat Scroll of Honor in 2008. Besides, Zhangjiagang is a city fond of volleyball. Many volleyball events, like National volleyball Grand Prix and International Volleyball Challenge, have been held in Zhangjiagang.
MATCH RESULTS AND MATCH SCHEDULE

July 16
Korea b Macau China 3-0(25-19, 25-5, 25-9)
, Chinese Taipei b DPR Korea 3-1 (25-23,22-25,25-20, 25-15)
, China b Hong Kong China 3-0 (25-21, 25-15, 25-15)
July 17
Chinese Taipei b Korea 3-1 (25-20, 27-29, 25-22, 25-23), 
DPR Korea b Hong Kong China 3-1 (25-19, 22-25, 25-23, 26-24)
, China b Macau China 3-0 (25-14, 25-18, 25-15)
July 18
14:00 Macau China v Chinese Taipei
16:00 Korea v Hong Kong China
19:00 China v DPR Korea
July 19 Rest day
July 20
14:00 Hong Kong China v Chinese Taipei
16:00 DPR Korea v Macau China
19:00 Korea v China
July 21
14:00 DPR Korea v Korea
16:00 Hong Kong China v Macau China
19:00 China vs Chinese Taipei
Related links of AVC
AVC Website: click www.asianvolleyball.net
AVC Facebook: click www.Facebook.com/AsianVolleyballConfederation
AVC Twitter: click: https://twitter.com/avcvolley
AVC Instagram: click: https://www.instagram.com/avcvolley/?hl=en
AVC Youtube: click: Asian Volleyball Confederation
AVC WeChat: Asian Volleyball Confederation