By Wang Leon
Xi'an, China, September 23, 2021 – Liaoning edged out Shanghai 3-2 (15-25, 25-17, 13-25, 25-15, 15-7) while Shandong went all out to pull off a stunning 3-0 (27-25, 25-14, 25-19) win over embattled Jiangsu in the last round of pool play of China National Games Senior Women's Volleyball Tournament at the Aoxiang Gymnasium of Northwestern Polytechnical University here on Thursday.
With similar 4-3 records and 13 points, Shanghai surpassed Shandong with a better set ratio to join Liaoning, with 5-2 record, to secure the remaining top four spots, while Shandong had to slot themselves in the 5th place.
Jiangsu enjoyed 17 points after the maiden loss and were overstepped by powerhouses Tianjin, which saw off Guangdong 3-0 (25-17, 25-12, 25-14) in the last round on Thursday and top the pool with similar 6-1 record but with 19 points earned.
According to the drawing of lots held after round-robin preliminaries, Tianjin are set to meet Liaoning and Jiangsu will contest Shanghai in the semifinals on Saturday.
In the other match, Henan concluded their National Games journey with a maiden victory as they grabbed a convincing 3-0 (25-23, 25-20, 25-21) victory against Zhejiang.
With similar 1-6 record, Guangdong are ranked 6th with 4 points, followed by Henan with 3 and Zhejiang with 2 respectively on their final ranking for the China National Games as no more match will be played for lower-ranked 4 teams in the pool according to the competition regulation.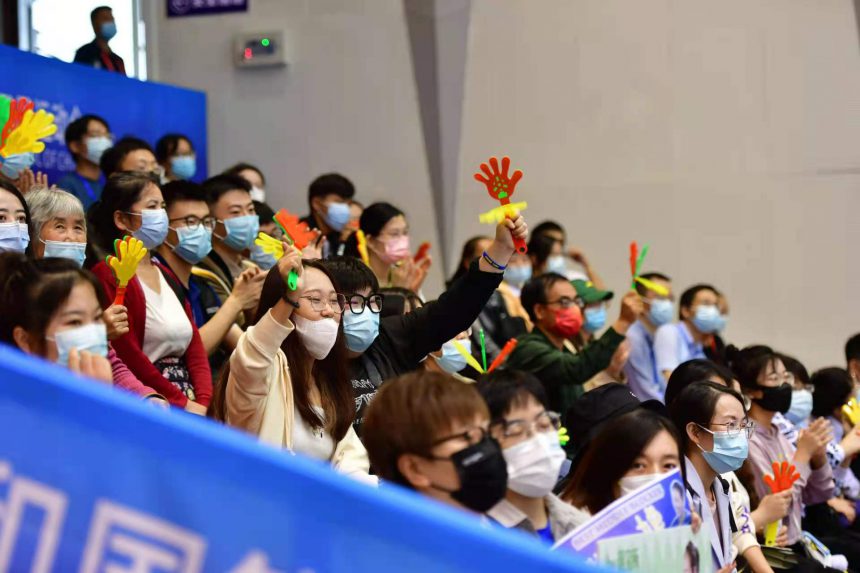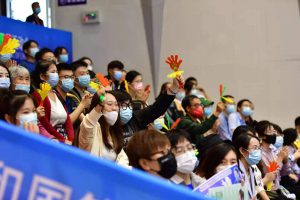 Competition Schedule and Results
Thursday, September 16
Henan v Shanghai 0-3 (19-25, 21-25, 19-25)
Guangdong v Zhejiang 2-3 (25-20, 25-21, 18-25, 16-25, 7-15)
Jiangsu v Tianjin 3-2 (25-19, 20-25, 25-23, 18-25, 19-17)
Liaoning v Shandong 3-2 (15-25, 25-22, 17-25, 25-17, 15-12).
Friday, September 17
Zhejiang v Jiangsu 1-3 (25-17, 23-25, 23-25, 24-26)
Shanghai v Shandong 3-0 (25-19, 25-20, 25-21)
Tianjin v Liaoning 3-0 (25-20, 25-21, 25-12)
Henan v Guangdong 1-3 (19-25, 16-25, 25-22, 19-25)
Saturday, September 18
Shandong v Tianjin 0-3 (24-26, 22-25, 16-25)
Liaoning v Zhejiang 3-0 (25-18, 25-11, 25-20)
Guangdong v Shanghai 0-3 (17-25,16-25,20-25)
Jiangsu v Henan 3-1 (25-14, 25-22,23-25,25-16)
Sunday, September 19
Zhejiang v Shandong 0-3 (17-25, 16-25, 11-25)
Henan v Liaoning 0-3 (16-25, 16-25, 20-25)
Guangdong v Jiangsu 0-3 (23-25, 19-25, 6-25)
Shanghai v Tianjin 0-3 (18-25, 23-25, 25-27)
Monday, September 20
Rest Day
Tuesday, September 21
Liaoning v Guangdong 3-0 (25-15, 25-22, 25-13)
Jiangsu v Shanghai 3-1 (25-21, 22-25, 25-20, 25-16)
Shandong v Henan 3-0 (25-17, 25-19, 25-15)
Tianjin v Zhejiang 3-0 (25-21, 25-18, 25-17)
Wednesday, September 22
Jiangsu v Liaoning 3-0 (25-17, 25-19, 25-19)
Guangdong v Shandong 0-3 (18-25, 11-25, 17-25)
Henan v Tianjin 0-3 (10-25, 17-25, 13-25)
Shanghai v Zhejiang 3-0 (25-19,25-19, 25-18)
Thursday, September 23
Tianjin v Guangdong 3-0 (25-17, 25-12, 25-14)
Zhejiang v Henan 0-3 (23-25, 20-25, 21-25)
Liaoning v Shanghai 3-2 (15-25, 25-17, 13-25, 25-15, 15-7)
Shandong v Jiangsu 3-0 (27-25, 25-14, 25-19)
Friday, September 24
Rest Day
Saturday, September 25
15:00 Shanghai v Jiangsu
19:00 Liaoning v Tianjin
Sunday, September 26
15:00 Bronze medal match
19:00 Gold medal match
Related links of AVC
AVC Website: click www.asianvolleyball.net
AVC Facebook: click www.Facebook.com/AsianVolleyballConfederation
AVC Twitter: click: www.twitter.com/AsianVolleyball
AVC Instagram: click: https://www.instagram.com/avcvolley/?hl=en
AVC Youtube: click: Asian Volleyball Confederation
AVC WeChat: Asian Volleyball Confederation