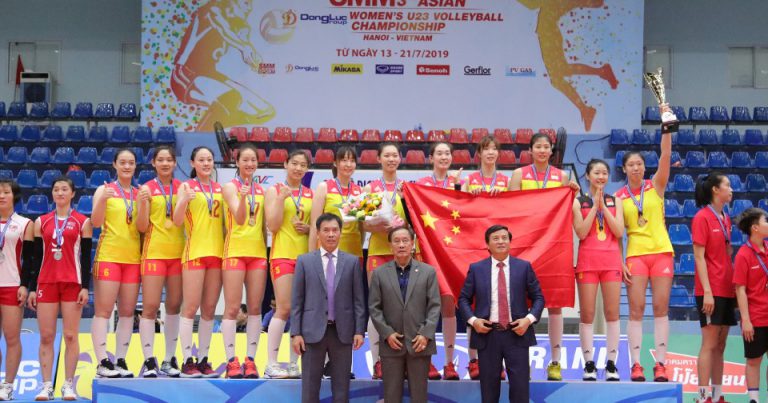 FINAL WRAPUP
Hanoi, Vietnam, July 21, 2019 – Fired-up China once again confirmed their status as the regional powerhouse after putting it past a determined DPR Korea in pulsating straight sets 25-16 25-19 25-18 in the highly-anticipated final showdown of the 3rd Asian Women's U23 Volleyball Championship at Gia Lam Gymnasium here on Sunday to reclaim the Asian title with a remarkable unbeaten record.
It was the second time in history that China captured the crown in this Asian Women's U23 Championship since their debut success in 2015 in Pasig, the Philippines, where they thrashed Thailand 3-1 in the showdown. China did not return for the title defence in the second edition in Nakhon Ratchasima, Thailand in 2017, but sent a strong squad to Hanoi this time to land the title for the second time.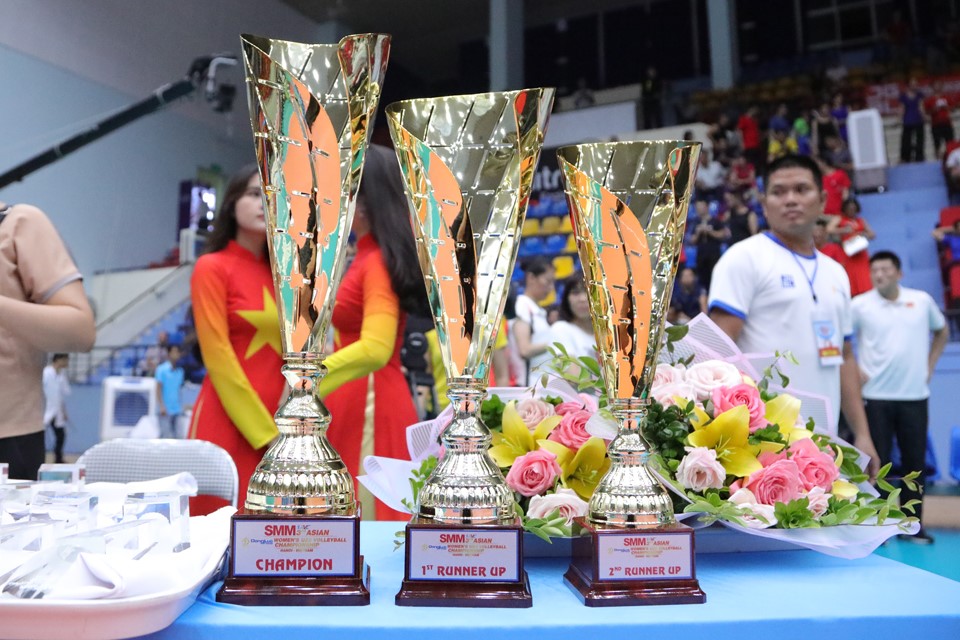 On Sunday, fired-up China won the final clash of the two unbeaten teams. Sun Jie performed brilliantly to chip in with 17 points for China including 16 attacks from 25 attempts, while Song Liqi and Wu Han kept good company in the team's attacks. Son Hyang Mi topscored with 16 points for DPR Korea.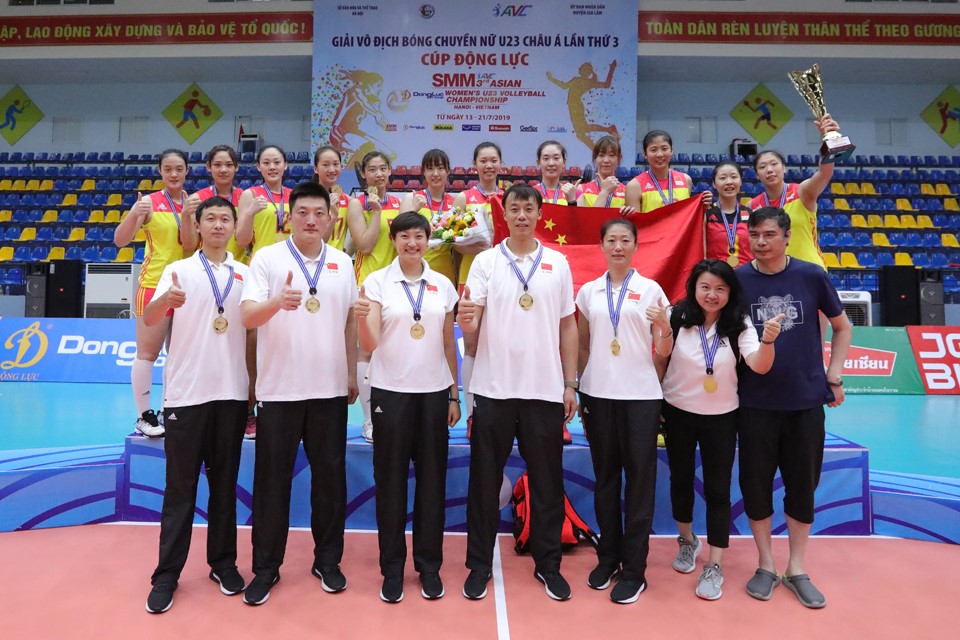 Against debutantes DPR Korea in the final showdown on Sunday, China fielded an offensive lineup packed with individual talents including Wu Han, who was named the Best Outside Spiker in the team which captured the FIVB Women's U20 World Championship title in 2017 in Mexico, the 194cm-tall Gao Yi and another powerful hitter Sun Jie. Ace spikers Son Hyang Mi and Pyon Rim Hyang spearheaded DPR Korea.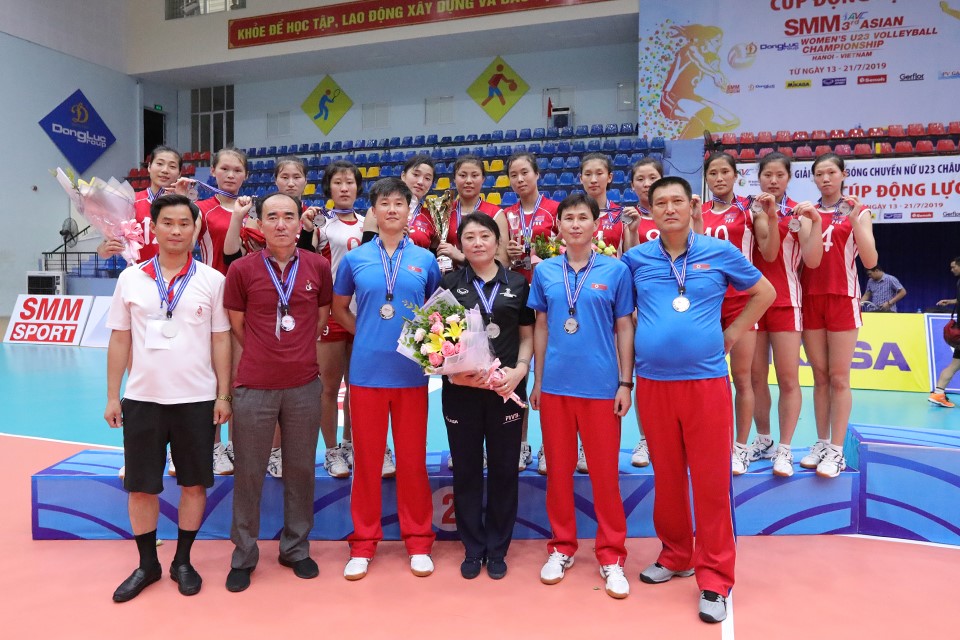 After the win, Chinese players were on cloud nine as they jumped for joy, hugged staff coach and one another and danced in a circle. Chinese fans on the grand stands waved their flags, shouted with joy and were all smiles.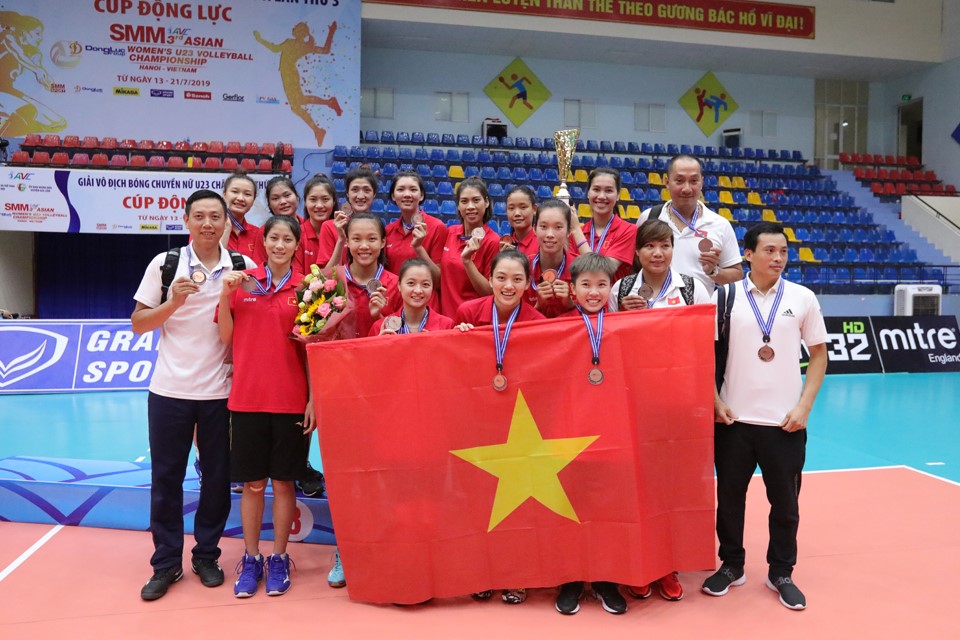 In the third-place playoff earlier, formidable Vietnam produced a terrific comeback 3-1 (14-25 25-22 25-21 25-14) win against Thailand to keep their bronze medal achieved in the previous edition two years ago at home.
Tran Thi Thanh Thuy chipped in with 16 points from 14 attacks, one block and one ace. Wipawee Sritong led Thailand with 15 points including 11 attacks from 27 attempts, while Thanacha Sooksod kept good company to contribute 14 points.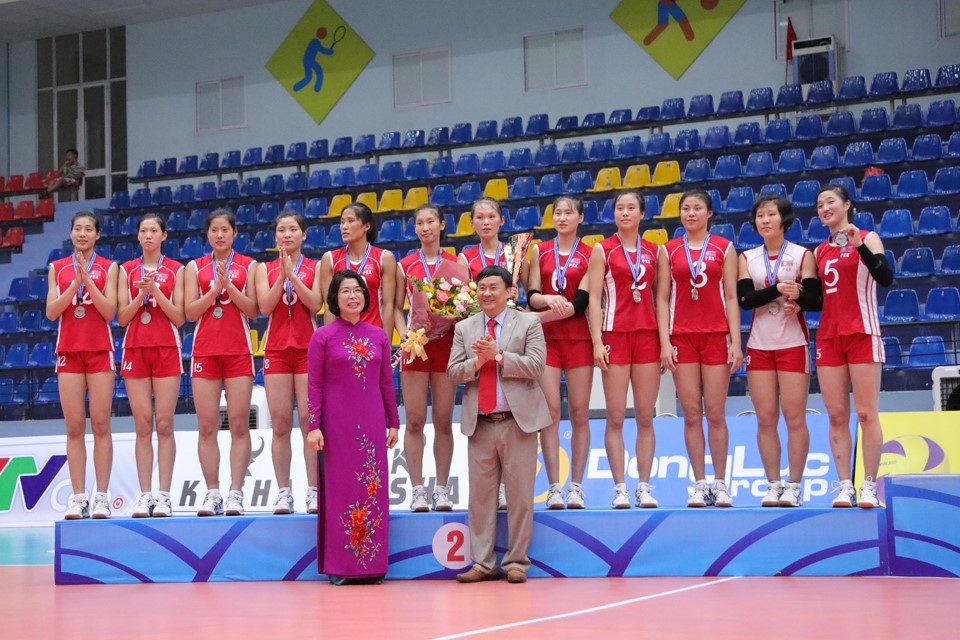 Vietnam fielded six players who clinched bronze medal at the previous edition in Nakhon Ratchasima, Thailand including Tran Thi Thanh Thuy, who won the Best Outside Spiker there. Thailand, silver medallists at the first two editions, had four players who joined the 2017 squad including powerful hitters Thanacha, Tichaya Boonlert and Natthanicha Jaisaen.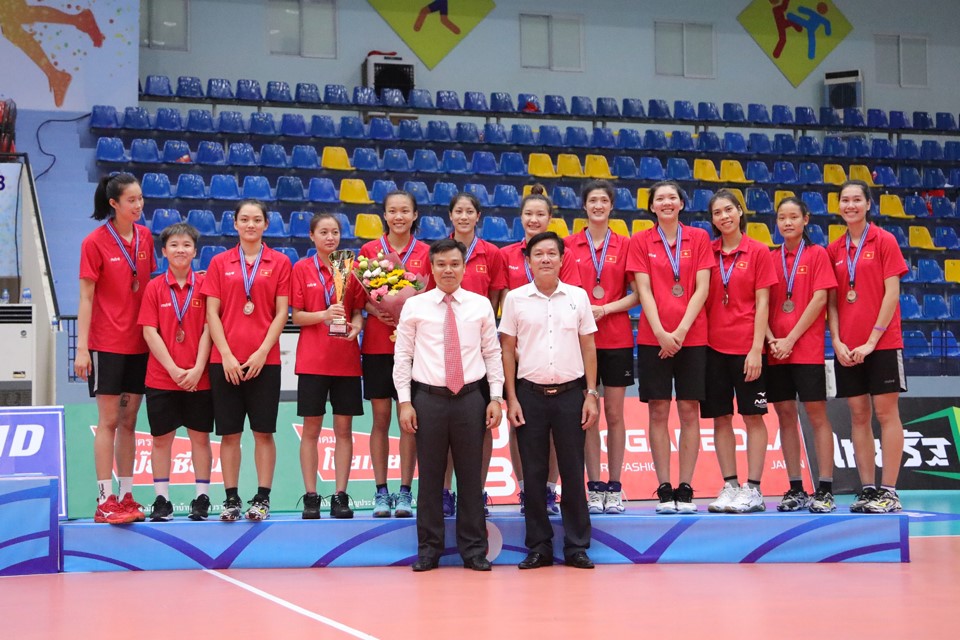 Hosts Vietnam claimed the bronze medal, the same performance and the medal they had achieved in Thailand two years ago. Thailand missed the podium for the first time in history to return with the fourth place.
Meanwhile, Chen Tzu-Ya's brilliant individual display guided Chinese Taipei to hard-fought 3-2 (25-20 21-25 23-25 27-25 15-11) win against Kazakhstan to finish a well-earned fifth place on Sunday.
The 177cm-tall Chen Tzu-Ya scored a match-high 34 points from 30 attacks, 2 blocks and 2 aces for Chinese Taipei, while Kristina Belova led Kazakhstan with 19 points.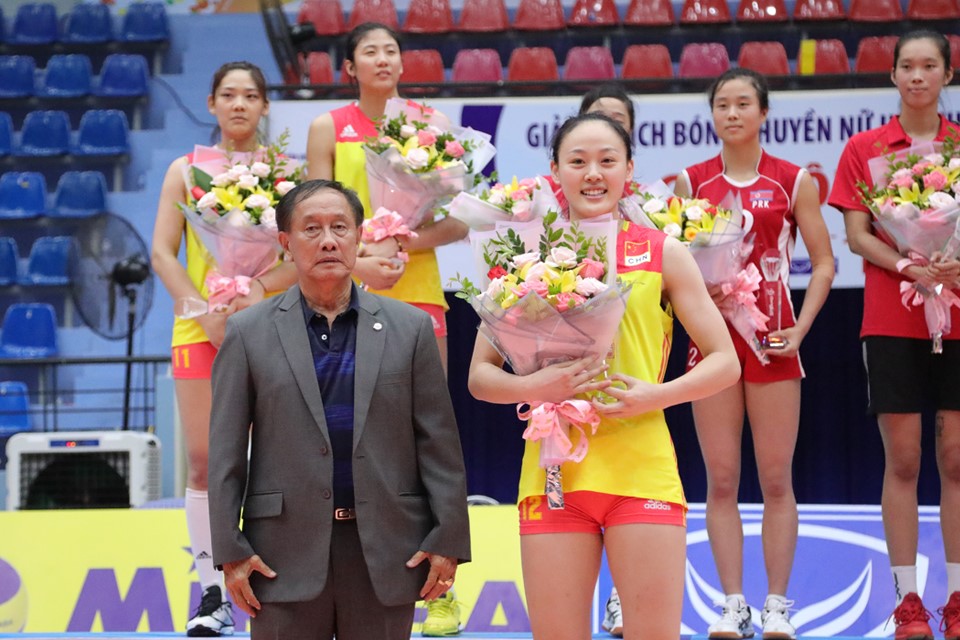 Kazakhstan finished fifth at the previous edition in Nakhon Ratchasima two years ago and they just want, at least after missing their target of finishing among top four, maintain their fifth position they had won. On the other hand, Chinese Taipei had already dropped from their best-finish of fourth place in Nakhon Ratchasima and here in Hanoi, the young Chinese Taipei, whose average age is 19 years old, battled it out with Kazakhstan for the 5th place.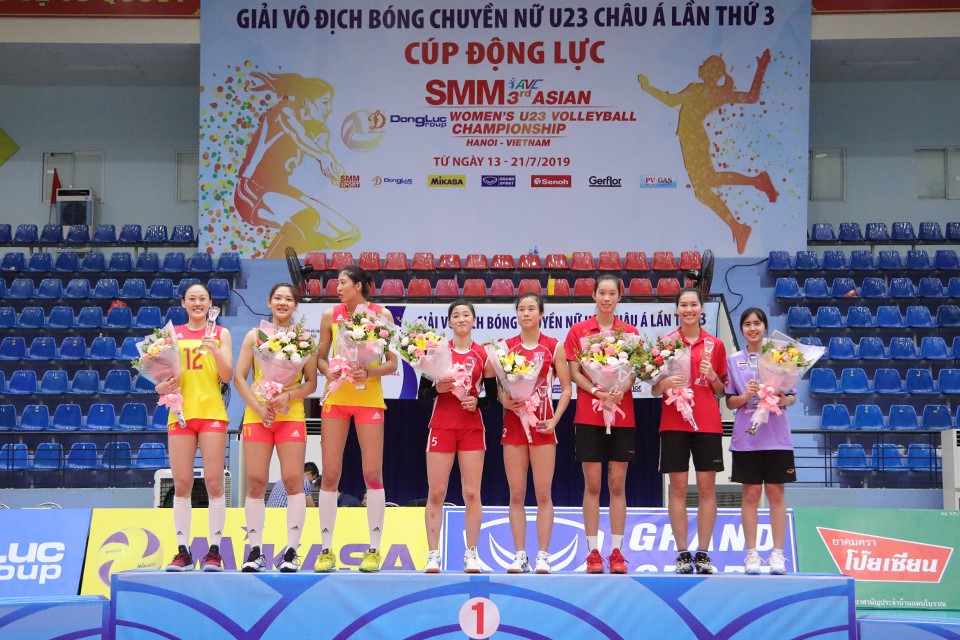 Chinese Taipei fielded a young squad with promising future. Under Japanese coach Koji Tsuzurabara's guidance, they are preparing for the 2024 Paris Olympic Games. Without any doubt, the win boosted the Chinese Taipei's future hopes in international tournaments.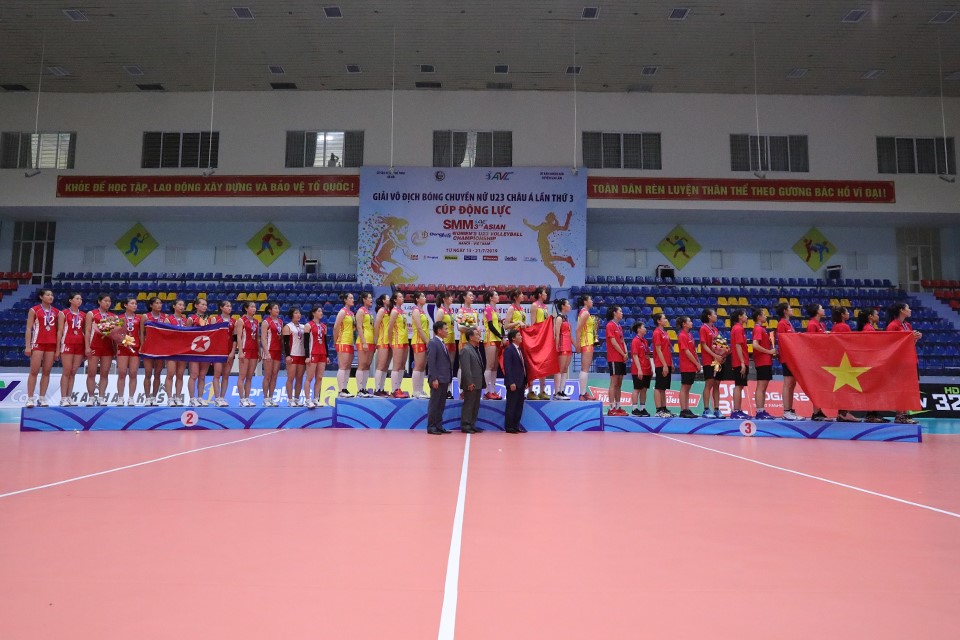 Hong Kong China managed to finish 7th place following a five-set (25-17 25-10 24-26 25-27 15-11) victory over New Zealand in the 7th-8th playoff match on Sunday.
Tam Ching Rachel scored a team-high 24 points for Hong Kong China including 20 attacks from 43 attempts, while Tamara Otene also topscored with 24 points for New Zealand.
Hong Kong China, which finished 6th place at the previous edition in Nakhon Ratchasima, relied on powerful attacks from Tam Hin Ching Rache and Chim Wing Lam, while New Zealand made a strategic change, with captain and hard-attacking Petra Manderson wearing a different jersey from other teammates as coach Sam Ryburn allowed her a chance to become libero. However, it seemed that his intention did not work out well as Hong Kong China stole the show to carve out the 3-2 victory.
SUNDAY'S FINAL RESULTS
7th-8th playoff: Hong Kong China b New Zealand 3-2 (25-17 25-10 26-24 27-25 15-11)
5th-6th playoff: Chinese Taipei b Kazakhstan 3-2 (25-20 21-25 23-25 27-25 15-11)
Bronze medal Match: Vietnam b Thailand 3-1 (14-25 25-22 25-21 25-14)
Championship Match: China b DPR Korea 3-0 (25-16 25-19 25-18)
FINAL RANKING
1. China
2. DPR Korea
3. Vietnam
4. Thailand
5. Chinese Taipei
6. Kazakhstan
7. Hong Kong China
8. New Zealand
9. Australia
10. India
11. Macau China
12. Sri Lanka
13. Maldives
INDIVIDUAL AWARDS
Most Valuable Player: Wu Han No.12 China
Best Outside Spikers:
1. Son Hyang Mi No.5 DPR Korea
2. Tran Thi Thanh Thuy No.3 Vietnam
Best Setter: Ri Jong Hyang No.2 DPR Korea
Best Opposite Spiker: Sun Jie No.11 China
Best Middle Blockers
1. Cao Yi No.13 China
2. Nguyen Thi Thrinh No.15 Vietnam
Best Libero: Jidapa Nahuanong No.5 Thailand
Related links of AVC
AVC Website: click www.asianvolleyball.net
AVC Facebook: click www.Facebook.com/AsianVolleyballConfederation
AVC Twitter: click: https://twitter.com/avcvolley
AVC Instagram: click: https://www.instagram.com/avcvolley/?hl=en
AVC Youtube: click: Asian Volleyball Confederation
AVC WeChat: Asian Volleyball Confederation