A selection 39 players will start preparations for the upcoming season
Nanami Seki in action during VNL 2021
Coach Masayoshi Manabe who is back at the helm of the Japanese women's national team announced a roster of 39 players on whose services he will rely for the upcoming season.
The selection includes six of the athletes who represented Hinotori Nippon at the Tokyo 2020 Olympic Games last year – setter Aki Momii, hitters Kotona Hayashi, Mayu Ishikawa and Sarina Koga, and middle blockers Haruyo Shimamura and Nichika Yamada. There are also as many as 20 newcomers on the list.
Sarina Koga, who will turn 26 just days before the season officially starts with the first FIVB Volleyball Nations League matches, is the new captain of the team.
The pre-season preparation starts in early April at the Ajinomoto National Training Center in Tokyo until May 6. After that, 20 of the 39 players will be selected to represent Japan in VNL 2022.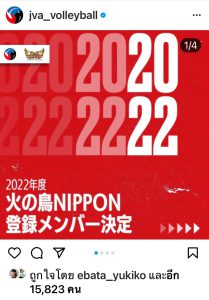 While Manabe's long-term target is set at the Paris 2024 Olympic Games, the team's first season of the new Olympic cycle will be highlighted by their participation in the VNL and the FIVB Volleyball World Championship Netherlands-Poland 2022, but also includes the 2022 Asian Games and the 2022 AVC Asian Cup.
Japan women's national team full roster:
Setters: Aki Momii, Haruka Miyashita, Mika Shibata, Mizuki Ugajin, Nanami Seki, Nonoka Yamazaki, Tamaki Matsui
Opposites / outside hitters: Airi Miyabe, Ameze Miyabe, Arisa Inoue, Fuyumi Hawi Okumu Oba, Haruna Soga, Kotona Hayashi, Mami Uchiseto, Mayu Ishikawa, Mikoto Shima, Minami Nakamoto, Miwako Osanai, Miyu Nakagawa, Mizuki Tanaka, Sarina Koga, Shuka Kaneda, Yoshino Sato, Yuka Sato, Yuki Nishikawa
Middle blockers: Asuka Hamamatsu, Chihiro Sasaki, Erina Ogawa, Haruyo Shimamura, Hiroyo Yamanaka, Mami Yokota, Nanami Asano, Nichika Yamada, Shion Hirayama
Liberos: Akane Yamagishi, Manami Kojima, Moeri Hanai, Rena Mizusugi, Satomi Fukudome
"I am back after five years and I'm excited, but nervous. It's about two and a half years until the Paris Olympics and about one and a half years until the Olympic qualifiers. We have to improve within a short span. The selection includes both experienced and young players and I really look forward to working with everyone. I want to quickly find out who is ready to play at world-class level on the first team. So I want them to fully demonstrate their strengths in training."
Masayoshi Manabe, head coach of Japan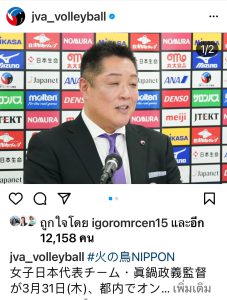 Related links of AVC
AVC Website: click www.asianvolleyball.net
AVC Facebook: click www.Facebook.com/AsianVolleyballConfederation
AVC Twitter: click: www.twitter.com/AsianVolleyball
AVC Instagram: click: https://www.instagram.com/avcvolley/?hl=en
AVC Youtube: click: Asian Volleyball Confederation
AVC WeChat: Asian Volleyball Confederation