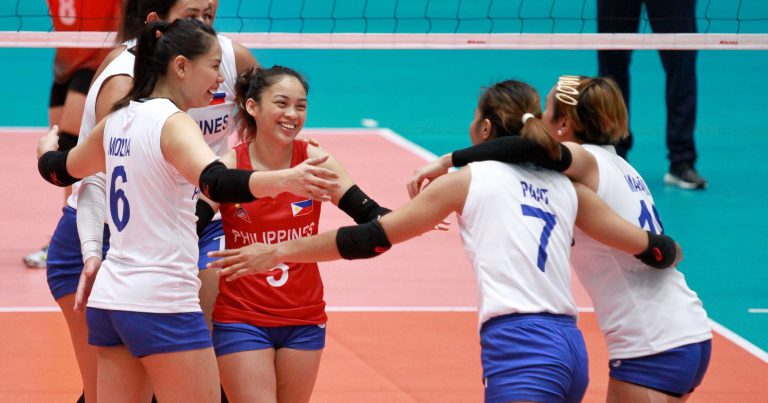 Bangkok, Thailand, September 25, 2020 – In her young career, libero Dawn Macandili's name is already flashing in bright lights as the future of Philippine volleyball.
Early on, Macandili knew that wearing the Philippine flag on her chest meant taking generations of Filipino pride whenever she stepped on court.
"Since joining the national team in 2017, I have always had this immeasurable amount of pride and joy whenever I represent the country.
"It's the same surge of feelings when I hear and sing the Philippine national anthem. I carry that feeling on and off the court because being a Filipino is truly amazing. It inspires me a lot because, like our fellow Filipinos who have risen above despite the obstacles they have faced, I also want to be that strong in my own field."
At age 21, Macandili already showcased that pride on her international debut at the 2017 Asian Senior Women's Volleyball Championship, where she wowed her fans as she was named in the Dream Team.
With her undeniable talent, Macandili became a staple in the Philippine team's starting unit in succeeding international tournaments.
In the lead up to the country's hosting of the 2019 Southeast Asian Games, she bagged another Best Libero award at the ASEAN Grand Prix along with her first international medals. For Macandili, these milestones are just the dawn of a new era for Philippine volleyball.
"We were really happy to win bronze in both legs of the ASEAN Grand Prix. Although it is quite unfortunate that we did not follow it through at the SEA Games, it just means we still have a lot to work on, and winning those two bronze medals means we are getting somewhere."
Macandili is well aware, however, that carrying her country's flag also means facing immense pressure and challenges along the way.
"Whenever we go out and represent the Philippines, the expectations people put on our shoulders are always there. Our national federation has gathered the best of the best players to form the national team so they expect us to be strong and play our best.
"The most challenging part for national team players in this situation is that there are two leagues in the Philippines for women's volleyball, which play year-round. Given the tight schedule with our club teams, it leaves a limited amount of time training together with the national team."
Despite these setbacks, Macandili chooses to look at the brighter side and use these challenges to carry herself and her team to the top of the podium.
"Given the pressure, obstacles, limitations and other external circumstances that we face as an athlete, that is what also makes us stronger and that is what fuels our hunger to strive even further.
"I know Philippine volleyball experienced a long break in the international scene, so all the more that I want other countries to recognize us as a team to be reckoned with."
While the spotlight is focused on her defense masterclass, Macandili knows she still has loads of work to do behind the stage to perform her best.
"Young players often ask me questions like 'How can I be as good as you?' or 'How can I be a great libero?' My answer always is I don't know, I didn't know how to be all of those.
"I just had the will to learn because all those knowledge and skills came from the guidance of our coaches and my teammates. But ultimately it is experience that made me who I am today because I think in order to strengthen your volleyball IQ, you must overcome a series of trial and error phases."
In order to reach the top, Macandili said the best and only way is to remain grounded and to leave room for improvement.
"You won't always get that ball, but you know what to do the next time the same scenario comes along. You don't get better overnight. Never settle and keep your cup half full. Always look for new skills to learn or improve on your existing skills. Focus on your goal and keep working hard for your dream because we all start with just a dream."
Related links of AVC
AVC Website: click www.asianvolleyball.net
AVC Facebook: click www.Facebook.com/AsianVolleyballConfederation
AVC Twitter: click: https://twitter.com/avcvolley
AVC Instagram: click: https://www.instagram.com/avcvolley/?hl=en
AVC Youtube: click: Asian Volleyball Confederation
AVC WeChat: Asian Volleyball Confederation