Semey, Kazakhstan, April 24, 2022 – Consecutive two-time Thailand League winners Diamond Food – Fine Chef Sport Club, title-holders Altay VC and in-form Barij Essence tasted their first victories on Day 1 of the single round-robin preliminaries of the 2022 Asian Women's Club Volleyball Championship here on Sunday.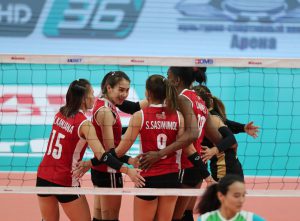 Diamond Food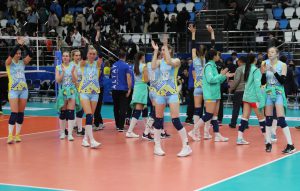 Altay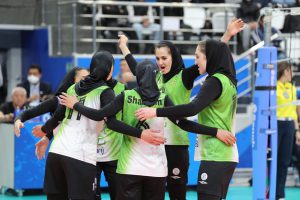 Banij Essence
A large crowd of local enthusiasts thronged into the 5,000-seater Abay Arena Cultural and Sports Complex on Sunday to attend the opening ceremony and support their favourite teams.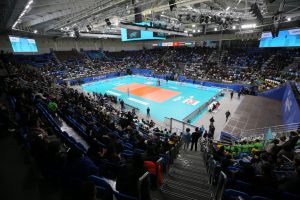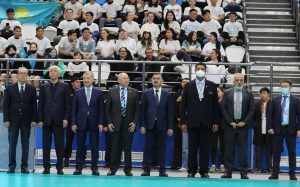 Control Committee Members
Ahead of the curtain-raiser between Diamond Food and Jizzakh State Pedagogical Institute from Uzbekistan, the opening ceremony was held inside the state-of-the-art competition venue, with all six participating teams joining the Athletes parade.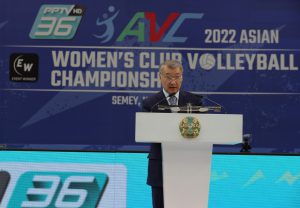 Danial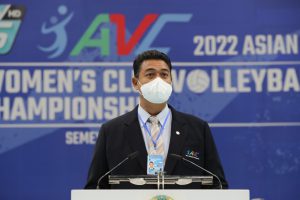 Kiattipong
Mr Danial Akhmetov, Akim of East Kazakhstan region, presided over the ceremony and gave a welcome speech to all participants, while AVC Secretary General Mr Kiattipong Radchatagriengkai, himself the appointed Technical Sub Committee, said on behalf of the continent's governing body that he would like to express sincere thanks to Semey and Kazakhstan for making the Asia's top-flight women's club competition happen and supporting the AVC activities.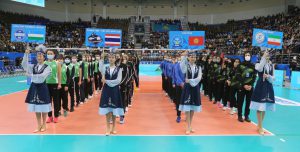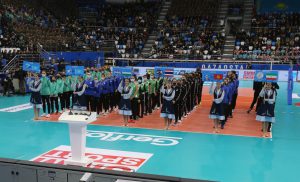 Meanwhile, Diamond Food, chasing dreams of capturing the Asian Women's Club title for the first time, fielded a strong lineup led by two overseas spikers – Brazilian Fernada Davis Tome and Cuban Liannes Castaneda, and powerful Thai Sasipaporn Janthawisut in their opening clash against Jizzakh State Pedagogical Institute.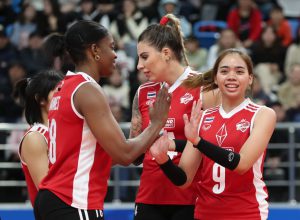 Packed by talented players, Diamond Food made a superb start with a comfortable 25-8 win in the first set. The Thai squad still put the Uzbek opponents under constant pressure from the front and back of the court with some spectacular attacks from Liannes and Tome and powerful serves from Sasipaporn for another easy win in the second set with the similar margin 25-8.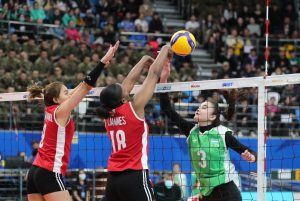 Jizzakh State tried hard to come back in the third set, but still struggled to get past the Diamond Food's scintillating blocks. After a commanding 23-10 lead, the Thai team continued their brilliant form to clinch the remaining two points for the eventual 25-10 win in the set and match.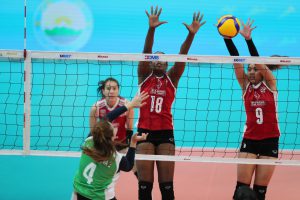 Liannes Castaneda Simon chipped in with 13 points including 11 attacks from 23 attempts for Diamond Food, while Sativoldieva led Jizzakh State Pedagogical Institute with only 5 points.
"For my team, it is very important to start with the win. Tomorrow (Monday), we will play Kuanysh VC, which I think will be more difficult because they are a strong team," said Liannes after the match.
Teammate Sasipaporn Janthawisut also expressed her delight for the win. "I feel so excited because this is our first match, but playing at this competing venue did not make me nervous. I would like to ask volleyball fans to continue supporting my team Diamond Food from Thailand."
On Monday, Diamond Food – Fine Chef Sport Club will go up against Kazakhstan's Kuanysh VC, while Jizzakh State Pedagogical Institute will take on Iran's Barij Essence.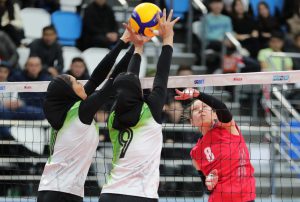 The match between Barij Essence and Kyrgyzstan VC was one-way traffic, with the Iranian side, spearheaded by captain and opposite spiker Mahsa Kadkhoda, seemingly going through the motion to comfortably take the first two sets 25-14 and 25-14.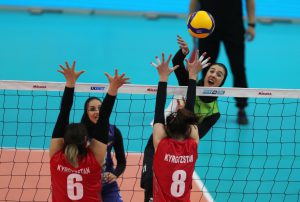 The young Kyrgyz team, which have just completed their campaign in the Kyrgyzstan National Youth League, tried to recover from their dismal show, but instead they were beginning to make more errors. Barij Essence showed no mercy to Kyrgyzstan VC, allowing them only 7 points throughout the one-sided affair to wrap up the set 25-7 and the easy match.
Mahsa Kadkhoda scored a team-high 13 points for Barij Essence, while Kyzy Rasulbek bagged only 4 points including 3 attacks for Kyrgyzstan VC.
"It's very good for my team to win this match and I was very happy. I would like to thank all fans who supported our team," said Mahsa.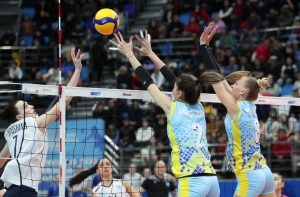 Earlier, defending champions Altay VC struggled to beat Kuanysh VC in well-fought 3-1 in the all-Kazakhs battle.
Altay, which last year captured their title at the previous edition in Nakhon Ratchasima, Thailand following their straight-set win against hosts Nakhon Ratchasima QminC VC, were strong with the likes of the three musketeers, powerful Sana Anarkulova, Serbian Danica Radenkovic and Ukrainian Nadiia Kodola. As Sana took the MVP award at the previous edition, Nadiia won the Best Outside Spiker and Danica a major force to be reckoned with.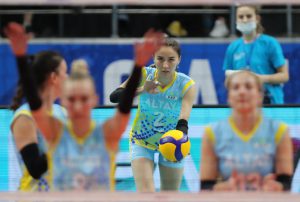 However, Kuanysh VC also sent a warning signal to other teams that they are not an easy nut to crack and beating them in comfortable straight sets can become a tough mission.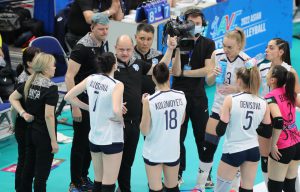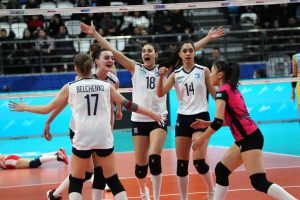 Altay were stylish and powerful and remained the side to beat in the tough-looking match. The first set saw them excel in attack, while Kuanysh suffered on poor reception and hasty mistakes. Leading 20-14, Altay still performed superbly for a blistering run of points to claim the set 25-18.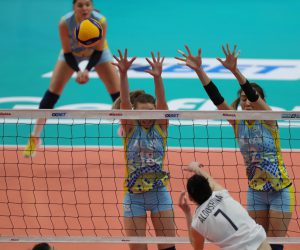 Kuanysh, steered by three foreign players consisting of Russian Elena Samoylova, Ukrainian Karyna Denysova and Serbian Aleksandra Cirovic, made amends in the second set as they traded blows and pulled clear after the second technical timeout, which they commandingly led 22-18 and stretched it to 24-20. Tatyana Aldoshina was in particularly on good form to attack devastatingly for the Kuanysh's hard-fought 25-20 win.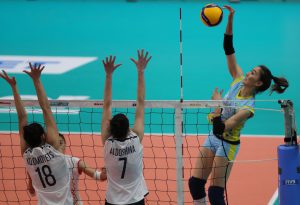 Unfortunately, forced to play catch-up yet again, Kuanysh failed to really get out of the second gear in the third set as Sana was on fire throughout the game to hand Altay the thrilling 25-19 win in the set.
In the fourth set, Kuanysh led initially 1-0 before Altay roared back to chip in with huge attacks for 5 points clear to stay in front 5-1 and widen the gap to 17-9. Kuanysh hit back bravely, but failed to maintain their momentum. They let the tough rivals jump ahead 24-18 and it seemed that any hope of their comeback in the set was quickly dismissed. Kuanysh saved one match point before Altay ended the rivals' entire challenge with a straight attack from Kristina Anikonova.
Sana Anarkulova claimed 20 points including 16 attacks and 4 solid blocks for Altay, while Tatyana Aldoshina scored a match-high 28 points on losing effort for Kuanysh VC.
As Kuanysh VC will next be pitted against Diamond Food, Altay VC will take on Kyrgyzstan VC.
The single round-robin preliminaries will continue through April 26. The following day will be the rest day for every team. The first round matches will resume on April 28 and come to a close on April 29. After that, only top two teams will set up the final showdown, while the third and fourth-ranked sides will battle it out for the bronze medal.
SUNDAY'S RESULTS
Single round-robin preliminaries
Diamond Food – Fine Chef Sport Club (Thailand) beat Jizzakh State Pedagogical Institute (Uzbekistan) 3-0 (25-8, 25-8, 25-10)
Altay VC (Kazakhstan) beat Kuanysh VC (Kazakhstan) 3-1 (25-18, 20-25, 25-19, 25-19)
Banij Essence (Iran) beat Kyrgyzstan VC (Kyrgyzstan) 3-0 (25-14, 25-14, 25-7)
MATCH SCHEDULE
Monday, April 25, 2022 (local time)
11.00am: Diamond Food (Thailand) vs Kuanysh VC (Kazakhstan)
14.00pm: Jizzakh State Pedagogical Institute (Uzbekistan) vs Banij Essence (Iran)
17.00pm: Altay VC (Kazakhstan) v Kyrgyzstan VC (Kyrgyzstan)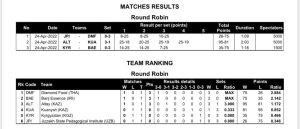 Related links of AVC
AVC Website: click www.asianvolleyball.net
AVC Facebook: click www.Facebook.com/AsianVolleyballConfederation
AVC Twitter: click: www.twitter.com/AsianVolleyball
AVC Instagram: click: https://www.instagram.com/avcvolley/?hl=en
AVC Youtube: click: Asian Volleyball Confederation
AVC WeChat: Asian Volleyball Confederation