Photos courtesy of Thailand Volleyball Association
Bangkok, Thailand, March 21, 2021 – Hot-favourites Diamond Food stunned title-holders Supreme Chonburi E-Tech to prepare for daunting clash against unbeaten Nakhon Ratchasima The Mall's VC in the women's second-leg competition of the Thailand Volleyball League 2020-2021 at Nimibutr Gymnasium here on Sunday.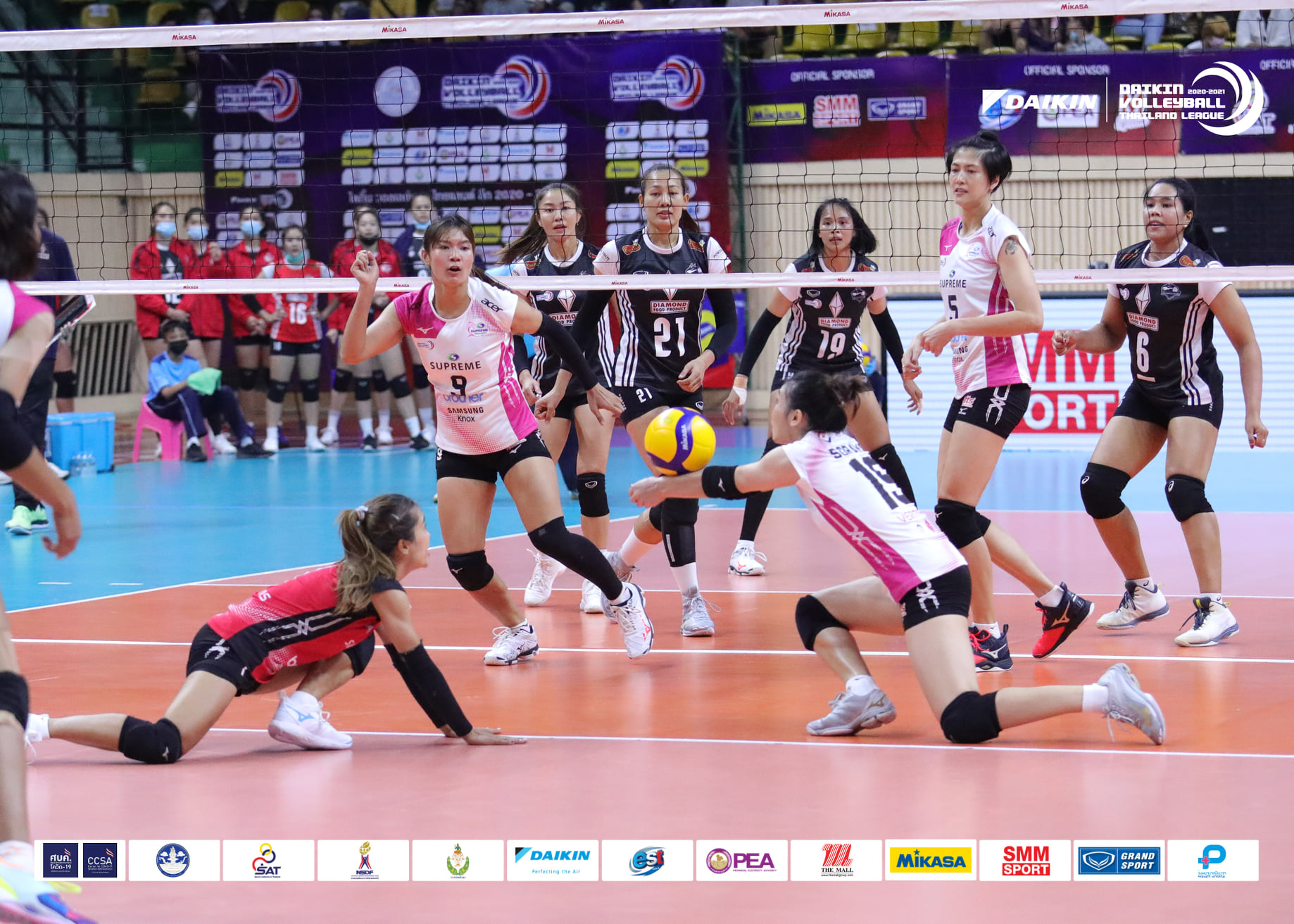 Contesting the penultimate week before the final second-leg encounters of each participating team will be concluded next weekend when only top four teams apiece from the men's and women's events will make the cut for the Final Four round, powerhouses made their marks to see off their respective rivals.
In the women's event, Diamond Food, Nakhon Ratchasima and 3BB Nakornnont captured their crucial wins this weekend, while the men's competition saw Diamond Food, Nakhon Ratchasima and Prince VC emerge victorious.
The star-studded Diamond Food, fielding a formidable lineup led by hard-hitting Onuma Sittirak, Sasipaporn Chanwisoot, Thanatcha Suksod and highly-experienced setter Nootsara Tomkom, came out in full strength to pull off a stunning 3-1 victory over Supreme.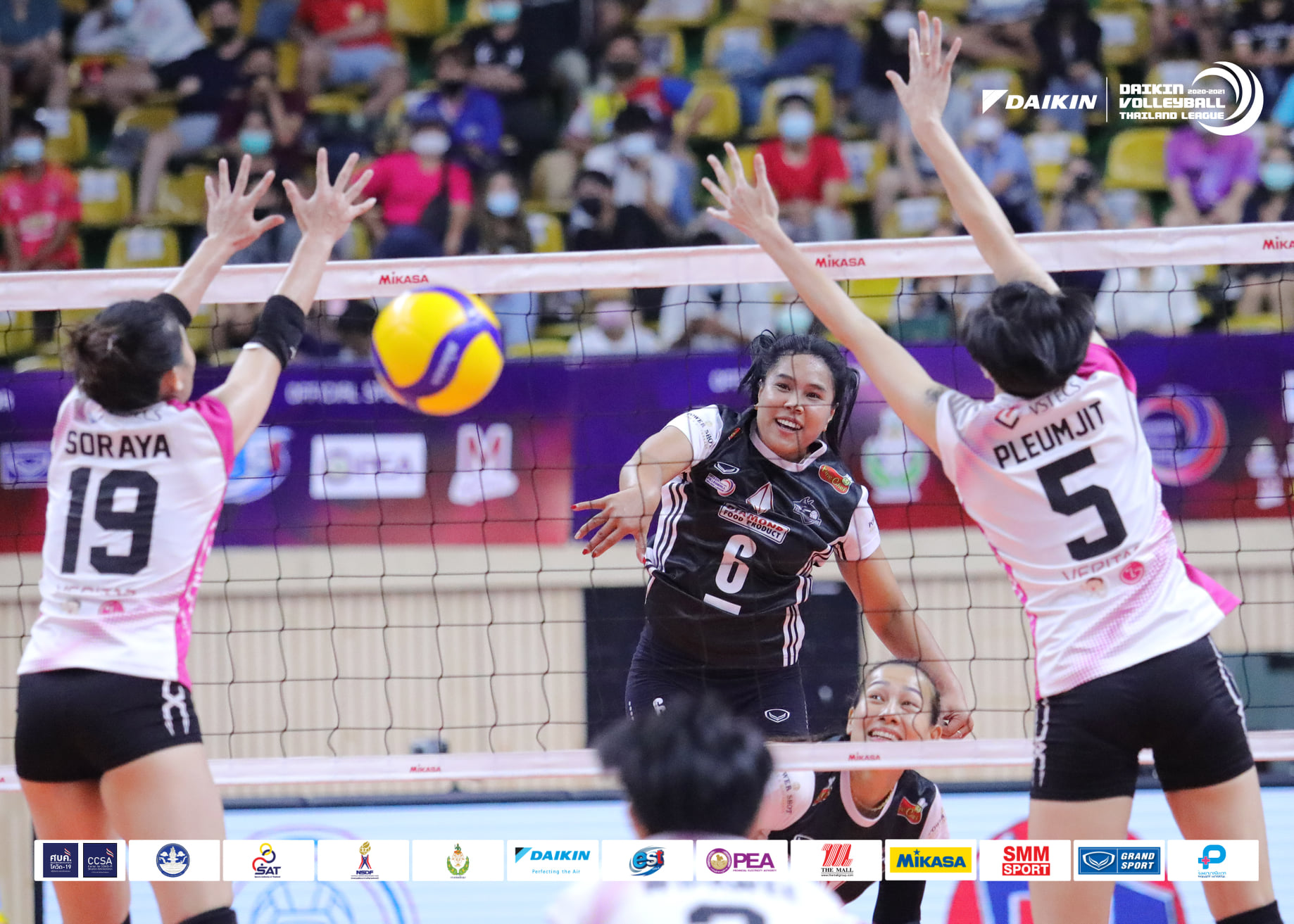 First-leg winners Supreme, defending and three-time winners and former consecutive two-time Asian Women's Club champions, got their second-leg campaign off to a disappointing start on March 6 with a bitter 1-3 loss to Nakhon Ratchasima.
Against Diamond Food on Saturday, Supreme played their best, but their attacks still proved second to the rivals. Though strengthened by veterans Pleumjit Thinkaow and Wilavan Apinyapong and gifted Ajcharaporn Kongyot, Supreme made errors after errors in some critical moments in each set which cost them dear and there was simply no way back against a side as good as Diamond Food.
Playing with more consistency and confidence, Diamond Food sealed the deal in thrilling four sets 25-19, 25-21, 23-25, 25-22 for four wins in a row.
Diamond Food will next go up against closest rivals Nakhon Ratchasima on March 28 in a tough clash of the two unbeaten teams to vie for the eventual second-leg victory, while Supreme will earlier take on 3BB Nakornnont in their last second-leg match on March 27.
Earlier on the same day, Nakhon Ratchasima, which led the pack in the women's standing, proved a strong team to be reckoned with this season. Gritty Nakhon Ratchasima, with hard-hitting Church-on Moksri and Turkish Yeliz Basa being the backbone of the team, cruised to a comfortable straight-set 25-15, 25-11, 25-17 win against Khonkaen Star VC.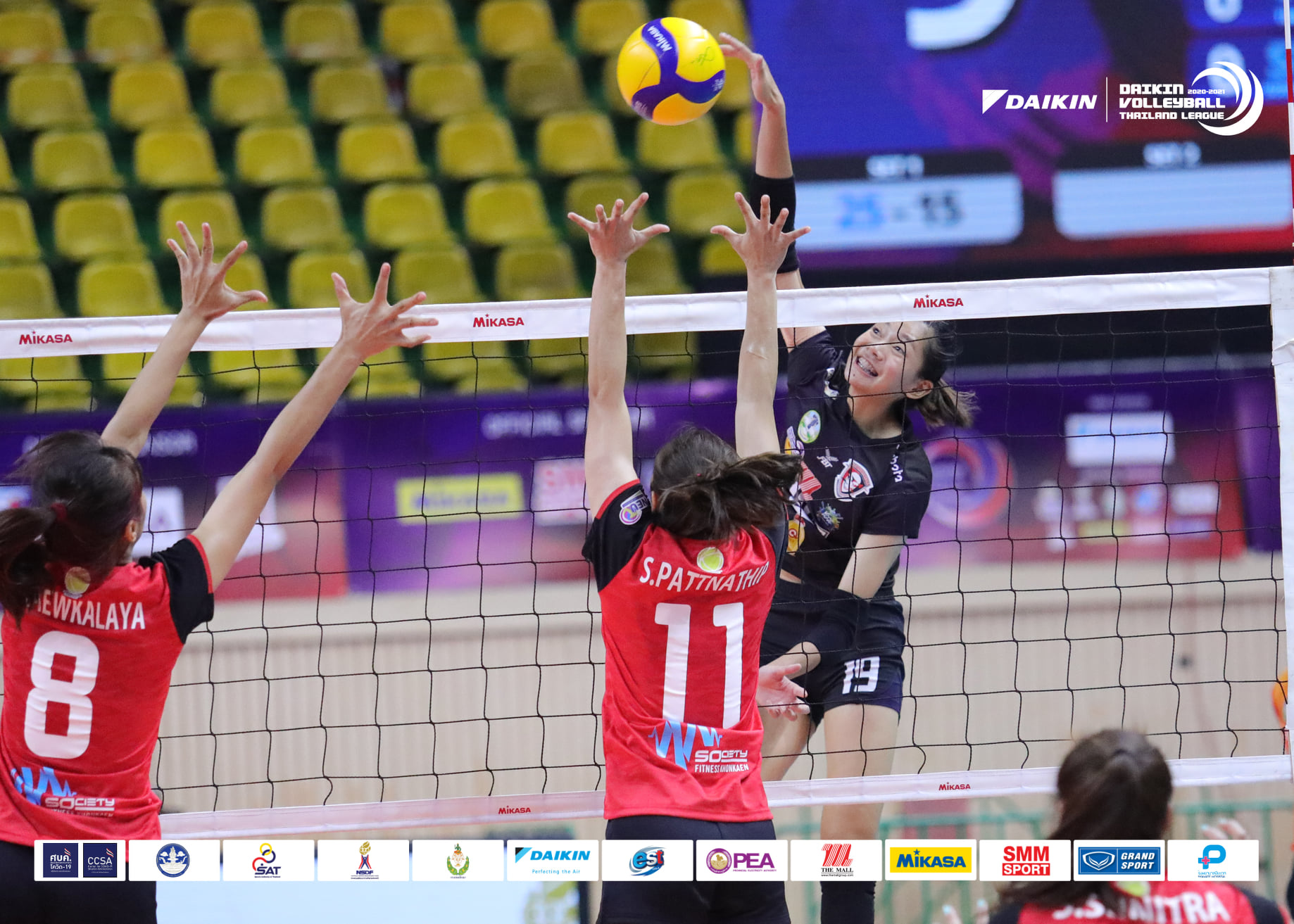 On Sunday, 3BB Nakornnont struggled to beat Proflex VC in dramatic four-setter 25-21, 25-23, 22-25, 25-19.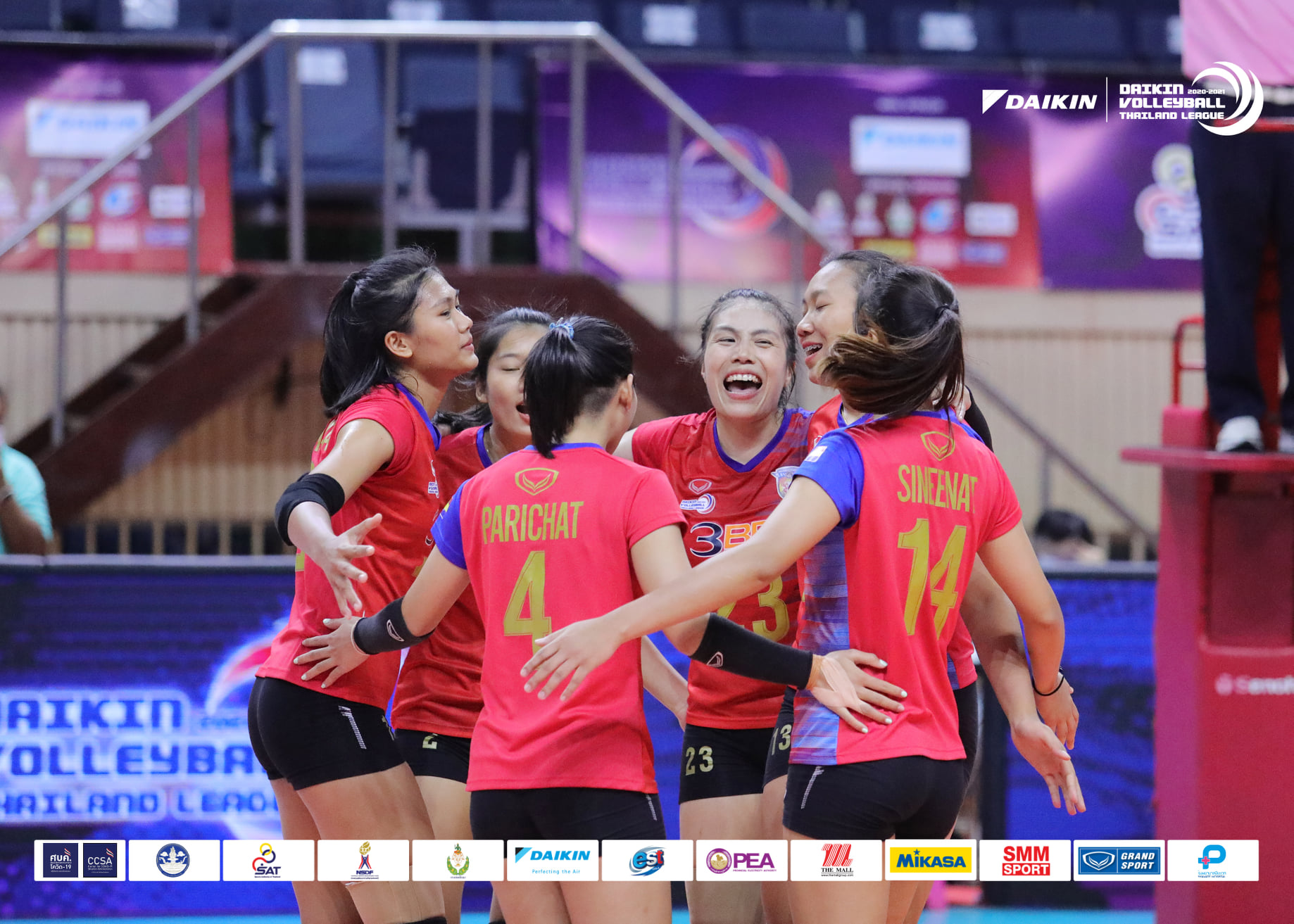 After Sunday's matches in the women's event, Nakhon Ratchasima stayed atop the standing with 12 points from four straight wins, the similar performance as Diamond Food, which came in second spot. Supreme finished third with 6 points from two wins against two losses, followed by 3BB Nakornnont, Khonkaen Star VC and Proflex VC in fourth, fifth and sixth places respectively.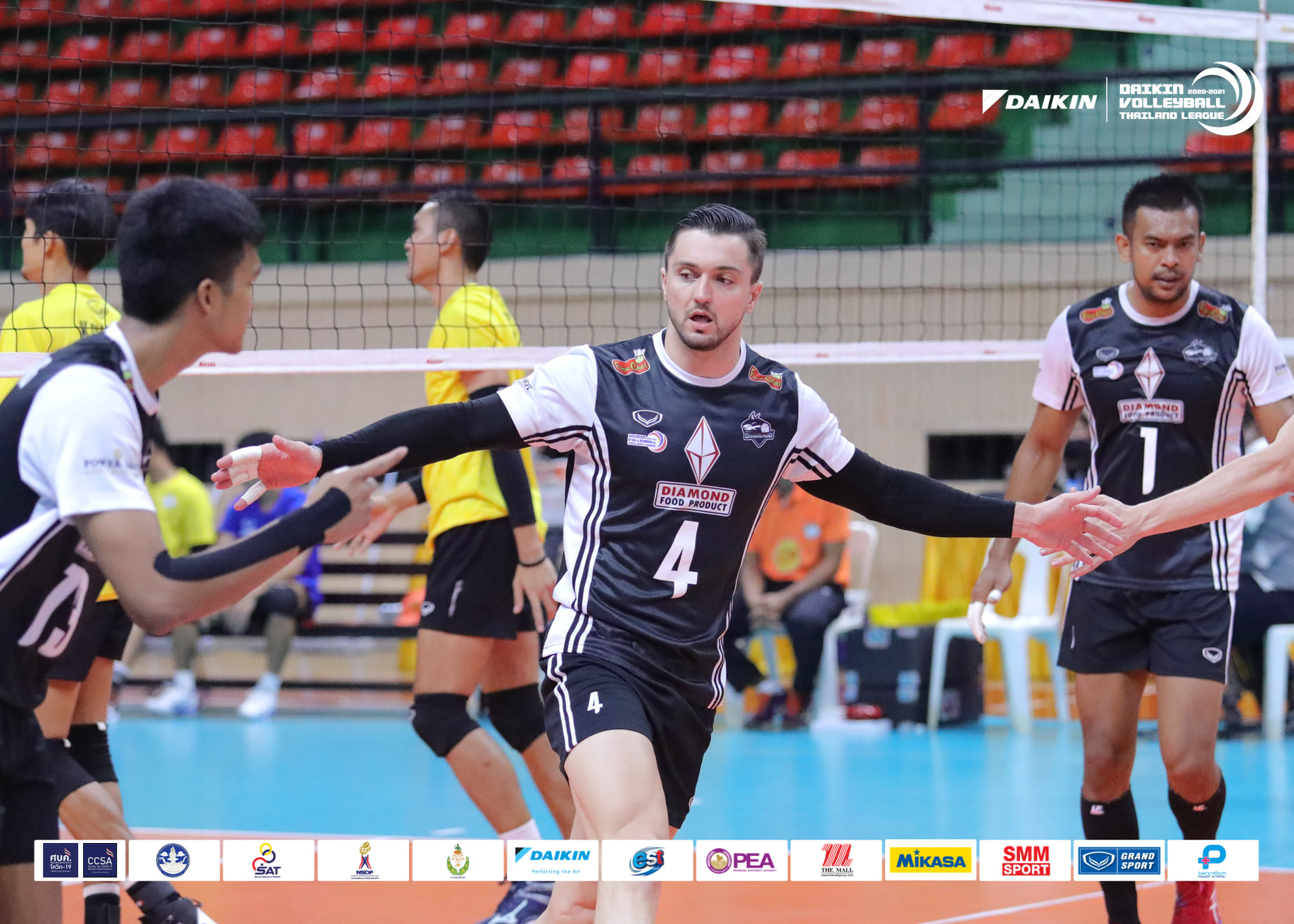 Meanwhile, in the men's event, unbeaten Diamond Food VC, offensively strong with the likes of many talented players including ace spiker Jirayu Raksakaew, Kittikhun Sriutthawong and two Brazilians, Luiz Perotto and Andre Luiz Queiroz Franca, impressively resisted Phitsanulok VC's best efforts of a determined comeback in their Saturday's encounter.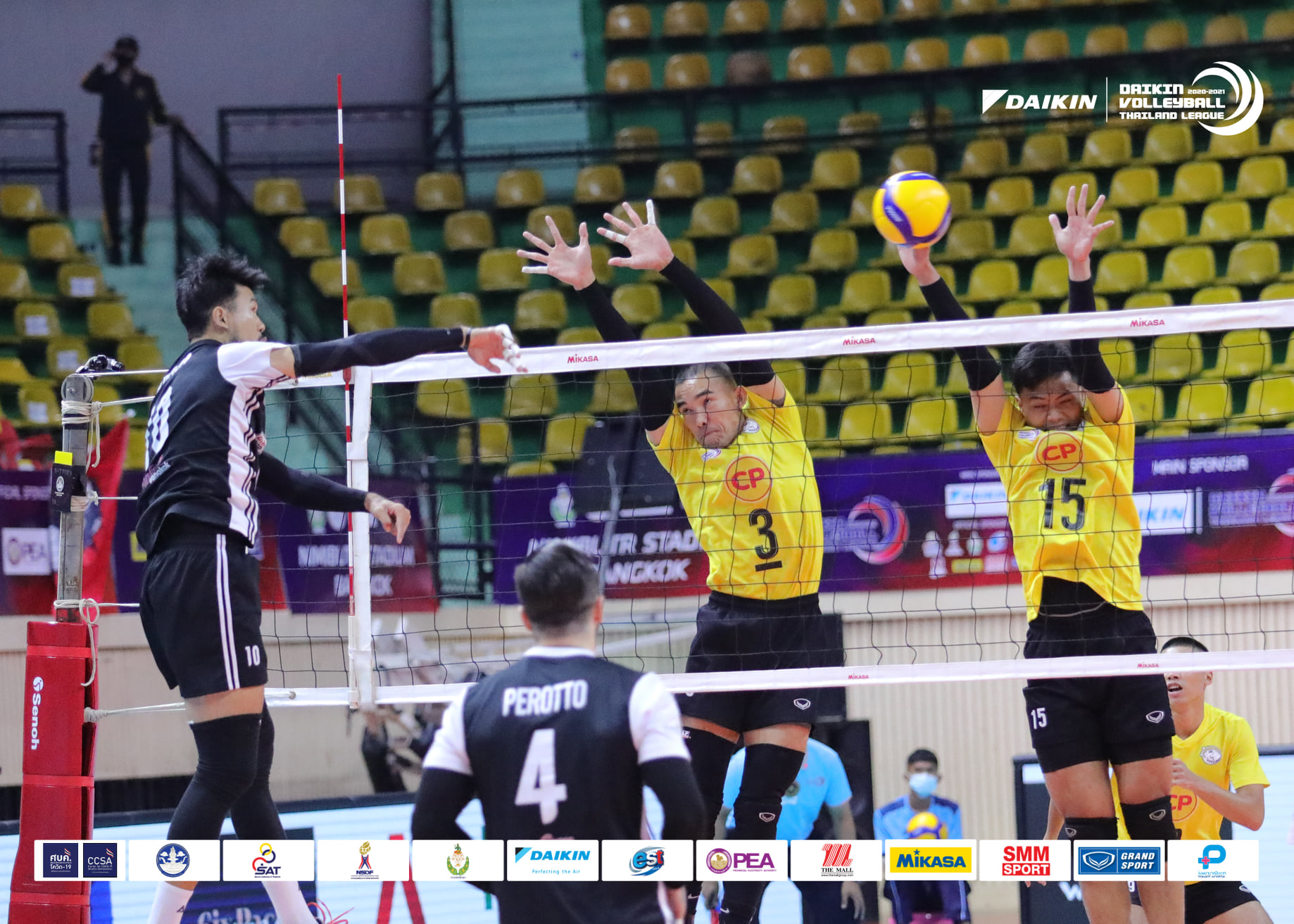 However, young, but well-trained Phitsanulok shrugged off their rust in the first two sets which they lost 16-25, 19-25, engineering a strong fightback to win the next closely-contested two sets 29-27, 26-24 to force the decider. The determined Phitsanulok still performed their best in the thrilling tiebreaker, but with the greater experience and form, Diamond Food narrowly beat them 15-12 for the hard-fought five-set win.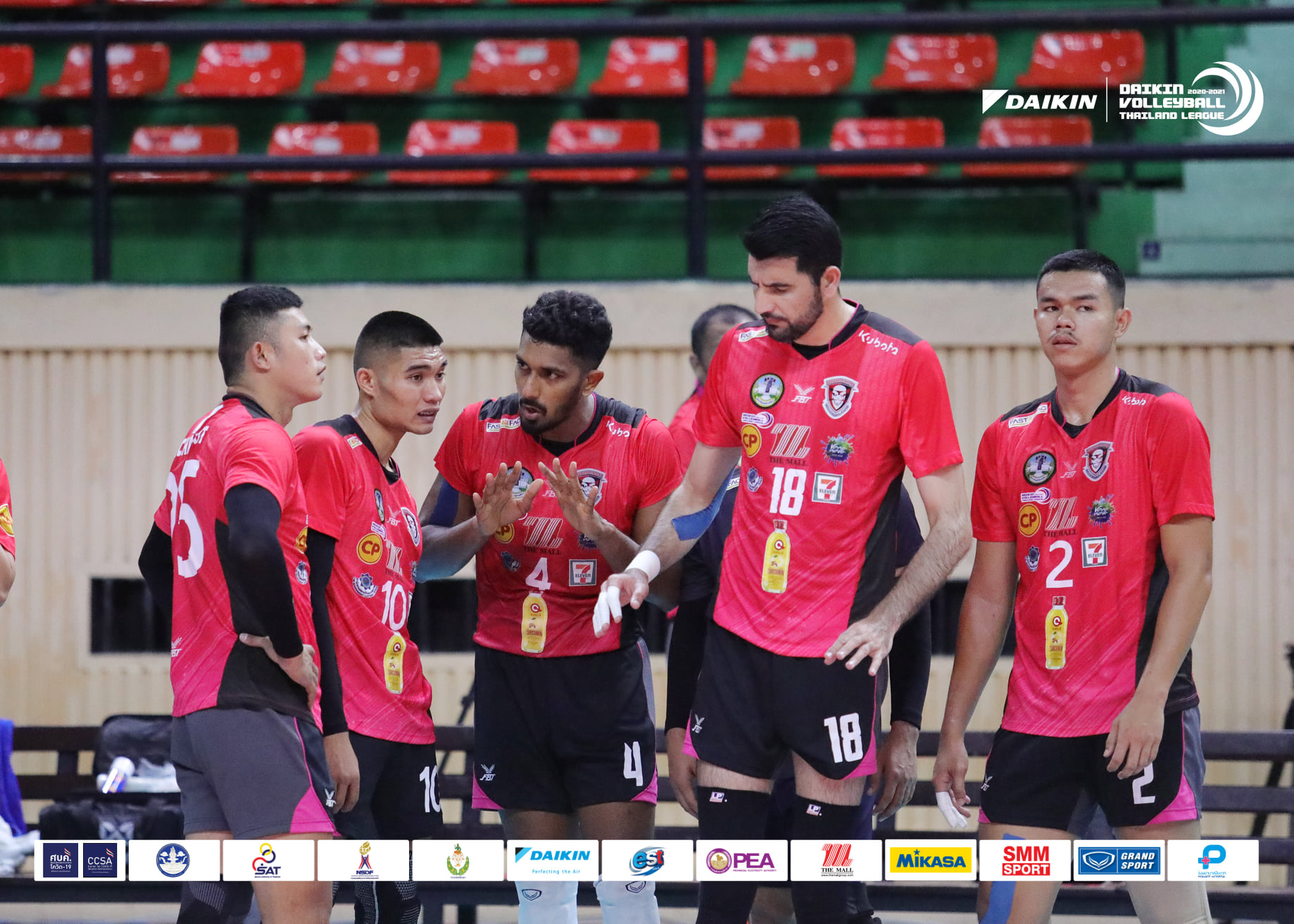 On Sunday, defending and six-time champions Nakhon Ratchasima, spearheaded by Pakistan's Aimal Khan, Sri Lankan Janitha Surath and Jakkrit Chandahuadong, struggled hard to beat 2018-2019 champions Air Force VC in hotly-contested four sets 25-23, 16-25, 25-23, 25-22.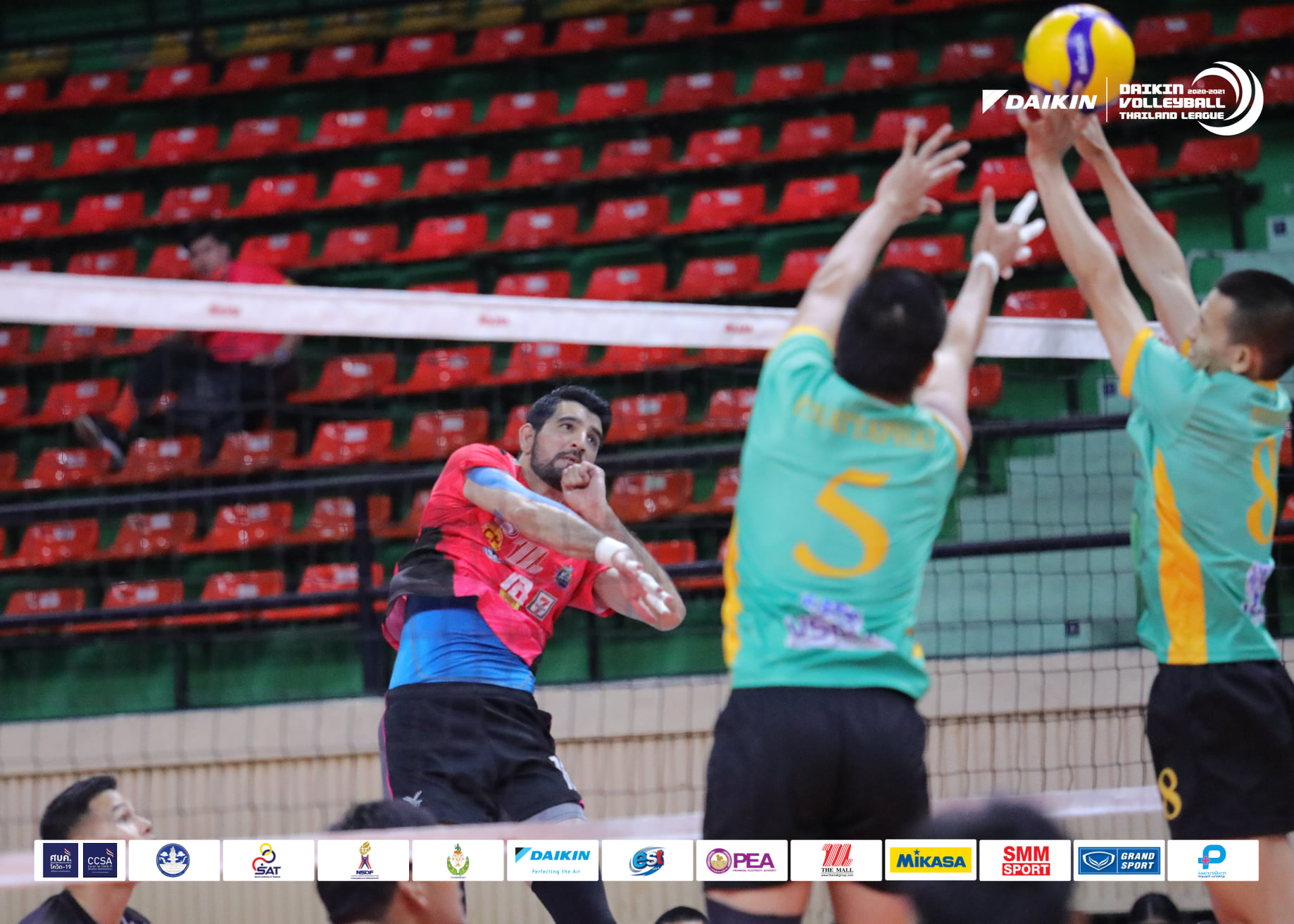 Prince VC defied against all odds by pulling off a surprise straight-set 25-23, 25-17, 25-20 win against Mor Asia Koh Kood Cabana to gain a sweet revenge for the 0-3 loss to the same rivals in their first-leg encounter on February 28.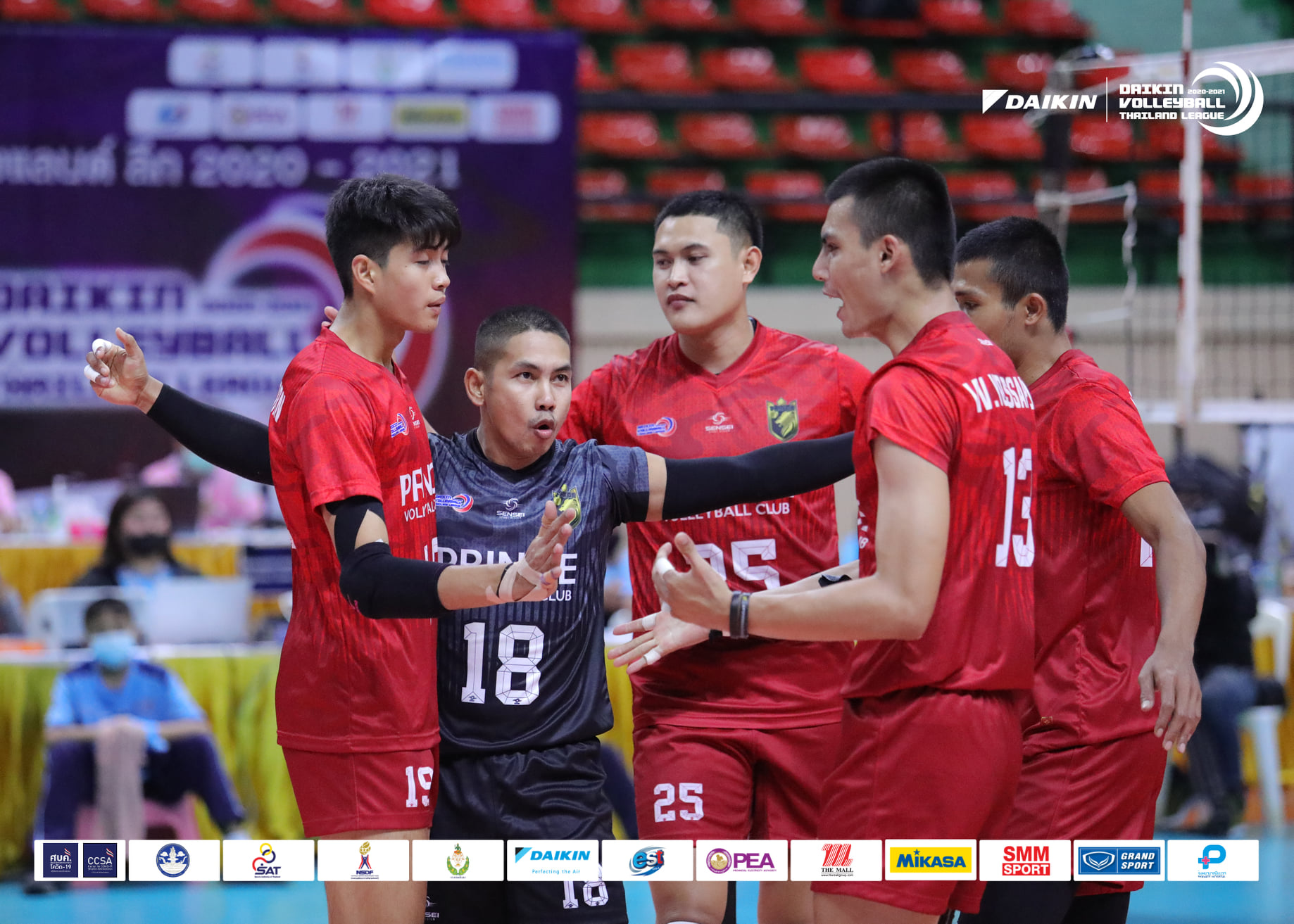 After Sunday, Diamond Food maintained their lead in the men's standing with 11 points from four straight wins, followed by title-holders Nakhon Ratchasima with 9 points from 3 wins against one loss. Phitsanulok and Prince VC had 6 and 4 points to come in third and fourth places respectively. Air Force and Mor Asia Koh Kood Cabana collected 3 points apiece.
The final week encounters in the second-leg campaign will be held at The Mall Bangkapi's MCC Hall between March 27 and March 28. At the end of March 28 encounters, top four teams from each category will advance to the Final Four.
RESULTS
MEN
Saturday, March 20
Diamond Food VC b Phitsanulok VC 3-2 (25-16 25-19 27-29 24-26 15-12)
Sunday, March 21
Nakhon Ratchasima The Mall's VC b Air Force VC 3-1 (25-23, 16-25, 25-23, 25-22)
Prince VC b Mor Asia Koh Kood Cabana 3-0 (25-23, 25-17, 25-20)
WOMEN
Saturday, March 20
Nakhon Ratchasima The Mall's VC b Khonkaen Star VC 3-0 (25-15 25-11 25-17)
Diamond Food VC b Supreme Chonburi E-Tech 3-1 (25-19 25-21 23-25 25-22)
Sunday, March 21
3BB Nakornnont b Proflex VC 3-1 (
MATCH SCHEDULE
MEN
Saturday, March 27
Nakhon Ratchasima The Mall's VC v Mor Asia Koh Kood Cabana
Sunday, March 28
Prince VC v Phitsanulok VC
Diamond Food VC v Air Force VC
WOMEN
Saturday, March 27
Supreme Chonburi E-Tech v 3BB Nakornnont
Proflex v Khonkaen
Sunday, March 28
Nakhon Ratchasima v Diamond Food
Related links of AVC
AVC Website: click www.asianvolleyball.net
AVC Facebook: click www.Facebook.com/AsianVolleyballConfederation
AVC Twitter: click: https://twitter.com/avcvolley
AVC Instagram: click: https://www.instagram.com/avcvolley/?hl=en
AVC Youtube: click: Asian Volleyball Confederation
AVC WeChat: Asian Volleyball Confederation