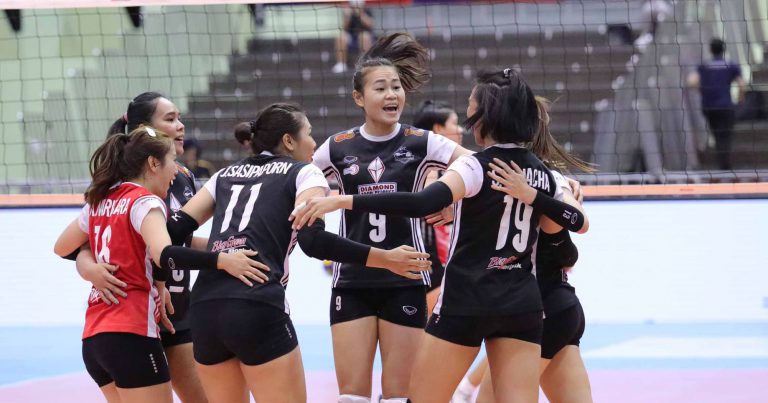 Photos courtesy of Thailand Volleyball Association
Bangkok, Thailand, April 3, 2021- All eyes are on Diamond Food VC and Nakhon Ratchasima The Mall's VC on Sunday when the two unbeaten teams set up clash of the Titans in both men's and women's events of the Daikin Volleyball Thailand League Finals at The Mall Bangkapi's MCC Hall.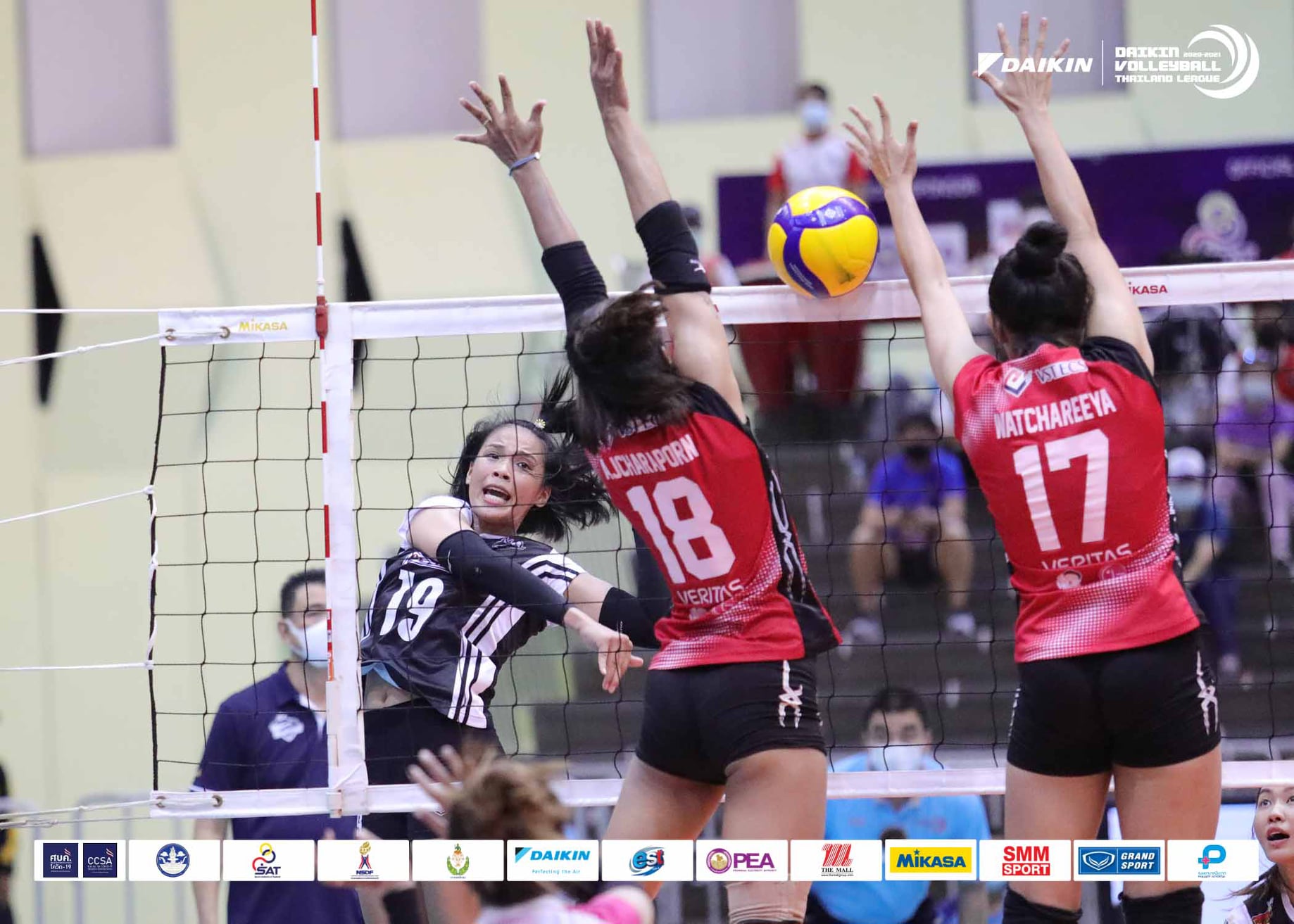 In the women's event, Diamond Food, seeking their first-ever Thailand League title this season, made a perfect start in the Final Four campaign after a sensational 3-0 win against 3BB Nakornnont on Friday. Against title-holders Supreme Chonburi E-Tech in their hotly-anticipated second encounter on Saturday, Diamond Food relied on their formidable lineup including highly-skilled setter Nootsara Tomkom and ace spikers Onuma Sittirak, Sasipaporn Chanthawhisut and Thanacha Sooksod.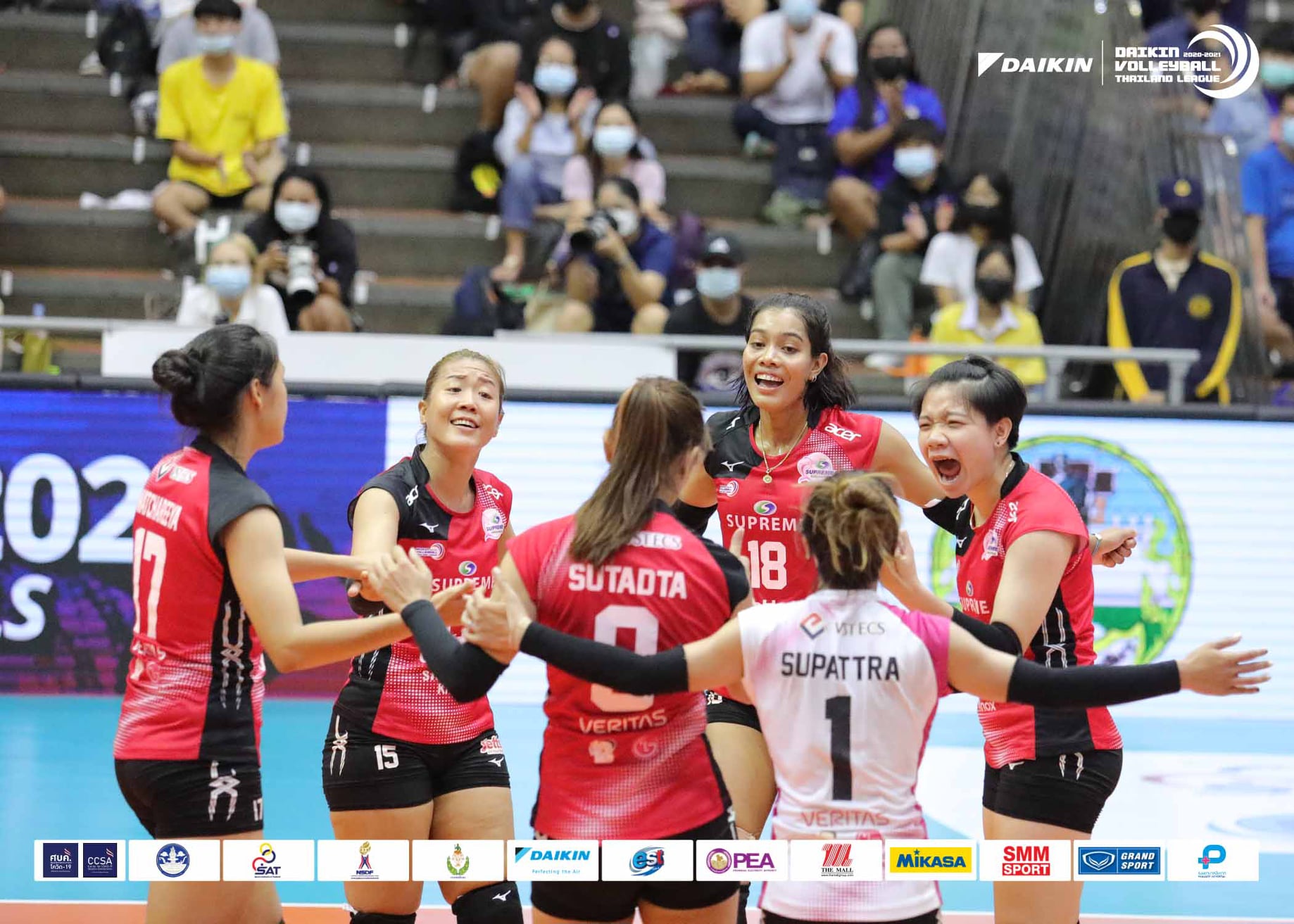 However, Supreme gained a stranglehold over the star-studded rivals, thanks to Ajcharaporn Kongyot's successive powerful attacks which helped take the reigning champions four-point clear for a commanding 21-17 lead in the see-saw opening set. Diamond Food's superb net play continued to strangle Supreme, but the tough rivals fought back to win the hard-fought set 25-22.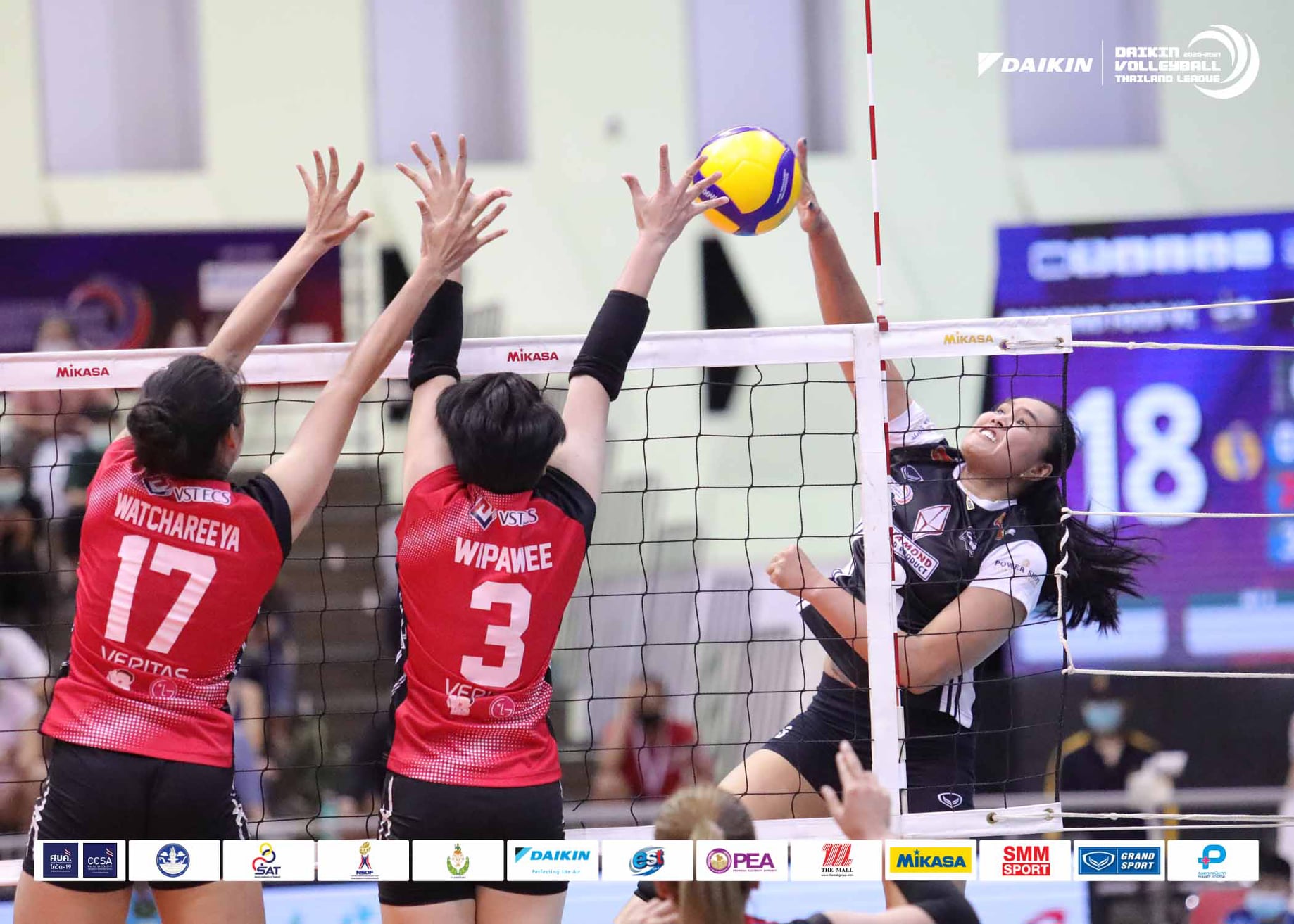 Going down one set, Diamond Food tightened their defence and shone through their splendid teamwork, with Jarasporn Bandasak, coupled with Amphon Hyapha, blocking everything at the net, while Sasipaporn carried powerful jump serves to help the team snatch the comfortable second set 25-16. Diamond Food went on their overwhelming dominance to take the third set 25-18 for a 2-1 lead.
With their backs against the wall, Supreme gave it all-out in the fourth set. Their determination paid off handsomely later as they played with more confidence and defensive resilience to lead all the way. Star spiker Pleumjit Thinkaow came up with brilliant individual display, effectively blocking Diamond Food to score back-to-back points for Supreme. An exceptional mid-court attack from Ajcharaporn earned a set point and Pleumjit produced a stuff block against a Thanacha's aggressive attack for the Supreme's 25-19 win.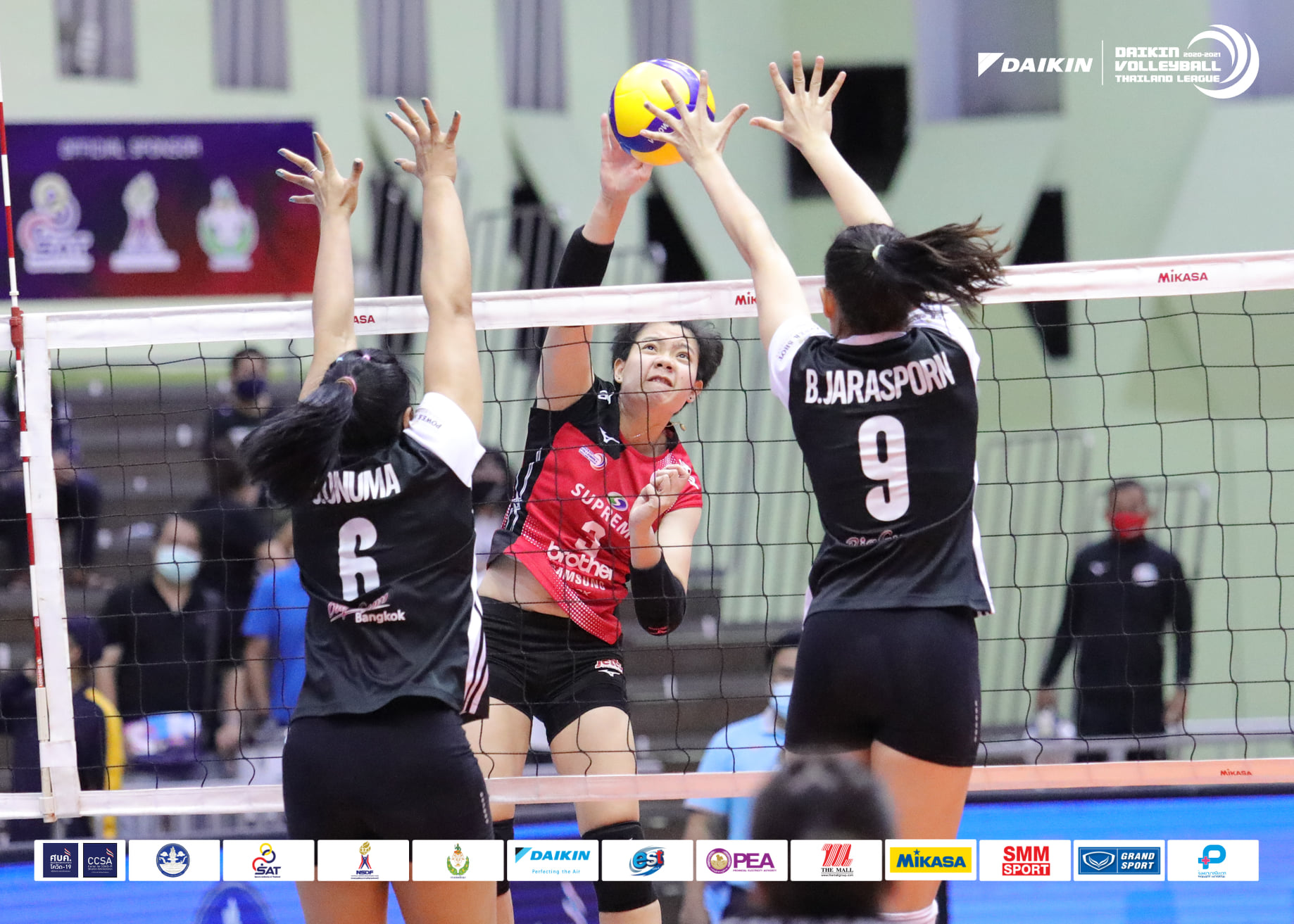 In the decider, Sasipaporn unleashed some thundering attacks to help Diamond Food take an initial 7-3 lead, but Supreme did not give up easily. The former consecutive two-time Asian Women's Club champions were working as a well-oiled machine, with Wipawee Srithong and Ajcharaporn too powerful from spike range and Ajcharaporn proving a thorn in the Onuma's attack for a 13-13 tie.
Both sides were tied again at 15-15 before Sasipaporn's electric spike handed Diamond Food a 16-15 advantage. After that, Onuma's serve went wide, but coach Danai Sriwacharamaytakul challenged whether the ball landed in or out and the call was successful. Diamond Food took the deciding set 17-15 for the hard-fought 3-2 win.
Sasipaporn Chanthawhisut claimed 22 points for Diamond Food, but Supreme's Ajcharaporn Kongyot hogged the limelight as she scored a game-high 32 points in a losing effort.
Diamond Food made it two in a row in the Final Four, collecting aggregate 5 points. They will next take on closest rivals and former four-time winners Nakhon Ratchasima in their last first-weekend encounter in the Finals, while Supreme will play 3BB Nakornnont.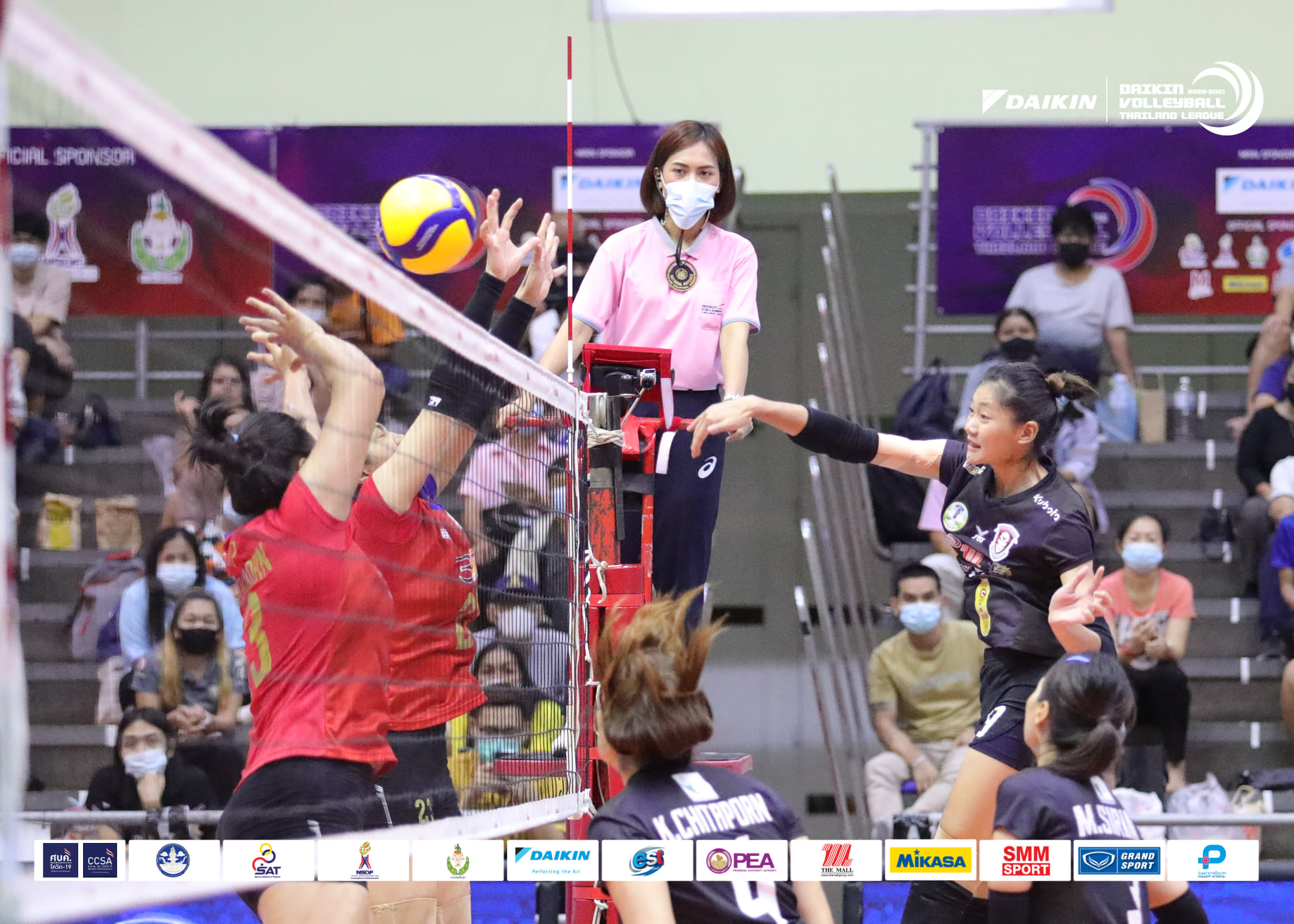 Nakhon Ratchasima The Mall's VC, strengthened by talented Chutchu-on Moksri and Turkish Yeliz Basa, fared better in their second Final Four encounter against 3BB Nakornnont to win dramatic four-setter 25-17, 21-25, 25-15, 25-21 on Saturday.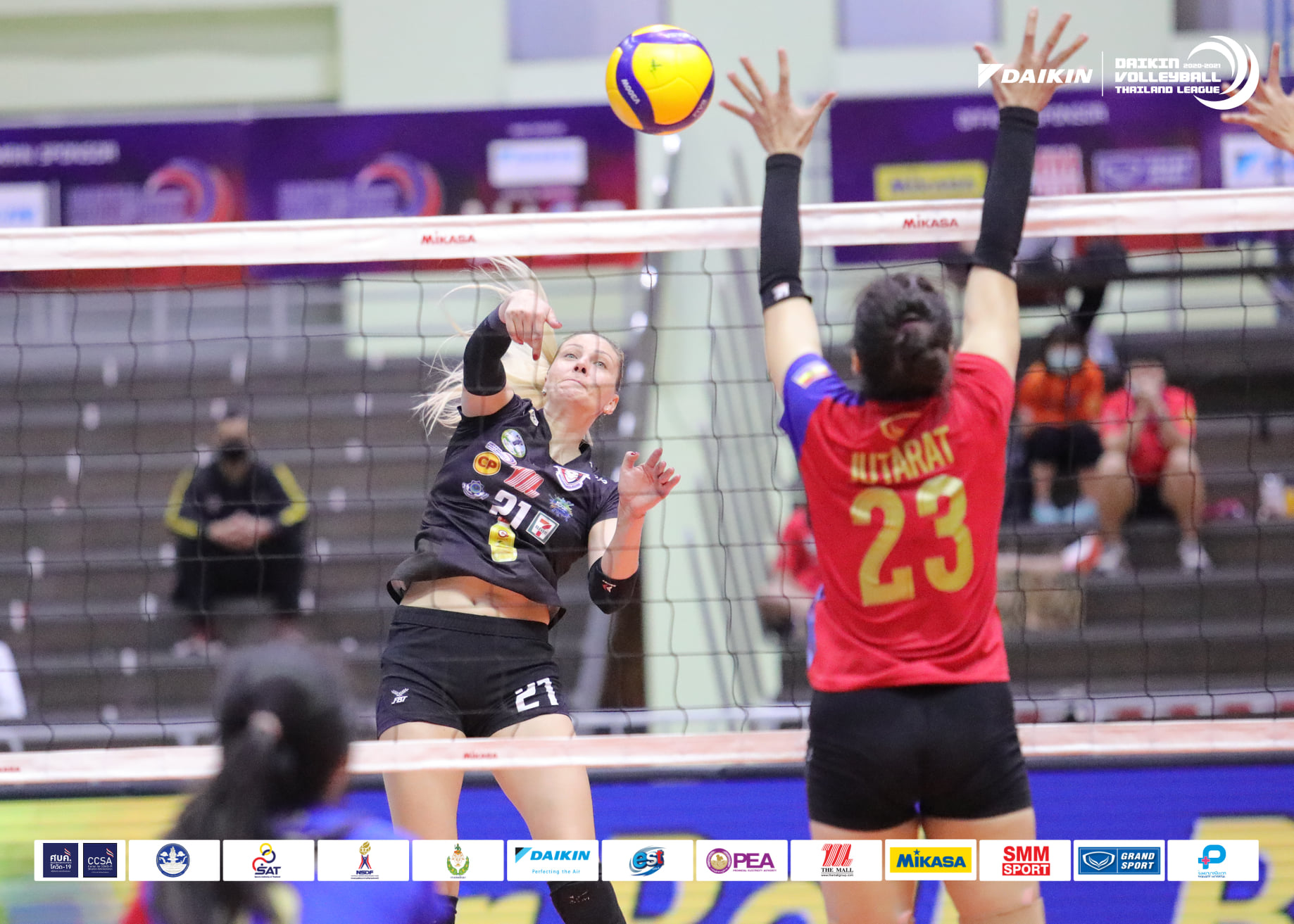 Nakhon Ratchasima surged ahead Diamond Food to the top of the women's standing with 6 points from two consecutive wins, while Diamond Food came in second position with 5 points. Supreme had 1 point from two straight losses to finish in third place overall, with 3BB Nakornnont in fourth position.
Meanwhile, in the men's competition, defending and six-time champions Nakhon Ratchasima The Mall's VC, fresh from brushing off Phitsanulok VC in straight sets in their first match on Friday, remained a formidable team to watch for as they fielded the strongly-established lineup led by Sri Lankan Janitha Surath and Pakistani Aiman Khan to outclass Prince VC in convincing three-setter 25-22, 25-18, 25-19.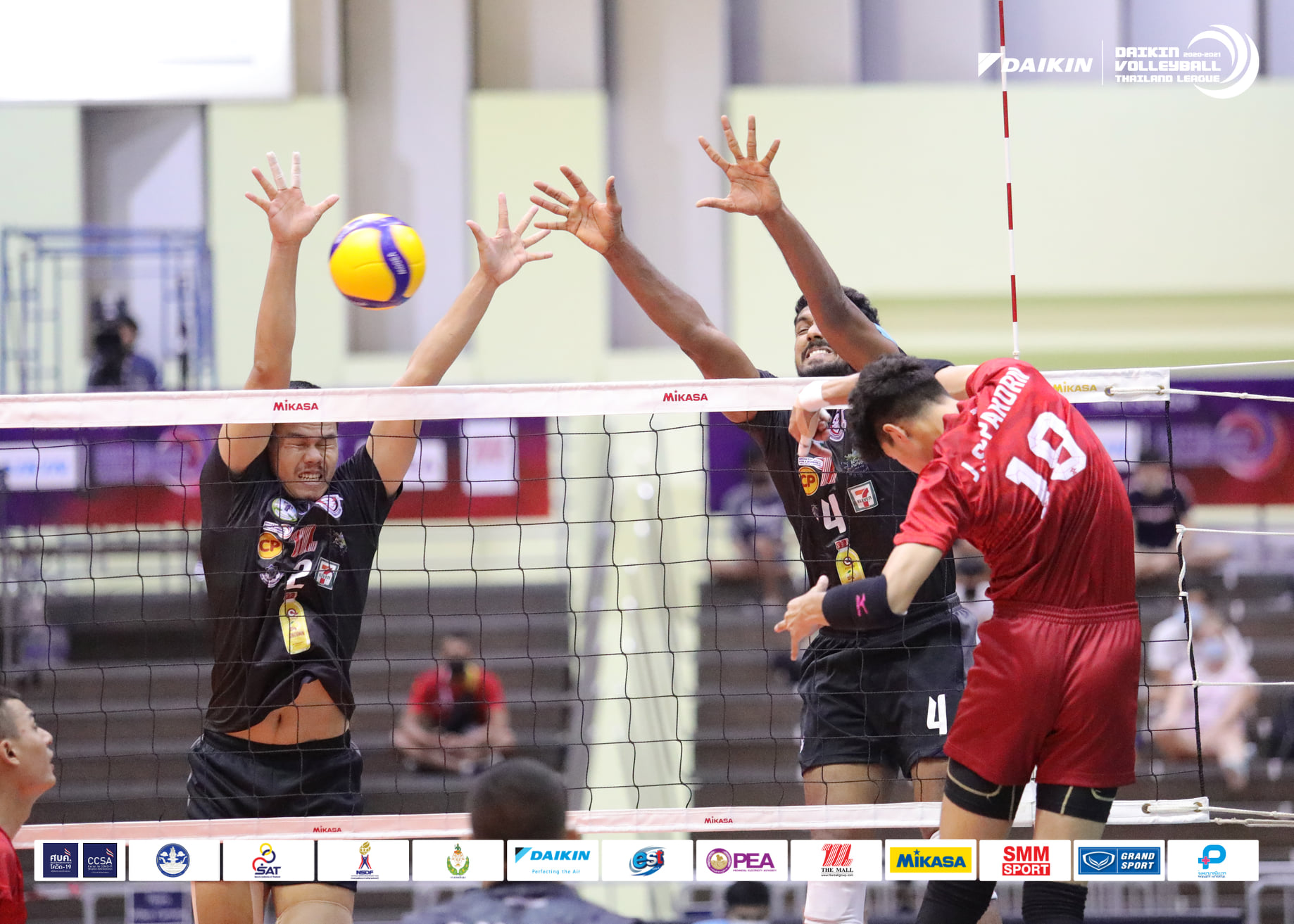 Janitha Surath chipped in with 17 points for Nakhon Ratchasima, added with 14 points by Thanas Bamrungphakdee.
Two successive straight-set wins carried Nakhon Ratchasima to the top of the men's standing, while hot-favourites Diamond Food recovered from one set down to beat Phitsanulok VC 3-1 to come in second place.
Diamond Food on Saturday had to battle hard in the first set before going down in a hotly-contested affair 24-26. However, they regrouped and bounced back in style to win the remaining three sets.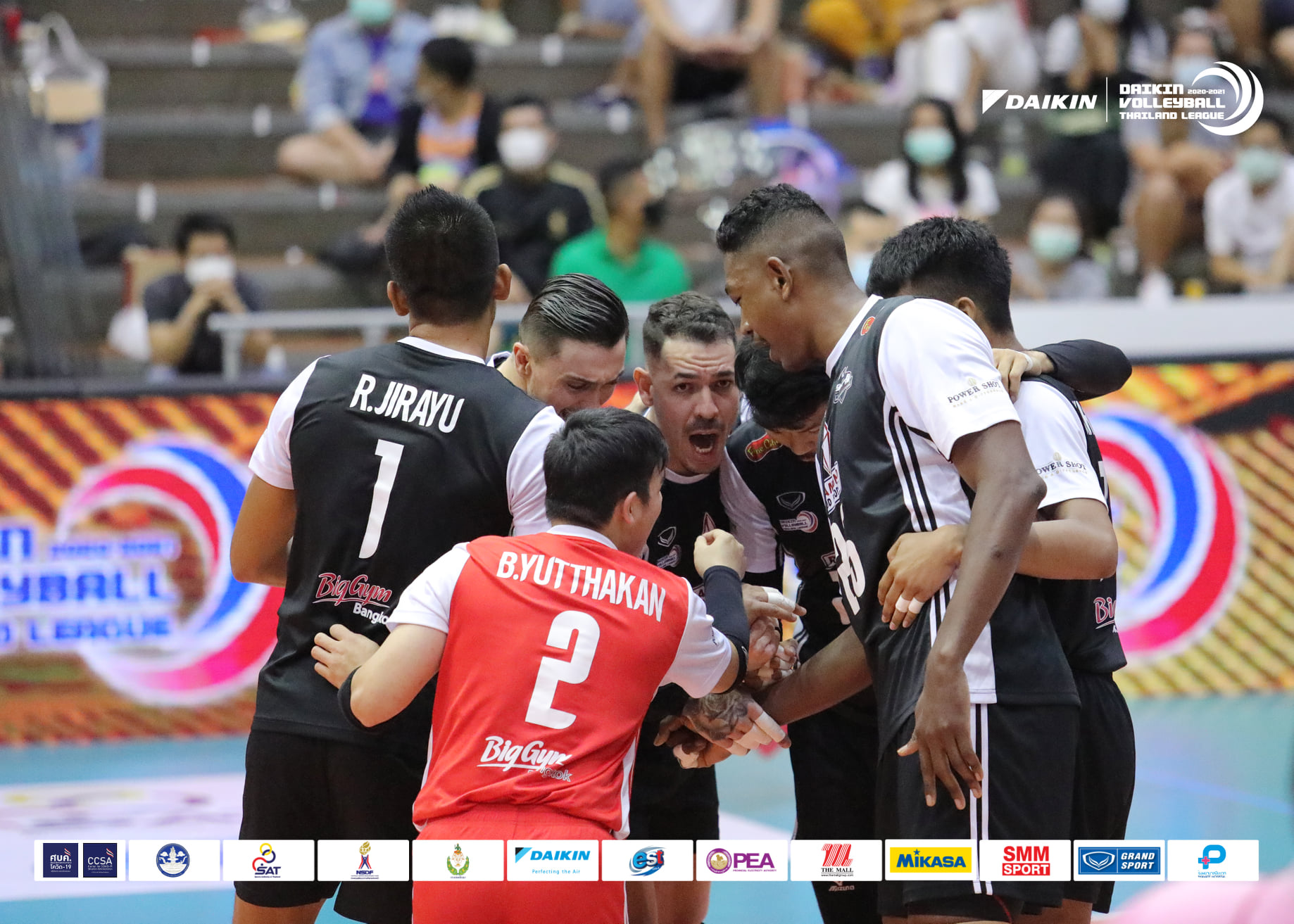 Diamond Food combined extreme power through spectacular spikes from Brazilian Luiz Perotto and Kittikun Sriutthawong with incredibly accurate serving of another Brazilian, Andre Luiz Queiroz Franca, and superb blocking by Kissada Nilsawai to beat left-hander Amorntep Konhan-led Phitsanulok VC with a comeback 3-1 (24-26, 25-20, 25-15, 25-19) triumph.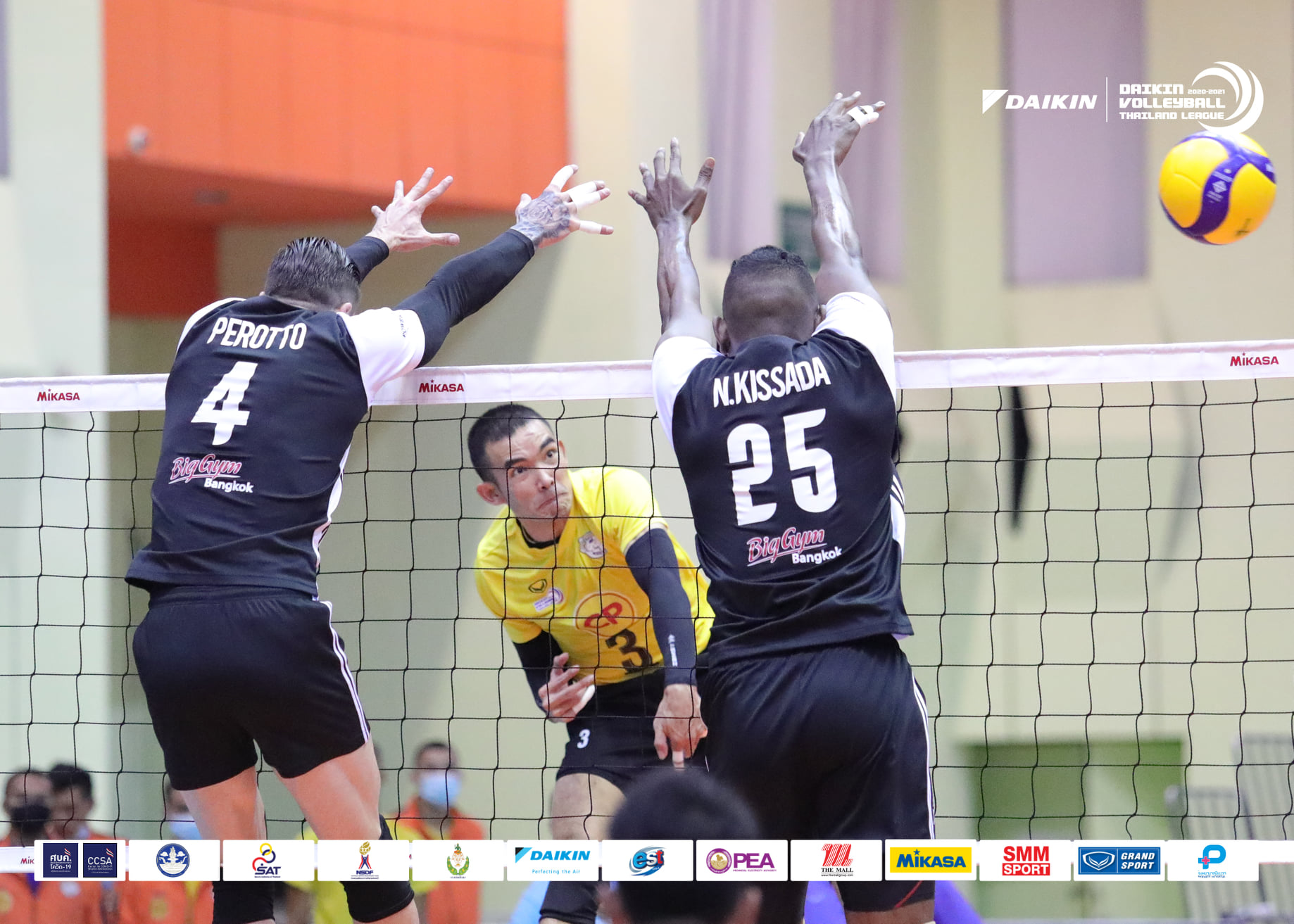 Nakhon Ratchasima moved atop the men's standing with 6 points from two straight wins, followed by Diamond Food with identical 6 points from two wins in a row. Phitsanulok VC and Prince VC came in third and fourth places respectively.
On Sunday, the last day of the first weekend in the Finals, Nakhon Ratchasima set up a tough clash with Diamond Food in a battle of the two unbeaten teams, while Phitsanulok VC challenge Prince VC.
The Finals encounters will be split into two weekends. All participating teams in both men's and women's events have to play each of their rivals twice in the round-robin contest. The first weekend is being held from April 2 to 4, with the second weekend taking place from April 9 to 11. At the conclusion of the two-weekend Finals on April 11, accumulated points of each team in both categories will be taken into consideration and any team with most wins and highest points will be crowned 2020-2021 VTL champions.
FINAL FOUR RESULTS
Saturday, April 3
MEN
Diamond Food VC b Phitsanulok VC 3-1 (24-26, 25-20, 25-15, 25-19)
Nakhon Ratchasima The Mall's VC b Prince VC 3-0 (25-22, 25-18, 25-19)
WOMEN
Diamond Food VC b Supreme Chonburi E-Tech 3-2 (22-25, 25-16, 25-18, 19-25 17-15)
Nakhon Ratchasima The Mall's VC b 3BB Nakornnont 3-1 (25-17, 21-25, 25-15, 25-21)
MATCH SCHEDULE
Sunday, April 4
Men
Phitsanulok VC v Prince VC
Nakhon Ratchasima The Mall's VC v Diamond Food
Women
3BB Nakornnont v Supreme Chonburi E-Tech
Nakhon Ratchasima The Mall's VC v Diamond Food VC
Related links of AVC
AVC Website: click www.asianvolleyball.net
AVC Facebook: click www.Facebook.com/AsianVolleyballConfederation
AVC Twitter: click: https://twitter.com/avcvolley
AVC Instagram: click: https://www.instagram.com/avcvolley/?hl=en
AVC Youtube: click: Asian Volleyball Confederation
AVC WeChat: Asian Volleyball Confederation