Taipei, Chinese Taipei, April 18, 2019 – Strong teams from Kazakhstan, Qatar, Iran, Vietnam, Australia and Sri Lanka registered their first wins at the 2019 Asian Men's Club Volleyball Championship on Thursday, with Varamin Municipality kicking off Iran's title defence with a dramatic 3-1 win against Polri Samator Indonesia.
At the University of Taipei (Tianmu) Gymnasium, Kazakhstan's TNC Kazchrome enjoyed a comfortable straight-set win over India's Chennai Spartans and Qatar's Al-Rayyan Club overpowered Thailand's Est Cola in thrilling four-setter in Pool C, while Australia's Queensland Pirates came back to beat Club Singapore in exhausting four sets in Pool A.
The opening encounter saw Slovakian-born Boris Kempa hand TNC Kazchrome VC crucial 19 points as the Kazakh side outclassed Chennai Spartans 25-21 25-20 25-17, while Jerome Vinith led Chennai Spartans with 11 points including 9 kills from 19 attempts.
"We did take a long trip from Kazakhstan to Taipei and that's reasons why it was very difficult when we played our first match. We spent two weeks in training intensively in preparation for this championship. I think It's one of the important tournaments for my players to come and gain new experience here. Since there are many strong teams here, it's interesting to take on all these teams. Against Qatar's Al-Rayyan Club in our next match, it's too early to say how about our expectation. We will do our best ," TNC Kazchrome's head coach Sergei Gribov commented after the match.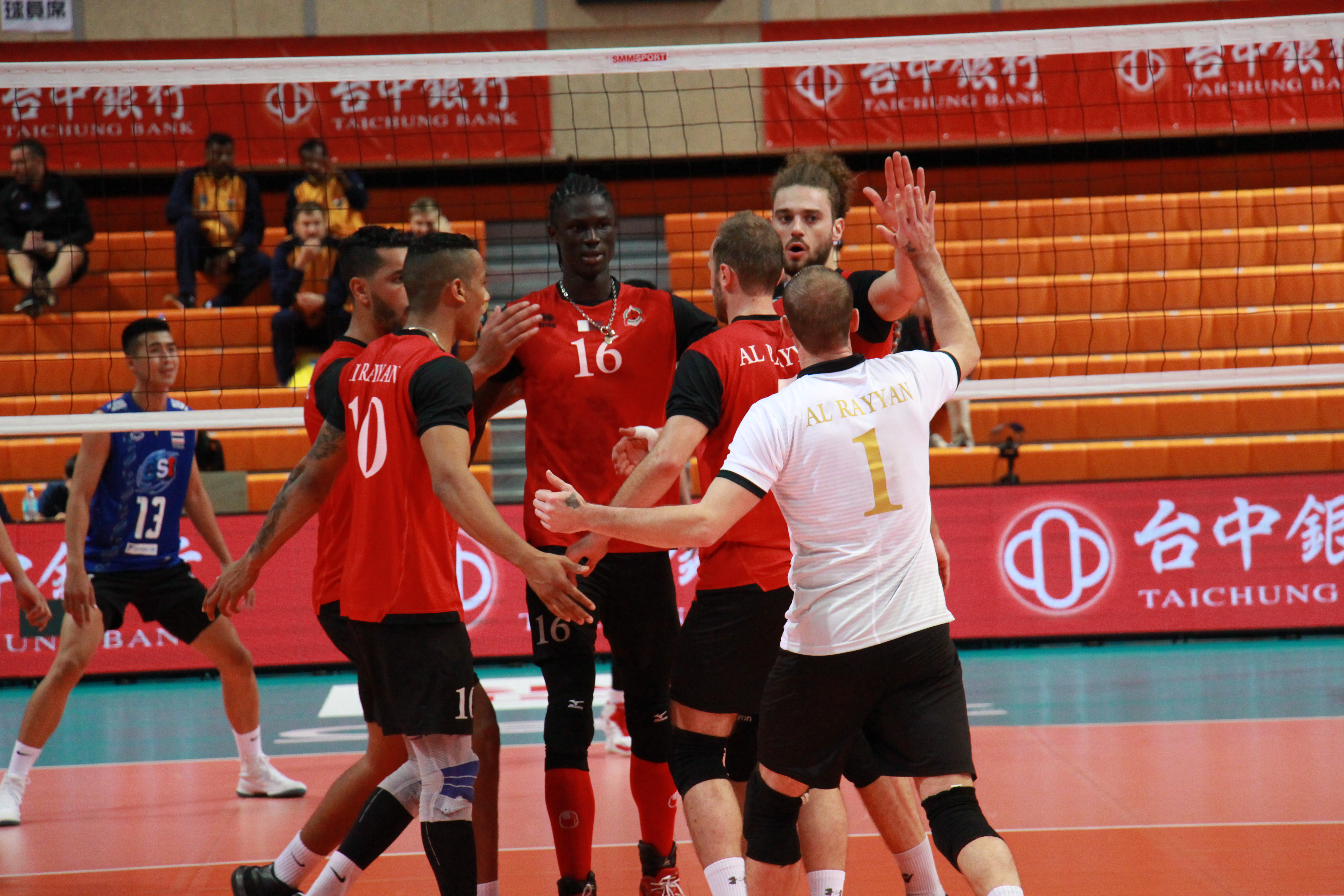 Unlike an easy job of TNC Kazchrome VC, Qatar's Al-Rayyan Club survived a sturdy challenge from Est Cola to put it past the fighting Thais in hard-fought four-setter 26-24 25-18 22-25 25-20 in their Pool C encounter.
Tall and powerful Kamil Rychlicki was on fire throughout the game, contributing a fantastic 24 points to the Qatari side's victory including 23 attacks from 39 attempts, while Jakkraphop Saengsee led Est Cola with 16 points from 15 kills and one block.
"The first match is always tricky. As we arrived here in Taipei, we had only two hours in practice. So, it's very hard for us to play the first match. Also, the Thai team played with different volleyball we get used to. The beginning of the set was very difficult. We had to learn things around and situations and after we got information from our stats, we then could set up what we had to play better and better. Nonetheless, I also praised the Thai team. They are a good team," Al-Rayyan Club head coach Carlos Eduardo commented after the match.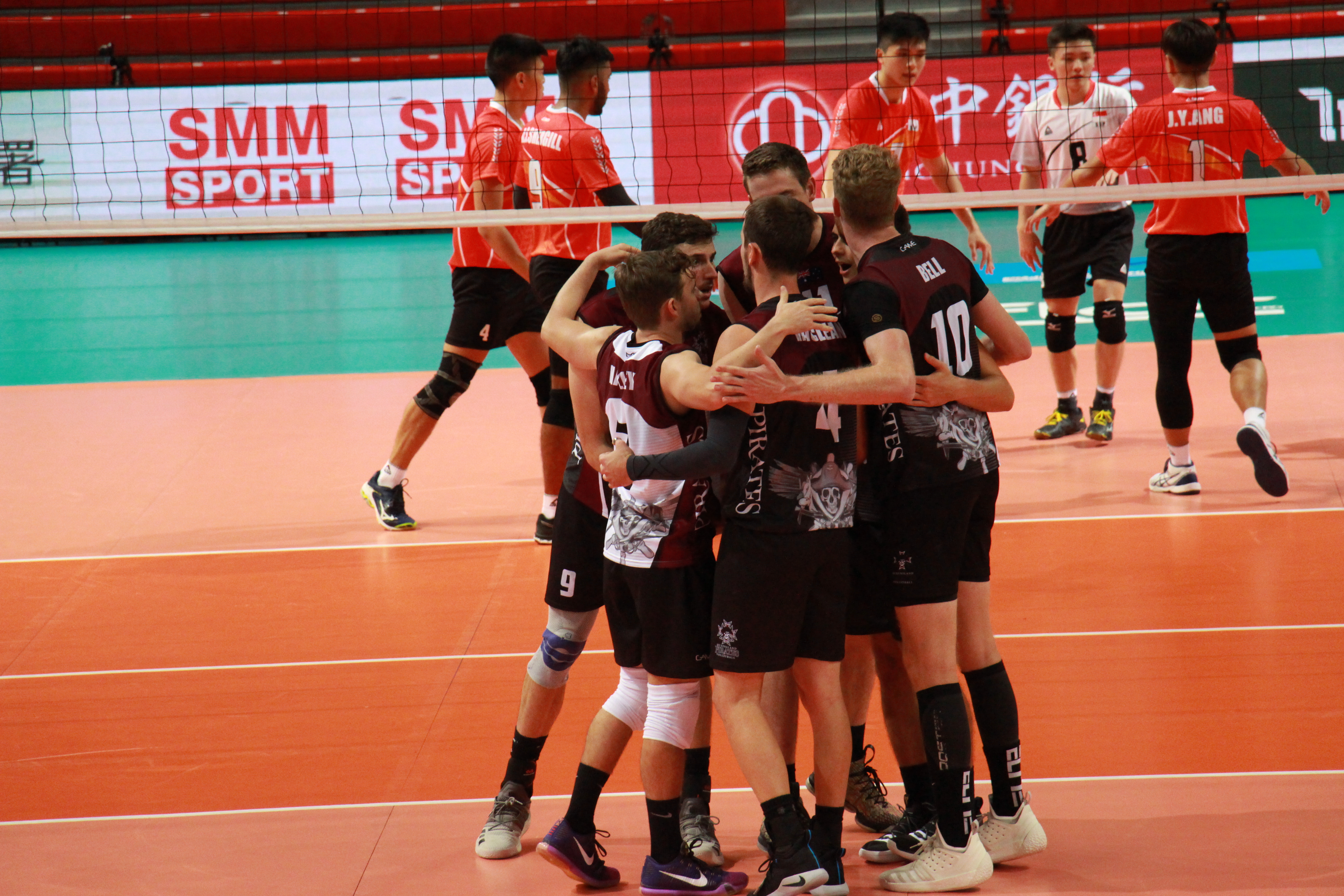 The last match at the University of Taipei (Tianmu) Gymnasium, Australia's Queensland Pirates rallied from the first set down to beat Club Singapore in thrilling four-setter 18-25 25-19 25-22 25-23 in their Pool A clash.
William Mercer scored a match-high 18 points for Queensland Pirates including 15 attacks from 36 attempts and 2 aces, while Shergill Ajay Singh led Club Singapore with 17 points from exceptional spikes.
"It looks very good for us to win this match as it's our third international win for club and we feel pretty happy with that. It's uncharacteristic for us as we played our first match of the tournament. We fought really hard today and we fell behind for a couple of sets before we successfully came back. We lost the first set as I said before that the mistakes we made were uncharacteristic for us. We know that we have to fight really hard to win each match as we are not a tall team. We have to play our game and do our best," Queensland Pirates head coach Craig Marshall said.
Meanwhile, at the National Taipei University of Education Gymnasium, Vietnam's Ho Chi Minh City opened up with a great win over Dragon Team after thrashing the Hong Kong China side in straight sets 25-20 25-16 25-17.
Nguyen Van Hanh contributed 14 points for Ho Chi Minh City including 13 kills from 23 attempts, while Siu Cheong Hung handed Dragon Team 19 points, but it was not enough to help the lower-ranked side win the match.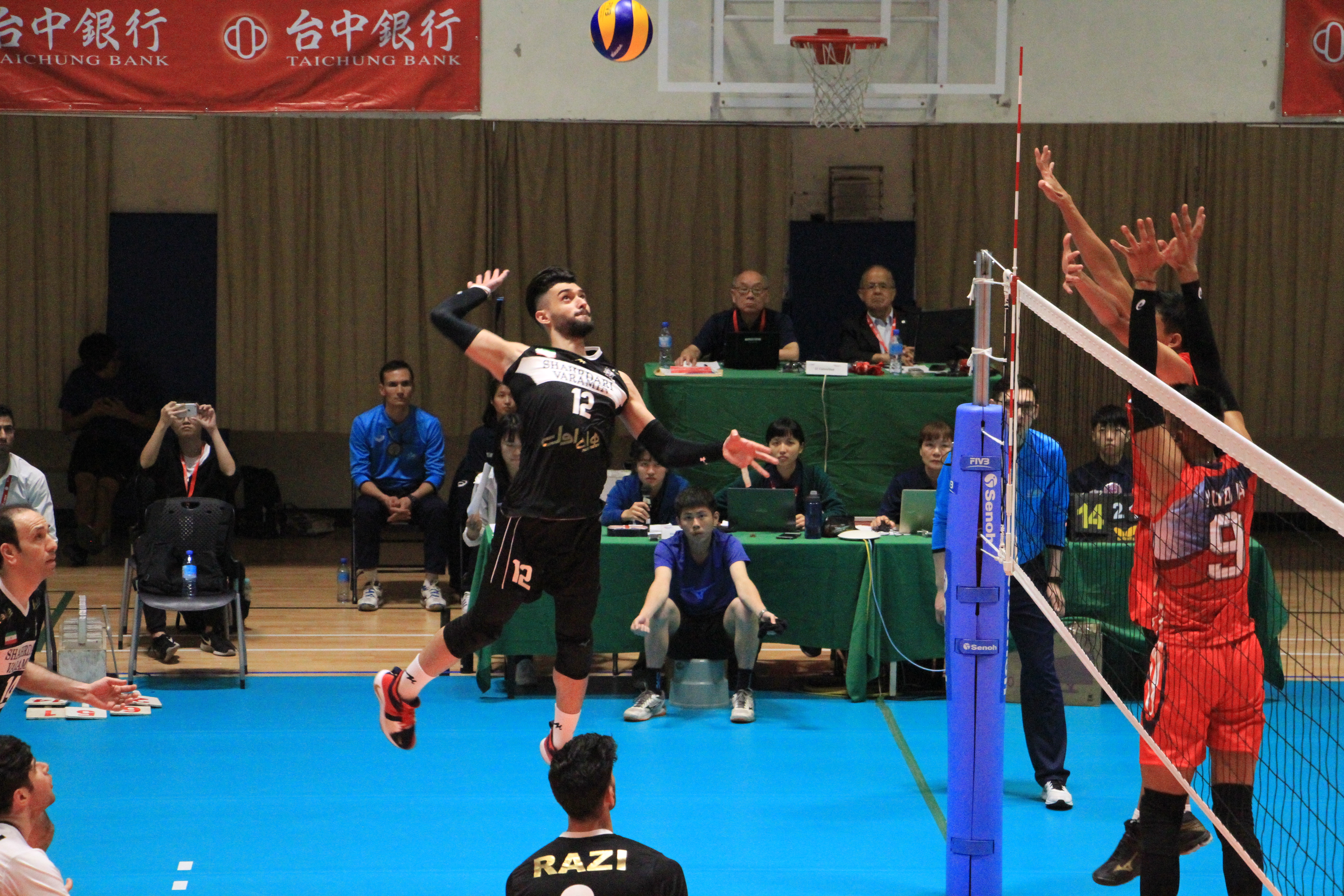 Cultural and Sports Club of Varamin Municipality of Iran overcame a serious threat from Polri Samator Indonesia to pull out a well-earned 3-1 (25-19 25-20 21-25 25-21) win against the Southeast Asian rival.
Ragani Babaei led Varamin Municipality with 15 points, while Rendy Tamamilang topscored with 19 points for Polri Samator Indonesia, assisted by Rivan Nurmulki with 18 points.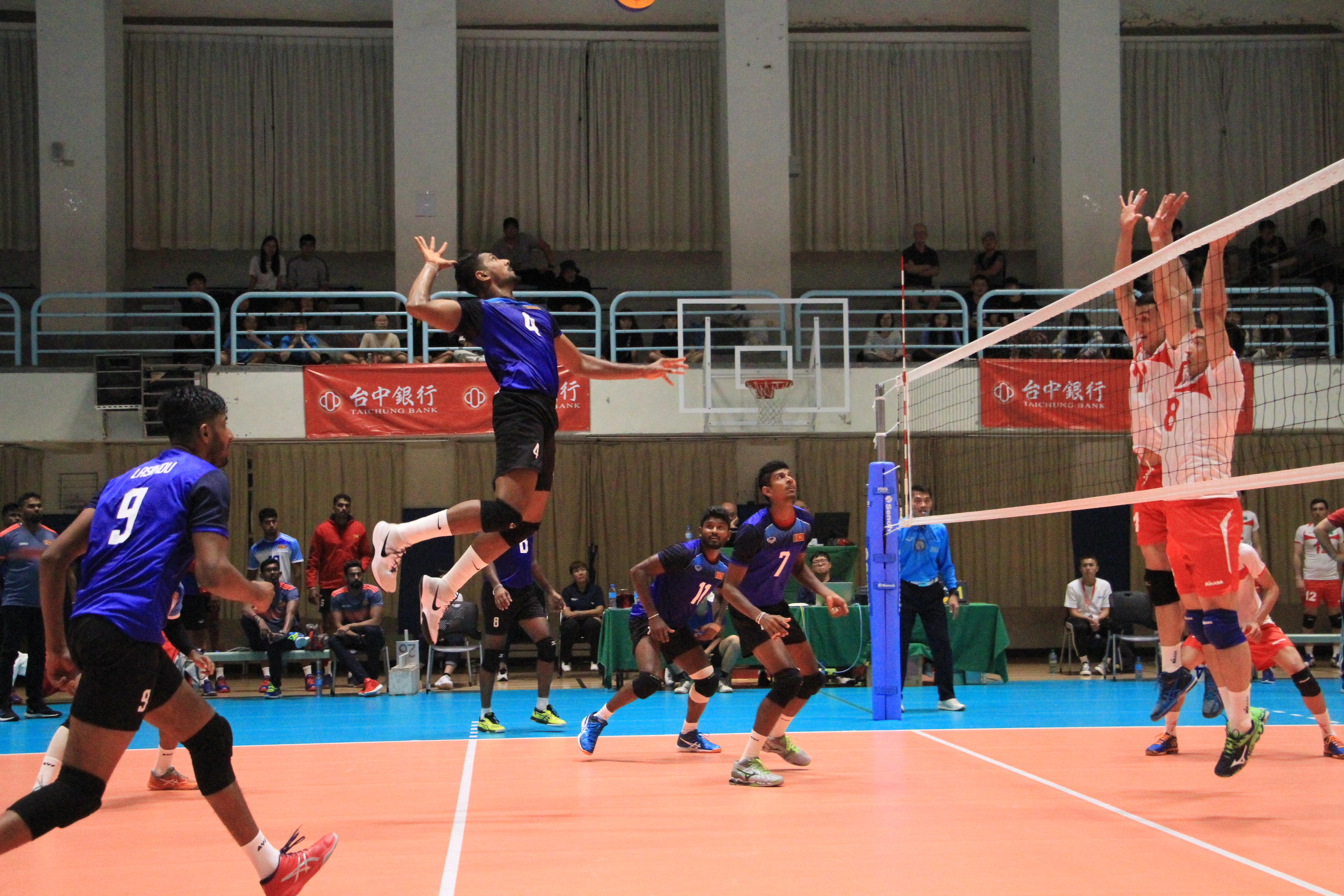 The last match at the venue was a close battle between Sri Lanka Ports Authority Sports Club and Turkmenistan's Galkan. The Sri Lankans went down to the well-organised Turks in the first two sets 22-25 20-25 but cruised their ways back to win the remaining sets 25-22 25-21 15-12 and an exhausting 133-minute match.
On Friday at the University of Taipei (Tianmu) Gymnasium, TNC Kazchrome VC take on Al-Rayyan Club, Est Cola go up against Chennai Spartans and Taichung Bank of Chinese Taipei play Club Singapore, while Japan's Panasonic Panthers meet Dragon Team, Sri Lanka Ports Authority Sports Club challenge Polri Samator Indonesia and Varamin Municipality face Galkan at the National Taipei University of Education Gymnasium.
Teams from 14 countries are taking part in the 2019 Asian Men's Club Volleyball Championship from April 18 to 26. After the pool round-robin preliminaries, only top two teams from each pool will advance to the top eight, with teams finishing third and fourth places being relegated to the 9th-14th classification.
Taipei is hosting the topflight tournament for the second time after their memorable success in hosting the 2015 edition, with Taichung Bank capturing the Asian Men's Club title for the first time in history for the host country.
Related links of AVC
AVC Website: click www.asianvolleyball.net
AVC Facebook: click www.Facebook.com/AsianVolleyballConfederation
AVC Twitter: click: https://twitter.com/avcvolley
AVC Instagram: click: https://www.instagram.com/avcvolley/?hl=en
AVC Youtube: click: Asian Volleyball Confederation
AVC WeChat: Asian Volleyball Confederation