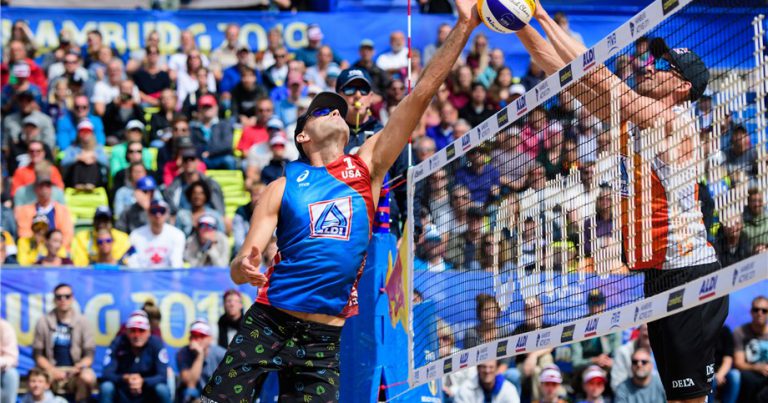 Hamburg, Germany, July 2, 2019 – For two days, Alex Brouwer and Robert Meeuwsen stewed over their pool-play loss to Argentina in the FIVB World Championships presented by comdirect and ALDI Nord.
And more danger lurked, with old rivals Phil Dalhausser and Nick Lucena on the schedule with a chance to knock the 2013 World Champions out of the tournament.
"Especially when I was walking away from here with the coaches, I was boiling inside, I was so angry," Meeuwsen said. "Why do we play like this? And I wanted to do it over again and of course you can't so the only thing can do is two days later show what you've learned from it. And I think that's exactly what we did."
The Netherlands Olympians promptly took Center Court at Am Rothenbaum Stadium and dissected their fellow Rio 2016 Olympians from the United States with a 2-0 (21-19, 21-15) victory in the final Pool F match.
"I'm really happy we focused on the way we want to play, with passion, with heart, put everything on the table," Brouwer said. "I think we played every card we have and to win against a great team like this it's very special."
Dalhausser and Lucena entered the match having beaten the Dutch in five of their seven meetings. The last time they met in this arena, the Americans scored a two-set victory to claim the gold medal in the 2016 Hamburg Major.
"Yeah, and how about the timing, when you need it the most?" Meeuwsen said. "It's really sweet, especially after the loss of two days ago, we just did not play at all the way we wanted to play and we wanted to show the commitment in the way we can play and win games."
The result also sent Dalhausser and Lucena teetering on the brink of elimination for about two hours, until Canada's victory over Argentina allowed the Americans to sneak through into the knockout phase of the tournament.
And it left the Americans with a series of self-doubt. They opened the tournament with a loss to Canada's Ben Saxton and Grant O'Gorman. Even after a win over Argentina, their performance Tuesday had them grasping for answers.
"I wish I knew. It just hasn't been smooth," Dalhausser said. "They served tough, it was a little gusty in there so maybe the ball was flying around. I think we scored enough points, but the sideout was the problem. It's not very smooth, real choppy.
"I haven't gotten in a rhythm. We played well enough against Argentina, hopefully enough to get out of pool."
"Hats off to Alex and Robbie. They played so tough," Lucena said. "There are no excuses. Our last two matches we haven't been at our best and it's unfortunate in the timing. I don't even know what happened."
What might Dalhausser and Lucena need to reclaim their game?
"Put a firecracker under this guy's butt, see if I can wake him up," Lucena cracked, nodding toward his longtime partner.
Even that might not have helped against Brouwer and Meeuwsen, who had as many weapons to attack with as they do vowels in their names.
"I think it was the commitment in all our plays," Meeuwsen said. "You could see it in everything, our passing, our serving, attacking, blocking. The dedication to what we said, it was going to be do or die, it's going to be all out. And if we lose because they are better, that's fine. That's the way we want to play and it showed."
In a crazy pool, Canada emerged as the winner by two-thousandths of a point, based on point ratio. The Netherlands was second, leaving the USA to resume play among the lucky losers of the event.
The final 32 of the men's tournament will be determined once pool play concludes on Wednesday.

Related links of AVC
AVC Website: click www.asianvolleyball.net
AVC Facebook: click www.Facebook.com/AsianVolleyballConfederation
AVC Twitter: click: https://twitter.com/avcvolley
AVC Instagram: click: https://www.instagram.com/avcvolley/?hl=en
AVC Youtube: click: Asian Volleyball Confederation
AVC WeChat: Asian Volleyball Confederation