Lausanne, Switzerland, May 20, 2019 – After playing events in South America and European this past weekend, the FIVB World Tour returns to Asia this week for double gender tournaments in China and The Philippines.
The US$300,000 Jinjiang Open launches this week's action with the men's and women's qualifier set for Wednesday followed by Main Draw pool play Thursday that lead to Friday's elimination rounds and the Sunday medal matches where the winning pairs will share the $20,000 first-place prizes.
Starting Thursday with a qualifier in The Philippines is the inaugural Boracay Open as the Asian country hosted its first-ever FIVB World Tour event last season in Manila where pairs from Germany and Japan topped the podium.  The $10,000 Boracay Open features Main Draw pool play action Friday followed by elimination bracket play Saturday and the podium-placing matches Sunday.
Playing this season with Tri Bourne, American Trevor Crabb is back to defend his 2018 Jinjiang Open title that he captured with John Mayer.  Nils Ehlers, who placed second in Jinjiang with Lorenz Schumann, also returns this season with new partner Lars Fluggen.  Also returning are 2018 Jinjiang bronze medal winners Peng Gao and Yang Li of China.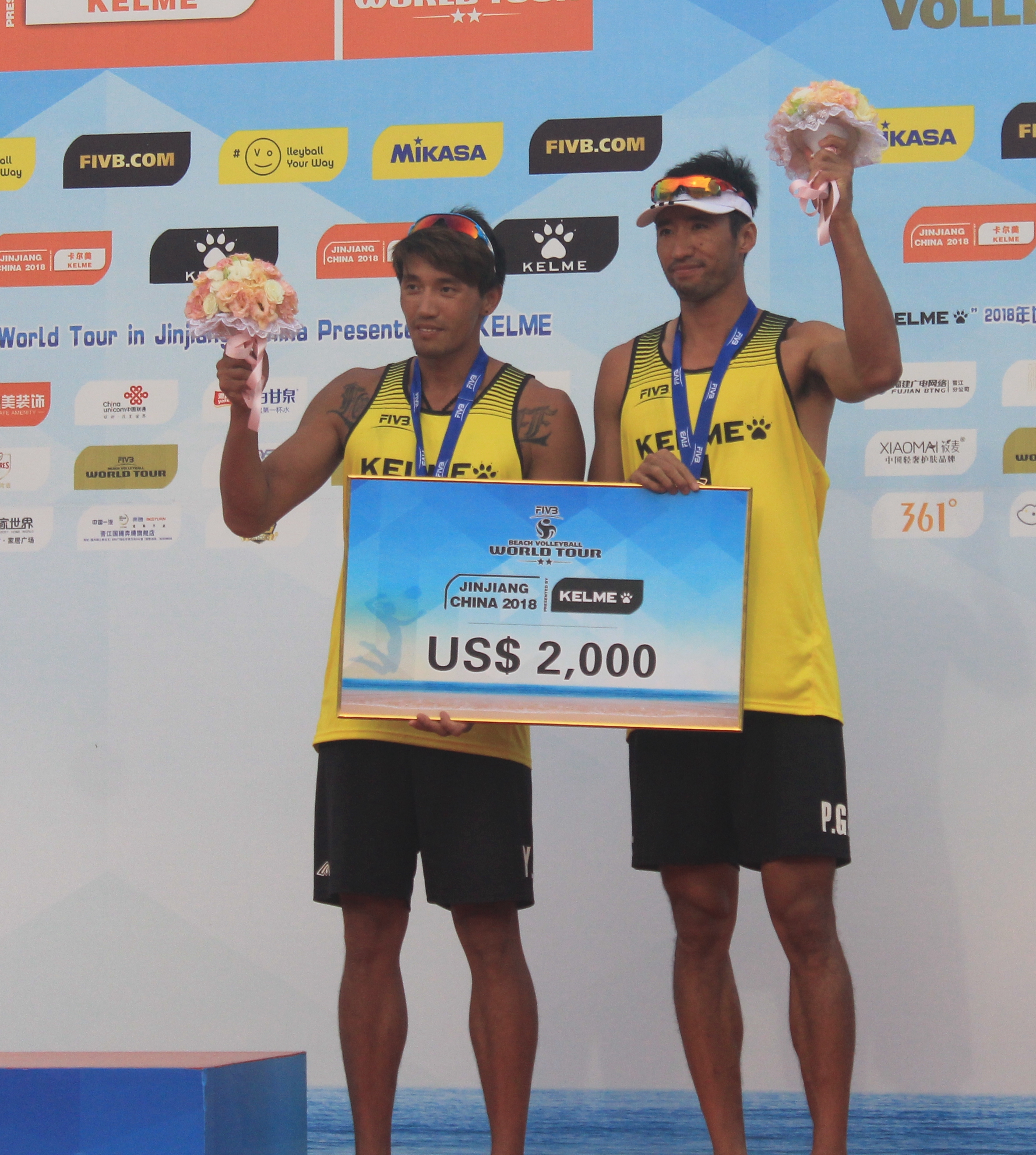 A new women's champion will be crowned in Jinjiang as the 2018 finale featured Suzuka Hashimoto/Sayaka Mizoe of Japan defeating Chinese Taipei's Nai-Han Kou Pi/Hsin Liu in the gold medal match.
In FIVB World Tour action this past weekend, American Alix Klineman/April Ross and Norwegians Anders Mol/Christian Sol topped the men's and women's podium, respectively, Sunday at the $300,000 Itapema Open in the south of Brazil.
At the tournament, host Brazil failed to advance either a men's or women's team to the semi-finals for the first-time ever on "home sand "since the start of international Beach Volleyball competition in 1987 and spanning 46 men's and 41 women's events in the South American country.
Brazil – Itapema, May 14-19, $150,000, FIVB women's event No. 395
1. Alix Klineman/April Ross, United States, $20,000
2. Melissa Humana-Paredes/Sarah Pavan, Canada, $16,000
3. Heather Bansley/Brandie Wilkerson, Canada, $10,000
4. Joy Stubbe/Marleen Van Iersel, Netherlands, $8,000
Gold – Klineman/Ross def. Humana-Paredes/Pavan, 25-23, 18-21, 15-10 (56)
Bronze – Bansley/Wilkerson def. Stubbe/Van Iersel, 21-19, 17-21, 22-20 (63)
Brazil – Itapema, May 14-19, $150,000, FIVB men's event No. 430
1. Anders Mol/Christian Sorum, Norway, $20,000
2. Michal Bryl/Grzegorz Fijalek, Poland, $16,000
3. Steven van de Velde/Christiaan Varenhorst, Netherlands, $10,000
4. Piotr Kantor/Bartosz Losiak, Poland, $8,000
Gold – Mol/Sorum def. Bryl/Fijalek, 21-19, 28-26 (46)
Bronze – van de Velde/Varenhorst won by forfeit over Kantor/Losiak
While the Itapema stop started last week's play, Turkey hosted the weekend's second event where Russian teenagers Mariia Bocharova/Maria Voronina and Polish veterans Maciej Rudol/Jakub Szalankiewicz topped the podiums at the $40,000 Aydin Open.
Turkey – Aydin, May 16-19, $150,000, FIVB men's event No. 431
1. Maciej Rudol/Jakub Szalankiewicz, Poland, €4,000
2. Marco Caminati/Alex Ranghieri, Italy, €3,000
3. Alexander Walkenhorst/Sven Winter, Germany, €2,000
4. Jasper Bouter/Ruben Penninga, Netherlands, €1,400
Gold – Rudol/Szalankiewicz def. Caminati/Ranghieri, 21-14, 19-21, 15-13 (61)
Bronze – Walkenhorst/Winter def. Bouter/Penninga, 21-16, 21-17 (39)
Turkey – Aydin, May 16-19, $150,000, FIVB women's event No. 396
1. Mariia Bocharova/Maria Voronina, Russia, €4,000
2. Diana Lunina/Maryna Samoday, Ukraine, €3,000
3. Laura Caluori/Dunja Gerson, Switzerland, €2,000
4. Sophie Bukovec/Taylor Pischke, Canada, €1,400
Gold – Bocharova/Voronina def. Lunina/Samoday, 21-17, 16-21, 16-14 (53)
Bronze – Caluori/Gerson def. Bukovec/Pischke, 21-14, 21-14 (36)
Following this week's event, the FIVB World Tour remains in China for women's only events in Nantong (May 30-June 2) and Nanjing (June 6-9) while sanctioning double gender stops in Europe at venues in the Czech Republic (Ostrava, May 29-june 2) and Austria (Baden, June 6-10).
The final weekend of competition prior to the 2019 FIVB World Championships in Germany will be played June 12-16 in Poland (Warsaw) and Greece (Ios).  The FIVB World Championships will be staged June 28 through July 7 in Hamburg.
Related links of AVC
AVC Website: click www.asianvolleyball.net
AVC Facebook: click www.Facebook.com/AsianVolleyballConfederation
AVC Twitter: click: https://twitter.com/avcvolley
AVC Instagram: click: https://www.instagram.com/avcvolley/?hl=en
AVC Youtube: click: Asian Volleyball Confederation
AVC WeChat: Asian Volleyball Confederation