Mount Maunganui Beach semifinals and finals to be streamed live on YouTube
The sand courts in Mount Maunganui Beach (source: volleyballnz.org.nz / phototek.co.nz)
The first Futures event of the Volleyball World Beach Pro Tour 2023 season is set to take place from Thursday through Sunday (March 16 – 19) in Mount Maunganui Beach and it is the first world-level beach volleyball tournament ever to take place in New Zealand.
Sunday's semifinals and medal matches will be streamed live on the **Beach Volleyball World YouTube channel**.
25 men's and 18 women's pairs from 10 different countries will compete at the tournament in the north of New Zealand. The US$ 10,000 prize money event will start with Thursday's single-elimination qualifiers, which will determine four men's and four women's duos to join the 12 teams per gender seeded directly into the main draw.
In each gender, a 16-team main draw will feature a modified pool play system with the top three duos in each four-team pool advancing to the knockout stage. The pool winners will progress directly to the quarterfinals, while the pool runners-up and the third-placed pairs will play in the eighthfinals. Main draw action starts on Friday and will last through Sunday, when the semifinals and the medal matches will be played.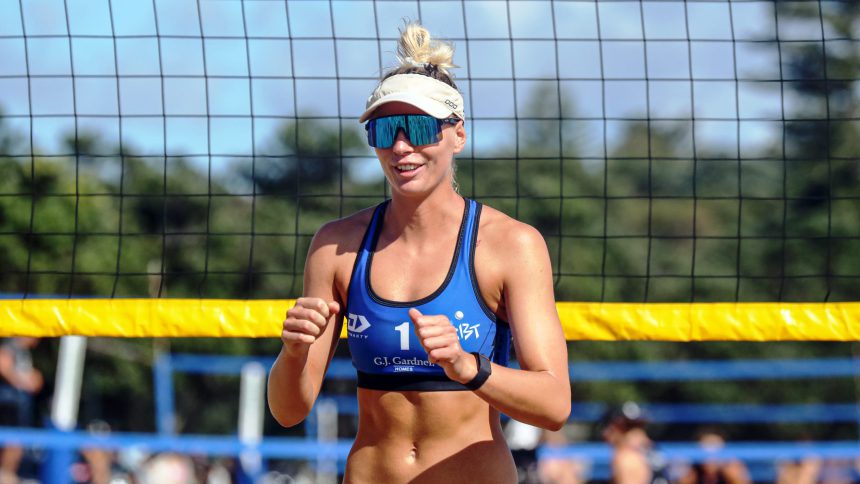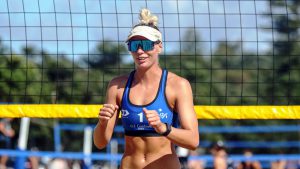 Alice Zeimann on the court in Mount Maunganui Beach (source: volleyballnz.org.nz / phototek.co.nz)
New Zealand's Shaunna Polley & Alice Zeimann are headlining the women's draw in Mount Maunganui Beach. For the currently ranked 41st team in the world and reigning Asian champions, it will be the third consecutive week to compete at the same venue. Last week Polley & Zeimann triumphed as 2023 New Zealand Beach Tour champions, after winning three golds and a silver out of the four national tour stops held. They topped the women's podium at both tournaments held in Mount Maunganui Beach, including last week's Finals. In addition, Zeimann claimed the Most Valuable Player award. It will be Polley & Zeimann's second season on the Beach Pro Tour. Last year they managed to finish fifth at all three Futures tournaments they attended. They also appeared at several Challenge and Elite16 events.
Two Australian pairs, Georgia Johnson & Jasmine Fleming and Brittany Kendall & Caitlin Bettenay, complete the top three in the women's bracket. Both of these teams took part in the two Torquay tournaments in November, with Johnson & Fleiming finishing fifth at the Challenge event and ninth at the Elite16 a week later.
Women's duos from Canada, France, Japan, Sweden and the United States will also hit the sand in Mount Maunganui Beach this week.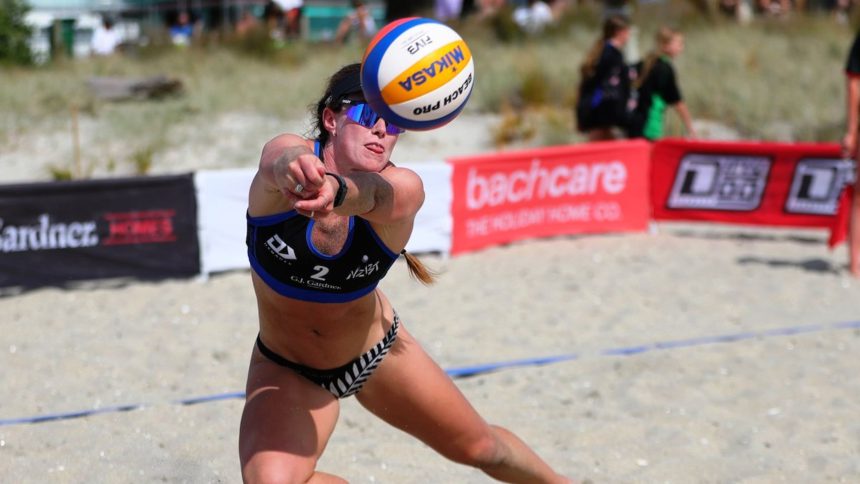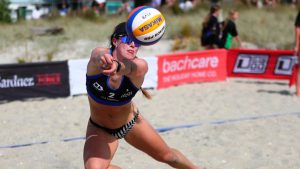 New Zealand's Shaunna Polley in action (source: volleyballnz.org.nz / phototek.co.nz)
Two Chinese teams lead the men's lineup. Top-seeded Ha Likejiang & Wu Jiaxin are their country's highest ranked men's pair. In November, they grabbed gold at the Sohar Futures in Oman. They also took part in the FIVB Beach Volleyball World Championship Rome 2022. Li Zhuoxin & Xue Tao, on the other hand, will make their team debut on the Beach Pro Tour, after claiming bronze at last year's AVC Asian Championship.
It will be interesting to see third-seeded Kiwi brothers Sam O'Dea & Ben O'Dea competing together internationally again after they went through the 2022 season with different partners. They reunited earlier this year for the three consecutive events in Mount Maunganui Beach and won gold at the first one two weeks ago. The Mount Maunganui locals will truly be at home as they take to the sand courts again for the Futures event this week, which might, in fact, be their last international tournament before retirement.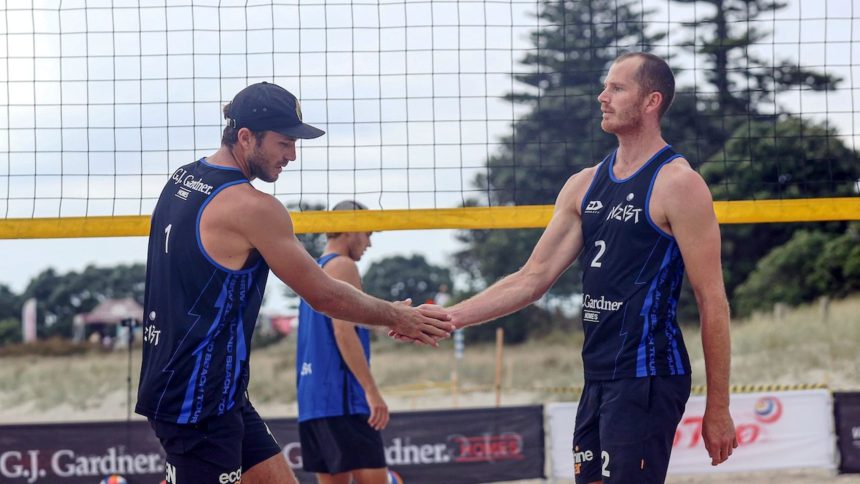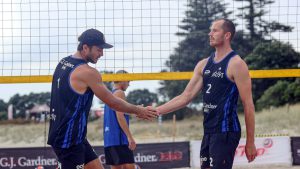 Sam O'Dea & Ben O'Dea (source: volleyballnz.org.nz / phototek.co.nz)
"People have been giving me a bit of stick for saying I've retired and then playing, but to have three tournaments in a row at our home beach is hard to say 'no' to. And our brother Eddie is coaching us as well," Sam O'Dea told volleyballnz.org.nz. "We've played all over the world, so it's awesome to come back and play some really cool events here. We're stoked it's being put on – we just turn up and play! We're happy. It's home town, home crowd and we just know the beach."
"This is our beach. We've been playing here for something like 20 years. I must have played my first tournament here at 10 or 11 years old, and Sam was pretty much the same," Ben O'Dea added. "It's cool, when you sit down at time-out and see a whole lot of friends and family watching. Our brother and a whole lot of our friends have kids and there's a whole new generation coming through, and it's neat that they get to see a little bit too."
The men's lineup for the Mount Maunganui Beach Futures also features pairs from Australia, Germany, Japan, Scotland and the United States.
Mount Maunganui Beach Futures: men's teams
Mount Maunganui Beach Futures: women's teams
Mount Maunganui Beach Futures: match schedule
QUICK LINKS
AVC Website: click www.asianvolleyball.net
AVC Facebook: click www.Facebook.com/AsianVolleyballConfederation
AVC Twitter: click: www.twitter.com/AsianVolleyball
AVC Instagram: click: https://www.instagram.com/avcvolley/?hl=en
AVC Youtube: click: Asian Volleyball Confederation
AVC WeChat: Asian Volleyball Confederation