Roi Et, Thailand, November 10, 2023 – Stage is set for electrifying weekend at 2023 FIVB Beach Volleyball U21 World Championships, as two home teams sneaked their ways into the women's Round of 16 with Patcharaporn Seehawong/Suchinna Choemphun stunning Brazilians Carolina Sallaberry Cavalcanti/Larissa Ferreira Gomes de Vasconcelos to next battle it out with Chinese Yan Xu/Zhou Mingli on Saturday.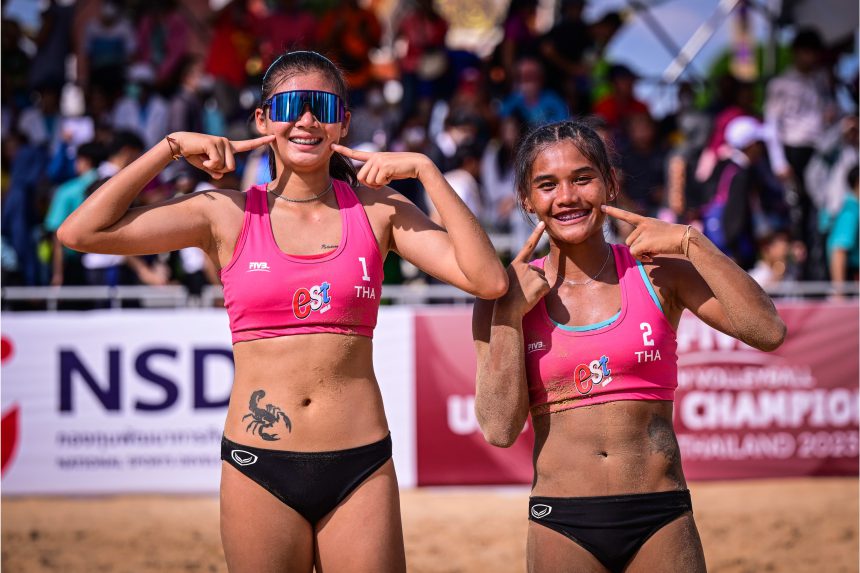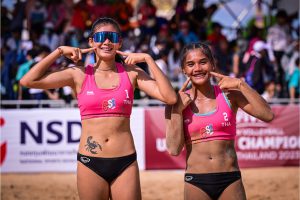 Patcharaporn/Suchinna all smiles after 2-1 win against Brazil
Asian teams enjoyed mixed fortunes on the last day of pool round-robin preliminaries in front of Roi Et Tower and Bueng Planchai here in Friday morning. The women's competition saw Vietnamese Hong Hanh Mai/Nguyen Thi Thu power past Nigerians Naomi Ayenejeyi Yao/Esther Onyinye Mbah 2-1 (21-18, 18-21, 15-12) in Pool F.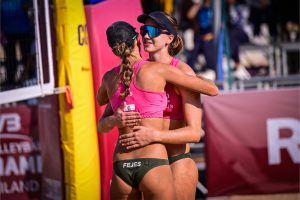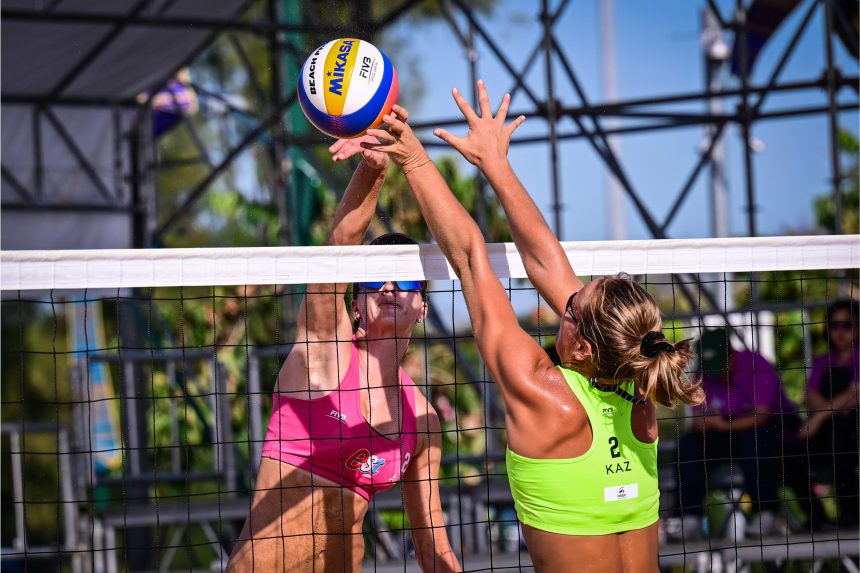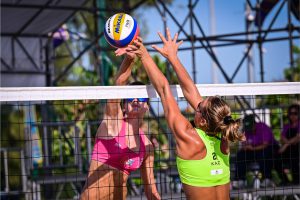 In other Asian matches, Australians Jasmine Fleming/Stefanie Fejes crushed Kazakhstan's Nadezhda Ivanchenko/Laura Kabulbekova 2-0 (21-10, 21-10) in Pool E, Malaysians Farwizah Aina Ahmad Nizar/Shamsulrizal Nur Auni Maisarah went down 0-2 (10-21, 16-21) to Estonians Eva Liisa Kuivonen/Liisa-Lotta Jurgenson in Pool H and Thailand's Patcharaporn Seehawong/Suchinna Choemphun succumbed to 0-2 (15-21, 13-21) loss to Canadians Ruby Sorra/Emma Glagau in Pool H.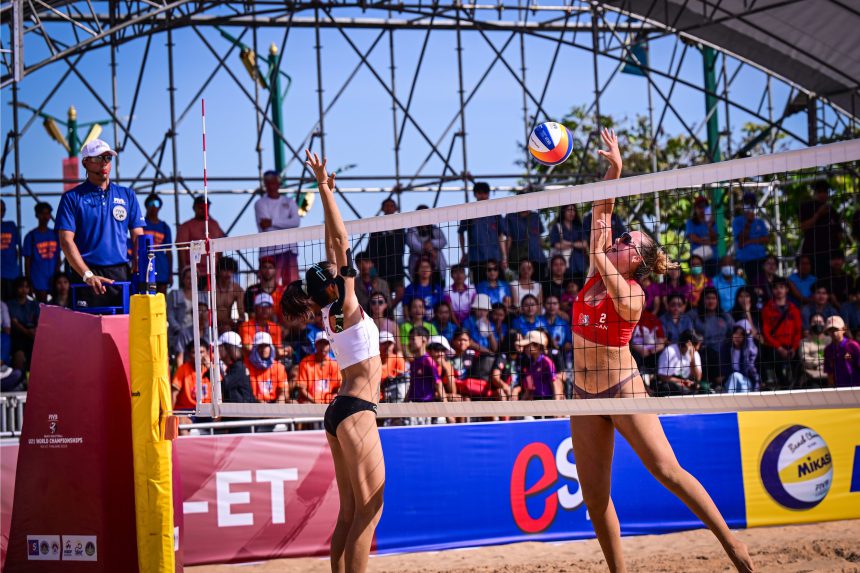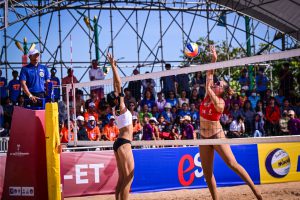 The Asian men's encounters saw Chinese Zhou Yongji/Xu Zongqi brush off Egyptians Mazen Mostafa/Youssef Abdelrahman 2-0 (21-15, 21-12) in Pool H and Thailand's Watanyoo Jaita/Kittipoom Ruchisuk suffer another 0-2 loss to Poles Filip Lejawa/Szymon Beta in Pool H.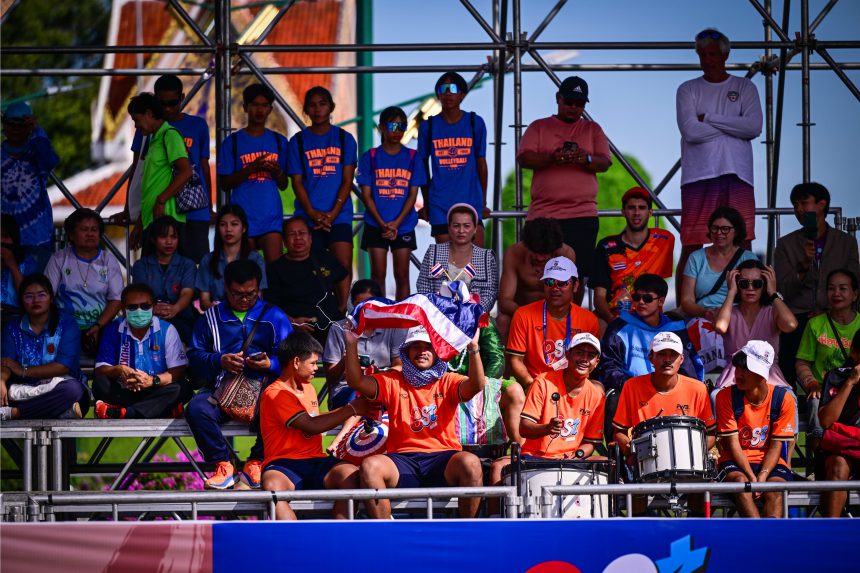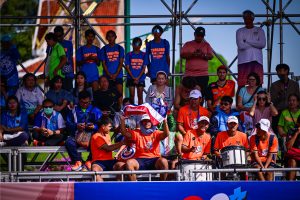 The pool play of the topflight championships came to a close on Friday morning, with only top three teams from each pool in men's and women's events advancing to the knockout stage. However, with pool winners automatically through to Saturday morning's Round of 16, teams finishing second and third places in each pool had been drawn for Round of 24 contest. Only the winning teams in the Friday afternoon will next take on each pool winner in Round of 16 to be played in a single elimination phase until the bronze and gold medal matches.
After completion of the Friday morning's pool play in the double-gender championships, teams were ranked first to fourth respectively in each pool, up to their performances.
Two Asian teams finished on the top of their pools. Chinese Yan Xu/Zhou Mingli topped Pool D with 5 points from two wins against one loss and Australians Jasmine Fleming/Stephanie Fejes made a clean sweep in Pool E with 6 points from three straight wins without dropping a set. No Asian team finished atop any Pool in the men's division.
After the pool play, only one Asian team crashed out of the women's competition as Malaysians Aina/Auni finished fourth in Pool H and had to pack their bags, while the men's sides saw Kazakhstan's Vladislav Mastikhin/Nurboldy Kulboldyyev, Iranians Ali Ghorbanpassandi/Habib Naseri and Thailand's Watanyoo/Ruchisuk finish fourth in the Pool B, D and H respectively to end their U21 Worlds campaigns.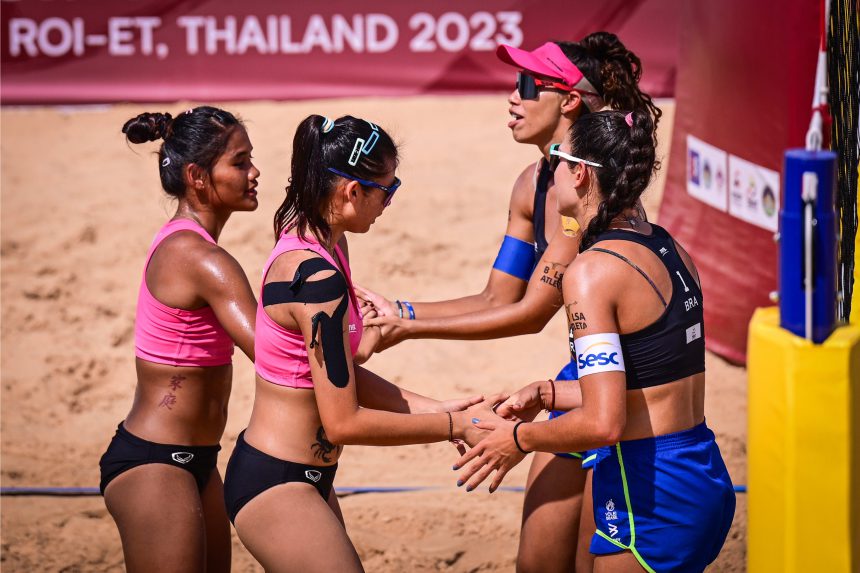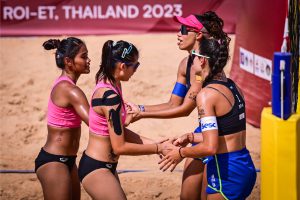 The Round of 24 took place later in the Friday afternoon. Thailand's Patcharaporn/Suchinna, cheered on lustily by home crowds braving searing heat to boost their favorite teams, lived up to the expectations.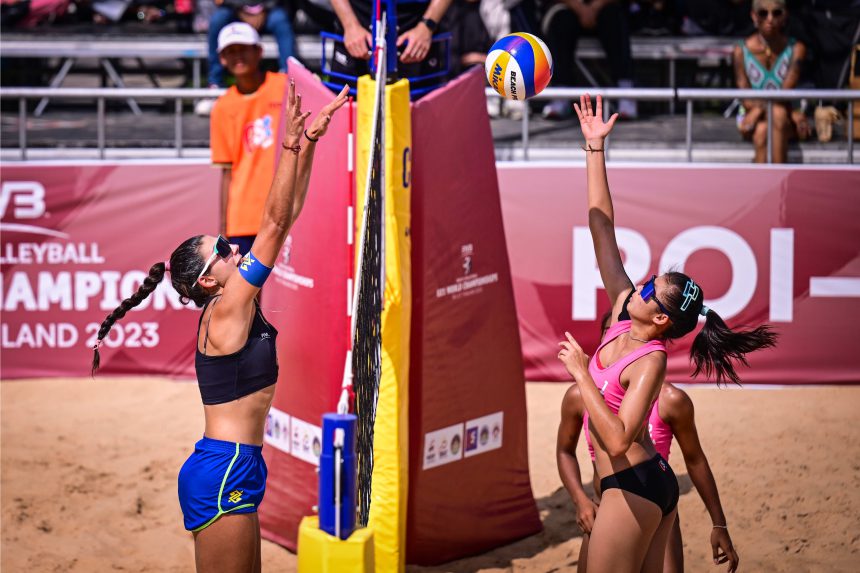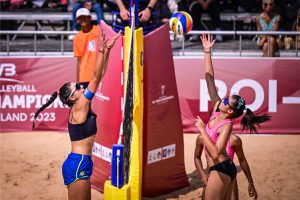 Patcharaporn, who partnered Jidapa Bunongkhun to seal silver medal at the last July's Asian U21 Championships here in Roi Et, and Suchinna turned the electric atmosphere of the Center Court in front of the picturesque Ro Et Tower into one of absolute joys with a 2-1 (21-18, 15-21, 15-10) victory against Carol/Larissa of Brazil.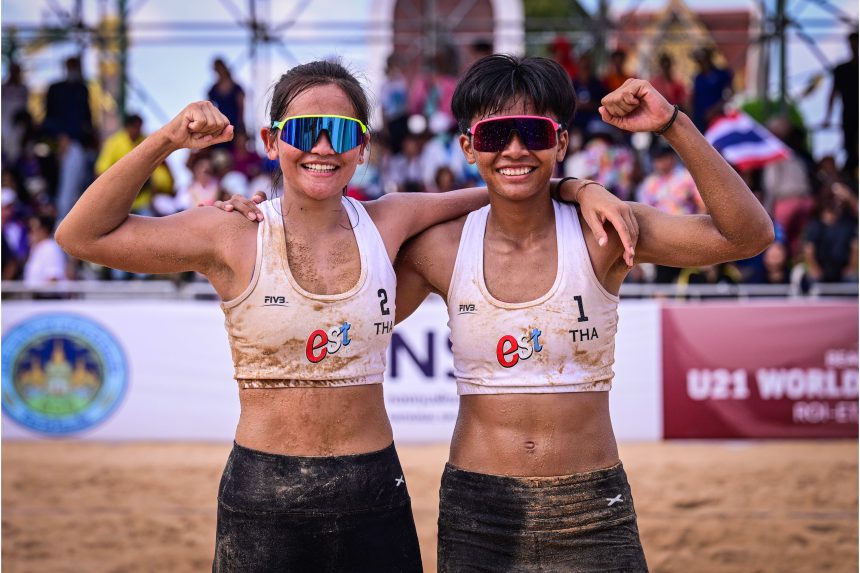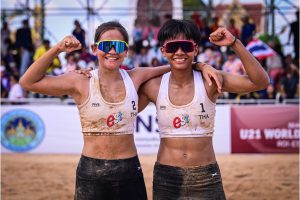 Salinda/Jidapa
Compatriots Salinda/Jidapa followed suits after 2-1 (21-19, 12-21, 15-11) victory against Germans Elea Beutel/Clara Dreben.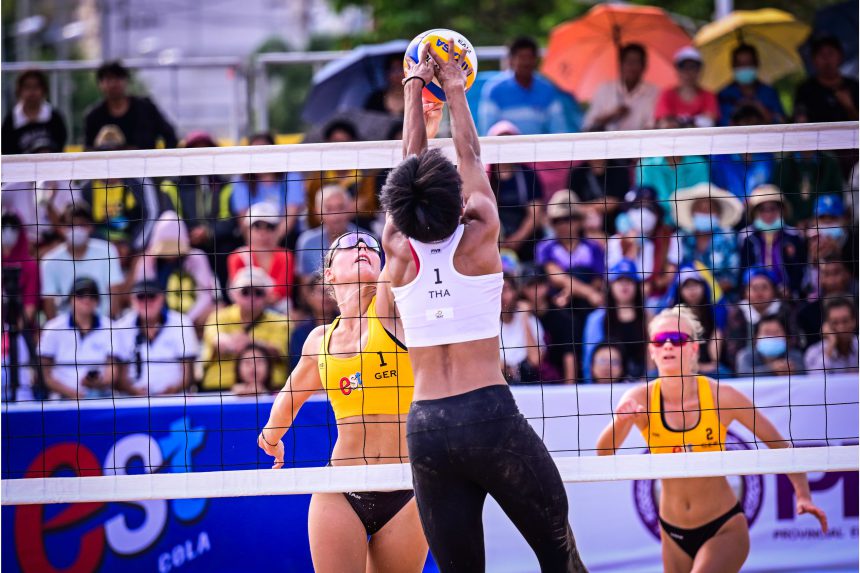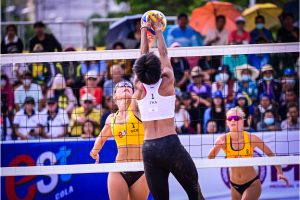 Kazakhstan's Ivanchenko/Kabulbekova suffered 0-2 (13-21, 6-21) loss at the hands of Latvians Liva Ebere/Deniela Konstantinova.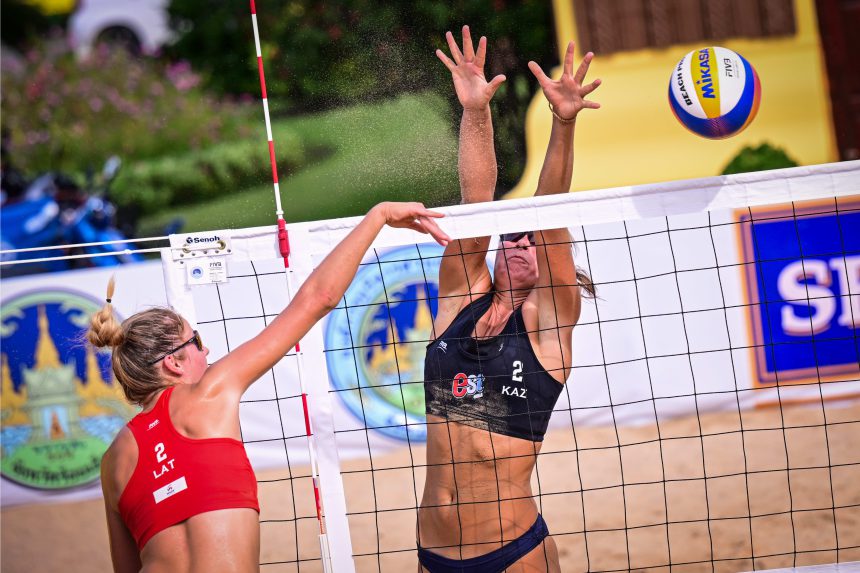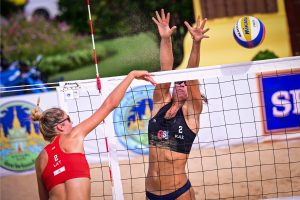 Vietnamese Hong Hanh Mai/Nguyen Thi Thu did not make their mark to go down tamely in a totally lopsided battle 9-21, 9-21 to Austrians Magdalena Rabitsch/Anja Trailovic.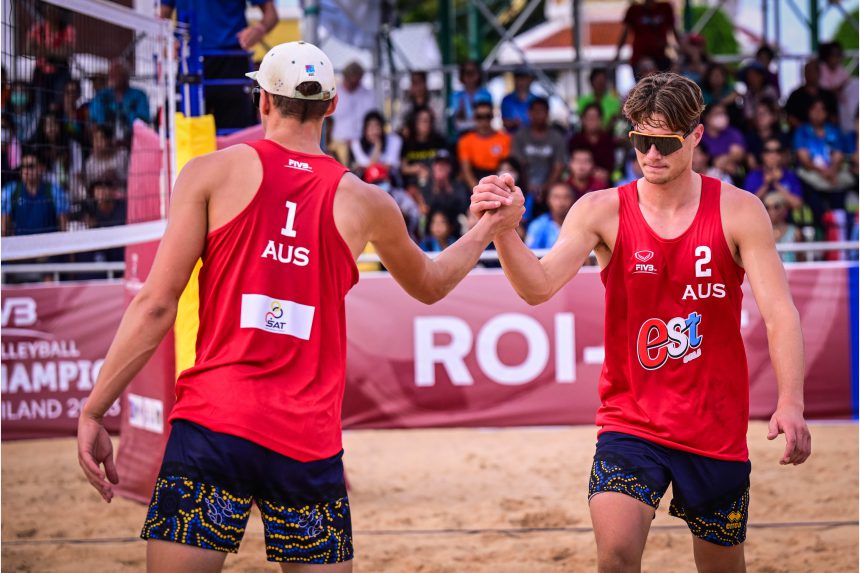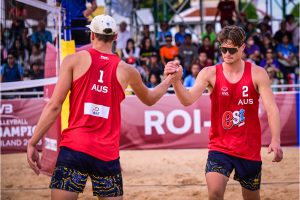 In the men's Round of 24, Australians Ben Hood, who captured last July's Asian U21 Championships with partner Lucas Josefsen, and D'Artagnan Potts fought hard against Argentines Marcos Ezequiel Gonzalez/Fausto Andres Inostroza before going down in hard-fought, three-set thriller 21-19, 20-22, 10-15.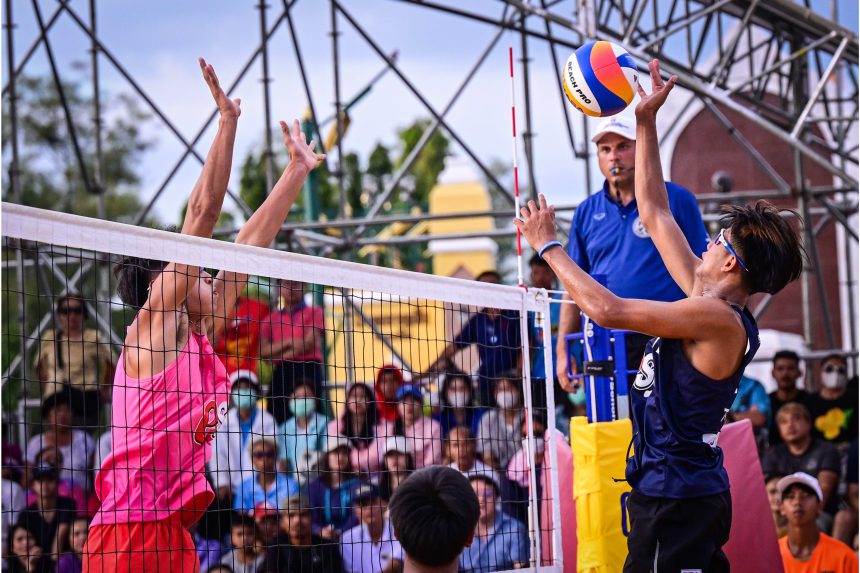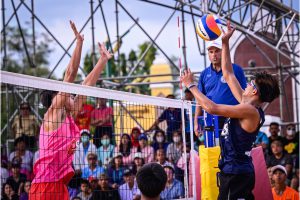 Thailand's Wichaya Wisetkan/Saiphirun Ruairung found Chinese Zhou Yongji/Xu Zongqi too hot to go down 0-2 (18-21, 17-21) and Lebanon's Hadi El Chabib/Omar Abi Karam poured everything in their tough match against Thomas Hurst/Gage Basey but found the Americans unstoppable. The Lebanese pair went down in two-setter 13-21, 16-21.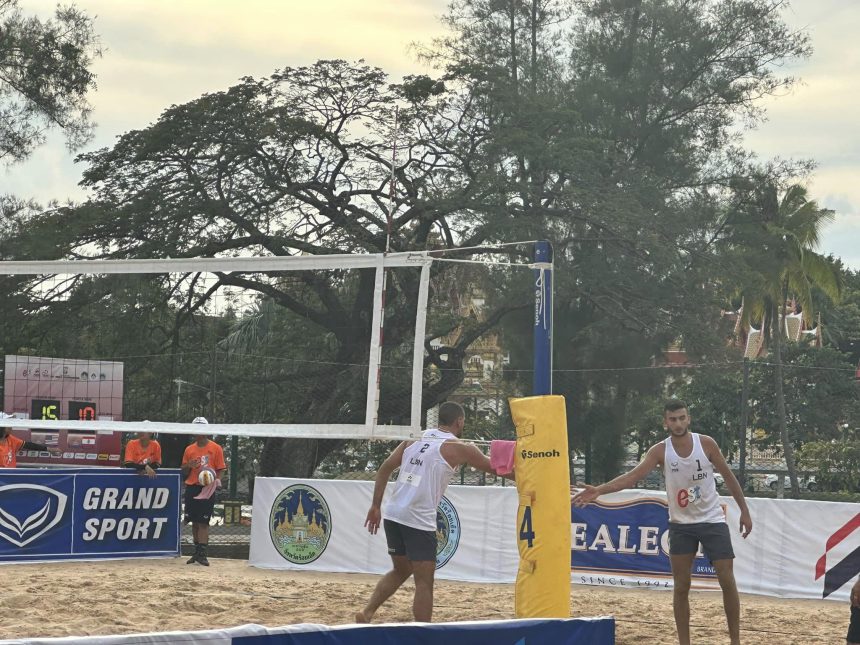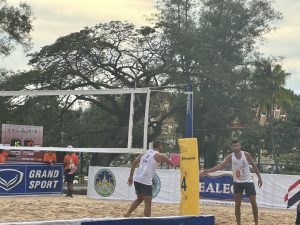 "First of all, I would like to thank the organisers for a very nice organization of the competition. Roi Et is good to us, hotel and everything. We are very happy to visit Thailand again. For us, it's the first time for Lebanon to compete in the U21 World Championships. We gained experience and we have learned a lot. We can put Lebanon on the map right now," said Omar Abi Karam after the match.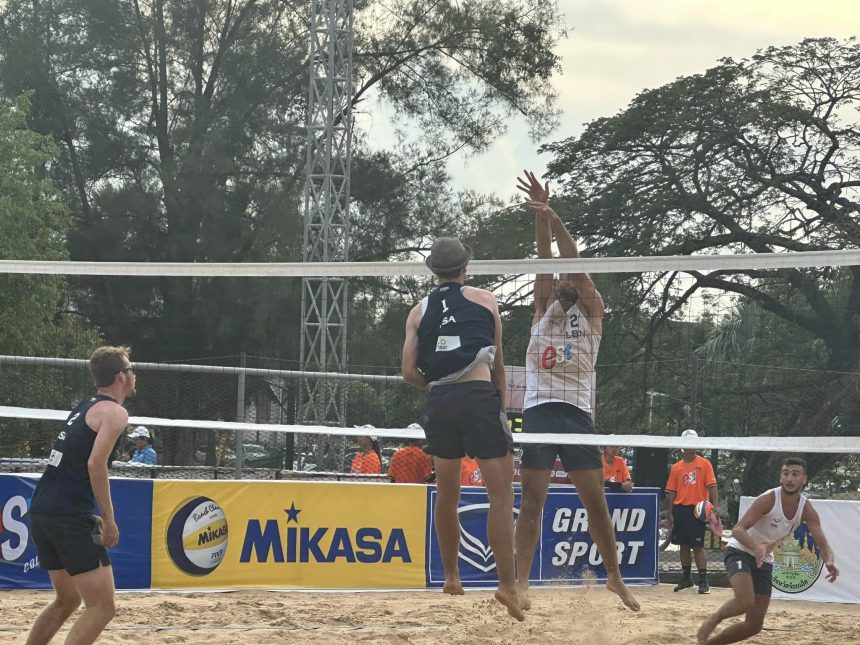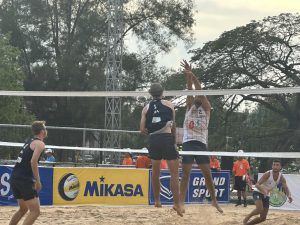 "Today, I don't think we played well, but it was the game we have to accept everything either winning or losing. The most important thing is we have to keep fighting for a better future. Actually, it's my third time in Thailand. We had competed in the Asian U21 Championships last July here and finished 4th place after going down to Kazakhstan in the semifinals. My first time in Thailand was when I played during the COVID-19 in 2021 in Bangkok.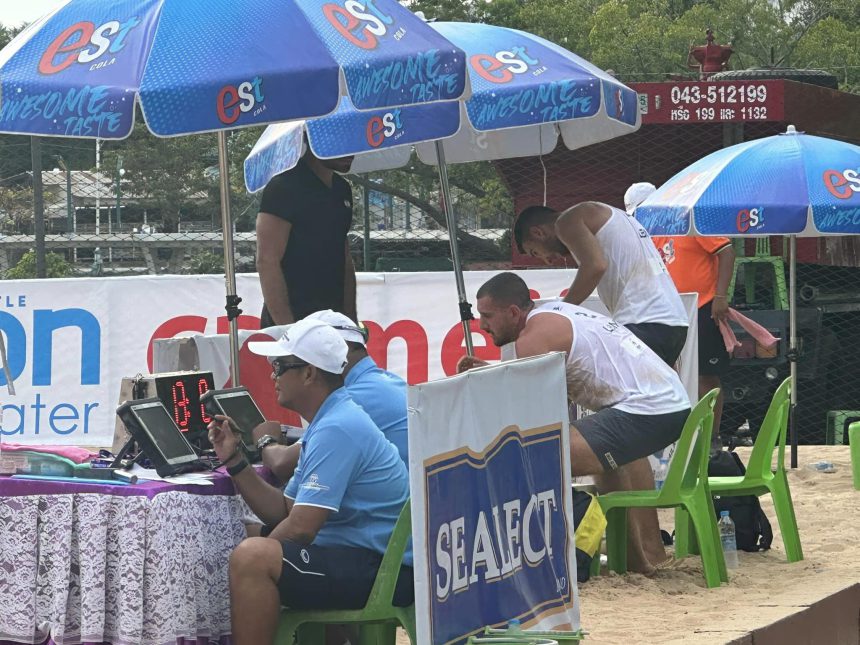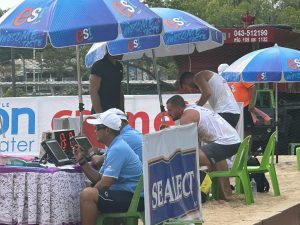 "The competition courts at Ban Nongyama School, where we competed in the Asian U21 Championships in July and the courts here in front of Roi Et Tower are similar with beautiful location in downtown Roi Et. We enjoyed a lot."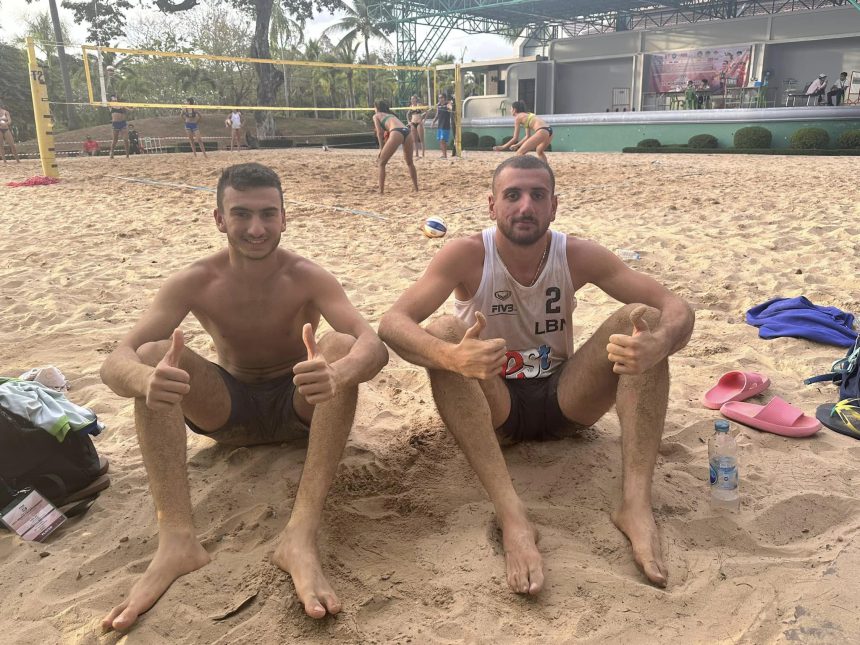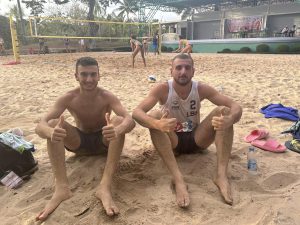 Omar, 20, right, and his partner Chabib, 17
Asked if his team will compete in the next week's Beach Pro Tour Challenge – Chiang Mai, Thailand 2023, the 20-year-old said, "We don't have enough points to play in the Challenge and that's why we won't take part in the next week's Challenge. We have to first compete in the Futures to get some points to be able to compete in the next level. We will continue training in order that we can do and choose our future competitions," added the 20-year-old Omar, who teamed up with the 17-year Hadi El Chabib.
In Round of 16 on Saturday when crunch encounters await all Asian participants, Thailand's Patcharaporn/Suchinna are due to challenge China's Yan/Zhou, Australians Fleming/Fejes will go up against Poles Ciezkowska/Lunio and Thailand's Salinda/Jidapa will be pitted against USA's Morin/Wilson in the women's event, while the men's competition saw Chinese Zhou Y J/Xu Zongqi fight it out with Acevedo/Max.
The Round of 16 contest will be held in Saturday morning, followed in the afternoon by the men's and women's quarterfinals. The semifinals, bronze and gold medal matches will take place on Sunday.
For match schedule and results, please visit https://en.volleyballworld.com/beachvolleyball/competitions/u21-world-championships-2023/schedule/
MATCH RESULTS
MEN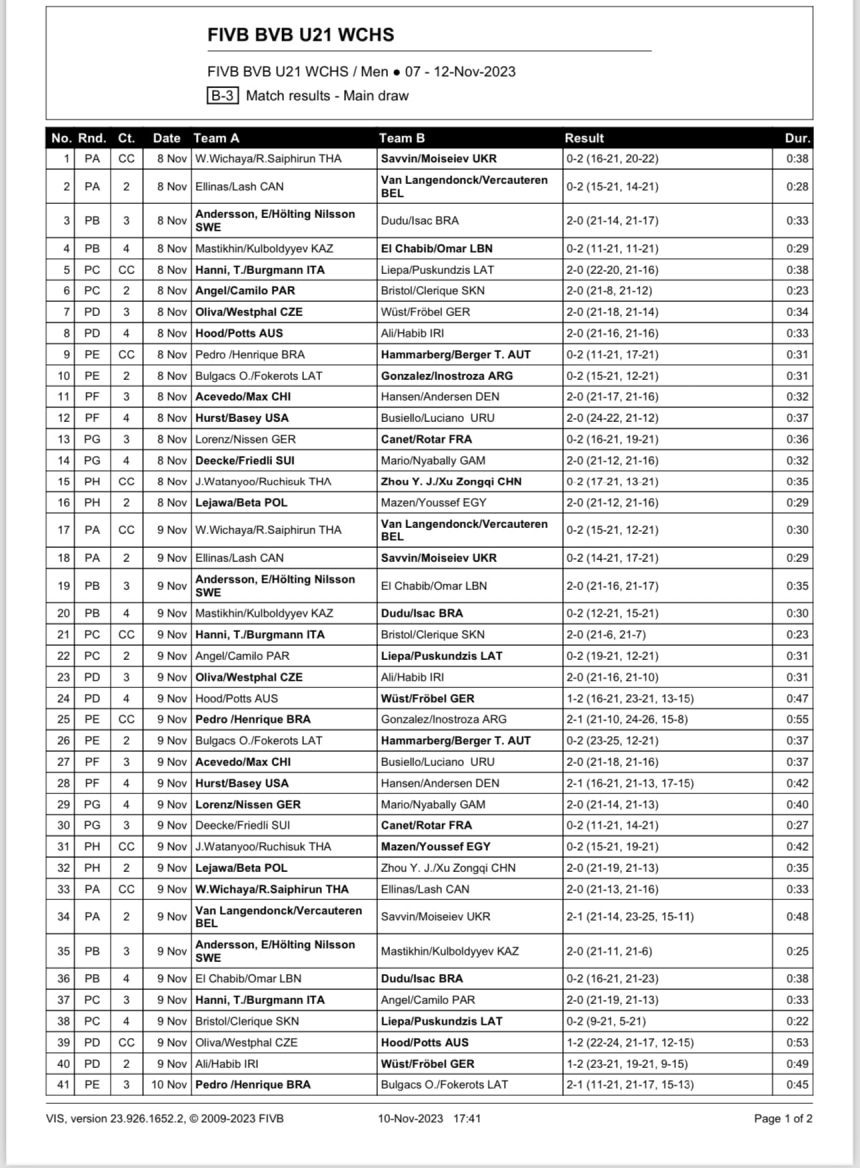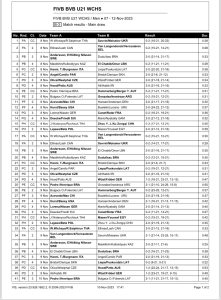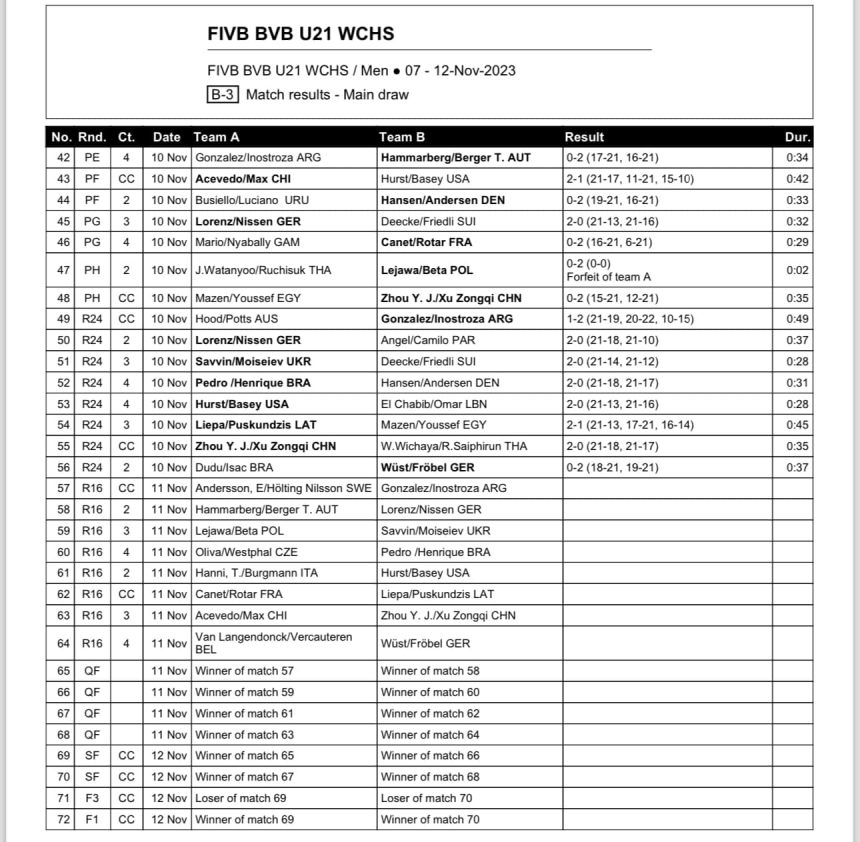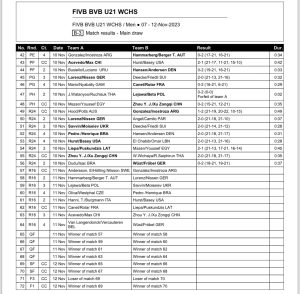 WOMEN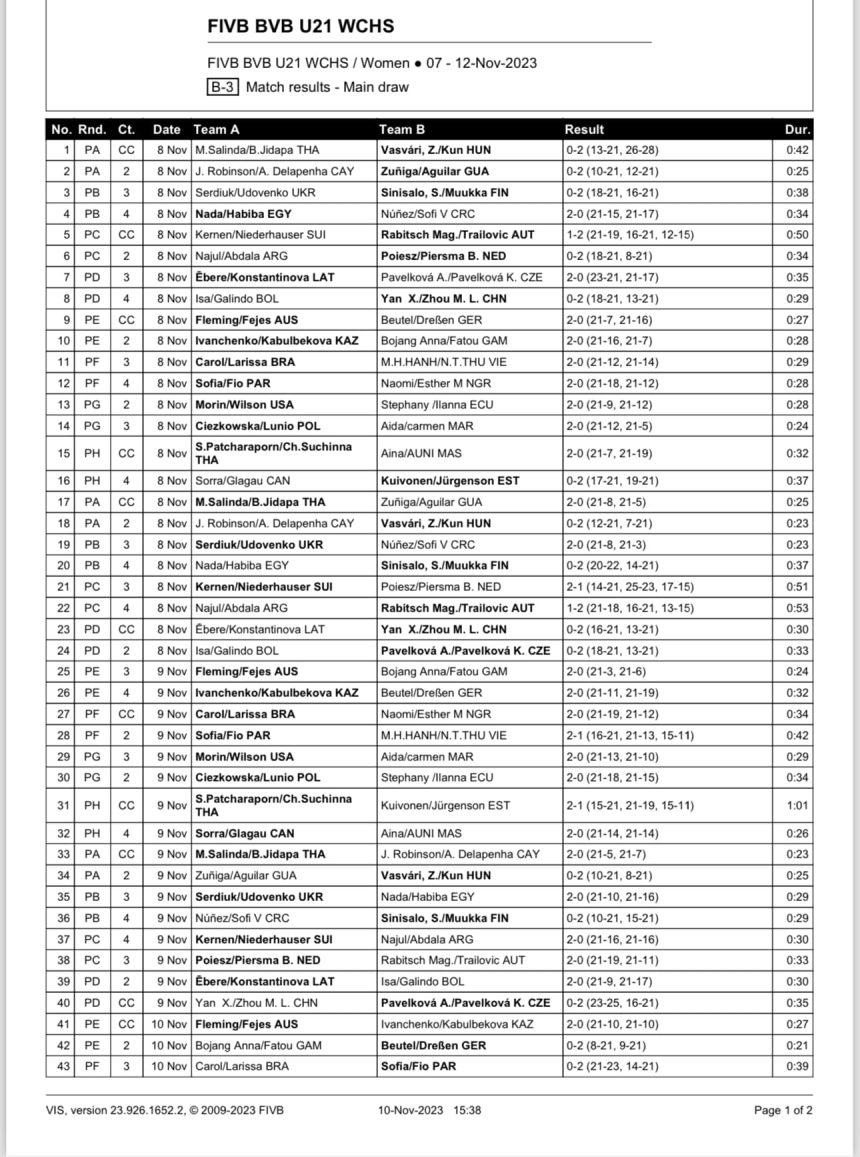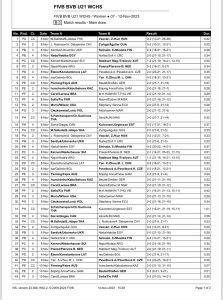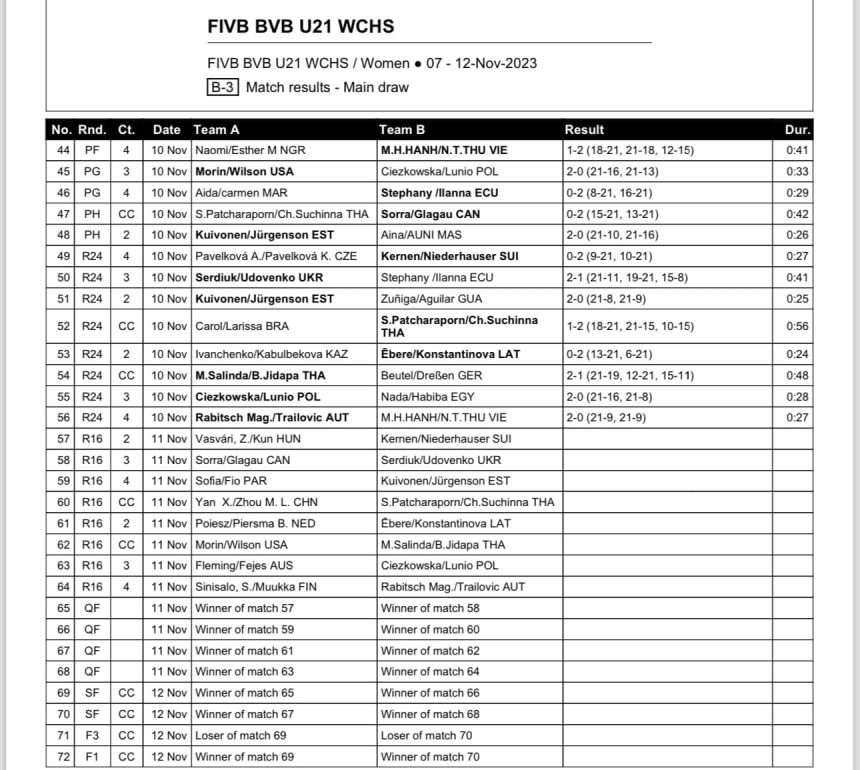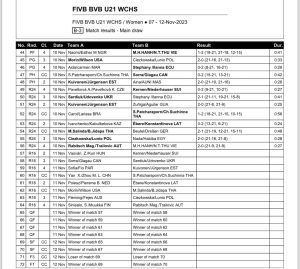 MATCH SCHEDULE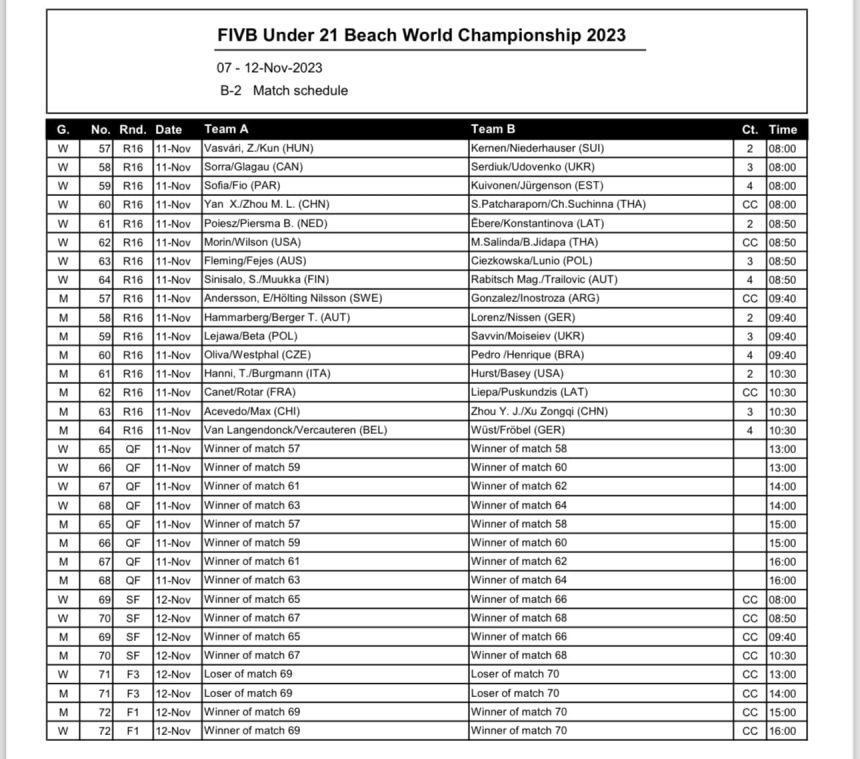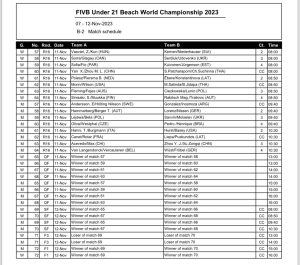 QUICK LINKS
AVC Website: click www.asianvolleyball.net
AVC Facebook: click www.Facebook.com/AsianVolleyballConfederation
AVC Twitter: click: www.twitter.com/AsianVolleyball
AVC Instagram: click: https://www.instagram.com/avcvolley/?hl=en
AVC Youtube: click: Asian Volleyball Confederation
AVC WeChat: Asian Volleyball Confederation