Roi Et, Thailand, November 11, 2023 – Promising Yan Xu/Zhou Mingli sealed two wins on the trot on Saturday to script an unprecedented milestone securing China's first-ever semifinals berth in the 2023 FIVB Beach Volleyball U21 World Championships in front of the picturesque Roi Et Tower in this northeastern province of Thailand.
Since the championships inception in 2001 in Le Lavandou, France, Australia emerged as the only Asian nation to claim medals in the topflight competition, with Becchara Palmer/Alice Rohkamper picking up silver in 2007 in Modena, Italy and Mariafe Artacho/Taliqua Clancy claiming bronze in 2012 in Halifax, Canada.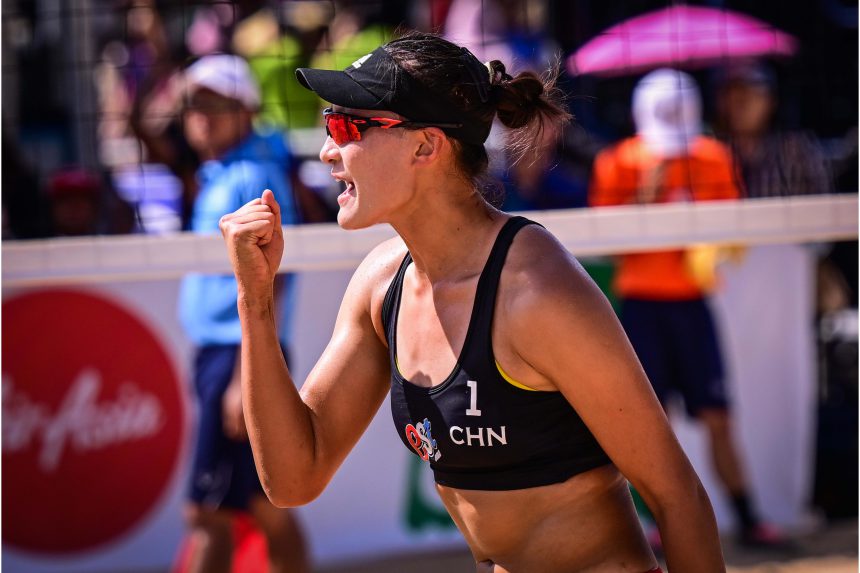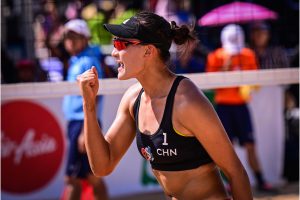 With the 19-year-old Yan and 18-year-old Zhou through to the Sunday morning's do-or-die semifinals, the Chinese women's pair became the lone Asian team to escape some sort of career setback in the six-day event in Roi Et.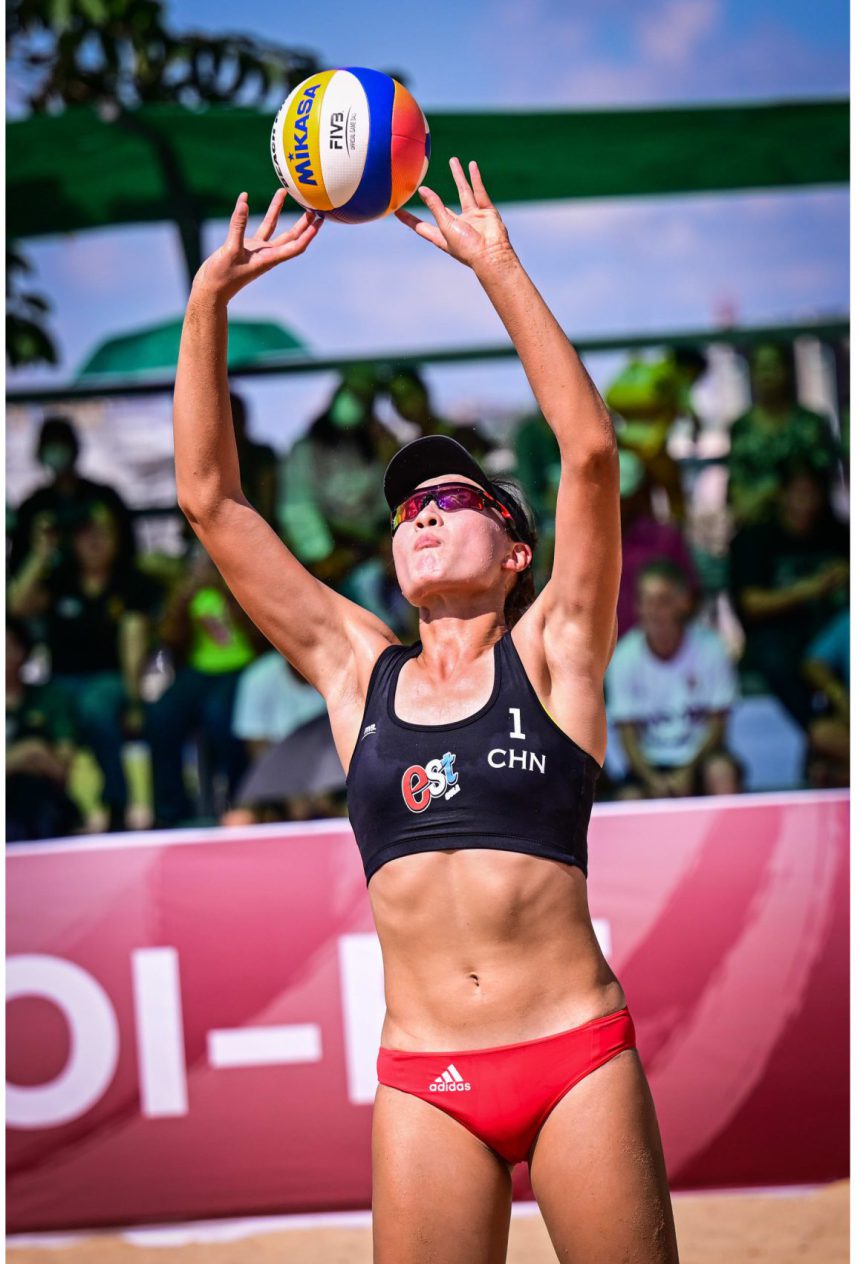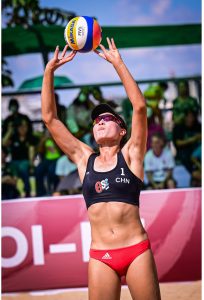 Yan Xu and Zhou Mingli started their Beach Pro Tour debut in Wenzhou Cangnan Futures in China last August as the top-seeded team in the qualification bracket and went on to claim bronze aside from netting gold in the 2023 World Beach Pro Tour Futures in Qidong, China in the same month.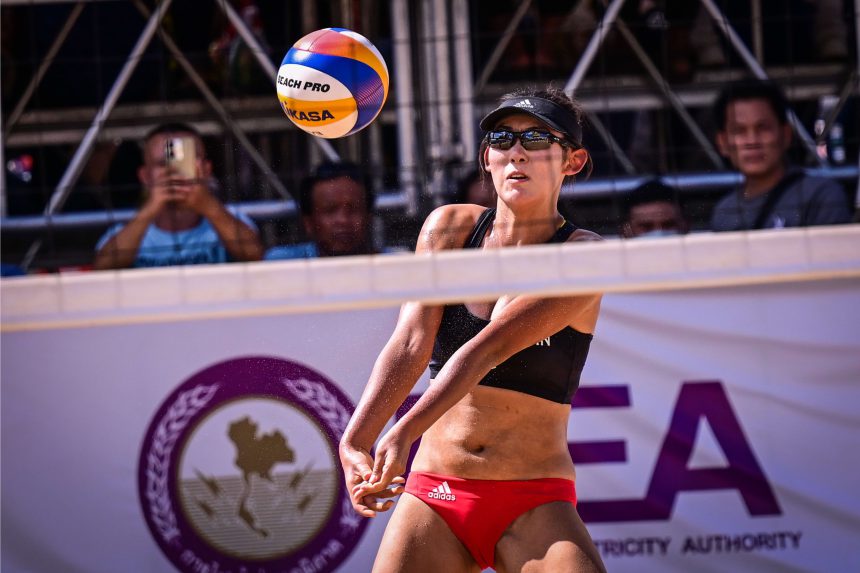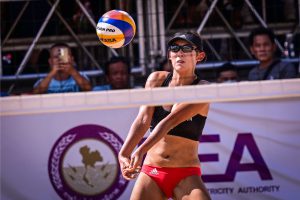 The Chinese duo got their Saturday campaign off to a victorious start following a comfortable 2-0 (21-17, 21-19) win in a Round of 16 encounter against home hopefuls Patcharaporn Seehawong/Suchinna Choemphun. Last July here in Roi Et, Patcharaporn teamed up with Jidapa Bunongkhun to clinch silver in the Asian U21 Championship at Ban Nongyama School.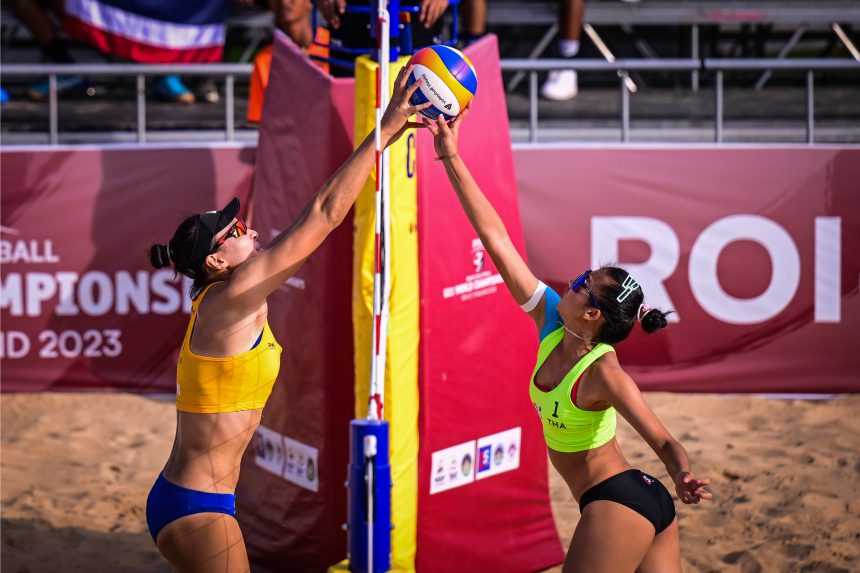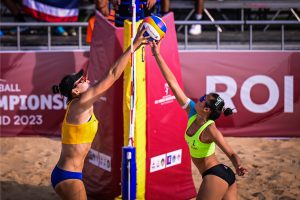 Yan and Zhou maintained their remarkable consistency later in the afternoon's quarterfinal clash against Eva Liisa Kuivonen/Liisa-Lotta Jurgenson, who came in 9th position in the 2023 European U22 Championships. The Chinese quickly got themselves into a comfortable position and prevailed over the Estonians in two sets 21-16, 21-16.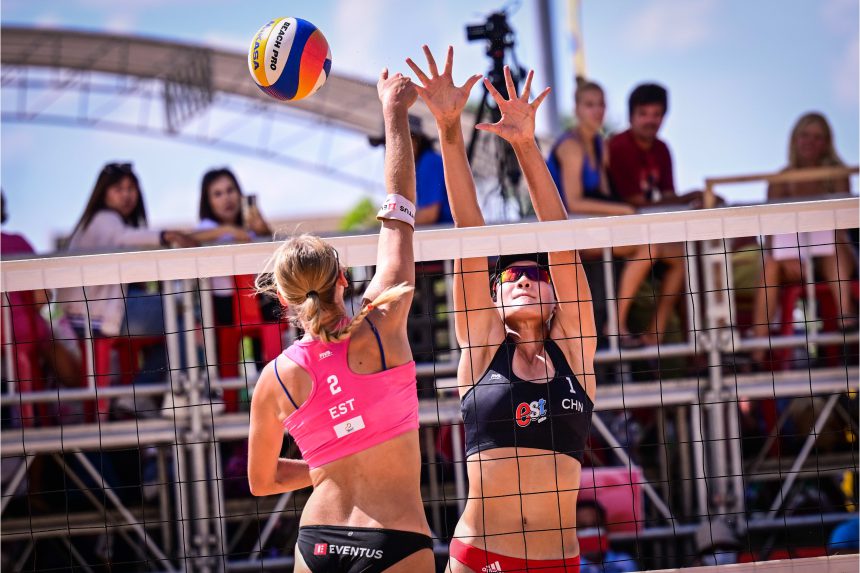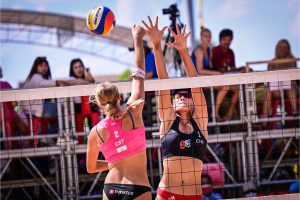 The Chinese duo booked a spot in the Sunday's semifinals, where they will go up against Switzerland's 18-year-old rising star Leona Kernen and Annique Niederhauser. Kernen had claimed bronze at the previous edition of the U21 World Championship two years ago in Phuket, as well as the U18 European title that year and a U20 continental silver this year,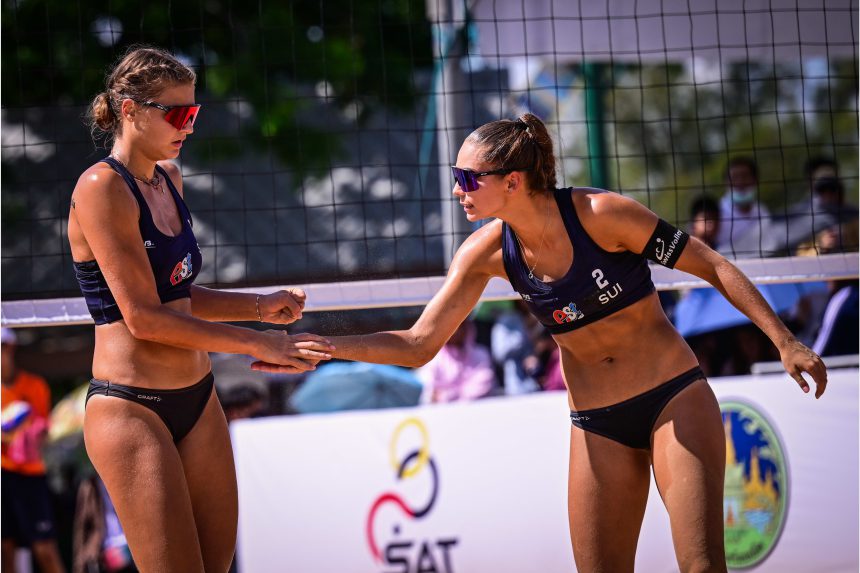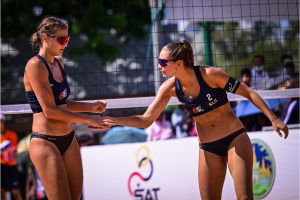 The Swiss pairing, who secured silver at 2023 World Tour Futures Baden in Austria and 4th place at World Tour Futures Leuven in Belgium on the same year, managed a 2-0 (21-17, 21-17) shutout of Canadians Ruby Sorra/Emma Glagau, bronze medallists at the 2022 FIVB U19 World Championships in Turkey, in the Saturday's quarterfinals.
In the other women's semifinal clash on Sunday morning, Netherlands' Desy Poiesz/Brecht Piersma will face off against Poles Malgorzata Ciezkowska/Urszula Lunio, gold medallists at the A1 CEV U20 EuroBeachVolley Vienna 2023.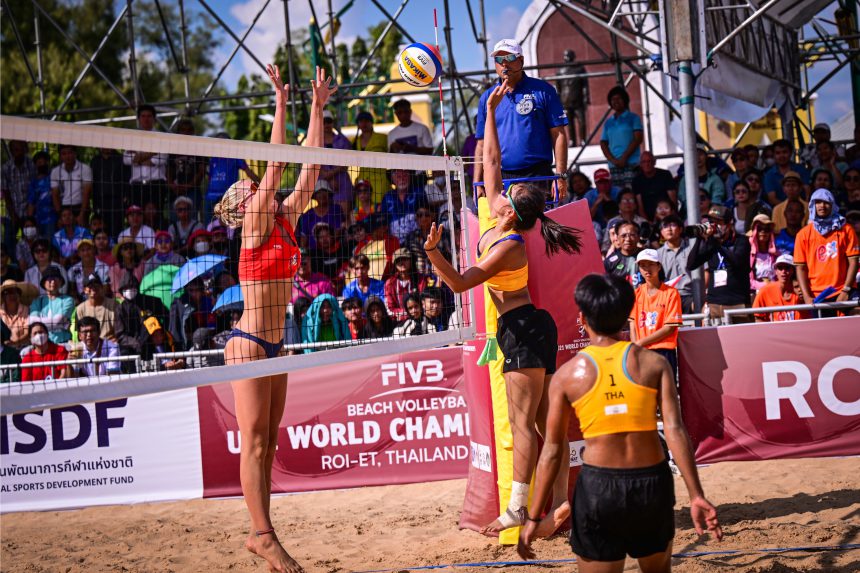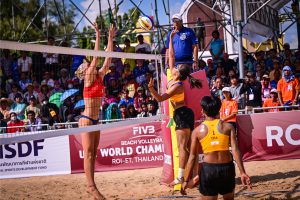 The Netherlanders stopped a remarkable run of Salinda Mungkhon/Jidapa Bunongkhun in the quarterfinals to pull off comfortable 2-0 (21-15, 21-14) triumph over the spirited Thais.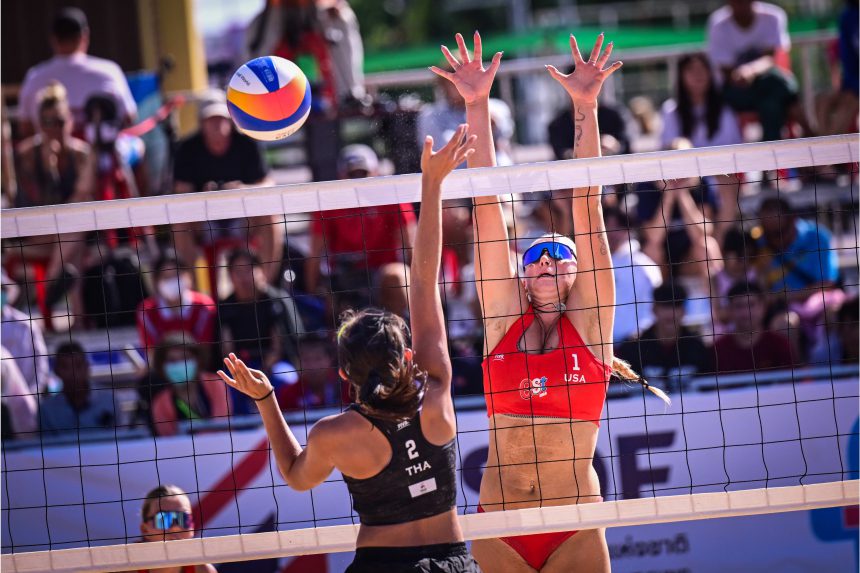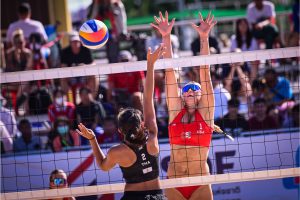 In the Saturday morning's Round of 16 earlier, Salinda and Jidapa delighted cheering home fans with a terrific comeback 2-1 (15-21, 22-20, 16-14) win against USA's Samaya Morin/Taylor Wilson.
Poles Ciezkowska/Lunio also made their mark on Saturday to power past Jasmine Fleming/Stephanie Fejes in the Round of 16. The Fleming/Fejes duo was a standout force in the Australian contingent who had previously clinched the Asian U21 Championships here last July.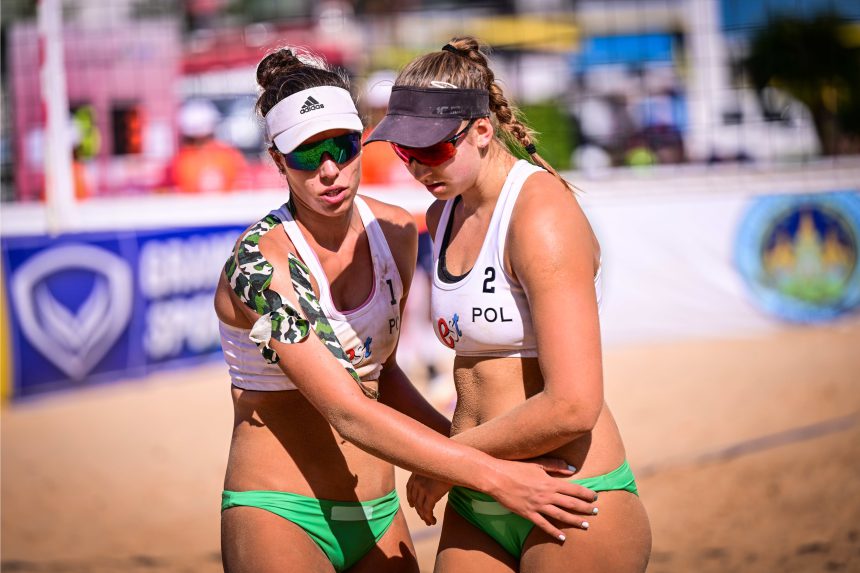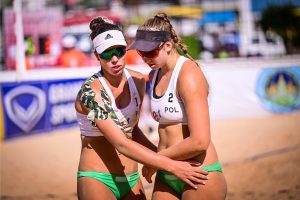 Later in the afternoon, Ciezkowska and Lunio continued their exceptional performance following their 2-0 (21-13, 21-13) demolition of Austrians Magdalen Rabitsch/Anja Trailovic in the quarterfinals.
Meanwhile, the men's semifinals on Sunday see France's Arthur Canet/Teo Rotar clash with Belgians Joppe Van Langendonck/Kyan Vercauteren and Austrians Timo Hammarberg/Tim Berger fight it out against Brazilians Pedro Augusto Sousa De Oliveira/Henrique Camboim de Barros.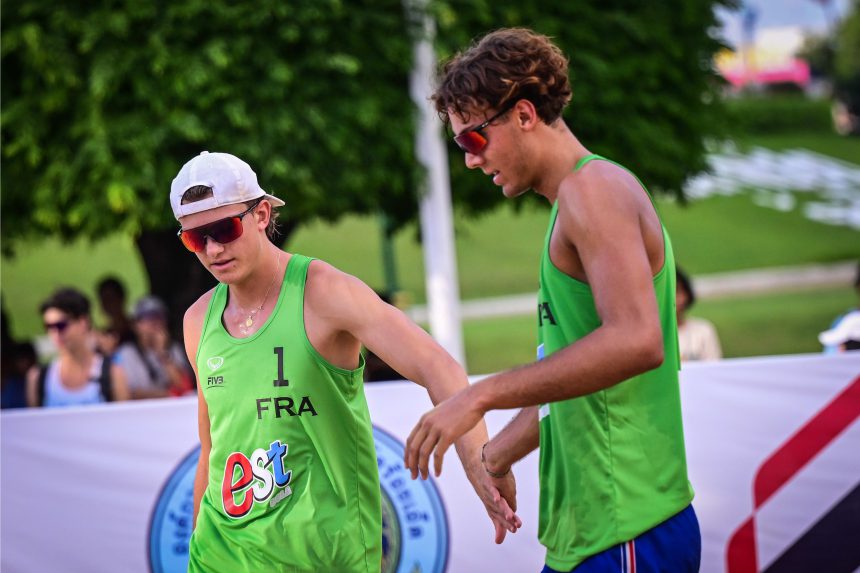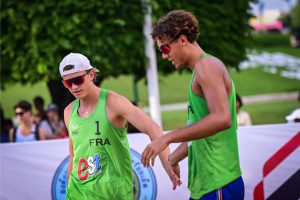 Canet, 18, and Rotar, 19, had been tipped to top the men's podium. The French pair, current world No.38, claimed medals to their name – the 2023 European U20 champions, U19 World Championship bronze in 2022 and U20 European Championships silver in 2022 and a couple of medals on VW Beach Pro Tour.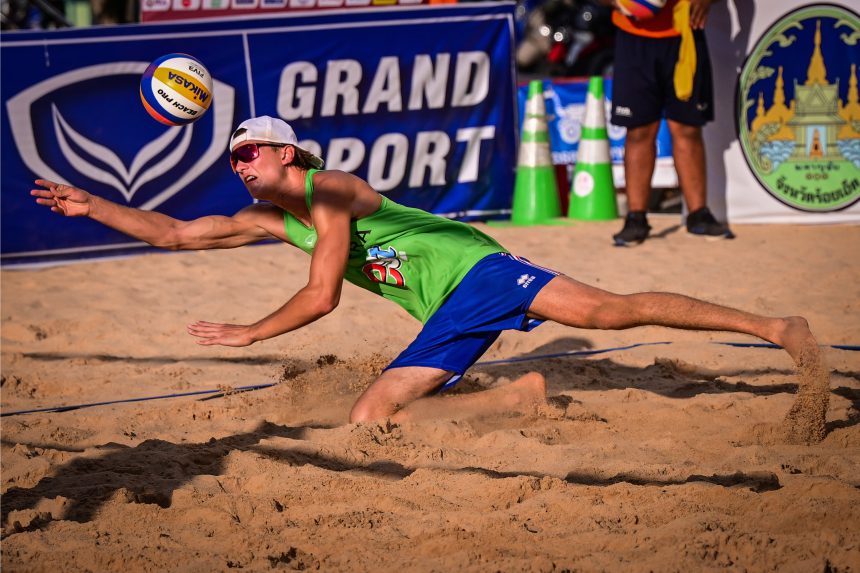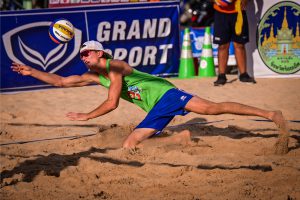 In the Saturday's quarterfinals, Canet/Rotar showcased their talent to rout Italians Theo Hanni/Michael Burgmann 2-0 (21-15, 21-16).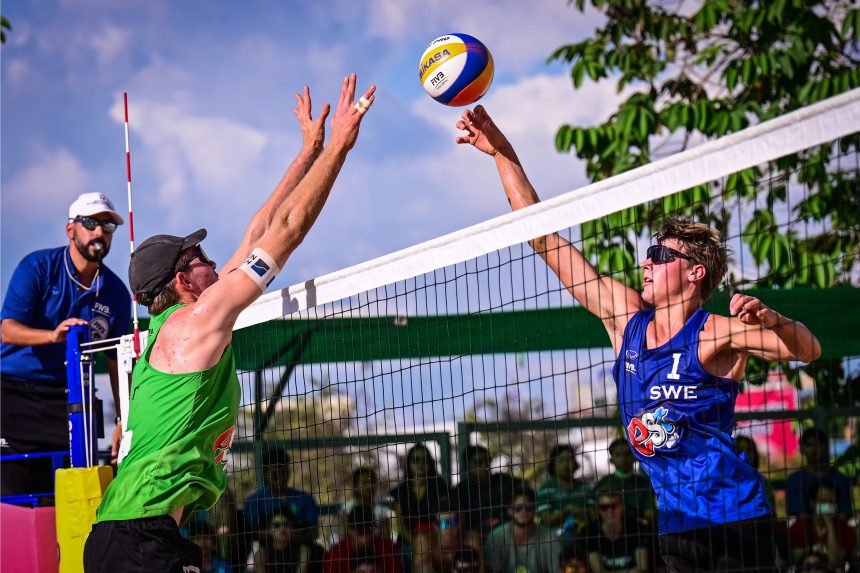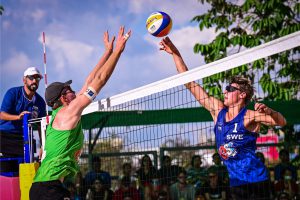 Belgians Joppe Van Langendonck/Kyan Vercauteren trounced Chileans Thomas Acevedo/Maximiliano Cordova de Halleux 2-0 (21-12, 21-15).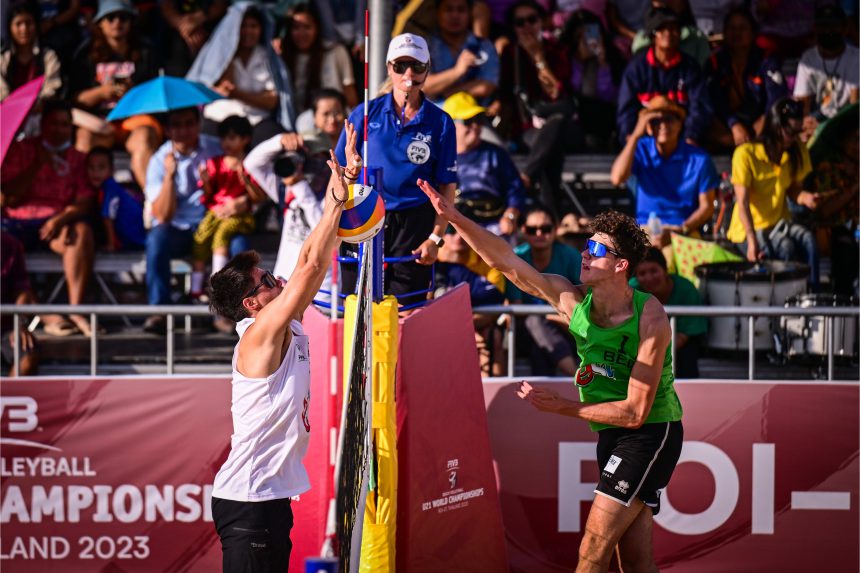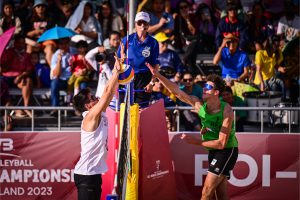 Hammarberg/Berger also became a strong team to be reckoned with in Roi Et. Current world No.81, the Austrians have already collected three age-category continental medals in Europe, a 2021 U18 bronze, a 2022 U20 gold and a 2023 U20 silver, while also finishing fourth in the U22 age group in July. On October 29, the young Austrians achieved their first Beach Pro Tour podium by earning gold at the 2023 Mallorca Futures in Spain.
In the quarterfinals, Hammarberg/Berger bounced back from the first set loss to beat Swedes Elmer Andersson/Jacob Holting Nilsson 2-1 (19-21, 21-15, 15-13), while Brazilians Pedro Augusto Sousa De Oliveira/Henrique Camboim de Barros outplayed Poles Filip Lejawa/Szymon Beta 2-0 (21-15, 21-15).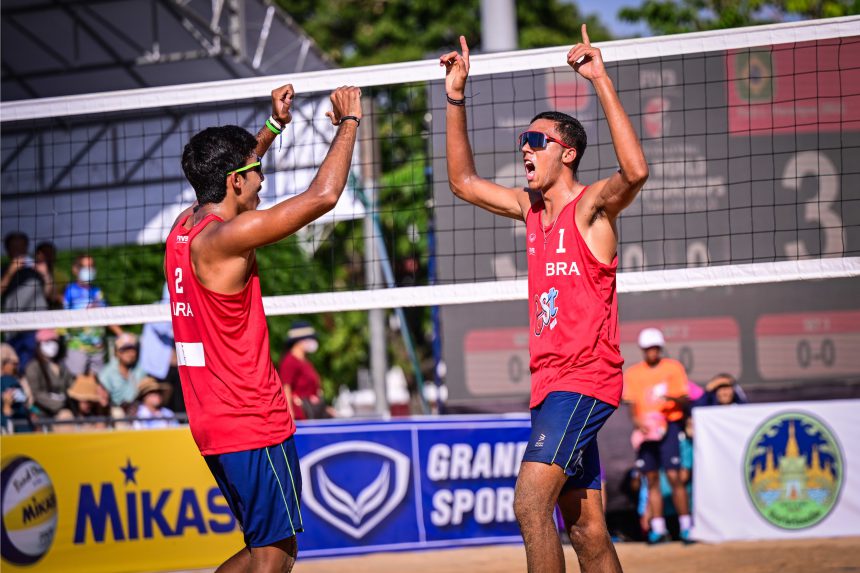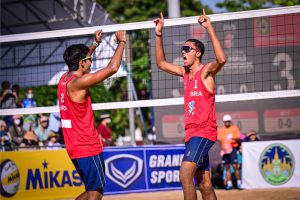 Things turned sour for Zhou YJ/Xu Zongqi. Although they became the only Asian men's team to reach the Round of 16, the Chinese pair missed the cut for the quarterfinals after 1-2 (17-21, 21-18, 12-15) loss to Chileans Thomas Acevedo/Maximiliano Cordova de Halleux.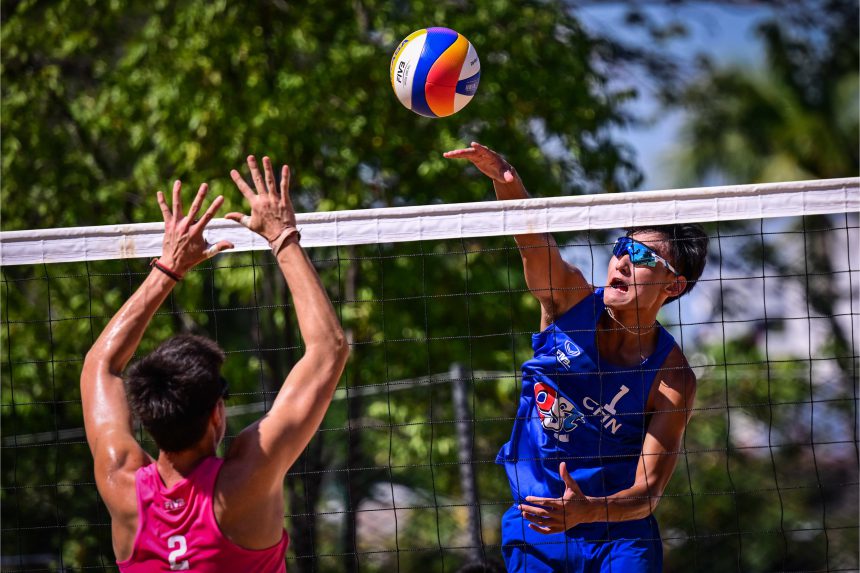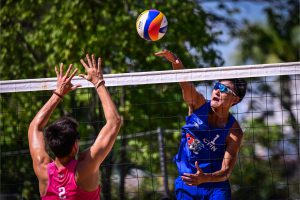 The curtain comes down on the 2023 FIVB Beach Volleyball U21 World Championships on Sunday, with the semifinals in both men's and women's events taking place in the morning. The bronze and gold medal matches will be held in the Sunday afternoon, followed by the awards presentation and closing ceremony.
For match schedule and results, please visit https://en.volleyballworld.com/beachvolleyball/competitions/u21-world-championships-2023/schedule/
MATCH RESULTS
MEN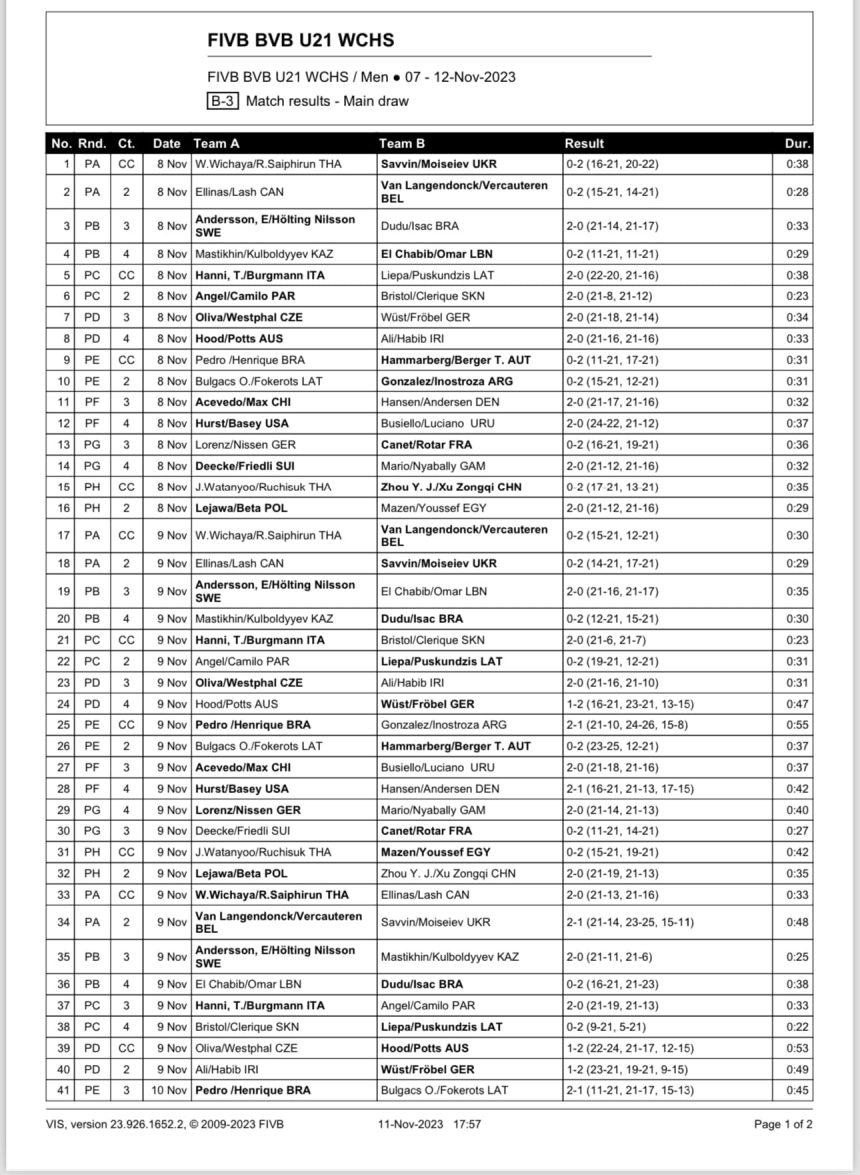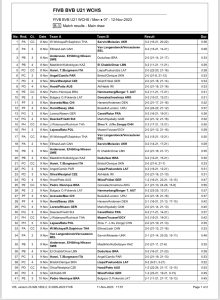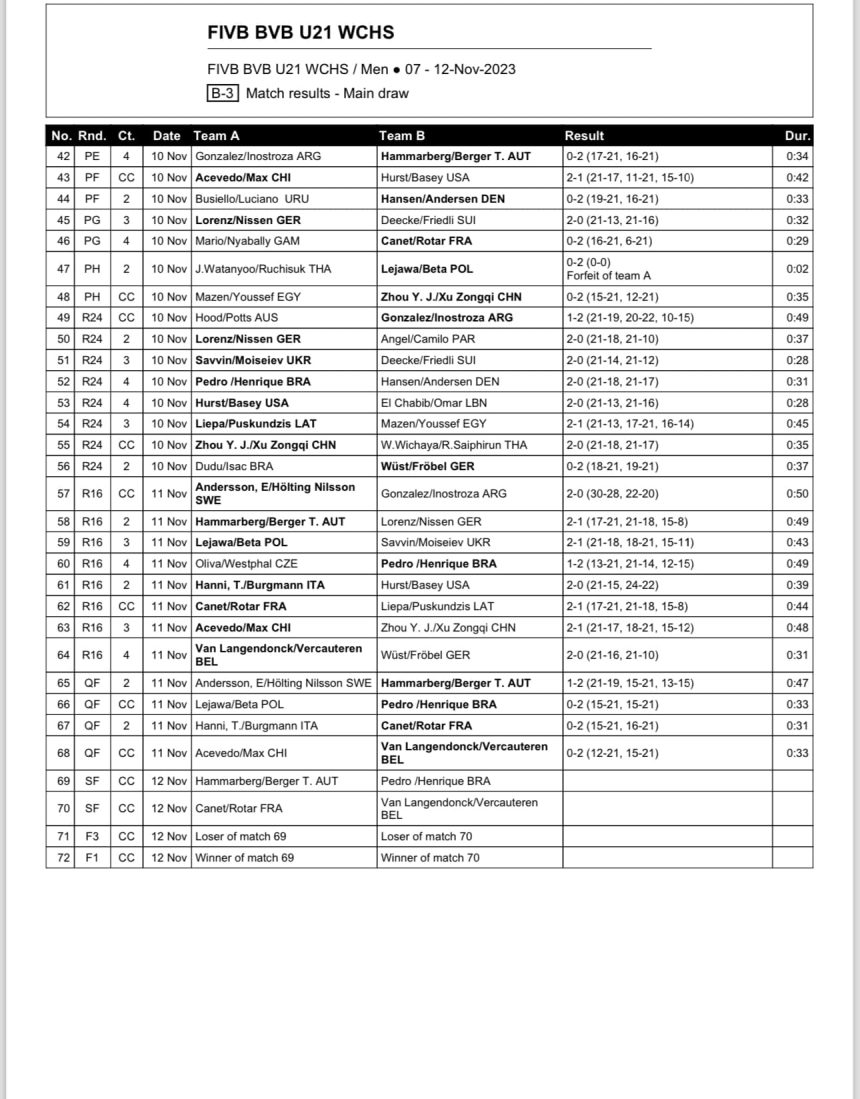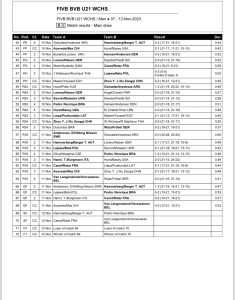 WOMEN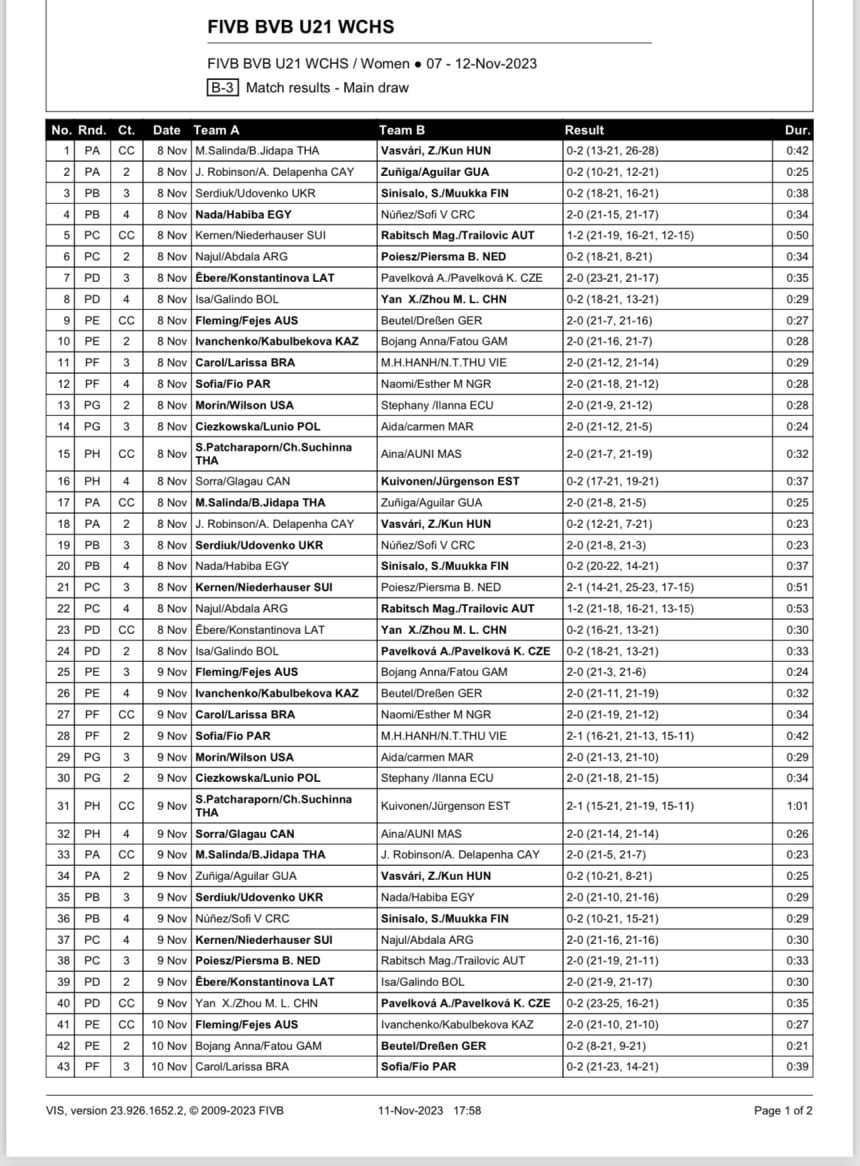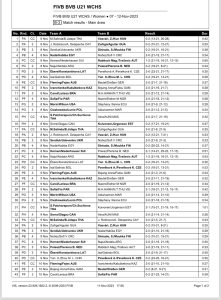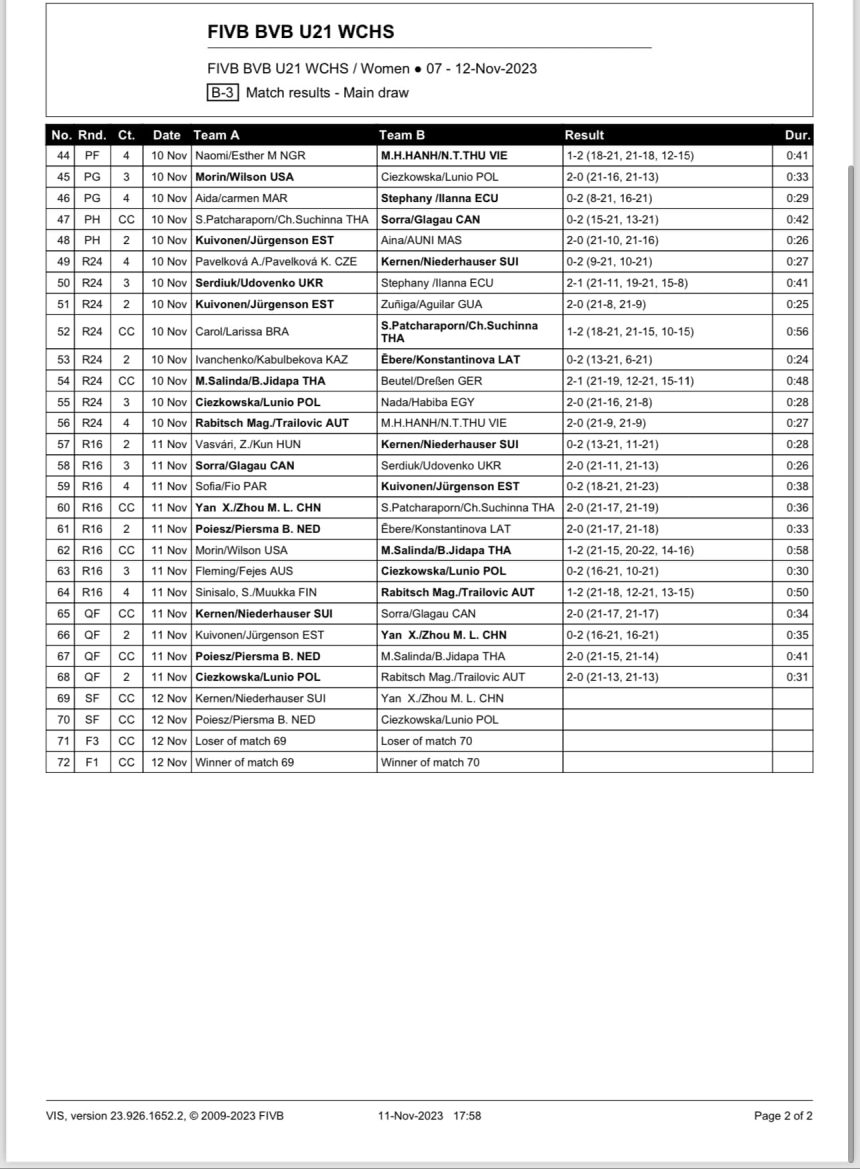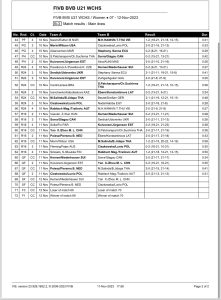 MATCH SCHEDULE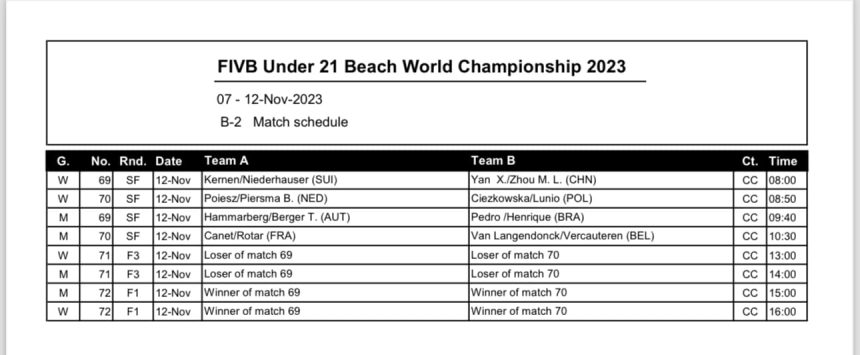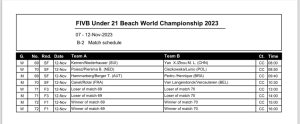 QUICK LINKS
AVC Website: click www.asianvolleyball.net
AVC Facebook: click www.Facebook.com/AsianVolleyballConfederation
AVC Twitter: click: www.twitter.com/AsianVolleyball
AVC Instagram: click: https://www.instagram.com/avcvolley/?hl=en
AVC Youtube: click: Asian Volleyball Confederation
AVC WeChat: Asian Volleyball Confederation