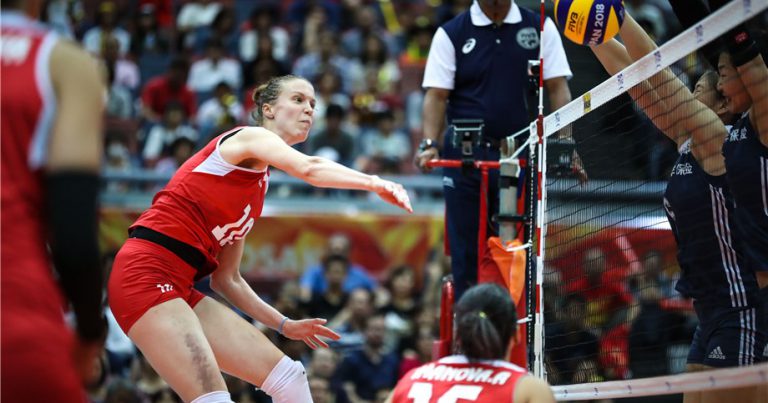 Jana Kulan of Azerbaijan was key for Toray Arrows this weekend.
Tokyo, Japan, November 24, 2020 – Going into the sixth weekend of the Japanese V1 Women's League, JT Marvelous, NEC Red Rockets and Toray Arrows were all tied with seven wins.
NEC were leaders with 21 points, JT Marvelous second on 20 points and Toray third on 19. Toray, however, had two fewer matches played compared to NEC, and JT had one less match played compared to NEC. Toray played two matches over the weekend, while NEC and JT played only once.
On Saturday, Toray played Victorina Himeji in their first match. The Arrows swept Victorina 3-0. Toray dominated at the net with a 50-34 advantage in kills and the Arrows had no hitting errors (excluding blocks) compared to Himeji's nine errors. Jana Kulan led the Arrows with 17 points (including a block and ace) in the win.
In their match on Sunday, the Arrows took on Kurobe Aqua Fairies, who defeated the Toyota Auto Body Queenseis 3-0 on Saturday to take their third win of the season. Toray and Kurobe split the first two sets, but in the third set a three-point run at 7-5 by Toray gave them a 10-5 lead, and the Arrows kept pushing the lead to easily take the set 25-14. In the fourth set a four-point run at 6-5 again gave the Arrows a 10-5 lead, and they cruised from there to win the set 25-15 and the match 3-1. Kulan again drove the Arrows with 25 points (including two aces), but also had help from Ai Kurogo's 21 (three blocks and three aces) in the win. Simone Lee was Kurobe's gasoline with 22 (one block).
JT Marvelous swept PFU Blue Cats 3-0 on Saturday to keep pace with Toray's wins. Mizuki Tanaka on 15 (a block, two aces), Kotona Hayashi with 14 (a block), Aika Akutagawa with 12 (four blocks) and Annie Drews on 12 (one block, one ace) all provided balance for the Marvelous. Roslandy Acosta was the lone bright spot for the Blue Cats with 14 points (one block) in the loss. PFU then met Saitama Ageo Medics on Sunday trying to win their first match of the season but lost 3-1. Saitama used Yuri Yoshimo's 23 points (two aces) to power them to the win. Acosta for PFU did her best also with 23 (a block) in the loss.
Hisamitsu Springs played Okayama Seagulls in a five-set match on Saturday. Okayama took the match 3-2, with Shuka Kaneda leading the Seagulls with 27, all kills. For the Springs, their American middle blocker Foluke Akinradewo also had 27, which included three blocks. Hisamitsu then faced NEC on Sunday, as the Red Rockets tried to match Toray and JT Marvelous in winning their matches. The Red Rockets dominated the Springs with their spikes (55-32 kill advantage) and swept the match 3-0. NEC's Turkish oppositie Neriman Ozsoy had 18, all kills.
Toyota Auto Body and Victorina faced off on Sunday and went the full five sets. The Queenseis came from behind at 2-1 sets deficit to win 3-2. Erika Araki was a wall for the Queenseis with seven blocks and Toyota outblocked Himeji in the match 15-6. Mioko Yabuta led the Queenseis with 24 (one block and one ace). Himeji's Yuka Kanasugi with 31 (an ace) and Saki Tanaka with 20 (one block and one ace) almost pushed Victorina over the finish line.
Denso Airybees faced Hitachi Rivale on Saturday without their American outside hitter Kathryn Plummer who was out due to an injury suffered in the previous weekend. Rei Kudo picked up the slack for the Airybees with 26 points (one block) in their 3-1 win over Hitachi. Hannah Tapp and Miwako Osanai both had 17 for Hitachi, Tapp had four blocks, while Osanai had one block and an ace in the match. Hitachi have lost seven matches in a row.

Match results for November 21, 2020
Denso Airybees – Hitachi Rivale 3-1 (25-18, 23-25, 26-24, 25-21)
Okayama Seagulls – Hisamitsu Springs 3-2 (27-25, 20-25, 18-25, 25-22, 15-8)
Toray Arrows – Victorina Himeji 3-0 (25-16, 25-14, 25-15)
JT Marvelous – PFU Blue Cats 3-0 (25-17, 25-10, 25-18)
Kurobe Aqua Fairies – Toyota Auto Body Queenseis 3-0 (25-16, 25-22 25-23)
Match results for November 22, 2020
NEC Red Rockets – Hisamitsu Springs 3-0 (25-16, 25-13, 25-15)
Saitama Ageo Medics – PFU Blue Cats 3-1 (34-32, 25-21, 25-23, 13-25)
Toyota Auto Body Queenseis – Victorina Himeji 3-2 (25-22, 16-25, 24-26, 26-24, 15-12)
Toray Arrows – Kurobe Aqua Fairies 3-1 (25-22, 21-25, 25-14, 25-15)
Related links of AVC
AVC Website: click www.asianvolleyball.net
AVC Facebook: click www.Facebook.com/AsianVolleyballConfederation
AVC Twitter: click: https://twitter.com/avcvolley
AVC Instagram: click: https://www.instagram.com/avcvolley/?hl=en
AVC Youtube: click: Asian Volleyball Confederation
AVC WeChat: Asian Volleyball Confederation